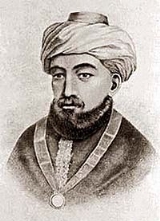 Maimonides
Moses ben-Maimon
, called
Maimonides
and also known as Mūsā ibn Maymūn (موسى بن ميمون) in Arabic, or
Rambam
(רמב"ם – Hebrew acronym for "Rabbi Moshe ben Maimon"), was a preeminent medieval Jewish philosopher and one of the greatest
Torah
Torah
Torah- A scroll containing the first five books of the BibleThe Torah , is name given by Jews to the first five books of the bible—Genesis , Exodus , Leviticus , Numbers and Deuteronomy Torah- A scroll containing the first five books of the BibleThe Torah , is name given by Jews to the first five...
scholars and physicians of the
Middle Ages
Middle Ages
The Middle Ages is a periodization of European history from the 5th century to the 15th century. The Middle Ages follows the fall of the Western Roman Empire in 476 and precedes the Early Modern Era. It is the middle period of a three-period division of Western history: Classic, Medieval and Modern...
. He was born in
Córdoba
Córdoba, Spain
-History:The first trace of human presence in the area are remains of a Neanderthal Man, dating to c. 32,000 BC. In the 8th century BC, during the ancient Tartessos period, a pre-urban settlement existed. The population gradually learned copper and silver metallurgy...
,
Spain
Spain
Spain , officially the Kingdom of Spain languages]] under the European Charter for Regional or Minority Languages. In each of these, Spain's official name is as follows:;;;;;;), is a country and member state of the European Union located in southwestern Europe on the Iberian Peninsula...
on Passover Eve, 1135, and died in
Egypt
Egypt
Egypt , officially the Arab Republic of Egypt, Arabic: , is a country mainly in North Africa, with the Sinai Peninsula forming a land bridge in Southwest Asia. Egypt is thus a transcontinental country, and a major power in Africa, the Mediterranean Basin, the Middle East and the Muslim world...
(or
Tiberias
) on 20th
Tevet
Tevet
Tebet is the fourth month of the civil year and the tenth month of the ecclesiastical year on the Hebrew calendar. It follows Kislev and precedes Shevat. It is a winter month of 29 days...
, December 12, 1204.
Accept the truth from whatever source it comes.

Introduction to the Shemonah Peraqim, as quoted in Truth and Compassion: Essays on Judaism and Religion in Memory of Rabbi Dr. Solomon Frank (1983) Edited by Howard Joseph, Jack Nathan Lightstone, and Michael D. Oppenheim, p. 168
It is better and more satisfactory to acquit a thousand guilty persons than to put a single innocent one to death.

Moses Maimonides, The Commandments, Neg. Comm. 290, at 269-271 (Charles B. Chavel trans., 1967).
We are obligated to be more scrupulous in fulfilling the commandment of charity than any other positive commandment because charity is the sign of a righteous man.

As quoted in A Maimonides Reader (1972) by Isadore Twersky, p. 135. A footnote on this page states : tzedekah is translated as both "Righteousness|righteousness" and "Charity (practice)|charity".
A sensible man should not demand of me, or hope that when we mention a subject, we shall make a complete exposition of it.

My object in adopting this arrangement is that the truths should be at one time apparent and at another time concealed. Thus we shall not be in opposition to the Divine Will (from which it is wrong to deviate) which has withheld from the multitude the truths required for the knowledge of God, according to the words, 'The secret of the Lord is with them that fear Him (Psalm 25:14)