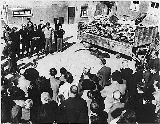 Nazi concentration camps
Nazi Germany
Nazi Germany
Nazi Germany , also known as the Third Reich , but officially called German Reich from 1933 to 1943 and Greater German Reich from 26 June 1943 onward, is the name commonly used to refer to the state of Germany from 1933 to 1945, when it was a totalitarian dictatorship ruled by...
maintained
concentration camps
(in German
Konzentrationslager
, or KZ) throughout the territories it controlled. The first
Nazi
Nazism
Nazism, the common short form name of National Socialism was the ideology and practice of the Nazi Party and of Nazi Germany...
concentration camps set up in
Germany
Germany
Germany , officially the Federal Republic of Germany , is a federal parliamentary republic in Europe. The country consists of 16 states while the capital and largest city is Berlin. Germany covers an area of 357,021 km2 and has a largely temperate seasonal climate...
were greatly expanded after the
Reichstag fire
Reichstag fire
The Reichstag fire was an arson attack on the Reichstag building in Berlin on 27 February 1933. The event is seen as pivotal in the establishment of Nazi Germany....
of 1933, and were intended to hold political prisoners and opponents of the regime. The term was borrowed from the
British
United Kingdom of Great Britain and Ireland
The United Kingdom of Great Britain and Ireland was the formal name of the United Kingdom during the period when what is now the Republic of Ireland formed a part of it....
concentration camps of the
Second Anglo-Boer War
Second Boer War
The Second Boer War was fought from 11 October 1899 until 31 May 1902 between the British Empire and the Afrikaans-speaking Dutch settlers of two independent Boer republics, the South African Republic and the Orange Free State...
.
The number of camps quadrupled between 1939 and 1942 to 300+, as slave-laborers from across Europe, Jews, political prisoners, criminals, homosexuals, gypsies, the mentally ill and others were incarcerated, generally without judicial process.