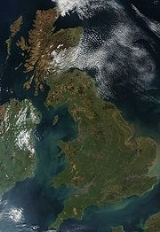 Great Britain
Great Britain
or
Britain
(
Welsh
Welsh language
Welsh is a member of the Brythonic branch of the Celtic languages spoken natively in Wales, by some along the Welsh border in England, and in Y Wladfa...
:
Prydain Fawr
, Scottish Gaelic:
Breatainn Mhòr
,
Cornish
Cornish language
Cornish is a Brythonic Celtic language and a recognised minority language of the United Kingdom. Along with Welsh and Breton, it is directly descended from the ancient British language spoken throughout much of Britain before the English language came to dominate...
:
Breten Veur
) is an
island
Island
An island or isle is any piece of sub-continental land that is surrounded by water. Very small islands such as emergent land features on atolls can be called islets, cays or keys. An island in a river or lake may be called an eyot , or holm...
situated to the northwest of
Continental Europe
Continental Europe
Continental Europe, also referred to as mainland Europe or simply the Continent, is the continent of Europe, explicitly excluding European islands....
. It is the
ninth largest island in the world
, and the largest
Europe
Europe
Europe is, by convention, one of the world's seven continents. Comprising the westernmost peninsula of Eurasia, Europe is generally 'divided' from Asia to its east by the watershed divides of the Ural and Caucasus Mountains, the Ural River, the Caspian and Black Seas, and the waterways connecting...
an island, as well as the largest of the
British Isles
British Isles
The British Isles are a group of islands off the northwest coast of continental Europe that include the islands of Great Britain and Ireland and over six thousand smaller isles. There are two sovereign states located on the islands: the United Kingdom of Great Britain and Northern Ireland and...
. With a population of about 60.0 million people in mid-2009, it is the
third most populous island
in the world, after Java and
Honshū
Honshu
is the largest island of Japan. The nation's main island, it is south of Hokkaido across the Tsugaru Strait, north of Shikoku across the Inland Sea, and northeast of Kyushu across the Kanmon Strait...
.
1606 The Union Flag is adopted as the flag of Great Britain.
1621 The ''Mayflower'' sets sail from Plymouth, Massachusetts on a return trip to Great Britain.
1624 Sir Thomas Warner founds the first British colony in the Caribbean, on the island of Saint Kitts.
1689 William III and Mary II are crowned as joint sovereigns of Britain.
1703 The Great Storm of 1703, the greatest windstorm ever recorded in the southern part of Great Britain, reaches its peak intensity which it maintains through November 27. Winds gust up to 120 mph, and 9,000 people die.
1710 The first law regulating copyright is issued in Great Britain.
1717 The Netherlands, Great Britain, and France sign the Triple Alliance.
1718 Great Britain declares war on Spain.
1729 Spain, France and Great Britain sign the Treaty of Seville.
1743 Great Britain, Austria and Savoy-Sardinia sign the Treaty of Worms.