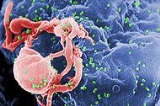 HIV
Human immunodeficiency virus
(
HIV
) is a
lentivirus
Lentivirus
Lentivirus is a genus of slow viruses of the Retroviridae family, characterized by a long incubation period...
(a member of the
retrovirus
Retrovirus
A retrovirus is an RNA virus that is duplicated in a host cell using the reverse transcriptase enzyme to produce DNA from its RNA genome. The DNA is then incorporated into the host's genome by an integrase enzyme. The virus thereafter replicates as part of the host cell's DNA...
family) that causes
acquired immunodeficiency syndrome
AIDS
Acquired immune deficiency syndrome or acquired immunodeficiency syndrome is a disease of the human immune system caused by the human immunodeficiency virus...
(AIDS), a condition in humans in which progressive failure of the
immune system
Immune system
An immune system is a system of biological structures and processes within an organism that protects against disease by identifying and killing pathogens and tumor cells. It detects a wide variety of agents, from viruses to parasitic worms, and needs to distinguish them from the organism's own...
allows life-threatening
opportunistic infection
Opportunistic infection
An opportunistic infection is an infection caused by pathogens, particularly opportunistic pathogens—those that take advantage of certain situations—such as bacterial, viral, fungal or protozoan infections that usually do not cause disease in a healthy host, one with a healthy immune system...
s and
cancer
Cancer
Cancer , known medically as a malignant neoplasm, is a large group of different diseases, all involving unregulated cell growth. In cancer, cells divide and grow uncontrollably, forming malignant tumors, and invade nearby parts of the body. The cancer may also spread to more distant parts of the...
s to thrive. Infection with HIV occurs by the transfer of
blood
Blood
Blood is a specialized bodily fluid in animals that delivers necessary substances such as nutrients and oxygen to the cells and transports metabolic waste products away from those same cells....
,
semen
Semen
Semen is an organic fluid, also known as seminal fluid, that may contain spermatozoa. It is secreted by the gonads and other sexual organs of male or hermaphroditic animals and can fertilize female ova...
,
vaginal fluid
Vaginal lubrication
Vaginal lubrication is a lubricating fluid that is naturally produced in a woman's vagina. Vaginal lubrication or moistness is present at all times, but production increases significantly during a woman's sexual arousal in anticipation of sexual intercourse...
,
pre-ejaculate
Pre-ejaculate
Pre-ejaculate is the clear, colorless, viscous fluid that emits from the urethra of a man's penis when he is sexually aroused. It is similar in composition to semen, but has some significant chemical differences...
, or
breast milk
Breast milk
Breast milk, more specifically human milk, is the milk produced by the breasts of a human female for her infant offspring...
. Within these bodily fluids, HIV is present as both free virus particles and virus within infected
immune cells
White blood cell
White blood cells, or leukocytes , are cells of the immune system involved in defending the body against both infectious disease and foreign materials. Five different and diverse types of leukocytes exist, but they are all produced and derived from a multipotent cell in the bone marrow known as a...
. The four major routes of transmission are
unsafe sex
Safe sex
Safe sex is sexual activity engaged in by people who have taken precautions to protect themselves against sexually transmitted diseases such as AIDS. It is also referred to as safer sex or protected sex, while unsafe or unprotected sex is sexual activity engaged in without precautions...
, contaminated needles, breast milk, and transmission from an infected mother to her baby at birth (perinatal transmission).