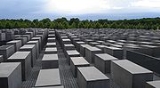 Memorial
A
memorial
is an object which serves as a focus for memory of something, usually a person (who has died) or an event. Popular forms of memorials include landmark objects or art objects such as sculptures,
statue
Statue
A statue is a sculpture in the round representing a person or persons, an animal, an idea or an event, normally full-length, as opposed to a bust, and at least close to life-size, or larger...
s or
fountain
Fountain
A fountain is a piece of architecture which pours water into a basin or jets it into the air either to supply drinking water or for decorative or dramatic effect....
s, and even entire
parks
Memorial Park
Memorial Park may refer to:In the United States:* Forest Lawn Memorial Park, Glendale, California* Memorial Park * Memorial Park, Houston, Texas* Memorial Park , Nebraska...
.
The most common type of memorial is the
gravestone
Headstone
A headstone, tombstone, or gravestone is a marker, usually stone, that is placed over a grave. In most cases they have the deceased's name, date of birth, and date of death inscribed on them, along with a personal message, or prayer.- Use :...
or the
memorial plaque
Memorial Plaque
The Memorial Plaque was issued after the First World War to the next-of-kin of all British and Empire service personnel who were killed as a result of the war....
. Also common are
war memorial
War memorial
A war memorial is a building, monument, statue or other edifice to celebrate a war or victory, or to commemorate those who died or were injured in war.-Historic usage:...
s commemorating those who have died in
war
War
War is a state of organized, armed, and often prolonged conflict carried on between states, nations, or other parties typified by extreme aggression, social disruption, and usually high mortality. War should be understood as an actual, intentional and widespread armed conflict between political...
s. Memorials in the form of a
cross
Cross
A cross is a geometrical figure consisting of two lines or bars perpendicular to each other, dividing one or two of the lines in half. The lines usually run vertically and horizontally; if they run obliquely, the design is technically termed a saltire, although the arms of a saltire need not meet...
are called
intending cross
Intending cross
A memorial cross is a cross, which was built as memorial to commemorate a special event; or it may be a simple form of headstone to commemorate the dead.-See also:*Eleanor cross*Roadside memorial*High cross...
es.
Online Memorials
Online Memorials
An online memorial consists of tribute pages hosted on special websites, set up so that families can remember lost loved ones. This can be simply a one-page HTML webpage document giving the name of the deceased and a few words of tribute, through to a fully functioning memorial site designed to...
and tributes are becoming increasingly popular especially with the increase in natural burial where the laying of gravestones, or memorial plaques, is often not permitted. Online tributes and memorials create a way for family and friends from various countries to interact and share memories and photographs. This is becoming more and more popular as it provides a private space that can be easily reflected upon at any time.
When somebody has died, the family may request that a memorial gift (usually
money
Money
Money is any object or record that is generally accepted as payment for goods and services and repayment of debts in a given country or socio-economic context. The main functions of money are distinguished as: a medium of exchange; a unit of account; a store of value; and, occasionally in the past,...
) be given to a designated
charity
Charitable organization
A charitable organization is a type of non-profit organization . It differs from other types of NPOs in that it centers on philanthropic goals A charitable organization is a type of non-profit organization (NPO). It differs from other types of NPOs in that it centers on philanthropic goals A...
, or that a tree be planted in memory of the person.
Sometimes, when a high school student has died, the memorials are placed in the form of a
scholarship
Scholarship
A scholarship is an award of financial aid for a student to further education. Scholarships are awarded on various criteria usually reflecting the values and purposes of the donor or founder of the award.-Types:...
, to be awarded to high-achieving students in future years.
See also