 Embroidery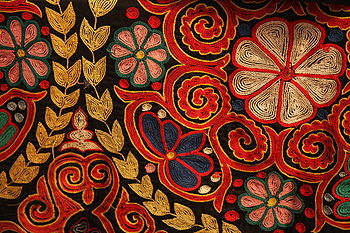 Embroidery
is the
art
Art
Art is the product or process of deliberately arranging items in a way that influences and affects one or more of the senses, emotions, and intellect....
or
handicraft
Handicraft
Handicraft, more precisely expressed as artisanic handicraft, sometimes also called artisanry, is a type of work where useful and decorative devices are made completely by hand or by using only simple tools. It is a traditional main sector of craft. Usually the term is applied to traditional means...
of decorating
fabric
Textile
A textile or cloth is a flexible woven material consisting of a network of natural or artificial fibres often referred to as thread or yarn. Yarn is produced by spinning raw fibres of wool, flax, cotton, or other material to produce long strands...
or other
material
Material
Material is anything made of matter, constituted of one or more substances. Wood, cement, hydrogen, air and water are all examples of materials. Sometimes the term "material" is used more narrowly to refer to substances or components with certain physical properties that are used as inputs to...
s with
needle
Sewing needle
A sewing needle is a long slender tool with a pointed tip. The first needles were made of bone or wood; modern ones are manufactured from high carbon steel wire, nickel- or 18K gold plated for corrosion resistance. The highest quality embroidery needles are plated with two-thirds platinum and...
and
thread or yarn
Yarn
Yarn is a long continuous length of interlocked fibres, suitable for use in the production of textiles, sewing, crocheting, knitting, weaving, embroidery and ropemaking. Thread is a type of yarn intended for sewing by hand or machine. Modern manufactured sewing threads may be finished with wax or...
. Embroidery may also incorporate other materials such as
metal
Metal
A metal , is an element, compound, or alloy that is a good conductor of both electricity and heat. Metals are usually malleable and shiny, that is they reflect most of incident light...
strips,
pearl
Pearl
A pearl is a hard object produced within the soft tissue of a living shelled mollusk. Just like the shell of a mollusk, a pearl is made up of calcium carbonate in minute crystalline form, which has been deposited in concentric layers. The ideal pearl is perfectly round and smooth, but many other...
s,
bead
Bead
A bead is a small, decorative object that is usually pierced for threading or stringing. Beads range in size from under to over in diameter. A pair of beads made from Nassarius sea snail shells, approximately 100,000 years old, are thought to be the earliest known examples of jewellery. Beadwork...
s,
quill
Quill
A quill pen is a writing implement made from a flight feather of a large bird. Quills were used for writing with ink before the invention of the dip pen, metal-nibbed pens, the fountain pen, and, eventually, the ballpoint pen...
s, and
sequin
Sequin
Sequins are disk-shaped beads used for decorative purposes. They are available in a wide variety of colors and geometrical shapes. Sequins are commonly used on clothing, jewelry, bags, shoes and lots of other accessories. Large sequins, fastened only at the top, have been used on billboards and...
s.
A characteristic of embroidery is that the basic techniques or
stitches
Embroidery stitch
In everyday language, a stitch in the context of embroidery or hand-sewing is defined as the movement of the embroidery needle from the backside of the fabric to the front side and back to the back side. The thread stroke on the front side produced by this is also called stitch...
of the earliest work—
chain stitch
Chain stitch
Chain stitch is a sewing and embroidery technique in which a series of looped stitches form a chain-like pattern. Chain stitch is an ancient craft - examples of surviving Chinese chain stitch embroidery worked in silk thread have been dated to the Warring States period...
,
buttonhole or blanket stitch
Buttonhole stitch
Buttonhole stitch and the related blanket stitch are hand-sewing stitches used in tailoring, embroidery, and needle lace-making.Holy Buttons stitches catch a loop of the thread on the surface of the fabric and needle is returned to the back of the fabric at a right angle to the original start of...
,
running stitch
Running stitch
The running stitch or straight stitch is the basic stitch in hand-sewing and embroidery, on which all other forms of sewing are based. The stitch is worked by passing the needle in and out of the fabric...
,
satin stitch
Satin stitch
In sewing and embroidery, a satin stitch or damask stitch is a series of flat stitches that are used to completely cover a section of the background fabric...
, cross stitch—remain the fundamental techniques of hand embroidery today.
Machine embroidery
Machine embroidery
Machine embroidery is an embroidery process whereby a sewing machine or embroidery machine is used to create patterns on textiles. It is used commercially in product branding, corporate advertising, and uniform adornment. Hobbyists also machine embroider for personal sewing and craft projects.There...
, arising in the early stages of the
Industrial Revolution
Industrial Revolution
The Industrial Revolution was a period from the 18th to the 19th century where major changes in agriculture, manufacturing, mining, transportation, and technology had a profound effect on the social, economic and cultural conditions of the times...
, mimics hand embroidery, especially in the use of chain stitches, but the "satin stitch" and hemming stitches of machine work rely on the use of multiple threads and resemble hand work in their appearance, not their construction.
History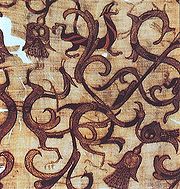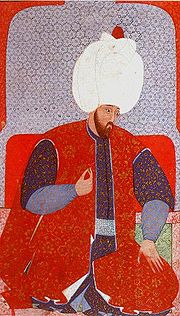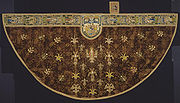 The origins of embroidery are unknown, but early examples survive from ancient
Egypt
Egypt
Egypt , officially the Arab Republic of Egypt, Arabic: , is a country mainly in North Africa, with the Sinai Peninsula forming a land bridge in Southwest Asia. Egypt is thus a transcontinental country, and a major power in Africa, the Mediterranean Basin, the Middle East and the Muslim world...
,
Iron Age
Iron Age
The Iron Age is the archaeological period generally occurring after the Bronze Age, marked by the prevalent use of iron. The early period of the age is characterized by the widespread use of iron or steel. The adoption of such material coincided with other changes in society, including differing...
Northern Europe
Northern Europe
Northern Europe is the northern part or region of Europe. Northern Europe typically refers to the seven countries in the northern part of the European subcontinent which includes Denmark, Estonia, Latvia, Lithuania, Norway, Finland and Sweden...
and
Zhou Dynasty
Zhou Dynasty
The Zhou Dynasty was a Chinese dynasty that followed the Shang Dynasty and preceded the Qin Dynasty. Although the Zhou Dynasty lasted longer than any other dynasty in Chinese history, the actual political and military control of China by the Ji family lasted only until 771 BC, a period known as...
China
China
Chinese civilization may refer to:* China for more general discussion of the country.* Chinese culture* Greater China, the transnational community of ethnic Chinese.* History of China* Sinosphere, the area historically affected by Chinese culture...
. Examples of surviving Chinese chain stitch embroidery worked in
silk
Silk
Silk is a natural protein fiber, some forms of which can be woven into textiles. The best-known type of silk is obtained from the cocoons of the larvae of the mulberry silkworm Bombyx mori reared in captivity...
thread have been dated to the
Warring States period
Warring States Period
The Warring States Period , also known as the Era of Warring States, or the Warring Kingdoms period, covers the Iron Age period from about 475 BC to the reunification of China under the Qin Dynasty in 221 BC...
(5th-3rd century BC).
The process used to tailor, patch, mend and reinforce cloth fostered the development of sewing techniques, and the decorative possibilities of sewing led to the art of embroidery. In a garment from
Migration period
Migration Period
The Migration Period, also called the Barbarian Invasions , was a period of intensified human migration in Europe that occurred from c. 400 to 800 CE. This period marked the transition from Late Antiquity to the Early Middle Ages...
Sweden, roughly 300–700 CE, the edges of bands of trimming are reinforced with running stitch, back stitch, stem stitch, tailor's buttonhole stitch, and whipstitching, but it is uncertain whether this work simply reinforces the seams or should be interpreted as decorative embroidery.
The remarkable stability of basic embroidery stitches has been noted:
In the 16th century, in the reign of the Mughal Emperor Akbar, his chronicler Abu al-Fazl ibn Mubarak wrote in the famous
Ain-i-Akbari
Ain-i-Akbari
The Ain-i-Akbari or the "Institutes of Akbar", is a 16th century, detailed document recording the administration of emperor Akbar's empire, written by his vizier, Abu'l-Fazl ibn Mubarak...
:
"His majesty (Akbar) pays much attention to various stuffs; hence
Iran
Iran
Iran , officially the Islamic Republic of Iran , is a country in Southern and Western Asia. The name "Iran" has been in use natively since the Sassanian era and came into use internationally in 1935, before which the country was known to the Western world as Persia...
i,
Ottoman
Ottoman Empire
The Ottoman EmpireIt was usually referred to as the "Ottoman Empire", the "Turkish Empire", the "Ottoman Caliphate" or more commonly "Turkey" by its contemporaries...
, and
Mongolia
Mongolia
Mongolia is a landlocked country in East and Central Asia. It is bordered by Russia to the north and China to the south, east and west. Although Mongolia does not share a border with Kazakhstan, its western-most point is only from Kazakhstan's eastern tip. Ulan Bator, the capital and largest...
n articles of wear are in much abundance especially textiles embroidered in the patterns of
Nakshi
,
Saadi
,
Chikhan
,
Ari
,
Zardozi
,
Wasli
,
Gota
and
Kohra
. The imperial workshops in the towns of
Lahore
Lahore
Lahore is the capital of the Pakistani province of Punjab and the second largest city in the country. With a rich and fabulous history dating back to over a thousand years ago, Lahore is no doubt Pakistan's cultural capital. One of the most densely populated cities in the world, Lahore remains a...
,
Agra
Agra
Agra a.k.a. Akbarabad is a city on the banks of the river Yamuna in the northern state of Uttar Pradesh, India, west of state capital, Lucknow and south from national capital New Delhi. With a population of 1,686,976 , it is one of the most populous cities in Uttar Pradesh and the 19th most...
,
Fatehpur
Fatehpur Sikri
Fatehpur Sikri is a city and a municipal board in Agra district in the state of Uttar Pradesh, India. Built near the much older Sikri, the historical city of Fatehabad, as it was first named, was constructed by Mughal emperor Akbar beginning in 1570...
and
Ahmedabad
Ahmedabad
Ahmedabad also known as Karnavati is the largest city in Gujarat, India. It is the former capital of Gujarat and is also the judicial capital of Gujarat as the Gujarat High Court has its seat in Ahmedabad...
turn out many masterpieces of workmanship in fabrics, and the figures and patterns, knots and variety of fashions which now prevail astonish even the most experienced travelers. Taste for fine material has since become general, and the drapery of embroidered fabrics used at feasts surpasses every description."
Embroidery was a very important art in the Medieval Islam World, one of the most interesting accounts of embroidery were given by the 17th century
Turkish
Turkish people
Turkish people, also known as the "Turks" , are an ethnic group primarily living in Turkey and in the former lands of the Ottoman Empire where Turkish minorities had been established in Bulgaria, Cyprus, Bosnia and Herzegovina, Georgia, Greece, Kosovo, Macedonia, and Romania...
traveler
Evliya Çelebi
Evliya Çelebi
Evliya Çelebi was an Ottoman traveler who journeyed through the territory of the Ottoman Empire and neighboring lands over a period of forty years.- Life :...
called it the "craft of the two hands". Because embroidery was a sign of high social status in Muslim societies it became a hugely popular the art. In cities such as
Damascus
Damascus
Damascus , commonly known in Syria as Al Sham , and as the City of Jasmine , is the capital and the second largest city of Syria after Aleppo, both are part of the country's 14 governorates. In addition to being one of the oldest continuously inhabited cities in the world, Damascus is a major...
,
Cairo
Cairo
Cairo , is the capital of Egypt and the largest city in the Arab world and Africa, and the 16th largest metropolitan area in the world. Nicknamed "The City of a Thousand Minarets" for its preponderance of Islamic architecture, Cairo has long been a centre of the region's political and cultural life...
and
Istanbul
Istanbul
Istanbul , historically known as Byzantium and Constantinople , is the largest city of Turkey. Istanbul metropolitan province had 13.26 million people living in it as of December, 2010, which is 18% of Turkey's population and the 3rd largest metropolitan area in Europe after London and...
, embroidery was visible on
handkerchief
Handkerchief
A handkerchief , also called a handkercher or hanky, is a form of a kerchief, typically a hemmed square of thin fabric that can be carried in the pocket or purse, and which is intended for personal hygiene purposes such as wiping one's hands or face, or blowing one's nose...
s, uniforms, flags,
calligraphy
Calligraphy
Calligraphy is a type of visual art. It is often called the art of fancy lettering . A contemporary definition of calligraphic practice is "the art of giving form to signs in an expressive, harmonious and skillful manner"...
, shoes,
robe
Robe
A robe is a loose-fitting outer garment. A robe is distinguished from a cape or cloak by the fact that it usually has sleeves. The English word robe derives from Middle English robe , borrowed from Old French robe , itself taken from the Frankish word *rouba , and is related to the word rob...
s, tunics, horse trappings, slippers, sheaths, pouches, covers and even on
leather
Leather
Leather is a durable and flexible material created via the tanning of putrescible animal rawhide and skin, primarily cattlehide. It can be produced through different manufacturing processes, ranging from cottage industry to heavy industry.-Forms:...
belts
Belt (clothing)
A belt is a flexible band or strap, typically made of leather or heavy cloth, and worn around the waist. A belt supports trousers or other articles of clothing.-History:...
. Many craftsmen embroidered with
gold
Gold
Gold is a chemical element with the symbol Au and an atomic number of 79. Gold is a dense, soft, shiny, malleable and ductile metal. Pure gold has a bright yellow color and luster traditionally considered attractive, which it maintains without oxidizing in air or water. Chemically, gold is a...
and
silver
Silver
Silver is a metallic chemical element with the chemical symbol Ag and atomic number 47. A soft, white, lustrous transition metal, it has the highest electrical conductivity of any element and the highest thermal conductivity of any metal...
. And each of these embroidery cottage industries employed over 800 people.
Elaborately embroidered clothing, religious objects, and household items have been a mark of wealth and status in many cultures including ancient Persia, India, China, Japan,
Byzantium
Byzantium
Byzantium was an ancient Greek city, founded by Greek colonists from Megara in 667 BC and named after their king Byzas . The name Byzantium is a Latinization of the original name Byzantion...
, and
medieval
Middle Ages
The Middle Ages is a periodization of European history from the 5th century to the 15th century. The Middle Ages follows the fall of the Western Roman Empire in 476 and precedes the Early Modern Era. It is the middle period of a three-period division of Western history: Classic, Medieval and Modern...
and
Baroque
Baroque
The Baroque is a period and the style that used exaggerated motion and clear, easily interpreted detail to produce drama, tension, exuberance, and grandeur in sculpture, painting, literature, dance, and music...
Europe
Europe
Europe is, by convention, one of the world's seven continents. Comprising the westernmost peninsula of Eurasia, Europe is generally 'divided' from Asia to its east by the watershed divides of the Ural and Caucasus Mountains, the Ural River, the Caspian and Black Seas, and the waterways connecting...
. Traditional folk techniques are passed from generation to generation in cultures as diverse as northern
Vietnam
Vietnam
Vietnam – sometimes spelled Viet Nam , officially the Socialist Republic of Vietnam – is the easternmost country on the Indochina Peninsula in Southeast Asia. It is bordered by China to the north, Laos to the northwest, Cambodia to the southwest, and the South China Sea –...
,
Mexico
Mexico
The United Mexican States , commonly known as Mexico , is a federal constitutional republic in North America. It is bordered on the north by the United States; on the south and west by the Pacific Ocean; on the southeast by Guatemala, Belize, and the Caribbean Sea; and on the east by the Gulf of...
, and eastern
Europe
Europe
Europe is, by convention, one of the world's seven continents. Comprising the westernmost peninsula of Eurasia, Europe is generally 'divided' from Asia to its east by the watershed divides of the Ural and Caucasus Mountains, the Ural River, the Caspian and Black Seas, and the waterways connecting...
. Professional workshops and guilds arose in medieval
England
England
England is a country that is part of the United Kingdom. It shares land borders with Scotland to the north and Wales to the west; the Irish Sea is to the north west, the Celtic Sea to the south west, with the North Sea to the east and the English Channel to the south separating it from continental...
. The output of these workshops, called
Opus Anglicanum
Opus Anglicanum
Opus Anglicanum or English work is a contemporary term for fine needlework of Medieval England done for ecclesiastical or secular use on clothing, hangings or other textiles, often using gold and silver threads on rich velvet or linen grounds...
or "English work," was famous throughout Europe.
Industrial Revolution
The development of machine embroidery on a mass production scale came about in stages. The earliest machine embroidery used a combination of machine looms and teams of women embroidering the textiles by hand. This was done in England by the mid-1800s.
The manufacture of
machine-made embroideries
St. Gallen Embroidery
St. Gallen embroidery refers to embroidery products from the city and the region of St. Gallen, Switzerland. The region was once the largest and most important export area for embroidery....
in
St. Gallen
St. Gallen
St. Gallen is the capital of the canton of St. Gallen in Switzerland. It evolved from the hermitage of Saint Gall, founded in the 7th century. Today, it is a large urban agglomeration and represents the center of eastern Switzerland. The town mainly relies on the service sector for its economic...
in eastern Switzerland flourished in the latter half of the 19th century.
Classification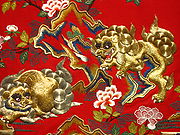 Embroidery can be classified according to whether the design is stitched
on top of
or
through
the foundation fabric, and by the relationship of stitch placement to the fabric.
In free embroidery, designs are applied without regard to the weave of the underlying fabric. Examples include
crewel
Crewel embroidery
Crewel Embroidery, or Crewelwork, is a decorative form of surface embroidery using wool and a variety of different embroidery stitches to follow a design outline applied to the fabric. The technique is at least a thousand years old...
and traditional Chinese and Japanese embroidery.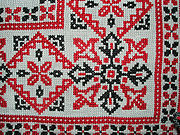 Counted-thread embroidery
Counted-thread embroidery
Counted-thread embroidery is any embroidery in which the fabric threads are counted by the embroiderer before inserting the needle into the fabric...
patterns are created by making stitches over a predetermined number of threads in the foundation fabric. Counted-thread embroidery is more easily worked on an
even-weave
Even-weave
Even-weave fabric or canvas is any woven textile where the warp and weft threads are of the same size.Even-weave fabrics are typically required as foundations for counted-thread embroidery styles such as cross-stitch, needlepoint, and blackwork so that a stitch of the same "count" will be the same...
foundation fabric such as embroidery
canvas
Canvas
Canvas is an extremely heavy-duty plain-woven fabric used for making sails, tents, marquees, backpacks, and other items for which sturdiness is required. It is also popularly used by artists as a painting surface, typically stretched across a wooden frame...
,
aida cloth
Aida cloth
Aida cloth is an open weave, even-weave fabric traditionally used for cross-stitch embroidery. This cotton fabric has a natural mesh that facilitates cross-stitching and enough natural stiffness that the crafter does not need to use an embroidery hoop....
, or specially woven
cotton
Cotton
Cotton is a soft, fluffy staple fiber that grows in a boll, or protective capsule, around the seeds of cotton plants of the genus Gossypium. The fiber is almost pure cellulose. The botanical purpose of cotton fiber is to aid in seed dispersal....
and
linen
Linen
Linen is a textile made from the fibers of the flax plant, Linum usitatissimum. Linen is labor-intensive to manufacture, but when it is made into garments, it is valued for its exceptional coolness and freshness in hot weather....
fabrics although non-evenweave linen is used as well. Examples include
needlepoint
Needlepoint
Needlepoint is a form of counted thread embroidery in which yarn is stitched through a stiff open weave canvas. Most needlepoint designs completely cover the canvas...
and some forms of
blackwork embroidery
Blackwork Embroidery
Blackwork Embroidery is a form embroidery using black thread. Sometimes it is counted-thread embroidery which is usually stitched on even-weave fabric. Any black thread can be used, but firmly twisted threads give a better look than embroidery floss. Traditionally blackwork is stitched in silk...
.
In
canvas work
Canvas work
Canvas work is a type of embroidery in which yarn is stitched through a canvas or other foundation fabric. Canvas work is a form of counted-thread embroidery...
threads are stitched through a fabric mesh to create a dense pattern that completely covers the foundation fabric. Traditional canvas work such as
bargello
Bargello
The Bargello, also known as the Bargello Palace or Palazzo del Popolo is a former barracks and prison, now an art museum, in Florence, Italy.-Terminology:...
is a counted-thread technique. Since the 19th century, printed and hand painted canvases where the painted or printed image serves as color-guide have eliminated the need for counting threads. These are particularly suited to pictorial rather than geometric designs deriving from the
Berlin wool work
Berlin wool work
Berlin wool work is a style of needlepoint. Typically it is executed with wool yarn on canvas. It is usually worked in a single stitch, such as cross stitch or tent stitch although Beeton's book of Needlework describes 15 different stitches for use in Berlin work...
craze of the early 19th century.
In
drawn thread work
Drawn thread work
Drawn thread work is a form of counted-thread embroidery based on removing threads from the warp and/or the weft of a piece of even-weave fabric.The remaining threads are grouped or bundled together into a variety of patterns...
and
cutwork
Cutwork
Cutwork or cut work is a needlework technique in which portions of a textile are cut away and the resulting "hole" is reinforced and filled with embroidery or needle lace.Cutwork is a related to drawn thread work...
, the foundation fabric is deformed or cut away to create holes that are then embellished with embroidery, often with thread in the same color as the foundation fabric. These techniques are the progenitors of needlelace. When created in white thread on white linen or cotton, this work is collectively referred to as whitework.
Materials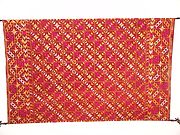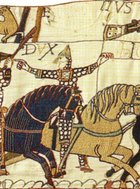 The fabrics and yarns used in traditional embroidery vary from place to place.
Wool
Wool
Wool is the textile fiber obtained from sheep and certain other animals, including cashmere from goats, mohair from goats, qiviut from muskoxen, vicuña, alpaca, camel from animals in the camel family, and angora from rabbits....
,
linen
Linen
Linen is a textile made from the fibers of the flax plant, Linum usitatissimum. Linen is labor-intensive to manufacture, but when it is made into garments, it is valued for its exceptional coolness and freshness in hot weather....
, and
silk
Silk
Silk is a natural protein fiber, some forms of which can be woven into textiles. The best-known type of silk is obtained from the cocoons of the larvae of the mulberry silkworm Bombyx mori reared in captivity...
have been in use for thousands of years for both fabric and yarn. Today,
embroidery thread
Embroidery thread
Embroidery thread is yarn that is manufactured or hand-spun specifically for embroidery and other forms of needlework.Threads for hand embroidery include:...
is manufactured in
cotton
Cotton
Cotton is a soft, fluffy staple fiber that grows in a boll, or protective capsule, around the seeds of cotton plants of the genus Gossypium. The fiber is almost pure cellulose. The botanical purpose of cotton fiber is to aid in seed dispersal....
,
rayon
Rayon
Rayon is a manufactured regenerated cellulose fiber. Because it is produced from naturally occurring polymers, it is neither a truly synthetic fiber nor a natural fiber; it is a semi-synthetic or artificial fiber. Rayon is known by the names viscose rayon and art silk in the textile industry...
, and novelty yarns as well as in traditional wool, linen, and silk.
Ribbon
Ribbon
A ribbon or riband is a thin band of material, typically cloth but also plastic or sometimes metal, used primarily for binding and tying. Cloth ribbons, most commonly silk, are often used in connection with clothing, but are also applied for innumerable useful, ornamental and symbolic purposes...
embroidery uses narrow ribbon in silk or silk/
organza
Organza
Organza is a thin, plain weave, sheer fabric traditionally made from silk. Many modern organzas are woven with synthetic filament fibers such as polyester or nylon, but the most luxurious organzas are still made of silk. Silk organza is woven by a number of mills along the Yangtze River and in the...
blend ribbon, most commonly to create floral motifs.
Surface embroidery techniques such as chain stitch and
couching or laid-work
Couching
In embroidery, couching and laid work are techniques in which yarn or other materials are laid across the surface of the ground fabric and fastened in place with small stitches of the same or a different yarn....
are the most economical of expensive yarns; couching is generally used for goldwork. Canvas work techniques, in which large amounts of yarn are buried on the back of the work, use more materials but provide a sturdier and more substantial finished textile.
In both canvas work and surface embroidery an
embroidery hoop
Embroidery hoop
Embroidery hoops and frames are tools used to keep fabric taut while working embroidery or other forms of needlework.-Hoops:An embroidery hoop or tambour frame consists of a pair of concentric circular or elliptical rings. The larger ring has a tightening device, usually in the form of a metal...
or frame can be used to stretch the material and ensure even stitching tension that prevents pattern distortion. Modern canvas work tends to follow very symmetrical counted stitching patterns with designs developing from repetition of one or only a few similar stitches in a variety of thread hues. Many forms of surface embroidery, by contrast, are distinguished by a wide range of different stitching patterns used in a single piece of work.
Machine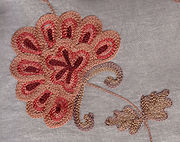 Much contemporary embroidery is stitched with a
computer
Computer
A computer is a programmable machine designed to sequentially and automatically carry out a sequence of arithmetic or logical operations. The particular sequence of operations can be changed readily, allowing the computer to solve more than one kind of problem...
ized embroidery machine using patterns "digitized" with embroidery software. In machine embroidery, different types of "fills" add texture and design to the finished work. Machine embroidery is used to add
logo
Logo
A logo is a graphic mark or emblem commonly used by commercial enterprises, organizations and even individuals to aid and promote instant public recognition...
s and
monogram
Monogram
A monogram is a motif made by overlapping or combining two or more letters or other graphemes to form one symbol. Monograms are often made by combining the initials of an individual or a company, used as recognizable symbols or logos. A series of uncombined initials is properly referred to as a...
s to business shirts or jackets, gifts, and team apparel as well as to decorate household linens, draperies, and decorator fabrics that mimic the elaborate hand embroidery of the past.
External links