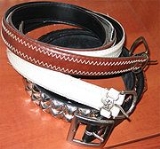 Belt (clothing)
A
belt
is a flexible band or
strap
Strap
A strap, sometimes also called strop, is an elongated flap or ribbon, usually of fabric or leather.Thin straps are used as part of clothing or baggage, or bedding such as a sleeping bag. See for example spaghetti strap, shoulder strap...
, typically made of
leather
Leather
Leather is a durable and flexible material created via the tanning of putrescible animal rawhide and skin, primarily cattlehide. It can be produced through different manufacturing processes, ranging from cottage industry to heavy industry.-Forms:...
or heavy cloth, and worn around the
waist
Waist
The waist is the part of the abdomen between the rib cage and hips. On proportionate people, the waist is the narrowest part of the torso....
. A belt supports
trousers
Trousers
Trousers are an item of clothing worn on the lower part of the body from the waist to the ankles, covering both legs separately...
or other articles of
clothing
Clothing
Clothing refers to any covering for the human body that is worn. The wearing of clothing is exclusively a human characteristic and is a feature of nearly all human societies...
.
History
Belts have been documented for male clothing since the
Bronze Age
Bronze Age
The Bronze Age is a period characterized by the use of copper and its alloy bronze as the chief hard materials in the manufacture of some implements and weapons. Chronologically, it stands between the Stone Age and Iron Age...
. Both sexes used them off and on, depending on the current fashion. In the western world, belts were more common for men, with the exception of the early
Middle Ages
Middle Ages
The Middle Ages is a periodization of European history from the 5th century to the 15th century. The Middle Ages follows the fall of the Western Roman Empire in 476 and precedes the Early Modern Era. It is the middle period of a three-period division of Western history: Classic, Medieval and Modern...
, late 17th century Mantua, and skirt/blouse combinations between 1900 and 1910.
Art Nouveau
Art Nouveau
Art Nouveau is an international philosophy and style of art, architecture and applied art—especially the decorative arts—that were most popular during 1890–1910. The name "Art Nouveau" is French for "new art"...
belt buckle
Belt buckle
A belt buckle is a buckle, a clasp for fastening two ends, as of straps or a belt, in which a device attached to one of the ends is fitted or coupled to the other. The word enters Middle English via Old French and the Latin buccula or "cheek-strap," as for a helmet...
s are now collector's items.
In the period of the latter half of the 19th century and up until the first World War, the belt was a decorative as well as utilitarian part of the uniform, particularly among officers. In the armed forces of Prussia, Tsarist Russia, and other Eastern European nations, it was common for officers to wear extremely tight, wide belts around the waist, on the outside of the uniform, both to support a saber as well as for aesthetic reasons. These tightly cinched belts served to draw in the waist and give the wearer a trim physique, emphasizing wide shoulders and a pouting chest. Often the belt served only to emphasize waist made small by a
corset
Corset
A corset is a garment worn to hold and shape the torso into a desired shape for aesthetic or medical purposes...
worn under the uniform, a practice which was common especially during the Crimean Wars and was often noted by soldiers from the Western front. Political cartoonists of the day often portrayed the tight waist-cinching of soldiers to comedic effect, and some cartoons survive showing officers being corseted by their inferiors, a practice which surely was uncomfortable but deemed to be necessary and imposing.
In modern times, men started wearing belts in the 1920s, as trouser waists fell to a lower line. Before the 1920s, belts served mostly a decorative purpose, and were associated with the military. Today it is common for men to wear a belt with their trousers.
Since the mid 1990s, the practice of
sagging
Sagging (fashion)
Sagging is a manner of wearing trousers below the waist, hanging below the waist area and therefore revealing much of the underwear. Sagging is predominantly a male fashion...
, which has roots tracing to prison gangs and the prohibition of belts in prison (due to their use as weapons and devices for suicide), has been practiced at times among some young men and boys.
Variants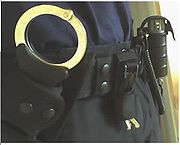 One specialized type of belt is the utility belt or Police duty belt

Police duty belt

Police duty belt is a belt, typically constructed of nylon or leather used by police and security officers to carry equipment easily, in a readily-accessible manner, while leaving the hands free to interact.- History :Many police forces in the United Kingdom began with a uniform consisting of a...


, which includes pockets for carrying items that the wearer needs for prompt use and loops to hang larger items. Police officer

Police officer

A police officer is a warranted employee of a police force...


s, soldier

Soldier

A soldier is a member of the land component of national armed forces; whereas a soldier hired for service in a foreign army would be termed a mercenary...


s, and repair personnel are typical roles which use this kind of belt. Duty belts are generally wider than dress belts, and are stiffer to better provide for the carry of heavy items such as pistols. It is common military practice for such a belt to be a symbol of authority or that one is 'on duty.' Such belts are worn even if no equipment is carried on them. A notable fictional example is Batman's utility belt.
The obi

Obi (sash)

is a sash for traditional Japanese dress, keikogi worn for Japanese martial arts, and a part of kimono outfits.The obi for men's kimono is rather narrow, wide at most, but a woman's formal obi can be wide and more than long. Nowadays, a woman's wide and decorative obi does not keep the kimono...


is traditionally part of a Japanese kimono

Kimono

The is a Japanese traditional garment worn by men, women and children. The word "kimono", which literally means a "thing to wear" , has come to denote these full-length robes...


.
A common sight in fantasy

Fantasy

Fantasy is a genre of fiction that commonly uses magic and other supernatural phenomena as a primary element of plot, theme, or setting. Many works within the genre take place in imaginary worlds where magic is common...


and role playing characters is the excessive use of belts in all different sizes on one's person. Usually they are used either for securing clothing and armor, but others just have several belts around the arms, legs, neck, waist, hips, and across the breasts for decoration. Sometimes they are used in place of eye patches or to decorate weapons. This was also common in superhero

Superhero

A superhero is a type of stock character, possessing "extraordinary or superhuman powers", dedicated to protecting the public. Since the debut of the prototypical superhero Superman in 1938, stories of superheroes — ranging from brief episodic adventures to continuing years-long sagas —...


costume design of the early 1990s.
A studded belt is typically made of leather

Leather

Leather is a durable and flexible material created via the tanning of putrescible animal rawhide and skin, primarily cattlehide. It can be produced through different manufacturing processes, ranging from cottage industry to heavy industry.-Forms:...


or similar materials, and is decorated with metal studs. Studded belts are often a part of punk

Punk subculture

The punk subculture includes a diverse array of ideologies, and forms of expression, including fashion, visual art, dance, literature, and film, which grew out of punk rock.-History:...


/emo

Emo

Emo is a style of rock music and its associated subcultureEmo may also refer to:- Businesses :* Emo , an Irish oil company and filling station chain* Emo Speedway, a racetrack in Emo, Ontario...


scene, skater, Goth

Goth subculture

The goth subculture is a contemporary subculture found in many countries. It began in England during the early 1980s in the gothic rock scene, an offshoot of the post-punk genre. The goth subculture has survived much longer than others of the same era, and has continued to diversify...


and metal fashion.
Skateboarders often wear shoelaces in belt loops to hold pants up instead of a conventional belt. This is done for fashion and because of the buckle on a belt often digs into a skater's stomach when skating, where as to the shoelace has no buckle. The other reason this is done is if the skater falls they don't land on the belt causing more pain.
It is also used in judo, karate and other martial arts, where different colors may indicate rank or skill.
A breast belt is a belt worn by women that holds their breasts up, making them appear larger or more prominent underneath clothing. It is worn generally above or on the stomach but just beneath the breasts.