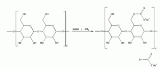 Rayon
Rayon
is a manufactured regenerated
cellulose fiber
Cellulose fiber
Cellulose fibers are fibres of cellulose from any source, either natural or manufactured.-Textile:In the textile industry regenerated cellulose is used as fibers such as rayon, . Cellulose fibers are manufactured from dissolving pulp...
. Because it is produced from naturally occurring
polymer
Polymer
A polymer is a large molecule composed of repeating structural units. These subunits are typically connected by covalent chemical bonds...
s, it is neither a truly
synthetic fiber
Synthetic fiber
Synthetic fibers are the result of extensive research by scientists to improve on naturally occurring animal and plant fibers. In general, synthetic fibers are created by forcing, usually through extrusion, fiber forming materials through holes into the air, forming a thread...
nor a
natural fiber
Natural fiber
Fibers or fibres are a class of hair-like materials that are continuous filaments or are in discrete elongated pieces, similar to pieces of thread. They can be spun into filaments, thread, or rope. They can be used as a component of composite materials. They can also be matted into sheets to...
; it is a semi-synthetic or artificial fiber. Rayon is known by the names
viscose

Viscose

Viscose is a viscous organic liquid used to make rayon and cellophane. Viscose is becoming synonymous with rayon, a soft material commonly used in shirts, shorts, coats, jackets, and other outer wear.-Manufacture:...


rayon
and
art silk
Art silk
Artificial silk or Art silk is a synthetic manufactured fiber which resembles silk but costs less to produce. Frequently, art silk is just a synonym for rayon....
in the
textile
Textile
A textile or cloth is a flexible woven material consisting of a network of natural or artificial fibres often referred to as thread or yarn. Yarn is produced by spinning raw fibres of wool, flax, cotton, or other material to produce long strands...
industry. It usually has a high luster quality giving it a bright sheen.
Some major rayon fiber uses include apparel (e.g.
Aloha shirt
Aloha shirt
The Aloha shirt commonly referred to as a Hawaiian shirt is a style of dress shirt originating in Hawaii. It is currently the premier textile export of the Hawaii manufacturing industry. The shirts are printed, mostly short-sleeved, and collared. They usually have buttons, sometimes as a complete...
s,
blouse
Blouse
A blouse is a loose-fitting upper garment that was formerly worn by workmen, peasants, artists, women and children. It is typically gathered at the waist so that it hangs loosely over the wearer's body. Today, the word most commonly refers to a woman's shirt but can also refer to a man's shirt if...
s,
dress
Dress
A dress is a garment consisting of a skirt with an attached bodice or with a matching bodice giving the effect of a one-piece garment.Dress may also refer to:*Clothing in general*Costume, fancy dress...
es,
jacket
Jacket
A jacket is a hip- or waist-length garment for the upper body. A jacket typically has sleeves, and fastens in the front. A jacket is generally lighter, tighter-fitting, and less insulating than a coat, which is outerwear...
s,
lingerie
Lingerie
Lingerie are fashionable and possibly alluring undergarments.Lingerie usually incorporates one or more flexible, stretchy materials like Lycra, nylon , polyester, satin, lace, silk and sheer fabric which are not typically used in more functional, basic cotton undergarments.The term in the French...
,
linings
Lining (sewing)
In sewing and tailoring, a lining is an inner layer of fabric, fur, or other material inserted into clothing, hats, luggage, curtains, handbags and similar items....
, scarves,
suit
Suit (clothing)
In clothing, a suit is a set of garments made from the same cloth, consisting of at least a jacket and trousers. Lounge suits are the most common style of Western suit, originating in the United Kingdom as country wear...
s,
necktie
Necktie
A necktie is a long piece of cloth worn for decorative purposes around the neck or shoulders, resting under the shirt collar and knotted at the throat. Variants include the ascot tie, bow tie, bolo tie, and the clip-on tie. The modern necktie, ascot, and bow tie are descended from the cravat. Neck...
s,
hat
Hat
A hat is a head covering. It can be worn for protection against the elements, for ceremonial or religious reasons, for safety, or as a fashion accessory. In the past, hats were an indicator of social status...
s,
sock
Sock
A sock is an item of clothing worn on the feet. The foot is among the heaviest producers of sweat in the body, as it is able to produce over of perspiration per day. Socks help to absorb this sweat and draw it to areas where air can evaporate the perspiration. In cold environments, socks decrease...
s), the filling in
Zippo
Zippo
A Zippo lighter is a refillable, metal lighter manufactured by Zippo Manufacturing Company of Bradford, Pennsylvania, U.S. Thousands of different styles and designs have been made in the seven decades since their introduction including military ones for specific regiments.-Establishment:George G...
lighter
Lighter
A lighter is a portable device used to generate a flame. It consists of a metal or plastic container filled with a flammable fluid or pressurized liquid gas, a means of ignition, and some provision for extinguishing the flame.- History :...
s, furnishings (e.g.