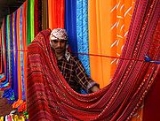 Textile
A
textile
or
cloth
is a flexible woven material consisting of a network of natural or artificial fibres often referred to as thread or
yarn
Yarn
Yarn is a long continuous length of interlocked fibres, suitable for use in the production of textiles, sewing, crocheting, knitting, weaving, embroidery and ropemaking. Thread is a type of yarn intended for sewing by hand or machine. Modern manufactured sewing threads may be finished with wax or...
. Yarn is produced by
spinning
Spinning (textiles)
Spinning is a major industry. It is part of the textile manufacturing process where three types of fibre are converted into yarn, then fabric, then textiles. The textiles are then fabricated into clothes or other artifacts. There are three industrial processes available to spin yarn, and a...
raw fibres of
wool
Wool
Wool is the textile fiber obtained from sheep and certain other animals, including cashmere from goats, mohair from goats, qiviut from muskoxen, vicuña, alpaca, camel from animals in the camel family, and angora from rabbits....
,
flax
Flax
Flax is a member of the genus Linum in the family Linaceae. It is native to the region extending from the eastern Mediterranean to India and was probably first domesticated in the Fertile Crescent...
,
cotton
Cotton
Cotton is a soft, fluffy staple fiber that grows in a boll, or protective capsule, around the seeds of cotton plants of the genus Gossypium. The fiber is almost pure cellulose. The botanical purpose of cotton fiber is to aid in seed dispersal....
, or other material to produce long strands. Textiles are formed by
weaving
Weaving
Weaving is a method of fabric production in which two distinct sets of yarns or threads are interlaced at right angles to form a fabric or cloth. The other methods are knitting, lace making and felting. The longitudinal threads are called the warp and the lateral threads are the weft or filling...
,
knitting
Knitting
Knitting is a method by which thread or yarn may be turned into cloth or other fine crafts. Knitted fabric consists of consecutive rows of loops, called stitches. As each row progresses, a new loop is pulled through an existing loop. The active stitches are held on a needle until another loop can...
,
crochet
Crochet
Crochet is a process of creating fabric from yarn, thread, or other material strands using a crochet hook. The word is derived from the French word "crochet", meaning hook. Hooks can be made of materials such as metals, woods or plastic and are commercially manufactured as well as produced by...
ing,
knotting
Macramé
Macramé or macrame is a form of textile-making using knotting rather than weaving or knitting. Its primary knots are the square knot and forms of "hitching": full hitch and double half hitches...
, or pressing fibres together (
felt
Felt
Felt is a non-woven cloth that is produced by matting, condensing and pressing woollen fibres. While some types of felt are very soft, some are tough enough to form construction materials. Felt can be of any colour, and made into any shape or size....
).
The words
fabric
and
cloth
are used in textile assembly trades (such as
tailor
Tailor
A tailor is a person who makes, repairs, or alters clothing professionally, especially suits and men's clothing.Although the term dates to the thirteenth century, tailor took on its modern sense in the late eighteenth century, and now refers to makers of men's and women's suits, coats, trousers,...
ing and
dressmaking
Dressmaker
A dressmaker is a person who makes custom clothing for women, such as dresses, blouses, and evening gowns. Also called a mantua-maker or a modiste.-Notable dressmakers:*Cristobal Balenciaga*Charles Frederick Worth...
) as synonyms for textile.