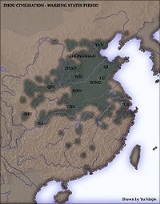 Warring States Period
The
Warring States Period
, also known as the
Era of Warring States
, or the
Warring Kingdoms
period, covers the
Iron Age
Iron Age
The Iron Age is the archaeological period generally occurring after the Bronze Age, marked by the prevalent use of iron. The early period of the age is characterized by the widespread use of iron or steel. The adoption of such material coincided with other changes in society, including differing...
period from about 475 BC to the reunification of
China
China
Chinese civilization may refer to:* China for more general discussion of the country.* Chinese culture* Greater China, the transnational community of ethnic Chinese.* History of China* Sinosphere, the area historically affected by Chinese culture...
under the
Qin Dynasty
Qin Dynasty
The Qin Dynasty was the first imperial dynasty of China, lasting from 221 to 207 BC. The Qin state derived its name from its heartland of Qin, in modern-day Shaanxi. The strength of the Qin state was greatly increased by the legalist reforms of Shang Yang in the 4th century BC, during the Warring...
in 221 BC. It is nominally considered to be the second part of the Eastern
Zhou Dynasty
Zhou Dynasty
The Zhou Dynasty was a Chinese dynasty that followed the Shang Dynasty and preceded the Qin Dynasty. Although the Zhou Dynasty lasted longer than any other dynasty in Chinese history, the actual political and military control of China by the Ji family lasted only until 771 BC, a period known as...
, following the
Spring and Autumn Period
, although the Zhou Dynasty ended in 256 BC, 35 years earlier than the end of the Warring States period.