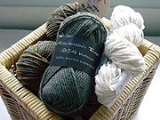 Yarn
Yarn
is a long continuous length of interlocked fibres, suitable for use in the production of
textile
Textile
A textile or cloth is a flexible woven material consisting of a network of natural or artificial fibres often referred to as thread or yarn. Yarn is produced by spinning raw fibres of wool, flax, cotton, or other material to produce long strands...
s,
sewing
Sewing
Sewing is the craft of fastening or attaching objects using stitches made with a needle and thread. Sewing is one of the oldest of the textile arts, arising in the Paleolithic era...
,
crochet
Crochet
Crochet is a process of creating fabric from yarn, thread, or other material strands using a crochet hook. The word is derived from the French word "crochet", meaning hook. Hooks can be made of materials such as metals, woods or plastic and are commercially manufactured as well as produced by...
ing,
knitting
Knitting
Knitting is a method by which thread or yarn may be turned into cloth or other fine crafts. Knitted fabric consists of consecutive rows of loops, called stitches. As each row progresses, a new loop is pulled through an existing loop. The active stitches are held on a needle until another loop can...
,
weaving
Weaving
Weaving is a method of fabric production in which two distinct sets of yarns or threads are interlaced at right angles to form a fabric or cloth. The other methods are knitting, lace making and felting. The longitudinal threads are called the warp and the lateral threads are the weft or filling...
,
embroidery
Embroidery
Embroidery is the art or handicraft of decorating fabric or other materials with needle and thread or yarn. Embroidery may also incorporate other materials such as metal strips, pearls, beads, quills, and sequins....
and
rope
Rope
A rope is a length of fibres, twisted or braided together to improve strength for pulling and connecting. It has tensile strength but is too flexible to provide compressive strength...
making.
Thread
Thread (yarn)
Thread is a kind of yarn used for sewing.-Materials:Thread is made from just about everything. Following table lists common materials, a general description and what they are supposed to be good for. If your machine will sew with the thread, any thread can used for just about any purpose. This...
is a type of yarn intended for sewing by hand or
machine
Sewing machine
A sewing machine is a textile machine used to stitch fabric, cards and other material together with thread. Sewing machines were invented during the first Industrial Revolution to decrease the amount of manual sewing work performed in clothing companies...
. Modern manufactured sewing threads may be finished with
wax
Wax
thumb|right|[[Cetyl palmitate]], a typical wax ester.Wax refers to a class of chemical compounds that are plastic near ambient temperatures. Characteristically, they melt above 45 °C to give a low viscosity liquid. Waxes are insoluble in water but soluble in organic, nonpolar solvents...
or other lubricants to withstand the stresses involved in sewing.
Embroidery thread
Embroidery thread
Embroidery thread is yarn that is manufactured or hand-spun specifically for embroidery and other forms of needlework.Threads for hand embroidery include:...
s are yarns specifically designed for hand or
machine embroidery
Machine embroidery
Machine embroidery is an embroidery process whereby a sewing machine or embroidery machine is used to create patterns on textiles. It is used commercially in product branding, corporate advertising, and uniform adornment. Hobbyists also machine embroider for personal sewing and craft projects.There...
.
Spun yarn
is made by twisting or otherwise bonding
staple
Staple (textiles)
A Wool Staple is a naturally formed cluster or lock of wool fibres and not a single fibre. Very many staples together form a fleece.* Image of the staples on the sheep The cluster of wool fibres is made by a cluster of follicles...
fibres together to make a cohesive thread, or "single." Twisting fibres into yarn in the process called
spinning
Spinning (textiles)
Spinning is a major industry. It is part of the textile manufacturing process where three types of fibre are converted into yarn, then fabric, then textiles. The textiles are then fabricated into clothes or other artifacts. There are three industrial processes available to spin yarn, and a...
can be dated back to the
Upper Paleolithic
Upper Paleolithic
The Upper Paleolithic is the third and last subdivision of the Paleolithic or Old Stone Age as it is understood in Europe, Africa and Asia. Very broadly it dates to between 40,000 and 10,000 years ago, roughly coinciding with the appearance of behavioral modernity and before the advent of...
, and yarn spinning was one of the very first processes to be industrialized.