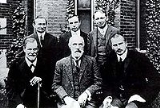 Psychology of religion
Psychology of religion
consists of the application of psychological methods and interpretive frameworks to religious traditions, as well as to both religious and irreligious individuals. The science attempts to accurately describe the details, origins, and uses of religious beliefs and behaviours. Although the psychology of religion first arose as a self-conscious discipline as recently as the late 19th century, all three of these tasks have a history going back many centuries before that.
Many areas of religion remain unexplored by psychology. While religion and
spirituality
Spirituality
Spirituality can refer to an ultimate or an alleged immaterial reality; an inner path enabling a person to discover the essence of his/her being; or the "deepest values and meanings by which people live." Spiritual practices, including meditation, prayer and contemplation, are intended to develop...
play a role in many people's lives, it is uncertain how they lead to outcomes that are at times
positive
Religion and happiness
Religion and happiness have been studied by a number of researchers. The science of positive psychology has identified many components of happiness, and religion seems adapted to satisfy many of them...
, and at other times negative. Thus, the pathways and outcomes that underlie these associations (and sometimes causations) need additional research. Continued dialogue between psychology and theology may foster greater understanding and benefit both fields.
Overview
The challenge for the psychology of religion is essentially threefold: (1) to provide a thoroughgoing description of the objects of investigation, whether they be shared religious content (e.g., a tradition's ritual observances) or individual experiences, attitudes, or conduct; (2) to account in psychological terms for the rise of such phenomena; and (3) to clarify the outcomes—the fruits, as William James put it—of these phenomena, for individuals and for the larger society.
The first, descriptive task naturally requires a clarification of one's terms, above all, the word religion. Historians of religion have long underscored the problematic character of this term, noting that its usage over the centuries has changed in significant ways, generally in the direction of
reification
Reification
Reification generally refers to bringing into being or turning concrete.Specifically, reification may refer to:*Reification , making a data model for a previously abstract concept...
. The early psychologists of religion were fully aware of these difficulties, typically acknowledging that the definitions they were choosing to use were to some degree arbitrary. With the rise of positivistic trends in psychology over the course of the 20th century, especially the demand that all phenomena be measured, psychologists of religion developed a multitude of scales, most of them developed for use with Protestant Christians. Factor analysis was also brought into play by both psychologists and sociologists of religion, in an effort to establish a fixed core of dimensions and a corresponding set of scales. The justification and adequacy of these efforts, especially in the light of constructivist and other postmodern viewpoints, remains a matter of debate.
In the last several decades, especially among clinical psychologists, a preference for the terms "spirituality" and "spiritual" has emerged, along with efforts to distinguish them from "religion" and "religious." Especially in the United States, "religion" has for many become associated with sectarian institutions and their obligatory creeds and rituals, thus giving the word a negative cast; "spirituality," in contrast, is positively constructed as deeply individual and subjective, as a universal capacity to apprehend and accord one's life with higher realities. In fact, "spirituality" has likewise undergone an evolution in the West, from a time when it was essentially a synonym for religion in its original, subjective meaning. Today, efforts are ongoing to "
operationalize
Operationalization
In humanities, operationalization is the process of defining a fuzzy concept so as to make the concept clearly distinguishable or measurable and to understand it in terms of empirical observations...
" these terms, with little regard for their history in their Western context and with the apparent realist assumption that underlying them are fixed qualities identifiable by means of empirical procedures.
William James
U.S. psychologist and philosopher
William James
William James
William James was a pioneering American psychologist and philosopher who was trained as a physician. He wrote influential books on the young science of psychology, educational psychology, psychology of religious experience and mysticism, and on the philosophy of pragmatism...
(1842–1910) is regarded by most psychologists of religion as the founder of the field. He served as president of the
American Psychological Association
, and wrote one of the first psychology textbooks. In the psychology of religion, James' influence endures. His
Varieties of Religious Experience
The Varieties of Religious Experience
The Varieties of Religious Experience: A Study in Human Nature is a book by the Harvard University psychologist and philosopher William James that comprises his edited Gifford Lectures on "Natural Theology" delivered at the University of Edinburgh in Scotland between 1901 and 1902.These lectures...
is considered to be the classic work in the field, and references to James' ideas are common at professional conferences.
James distinguished between institutional religion and personal religion. Institutional religion refers to the religious group or organization, and plays an important part in a society's culture. Personal religion, in which the individual has mystical experience, can be experienced regardless of the culture. James was most interested in understanding personal religious experience.
In studying personal religious experiences, James made a distinction between
healthy-minded
and
sick-souled
religiousness. Individuals predisposed to healthy-mindedness tend to ignore the evil in the world and focus on the positive and the good. James used examples of
Walt Whitman
Walt Whitman
Walter "Walt" Whitman was an American poet, essayist and journalist. A humanist, he was a part of the transition between transcendentalism and realism, incorporating both views in his works. Whitman is among the most influential poets in the American canon, often called the father of free verse...
and the "mind-cure" religious movement to illustrate healthy-mindedness in
The Varieties of Religious Experience
. In contrast, individuals predisposed to having a sick-souled religion are unable to ignore evil and suffering, and need a unifying experience, religious or otherwise, to reconcile good and evil. James included quotations from
Leo Tolstoy
Leo Tolstoy
Lev Nikolayevich Tolstoy was a Russian writer who primarily wrote novels and short stories. Later in life, he also wrote plays and essays. His two most famous works, the novels War and Peace and Anna Karenina, are acknowledged as two of the greatest novels of all time and a pinnacle of realist...
and
John Bunyan
John Bunyan
John Bunyan was an English Christian writer and preacher, famous for writing The Pilgrim's Progress. Though he was a Reformed Baptist, in the Church of England he is remembered with a Lesser Festival on 30 August, and on the liturgical calendar of the Episcopal Church on 29 August.-Life:In 1628,...
to illustrate the sick soul.
William James' hypothesis of pragmatism stems from the efficacy of religion. If an individual believes in and performs religious activities, and those actions happen to work, then that practice appears the proper choice for the individual. However, if the processes of religion have little efficacy, then there is no rationality for continuing the practice.
Sigmund Freud
Sigmund Freud
Sigmund Freud
Sigmund Freud , born Sigismund Schlomo Freud , was an Austrian neurologist who founded the discipline of psychoanalysis...
(1856–1939) gave explanations of the genesis of religion in his various writings. In
Totem and Taboo
Totem and Taboo
Totem and Taboo: Resemblances Between the Mental Lives of Savages and Neurotics is a book by Sigmund Freud published in German in 1913 under the title Totem und Tabu: Einige Übereinstimmungen im Seelenleben der Wilden und der Neurotiker...
, he applied the idea of the
Oedipus complex
Oedipus complex
In psychoanalytic theory, the term Oedipus complex denotes the emotions and ideas that the mind keeps in the unconscious, via dynamic repression, that concentrate upon a boy's desire to sexually possess his mother, and kill his father...
(involving unresolved sexual feelings of, for example, a son toward his mother and hostility toward his father) and postulated its emergence in the primordial stage of human development.
In
Moses and Monotheism
Moses and Monotheism
Moses and Monotheism, 1939 by Sigmund Freud, ISBN 978-0394700144 is a book where Freud hypothesizes that Moses was not Jewish, but actually born into Ancient Egyptian nobility and was perhaps a follower of Akhenaten, an ancient Egyptian monotheist, or perhaps Akhenaten himself...
, Freud reconstructed biblical history in accordance with his general theory. His ideas were also developed in
The Future of an Illusion
. When Freud spoke of religion as an
illusion
Illusion
An illusion is a distortion of the senses, revealing how the brain normally organizes and interprets sensory stimulation. While illusions distort reality, they are generally shared by most people....
, he maintained that it
is a fantasy structure from which a man must be set free if he is to grow to maturity
.
Freud views the idea of
God
God
God is the English name given to a singular being in theistic and deistic religions who is either the sole deity in monotheism, or a single deity in polytheism....
as being a version of the
father
Father
A father, Pop, Dad, or Papa, is defined as a male parent of any type of offspring. The adjective "paternal" refers to father, parallel to "maternal" for mother...
image, and religious belief as at bottom infantile and neurotic. Authoritarian religion, Freud believed, is dysfunctional and alienates man from himself.
Carl Jung
The Swiss psychoanalyst
Carl Jung
Carl Jung
Carl Gustav Jung was a Swiss psychiatrist and the founder of Analytical Psychology. Jung is considered the first modern psychiatrist to view the human psyche as "by nature religious" and make it the focus of exploration. Jung is one of the best known researchers in the field of dream analysis and...
(1875–1961) adopted a very different posture, one that was more sympathetic to religion and more concerned with a positive appreciation of
religious symbolism
Religious symbolism
Religious symbolism is the use of symbols, including archetypes, acts, artwork, events, or natural phenomena, by a religion. Religions view religious texts, rituals, and works of art as symbols of compelling ideas or ideals...
. Jung considered the question of the existence of God to be unanswerable by the psychologist and adopted a kind of
agnosticism
Agnosticism
Agnosticism is the view that the truth value of certain claims—especially claims about the existence or non-existence of any deity, but also other religious and metaphysical claims—is unknown or unknowable....
.
Jung postulated, in addition to the personal
unconscious
Unconscious mind
The unconscious mind is a term coined by the 18th century German romantic philosopher Friedrich Schelling and later introduced into English by the poet and essayist Samuel Taylor Coleridge...
(roughly adopting Freud's concept), the
collective unconscious
Collective unconscious
Collective unconscious is a term of analytical psychology, coined by Carl Jung. It is proposed to be a part of the unconscious mind, expressed in humanity and all life forms with nervous systems, and describes how the structure of the psyche autonomously organizes experience...
, which is the repository of human experience and which contains "
archetypes
Jungian archetypes
Carl Jung created the archetypes which "are ancient or archaic images that derive from the collective unconscious" Also known as innate universal psychic dispositions that form the substrate from which the basic symbols or representations of unconscious experience emerge...
" (i.e. basic images that are universal in that they recur regardless of culture). The irruption of these images from the unconscious into the realm of consciousness he viewed as the basis of
religious experience
Religious experience
Religious experience is a subjective experience in which an individual reports contact with a transcendent reality, an encounter or union with the divine....
and often of artistic creativity. Some of Jung's writings have been devoted to elucidating some of the archetypal
symbol
Symbol
A symbol is something which represents an idea, a physical entity or a process but is distinct from it. The purpose of a symbol is to communicate meaning. For example, a red octagon may be a symbol for "STOP". On a map, a picture of a tent might represent a campsite. Numerals are symbols for...
s, and include his work in
comparative mythology
Comparative mythology
Comparative mythology is the comparison of myths from different cultures in an attempt to identify shared themes and characteristics. Comparative mythology has served a variety of academic purposes...
.
Jung had a very broad view of what it means to be empirical. Suppose, for example, one person hears something whereas someone else near that person does not. If only one person experiences something, for Jung it is an empirical observation. For most contemporary scientists, however, it would not be considered an empirical observation. Because of this, there has been little research in the psychology of religion from a Jungian perspective.
Alfred Adler
Austrian psychiatrist
Alfred Adler
Alfred Adler
Alfred Adler was an Austrian medical doctor, psychotherapist, and founder of the school of individual psychology. In collaboration with Sigmund Freud and a small group of Freud's colleagues, Adler was among the co-founders of the psychoanalytic movement as a core member of the Vienna...
(1870–1937), who parted ways with Freud, emphasised the role of goals and motivation in his
Individual Psychology
. One of Adler's most famous ideas is that we try to compensate for inferiorities that we perceive in ourselves. A lack of power often lies at the root of feelings of inferiority. One way that religion enters into this picture is through our beliefs in God, which are characteristic of our tendency to strive for perfection and superiority. For example, in many religions God is considered to be perfect and omnipotent, and commands people likewise to be perfect. If we, too, achieve perfection, we become one with God. By identifying with God in this way, we compensate for our imperfections and feelings of inferiority.
Our ideas about God are important indicators of how we view the world. According to Adler, these ideas have changed over time, as our vision of the world – and our place in it – has changed. Consider this example that Adler offers: the traditional belief that people were placed deliberately on earth as God's ultimate creation is being replaced with the idea that people have evolved by
natural selection
Natural selection
Natural selection is the nonrandom process by which biologic traits become either more or less common in a population as a function of differential reproduction of their bearers. It is a key mechanism of evolution....
. This coincides with a view of God not as a real being, but as an abstract representation of nature's forces. In this way our view of God has changed from one that was concrete and specific to one that is more general. From Adler's vantage point, this is a relatively ineffective perception of God because it is so general that it fails to convey a strong sense of direction and purpose.
An important thing for Adler is that God (or the idea of God) motivates people to act, and that those actions do have real consequences for ourselves and for others. Our view of God is important because it embodies our goals and directs our social interactions.
Compared to
science
Science
Science is a systematic enterprise that builds and organizes knowledge in the form of testable explanations and predictions about the universe...
, another social movement, religion is more efficient because it motivates people more effectively. According to Adler, only when science begins to capture the same religious fervour, and promotes the welfare of all segments of society, will the two be more equal in peoples' eyes.
Gordon Allport
In his classic book
The Individual and His Religion
(1950),
Gordon Allport
Gordon Allport
Gordon Willard Allport was an American psychologist. Allport was one of the first psychologists to focus on the study of the personality, and is often referred to as one of the founding figures of personality psychology...
(1897–1967) illustrates how people may use religion in different ways. He makes a distinction between
Mature religion
and
Immature religion
. Mature religious sentiment is how Allport characterized the person whose approach to religion is dynamic, open-minded, and able to maintain links between inconsistencies. In contrast, immature religion is
self-serving
Vanity
In conventional parlance, vanity is the excessive belief in one's own abilities or attractiveness to others. Prior to the 14th century it did not have such narcissistic undertones, and merely meant futility. The related term vainglory is now often seen as an archaic synonym for vanity, but...
and generally represents the negative stereotypes that people have about religion.
More recently, this distinction has been encapsulated in the terms "intrinsic religion", referring to a genuine, heartfelt devout
faith
Faith
Faith is confidence or trust in a person or thing, or a belief that is not based on proof. In religion, faith is a belief in a transcendent reality, a religious teacher, a set of teachings or a Supreme Being. Generally speaking, it is offered as a means by which the truth of the proposition,...
, and "extrinsic religion", referring to a more utilitarian use of religion as a means to an end, such as
church
Church service
In Christianity, a church service is a term used to describe a formalized period of communal worship, often but not exclusively occurring on Sunday, or Saturday in the case of those churches practicing seventh-day Sabbatarianism. The church service is the gathering together of Christians to be...
attendance to gain
social status
Social status
In sociology or anthropology, social status is the honor or prestige attached to one's position in society . It may also refer to a rank or position that one holds in a group, for example son or daughter, playmate, pupil, etc....
. These dimensions of religion were measured on the
Religious Orientation Scale
Extrinsic religious orientation
-Extrinsic Religious Orientation:External Religious Orientation is the method of using religion to achieve non-religious goals. It is used by people who go to religious gatherings and make claims to certain religious ideologies to establish or maintain social networks while minimally adhering to...
of Allport and Ross (1967). A third form of religious orientation has been described by
Daniel Batson
Daniel Batson
C. Daniel Batson is an American social psychologist. He holds both doctoral degrees in Theology and Psychology . He obtained his doctorate under John Darley and has taught at the University of Kansas...
. This refers to treatment of religion as an open-ended search (Batson, Schoenrade & Ventis, 1993).
More specifically, it has been seen by Batson as comprising a willingness to view religious doubts in a positive manner, acceptance that religious orientation can change and existential complexity, the belief that one's religious beliefs should be shaped from personal crises that one has experienced in one's life. Batson refers to extrinsic, intrinsic and quest respectively as Religion-as-means, religion-as-end and religion-as-quest, and measures these constructs on the Religious Life Inventory (Batson, Schoenrade & Ventis, 1993).
Erik H. Erikson
Erik Erikson
Erik Erikson
Erik Erikson was a Danish-German-American developmental psychologist and psychoanalyst known for his theory on social development of human beings. He may be most famous for coining the phrase identity crisis. His son, Kai T...
(1902–1994) is best known for his theory of psychological development, which has its roots in the psychoanalytic importance of
identity
Identity (social science)
Identity is a term used to describe a person's conception and expression of their individuality or group affiliations . The term is used more specifically in psychology and sociology, and is given a great deal of attention in social psychology...
in personality. His biographies of Gandhi and
Martin Luther
Martin Luther
Martin Luther was a German priest, professor of theology and iconic figure of the Protestant Reformation. He strongly disputed the claim that freedom from God's punishment for sin could be purchased with money. He confronted indulgence salesman Johann Tetzel with his Ninety-Five Theses in 1517...
reveal Erikson's positive view of religion. He considered religions to be important influences in successful
personality development
Personality Development
An individual's personality is an aggregate conglomeration of decisions we've made throughout our lives . There are inherent natural, genetic, and environmental factors that contribute to the development of our personality. According to process of socialization, "personality also colors our values,...
because they are the primary way that cultures promote the virtues associated with each stage of life. Religious
ritual
Ritual
A ritual is a set of actions, performed mainly for their symbolic value. It may be prescribed by a religion or by the traditions of a community. The term usually excludes actions which are arbitrarily chosen by the performers....
s facilitate this development. Erikson's theory has not benefited from systematic empirical study, but it remains an influential and well-regarded theory in the psychological study of religion.
Erich Fromm
The American scholar
Erich Fromm
Erich Fromm
Erich Seligmann Fromm was a Jewish German-American social psychologist, psychoanalyst, sociologist, humanistic philosopher, and democratic socialist. He was associated with what became known as the Frankfurt School of critical theory.-Life:Erich Fromm was born on March 23, 1900, at Frankfurt am...
(1900–1980) modified the Freudian theory and produced a more complex account of the functions of religion. In his book
Psychoanalysis and Religion
Psychoanalysis and Religion
Psychoanalysis and Religion is a 1950 psychoanalytic treatise that attempts to explain the purpose and goals of psychoanalysis in relation to ethics and religion...
he responded to Freud's theories by explaining that part of the modification is viewing the
Oedipus complex
Oedipus complex
In psychoanalytic theory, the term Oedipus complex denotes the emotions and ideas that the mind keeps in the unconscious, via dynamic repression, that concentrate upon a boy's desire to sexually possess his mother, and kill his father...
as based not so much on sexuality as on a "much more profound desire", namely, the childish desire to remain attached to protecting figures. The right religion, in Fromm's estimation, can, in principle, foster an individual's highest potentialities, but religion in practice tends to relapse into being neurotic.
According to Fromm, humans have a need for a stable frame of reference. Religion apparently fills this need. In effect, humans crave answers to questions that no other source of knowledge has an answer to, which only religion may seem to answer. However, a sense of free will must be given in order for religion to appear healthy. An authoritarian notion of religion appears detrimental.
Rudolf Otto
Rudolf Otto
Rudolf Otto
Rudolf Otto was an eminent German Lutheran theologian and scholar of comparative religion.-Life:Born in Peine near Hanover, Otto attended the Gymnasium Andreanum in Hildesheim and studied at the universities of Erlangen and Göttingen, where he wrote his dissertation on Martin Luther's...
(1869–1937) was a
German
Germany
Germany , officially the Federal Republic of Germany , is a federal parliamentary republic in Europe. The country consists of 16 states while the capital and largest city is Berlin. Germany covers an area of 357,021 km2 and has a largely temperate seasonal climate...
Protestant theologian and scholar of comparative religion. Otto's most famous work,
The Idea of the Holy
(published first in 1917 as
Das Heilige
), defines the concept of the holy as that which is
numinous
. Otto explained the numinous as a "non-rational, non-sensory experience or feeling whose primary and immediate object is outside the self." It is a
mystery
Sacred Mysteries
The term sacred mysteries generally denotes the area of supernatural phenomena associated with a divinity or a religious ideology.-Pre-Christian religious mysteries:...
(Latin:
mysterium tremendum
) that is both fascinating (
fascinans
) and terrifying at the same time; A mystery that causes trembling and fascination, attempting to explain that inexpressible and perhaps
supernatural
Supernatural
The supernatural or is that which is not subject to the laws of nature, or more figuratively, that which is said to exist above and beyond nature...
emotion
Emotion
Emotion is a complex psychophysiological experience of an individual's state of mind as interacting with biochemical and environmental influences. In humans, emotion fundamentally involves "physiological arousal, expressive behaviors, and conscious experience." Emotion is associated with mood,...
al reaction of
wonder
Wonder
Wonder most commonly refers to:* Wonder , an emotion comparable to surprise that people feel when perceiving something rare or unexpected.Wonder may also refer to:In fiction* Wonder Boys, a 1995 novel by Michael Chabon...
drawing us to seemingly ordinary and/or religious experiences of
grace
Divine grace
In Christian theology, grace is God's gift of God's self to humankind. It is understood by Christians to be a spontaneous gift from God to man - "generous, free and totally unexpected and undeserved" - that takes the form of divine favour, love and clemency. It is an attribute of God that is most...
. This sense of emotional wonder appears evident at the root of all religious experiences. Through this emotional wonder, we suspend our rational mind for non-rational possibilities.
It also sets a
paradigm
Paradigm
The word paradigm has been used in science to describe distinct concepts. It comes from Greek "παράδειγμα" , "pattern, example, sample" from the verb "παραδείκνυμι" , "exhibit, represent, expose" and that from "παρά" , "beside, beyond" + "δείκνυμι" , "to show, to point out".The original Greek...
for the study of religion that focuses on the need to realise the religious as a non-reducible, original category in its own right. This paradigm was under much attack between approximately 1950 and 1990 but has made a strong comeback since then.
Allen Bergin
Allen Bergin
Allen Bergin
Allen Bergin is a clinical psychologist known for his work on psychotherapy values. His 1980 article on theistic values was ground-breaking in the field and elicited over 1,000 responses and requests for reprints, including luminaries such as Carl Rogers and Albert Bandura...
is noted for his 1980 paper "Psychotherapy and Religious Values," which is known as a landmark in scholarly acceptance that religious values do, in practice, influence psychotherapy. He received the Distinguished Professional Contributions to Knowledge award from the American Psychological Association in 1989 and was cited as challenging "psychological orthodoxy to emphasize the importance of values and religion in therapy."
Robert Emmons
Robert Emmons
Robert Emmons
Robert Wales Emmons II was an American football player, coach, yachtsman, and millionaire. He played and coached college football for Harvard University from 1891 to 1895. He later had a successful career in the banking and stock brokerage business...
offered a theory of "spiritual strivings" in his 1999 book,
The Psychology of Ultimate Concerns
. With support from empirical studies, Emmons argued that spiritual strivings foster personality integration because they exist at a higher level of the personality.
Kenneth Pargament
Kenneth Pargament
Kenneth Pargament
Kenneth I. Pargament is a professor of psychology at Bowling Green State University .-Biography:Born in 1950 in Washington, D.C., Pargament received his Ph. D from the University of Maryland in 1977. He currently studies various relationships between religion, psychological well-being and stress,...
is noted for his book
Psychology of Religion and Coping
Psychology of Religion and Coping (book)
The Psychology of Religion and Coping: Theory, Research, Practice by Kenneth Pargament was published in the US in 1997. It is addressed to professional psychologists and researchers, and has been reviewed in many professional journals....
(1997; see
article
Psychology of Religion and Coping (book)
The Psychology of Religion and Coping: Theory, Research, Practice by Kenneth Pargament was published in the US in 1997. It is addressed to professional psychologists and researchers, and has been reviewed in many professional journals....
), as well as for a 2007 book on religion and psychotherapy, and a sustained research program on religious coping. He is professor of
psychology
Psychology
Psychology is the study of the mind and behavior. Its immediate goal is to understand individuals and groups by both establishing general principles and researching specific cases. For many, the ultimate goal of psychology is to benefit society...
at
Bowling Green State University
Bowling Green State University
Bowling Green State University, often referred to as Bowling Green or BGSU, is a public, coeducational research university located in Bowling Green, Ohio, United States. The institution was granted a charter in 1910 by the State of Ohio as part of the Lowry Bill, which also established Kent State...
(
Ohio
Ohio
Ohio is a Midwestern state in the United States. The 34th largest state by area in the U.S.,it is the 7th‑most populous with over 11.5 million residents, containing several major American cities and seven metropolitan areas with populations of 500,000 or more.The state's capital is Columbus...
, USA), and
has published more than 100 papers on the subject of religion and spirituality in psychology. Pargament led the design of a
questionnaire
Questionnaire
A questionnaire is a research instrument consisting of a series of questions and other prompts for the purpose of gathering information from respondents. Although they are often designed for statistical analysis of the responses, this is not always the case...
called the "RCOPE" to measure Religious Coping strategies. Pargament has distinguished between three types of styles for
coping
Coping (psychology)
Coping has been defined in psychological terms by Susan Folkman and Richard Lazarus as "constantly changing cognitive and behavioral efforts to manage specific external and/or internal demands that are appraised as taxing" or "exceeding the resources of the person".Coping is thus expending...
with stress:
1) Collaborative, in which people co-operate with God to deal with stressful events;
2) Deferring, in which people leave everything to God; and
3) Self-directed, in which people do not rely on God and try exclusively to solve problems by their own efforts. He also describes four major stances toward religion that have been adopted by psychotherapists in their work with clients, which he calls the religiously
rejectionist
,
exclusivist
,
constructivist
, and
pluralist
Religious pluralism
Religious pluralism is a loosely defined expression concerning acceptance of various religions, and is used in a number of related ways:* As the name of the worldview according to which one's religion is not the sole and exclusive source of truth, and thus that at least some truths and true values...
stances.
James Hillman
James Hillman
James Hillman
James Hillman was an American psychologist. He studied at, and then guided studies for, the C.G. Jung Institute in Zurich, founded a movement toward archetypal psychology and retired into private practice, writing and traveling to lecture, until his death at his home in Connecticut on October 27,...
, at the end of his book Re-Visioning Psychology, reverses James' position of viewing religion through psychology, urging instead that we view psychology as a variety of religious experience. He concludes: "Psychology as religion implies imagining all psychological events as effects of Gods in the soul."
Julian Jaynes
Julian Jaynes
Julian Jaynes
Julian Jaynes was an American psychologist, best known for his book The Origin of Consciousness in the Breakdown of the Bicameral Mind , in which he argued that ancient peoples were not conscious....
, primarily in his book
The Origin of Consciousness in the Breakdown of the Bicameral Mind
, proposed that religion (and some other psychological phenomena such as hypnosis and schizophrenia) is a remnant of a relatively recent time in human development when the mind was 'bicameral', or divided into two. Conscious thoughts were uncommon and would be perceived as an external, rather than internal, voice (from one part of the mind) commanding the person to take some action. These were hence often explained as originating from invisible gods, spirits, ancestors, etc.
Hypotheses on the role of religion
There are three primary hypotheses on the role of religion in the modern world.
Secularization
The first hypothesis,
secularization
Secularization
Secularization is the transformation of a society from close identification with religious values and institutions toward non-religious values and secular institutions...
, holds that science and technology will take the place of religion. Secularization supports the separation of religion from politics, ethics, and psychology. Taking this position even further, Taylor explains that secularization denies transcendence, divinity, and rationality in religious beliefs.
Religious transformation
Challenges to the secularization hypothesis led to significant revisions, resulting in the religious transformation hypothesis. This perspective holds that general trends towards individualism and social disintegration will produce changes in religion, making religious practice more individualized and spiritually focused. This in turn is expected to produce more spiritual seeking, although not exclusive to religious institutions. Eclecticism, which draws from multiple religious/spiritual systems and
New Age
New Age
The New Age movement is a Western spiritual movement that developed in the second half of the 20th century. Its central precepts have been described as "drawing on both Eastern and Western spiritual and metaphysical traditions and then infusing them with influences from self-help and motivational...
movements are also predicted to result.
Cultural Divide
In response to the religious transformation hypothesis, Ronald Inglehart piloted the renewal of the secularization hypothesis. His argument hinges on the premise that religion develops to fill the human need for security. Therefore the development of social and economic security in Europe explains its corresponding secularization due to a lack of need for religion. However, religion continues in the third world where social and economic insecurity are rampant. The overall effect is expected to be a growing cultural disparity.
Psychometric approaches to religion
Since the 1960s psychologists of religion have used the methodology of
psychometrics
Psychometrics
Psychometrics is the field of study concerned with the theory and technique of psychological measurement, which includes the measurement of knowledge, abilities, attitudes, personality traits, and educational measurement...
to assess different ways in which a person may be religious. An example is the Religious Orientation Scale of Allport and Ross, which measures how respondents stand on intrinsic and extrinsic religion as described by Allport.
More recent questionnaires include the Religious Life Inventory of Batson, Schoenrade and Ventis, and the Age-Universal I-E Scale of Gorsuch and Venable.
The former assesses where people stand on three distinct forms of religious orientation – religion as means, religion as end, and religion as quest. The latter assesses Spiritual Support and Spiritual Openness.
Religious orientations and religious dimensions
Some questionnaires, such as the Religious Orientation Scale, relate to different religious orientations, such as intrinsic and extrinsic religiousness, referring to different motivations for religious allegiance. A rather different approach, taken, for example, by Glock and Stark (1965), has been to list different dimensions of religion rather than different religious orientations, which relates to how an individual may manifest different forms of being religious. (More on Stark's work can be found in the article on
Sociology of Religion
Sociology of religion
The sociology of religion concerns the role of religion in society: practices, historical backgrounds, developments and universal themes. There is particular emphasis on the recurring role of religion in all societies and throughout recorded history...
.) Glock and Stark's famous typology described five dimensions of religion – the doctrinal, the intellectual, the ethical-consequential, the ritual, and the experiential. In later work these authors subdivided the ritual dimension into devotional and public ritual, and also clarified that their distinction of religion along multiple dimensions was not identical to distinguishing religious orientations. Although some psychologists of religion have found it helpful to take a multidimensional approach to religion for the purpose of psychometric scale design, there has been, as Wulff (1997) explains, considerable controversy about whether religion should really be seen as multidimensional.
Questionnaires to assess religious experience
What we call religious experiences can differ greatly. Some reports exist of supernatural happenings that it would be difficult to explain from a rational, scientific point of view. On the other hand, there also exist the sort of testimonies that simply seem to convey a feeling of peace or oneness – something which most of us, religious or not, may possibly relate to. In categorizing religious experiences it is perhaps helpful to look at them as explicable through one of two theories: the Objectivist thesis or the Subjectivist thesis.
An objectivist would argue that the religious experience is a proof of God's existence. However, others have criticised the reliability of religious experiences. The English philosopher Thomas Hobbes asked how it was possible to tell the difference between talking to God in a dream, and dreaming about talking to God.
The Subjectivist view argues that it is not necessary to think of religious experiences as evidence for the existence of an actual being whom we call God. From this point of view, the important thing is the experience itself and the effect that it has on the individual.
Developmental approaches to religion
Attempts have been made to apply stage models, such as that of
Jean Piaget
Jean Piaget
Jean Piaget was a French-speaking Swiss developmental psychologist and philosopher known for his epistemological studies with children. His theory of cognitive development and epistemological view are together called "genetic epistemology"....
and
Lawrence Kohlberg
Lawrence Kohlberg
Lawrence Kohlberg was a Jewish American psychologist born in Bronxville, New York, who served as a professor at the University of Chicago, as well as Harvard University. Having specialized in research on moral education and reasoning, he is best known for his theory of stages of moral development...
, to how children develop ideas about God and about religion in general.
By far the most well-known stage model of spiritual or religious development is that of
James W. Fowler
James W. Fowler
Dr. James W. Fowler III ) Professor of Theology and Human Development at Emory University, was director of both the Center for Research on Faith and Moral Development and the Center for Ethics until he retired in 2005...
, a
developmental psychologist
Developmental psychology
Developmental psychology, also known as human development, is the scientific study of systematic psychological changes, emotional changes, and perception changes that occur in human beings over the course of their life span. Originally concerned with infants and children, the field has expanded to...
at the
Candler School of Theology
Candler School of Theology
Candler School of Theology, Emory University, is one of 13 seminaries of the United Methodist Church. Founded in 1914, the school was named after Warren Akin Candler, a former President and Chancellor of Emory University and a Bishop of the Methodist Episcopal Church, South...
, in his
Stages of Faith
. He follows Piaget and Kohlberg and has proposed a
staged development
Developmental stage
One of the major controversies in developmental psychology centres around whether development is continuous or discontinuous. Stage theories of development rest on the assumption that development is a discontinuous process involving distinct stages which are characterised by qualitative differences...
of
faith
Faith
Faith is confidence or trust in a person or thing, or a belief that is not based on proof. In religion, faith is a belief in a transcendent reality, a religious teacher, a set of teachings or a Supreme Being. Generally speaking, it is offered as a means by which the truth of the proposition,...
(or spiritual development) across the lifespan in terms of a holistic orientation, and is concerned with the individual's relatedness to the universal.
The book-length study contains a framework and ideas considered by many to be insightful and which have generated a good deal of response from those interested in religion, so it appears to have at least a reasonable degree of
face validity
Face validity
Face validity is a property of a test intended to measure something. It is the validity of a test at face value. In other words, a test can be said to have face validity if it "looks like" it is going to measure what it is supposed to measure...
. James Fowler proposes six stages of faith development as follows:
1. Intuitive-projective
2. Symbolic Literal
3. Synthetic Conventional
4. Individuating
5. Paradoxical (conjunctive)
6. Universalising.
Although there is evidence that children up to the age of twelve years do tend to be in the first two of these stages, there is evidence that adults over the age of sixty-one do show considerable variation in displays of qualities of Stages 3 and beyond. Fowler's model has generated some empirical studies, and fuller descriptions of this research (and of these six stages) can be found in Wulff (1991). However, this model has been attacked from
a standpoint of
scientific research
Scientific method
Scientific method refers to a body of techniques for investigating phenomena, acquiring new knowledge, or correcting and integrating previous knowledge. To be termed scientific, a method of inquiry must be based on gathering empirical and measurable evidence subject to specific principles of...
due to methodological weaknesses. Of Fowler's six stages, only the first two found empirical support, and these were heavily based upon Piaget's stages of
cognitive development
Theory of cognitive development
Piaget's theory of cognitive development is a comprehensive theory about the nature and development of human intelligence first developed by Jean Piaget. It is primarily known as a developmental stage theory, but in fact, it deals with the nature of knowledge itself and how humans come gradually to...
. The tables and graphs in the book were presented in such a way that the last four stages appeared to be validated, but the requirements of statistical verification of the stages did not come close to having been met. The study was not published in a journal, so was not peer-reviewed, and never drew much attention from psychologists. Other critics of Fowler have questioned whether his ordering of the stages really reflects his own commitment to a rather liberal Christian Protestant outlook, as if to say that people who adopt a similar viewpoint to Fowler are at higher stages of faith development. Nevertheless, the concepts Fowler introduced seemed to hit home with those in the circles of
academic religion
Religious studies
Religious studies is the academic field of multi-disciplinary, secular study of religious beliefs, behaviors, and institutions. It describes, compares, interprets, and explains religion, emphasizing systematic, historically based, and cross-cultural perspectives.While theology attempts to...
, and have been an important starting point for various theories and subsequent studies.
Religion and prayer
Prayer
Prayer
Prayer is a form of religious practice that seeks to activate a volitional rapport to a deity through deliberate practice. Prayer may be either individual or communal and take place in public or in private. It may involve the use of words or song. When language is used, prayer may take the form of...
is fairly prevalent in the United States. About 75% of the United States reports praying at least once a week. However, the practice of prayer is more prevalent and practiced more consistently among Americans who perform other religious practices. There are four primary types of prayer in the West. Poloma and Pendleton, utilized factor analysis to delineate these four types of prayer: meditative (more spiritual, silent thinking), ritualistic (reciting), petitionary (making requests to God), and colloquial (general conversing with God). Further scientific study of prayer using factor analysis has revealed three dimensions of prayer. Ladd and Spilka's first factor was awareness of self, inward reaching. Their second and third factors were upward reaching (toward God) and outward reaching (toward others). This study appears to support the contemporary model of prayer as connection (whether to the self, higher being, or others).
Prayer appears to have health implications. Empirical studies suggest that mindfully reading and reciting the Psalms (from scripture) can help a person calm down and focus. Prayer is also positively correlated with happiness and religious satisfaction (Poloma & Pendleton, 1989, 1991). Overall, slight health benefits have been found fairly consistently across studies. Three main pathways to explain this trend have been offered: placebo effect, focus and attitude adjustment, and activation of healing processes. (Whether the activation of healing processes explanation is supernatural or biological, or even both, is beyond the scope of this study and this article.)
Religion and ritual
Another significant form of religious practice is ritual. Religious rituals encompass a wide array of practices, but can be defined as the performance of similar actions and vocal expressions based on prescribed tradition and cultural norms. Examples include the Jewish Bar Mitzvah, Catholic Eucharist, Hindu Puja, and Muslim
Salat
Salat
Salah is the practice of formal prayer in Islam. Its importance for Muslims is indicated by its status as one of the Five Pillars of Sunni Islam, of the Ten Practices of the Religion of Twelver Islam and of the 7 pillars of Musta'lī Ismailis...
and
Hajj
Hajj
The Hajj is the pilgrimage to Mecca, Saudi Arabia. It is one of the largest pilgrimages in the world, and is the fifth pillar of Islam, a religious duty that must be carried out at least once in their lifetime by every able-bodied Muslim who can afford to do so...
.
Scheff suggests that ritual provides
catharsis
Catharsis
Catharsis or katharsis is a Greek word meaning "cleansing" or "purging". It is derived from the verb καθαίρειν, kathairein, "to purify, purge," and it is related to the adjective καθαρός, katharos, "pure or clean."-Dramatic uses:...
, emotional purging, through distancing. This emotional distancing enables an individual to experience feelings with an amount of separation, and thus less intensity. However, the conception of religious ritual as an interactive process has since matured and become more scientifically established. From this view, ritual offers a means to catharsis through behaviors that foster connection with others, allowing for emotional expression. This focus on connection contrasts to the separation that seems to underlie Scheff's view.
Additional research suggests the social component of ritual. For instance, findings suggest that ritual performance indicates group commitment and prevents the uncommitted from gaining membership benefits. Ritual may aid in emphasizing moral values that serve as group norms and regulate societies. It may also strengthen commitment to moral convictions and likelihood of upholding these social expectations. Thus, performance of rituals may foster social group stability.
Religion and health
There is considerable literature on the relationship between religion and health. Psychologists consider that there are various ways in which religion may benefit both physical and mental health, including encouraging healthy lifestyles, providing social support networks and encouraging an optimistic outlook on life; prayer and meditation may also help to benefit physiological functioning.
The journal "American Psychologist" published important papers on this topic in 2003.
Haber, Jacob and Spangler have considered how different dimensions of religiosity may relate to health benefits in different ways.
Religion and physical health
Religion appears to positively correlate with physical health. For instance, mortality rates are lower among people who frequently attend religious events and consider themselves both religious and spiritual. One possibility is that religion provides physical health benefits indirectly. Church attendees present with lower rates of alcohol consumption and improvement in mood, which is associated with better physical health.
Kenneth Pargament
Kenneth Pargament
Kenneth I. Pargament is a professor of psychology at Bowling Green State University .-Biography:Born in 1950 in Washington, D.C., Pargament received his Ph. D from the University of Maryland in 1977. He currently studies various relationships between religion, psychological well-being and stress,...
is a major contributor to the theory of how individuals may use religion as a resource in coping with
stress
Stress (medicine)
Stress is a term in psychology and biology, borrowed from physics and engineering and first used in the biological context in the 1930s, which has in more recent decades become commonly used in popular parlance...
, His work seems to show the influence of attribution theory. Additional evidence suggests that this relationship between religion and physical health may be causal. Religion may reduce likelihood of certain diseases. Studies suggest that it guards against cardiovascular disease by reducing blood pressure, and also improves immune system functioning.
Religion and mental health
Religion is certainly not a guarantee for mental health. Evidence suggests that it can be a pathway to both mental health and mental disorder. For example,
religiosity
Religiosity
Religiosity, in its broadest sense, is a comprehensive sociological term used to refer to the numerous aspects of religious activity, dedication, and belief . Another term that would work equally well, though is less often used, is religiousness...
is positively associated with mental disorders that involve an excessive amount of self-control and negatively associated with mental disorders that involve a lack of self-control. Other studies have found indications of mental health among both the religious and the secular. For instance, Vilchinsky & Kravetz found negative correlations with psychological distress among religious and secular subgroups of Jewish students.
Yet, overall, religion is positively linked with mental health. This might be due to the guiding framework or social support that it offers to individuals. By these routes, religion has the potential to offer security and significance in life, as well as valuable human relationships, to foster mental health. Religion also provides coping skills to deal with stressors, or demands perceived as straining. Pargament's three primary styles of religious coping are 1) self-directing, characterized by self-reliance and acknowledgement of God, 2) deferring, in which a person passively attributes responsibility to God, and 3) collaborative, which involves an active partnership between the individual and God and is most commonly associated with positive adjustment. This model of religious coping has been criticized for its over-simplicity and failure to take into account other factors, such as level of religiosity, specific religion, and type of stressor.
Evolutionary psychology of religion
Evolutionary psychology
Evolutionary psychology
Evolutionary psychology is an approach in the social and natural sciences that examines psychological traits such as memory, perception, and language from a modern evolutionary perspective. It seeks to identify which human psychological traits are evolved adaptations, that is, the functional...
is based on the hypothesis that, just like hearts, lungs, livers, kidneys, and immune systems,
cognition
Cognition
In science, cognition refers to mental processes. These processes include attention, remembering, producing and understanding language, solving problems, and making decisions. Cognition is studied in various disciplines such as psychology, philosophy, linguistics, and computer science...
has functional structure that has a genetic basis, and therefore evolved by
natural selection
Natural selection
Natural selection is the nonrandom process by which biologic traits become either more or less common in a population as a function of differential reproduction of their bearers. It is a key mechanism of evolution....
. Like other organs and tissues, this functional structure should be universally shared amongst humans and should solve important problems of survival and reproduction. Evolutionary psychologists seek to understand cognitive processes by understanding the survival and reproductive functions they might serve.
Pascal Boyer
Pascal Boyer
Pascal Boyer is a French anthropologist, and Henry Luce Professor of Individual and Collective Memory at Washington University in St. Louis.He is a Guggenheim Fellow.-Work:...
is one of the leading figures in the cognitive psychology of religion, a new field of inquiry that is less than fifteen years old, which accounts for the psychological processes that underlie religious thought and practice. In his book
Religion Explained
, Boyer shows that there is no simple explanation for religious
consciousness
Consciousness
Consciousness is a term that refers to the relationship between the mind and the world with which it interacts. It has been defined as: subjectivity, awareness, the ability to experience or to feel, wakefulness, having a sense of selfhood, and the executive control system of the mind...
. Boyer is mainly concerned with explaining the various psychological processes involved in the acquisition and transmission of ideas concerning the gods. Boyer builds on the ideas of cognitive anthropologists
Dan Sperber
Dan Sperber
Dan Sperber is a French social and cognitive scientist. His most influential work has been in the fields of cognitive anthropology and linguistic pragmatics: developing, with British psychologist Deirdre Wilson, relevance theory in the latter; and an approach to cultural evolution known as the...
and
Scott Atran
Scott Atran
Scott Atran is an American and French anthropologist.-Education and early career:Atran was born in New York City in 1952 and he received his PhD in anthropology from Columbia University. While a student at Columbia, he became assistant to anthropologist Margaret Mead at the American Museum of...
, who first argued that religious cognition represents a by-product of various evolutionary adaptations, including folk psychology, and purposeful violations of innate expectations about how the world is constructed (for example, bodiless beings with thoughts and emotions) that make religious cognitions striking and memorable.
Religious persons acquire religious ideas and practices through social exposure. The child of a
Zen
Zen
Zen is a school of Mahāyāna Buddhism founded by the Buddhist monk Bodhidharma. The word Zen is from the Japanese pronunciation of the Chinese word Chán , which in turn is derived from the Sanskrit word dhyāna, which can be approximately translated as "meditation" or "meditative state."Zen...
Buddhist will not become an evangelical
Christian
Christian
A Christian is a person who adheres to Christianity, an Abrahamic, monotheistic religion based on the life and teachings of Jesus of Nazareth as recorded in the Canonical gospels and the letters of the New Testament...
or a Zulu warrior without the relevant cultural experience. While mere exposure does not cause a particular religious outlook (a person may have been raised a Roman Catholic but leave the church), nevertheless some exposure seems required – this person will never invent Roman Catholicism out of thin air. Boyer says
cognitive science
Cognitive science
Cognitive science is the interdisciplinary scientific study of mind and its processes. It examines what cognition is, what it does and how it works. It includes research on how information is processed , represented, and transformed in behaviour, nervous system or machine...
can help us to understand the psychological mechanisms that account for these manifest correlations and in so doing enable us to better understand the nature of religious belief and practice.
To the extent that the mechanisms controlling the acquisitions and transmission of religious concepts rely on human
brain
Brain
The brain is the center of the nervous system in all vertebrate and most invertebrate animals—only a few primitive invertebrates such as sponges, jellyfish, sea squirts and starfishes do not have one. It is located in the head, usually close to primary sensory apparatus such as vision, hearing,...
s, the mechanisms are open to computational analysis. All thought is computationally structured, including religious thought. So presumably, computational approaches can shed light on the nature and scope of religious cognition.
Boyer moves outside the leading currents in mainstream
cognitive psychology
Cognitive psychology
Cognitive psychology is a subdiscipline of psychology exploring internal mental processes.It is the study of how people perceive, remember, think, speak, and solve problems.Cognitive psychology differs from previous psychological approaches in two key ways....
and suggests that we can use evolutionary biology to unravel the relevant mental architecture. Our brains are, after all, biological objects, and the best naturalistic account of their development in nature is Darwin's theory of evolution. To the extent that mental architecture exhibits intricate processes and structures, it is plausible to think that this is the result of evolutionary processes working over vast periods of time. Like all biological systems, the mind is optimised to promote survival and reproduction in the evolutionary environment. On this view all specialised cognitive functions broadly serve those reproductive ends.
For
Steven Pinker
Steven Pinker
Steven Arthur Pinker is a Canadian-American experimental psychologist, cognitive scientist, linguist and popular science author...
the universal propensity toward religious belief is a genuine scientific puzzle. He thinks that adaptationist explanations for religion do not meet the criteria for adaptations. An alternative explanation is that religious psychology is a by-product of many parts of the mind that evolved for other purposes.
James H. Leuba
The American psychologist
James H. Leuba
James H. Leuba
James Henry Leuba was an American psychologist, best known for his contributions to the psychology of religion. His work in this area is marked by a reductionistic tendency to explain mysticism and other religious experiences in physiological terms. Philosophically, his position may be described...
(1868–1946), in
A Psychological Study of Religion
, accounts for mystical experience psychologically and physiologically, pointing to analogies with certain drug-induced experiences. Leuba argued forcibly for a naturalistic treatment of religion, which he considered to be necessary if religious psychology were to be looked at scientifically. Shamans all over the world and in different cultures have traditionally used drugs, especially psychedelics, for their religious experiences. In these communities the absorption of
drugs
Psychoactive drug
A psychoactive drug, psychopharmaceutical, or psychotropic is a chemical substance that crosses the blood–brain barrier and acts primarily upon the central nervous system where it affects brain function, resulting in changes in perception, mood, consciousness, cognition, and behavior...
leads to dreams (visions) through sensory distortion.
William James
William James
William James was a pioneering American psychologist and philosopher who was trained as a physician. He wrote influential books on the young science of psychology, educational psychology, psychology of religious experience and mysticism, and on the philosophy of pragmatism...
was also interested in mystical experiences from a drug-induced perspective, leading him to make some experiments with
nitrous oxide
Nitrous oxide
Nitrous oxide, commonly known as laughing gas or sweet air, is a chemical compound with the formula . It is an oxide of nitrogen. At room temperature, it is a colorless non-flammable gas, with a slightly sweet odor and taste. It is used in surgery and dentistry for its anesthetic and analgesic...
and even peyote. He concludes that while the revelations of the mystic hold true, they hold true only for the mystic; for others they are certainly ideas to be considered, but hold no claim to truth without personal experience of such.
Drug-induced religious experiences
See main article entheogen

Entheogen

An entheogen , in the strict sense, is a psychoactive substance used in a religious, shamanic, or spiritual context. Historically, entheogens were mostly derived from plant sources and have been used in a variety of traditional religious contexts...


on the use of psychoactive substances

Psychoactive drug

A psychoactive drug, psychopharmaceutical, or psychotropic is a chemical substance that crosses the blood–brain barrier and acts primarily upon the central nervous system where it affects brain function, resulting in changes in perception, mood, consciousness, cognition, and behavior...


in a religious or shamanic

Shamanism

Shamanism is an anthropological term referencing a range of beliefs and practices regarding communication with the spiritual world. To quote Eliade: "A first definition of this complex phenomenon, and perhaps the least hazardous, will be: shamanism = technique of ecstasy." Shamanism encompasses the...


context.
The
drugs
Psychoactive drug
A psychoactive drug, psychopharmaceutical, or psychotropic is a chemical substance that crosses the blood–brain barrier and acts primarily upon the central nervous system where it affects brain function, resulting in changes in perception, mood, consciousness, cognition, and behavior...
used by religious communities for their
hallucinogenic
Psychedelics, dissociatives and deliriants
This general group of pharmacological agents can be divided into three broad categories: psychedelics, dissociatives, and deliriants. These classes of psychoactive drugs have in common that they can cause subjective changes in perception, thought, emotion and consciousness...
effects were adopted for explicit and implicit religious functions and purposes. The drugs were and are reported to enhance religious experience through visions and a distortion of the sensory perception (like in dreams in a state of sleep).
Religion and meditation
The large variety of
meditation
Meditation
Meditation is any form of a family of practices in which practitioners train their minds or self-induce a mode of consciousness to realize some benefit....
techniques shares the common goal of shifting attention away from
habitual
Habit (psychology)
Habits are routines of behavior that are repeated regularly and tend to occur subconsciously. Habitual behavior often goes unnoticed in persons exhibiting it, because a person does not need to engage in self-analysis when undertaking routine tasks...
or customary modes of thinking and
perception
Perception
Perception is the process of attaining awareness or understanding of the environment by organizing and interpreting sensory information. All perception involves signals in the nervous system, which in turn result from physical stimulation of the sense organs...
, in order to permit experiencing in a different way.
Many religious and spiritual traditions that employ meditation assert that the world most of us know is an illusion. This illusion is said to be created by our habitual mode of separating, classifying and labelling our perceptual experiences.
Meditation is
empirical
in that it involves direct experience. However it is also
subjective
in that the meditative state can be directly known only by the experiencer, and may be difficult or impossible to fully describe in words. Meditation can induce an
altered state of consciousness
Altered state of consciousness
An altered state of consciousness , also named altered state of mind, is any condition which is significantly different from a normal waking beta wave state. The expression was used as early as 1966 by Arnold M. Ludwig and brought into common usage from 1969 by Charles Tart: it describes induced...
characterised by a loss of
awareness
Awareness
Awareness is the state or ability to perceive, to feel, or to be conscious of events, objects or sensory patterns. In this level of consciousness, sense data can be confirmed by an observer without necessarily implying understanding. More broadly, it is the state or quality of being aware of...
of extraneous
stimuli
Stimulation
Stimulation is the action of various agents on nerves, muscles, or a sensory end organ, by which activity is evoked; especially, the nervous impulse produced by various agents on nerves, or a sensory end organ, by which the part connected with the nerve is thrown into a state of activity.The word...
, one-pointed attention to the meditation object to the exclusion of all other thoughts, and feelings of bliss.
Controversy
Given historical animosity between science and religion (Haque, 2001), controversy surrounding the scientific study of religion is expected. Many psychologists reject religion. For instance, Sigmund Freud viewed religion as an illusion, a sign of psychological neurosis. Additionally Eric Fromm's humanistic psychology centers on man and rejects authoritarian religion. However, religious scholars and psychologists advocating the study of religion have contested such views.
Paul Vitz
Paul Vitz
Paul C. Vitz ) is a Psychologist at New York University.He graduated with a B.A. in Psychology from the University of Michigan in 1957 and with a Ph.D in Psychology from Stanford University in 1962...
critiqued Fromm's self-centered approach to psychology and labeled humanist psychology as a religion, unsupported by scientific inquiry. Reber asserted that exclusion of the study of religion only limits psychology's understanding of human behavior. Others argue that a psychological study of human personality necessitates, at minimum, an acknowledgment of the impact religion has on many humans.
Religion and psychotherapy
Various forms of explicitly religious psychotherapies that maintain the traditional psychological framework have recently become more prevalent. Clients' religious beliefs are increasingly being considered in psychotherapy with the goal of improving service and effectiveness of treatment. A resulting development was theistic psychotherapy. Conceptually, it consists of theological principles, a theistic view of personality, and a theistic view of psychotherapy. Following an explicit minimizing strategy, therapists attempt to minimize conflict by acknowledging their religious views while being respectful of client's religious views. This opens up the potential for therapists to directly utilize religious practices and principles in therapy, such as prayer, forgiveness, and grace.
Pastoral psychology
One application of the psychology of religion is in pastoral psychology, the use of psychological findings to improve the
pastoral care
Pastoral care
Pastoral care is the ministry of care and counseling provided by pastors, chaplains and other religious leaders to members of their church or congregation, or to persons of all faiths and none within institutional settings. This can range anywhere from home visitation to formal counseling provided...
provided by
pastor
Pastor
The word pastor usually refers to an ordained leader of a Christian congregation. When used as an ecclesiastical styling or title, this role may be abbreviated to "Pr." or often "Ps"....
s and other
clergy
Clergy
Clergy is the generic term used to describe the formal religious leadership within a given religion. A clergyman, churchman or cleric is a member of the clergy, especially one who is a priest, preacher, pastor, or other religious professional....
, especially in how they support ordinary members of their
congregation
Local church
A local church is a Christian congregation of members and clergy.Local church may also refer to:* Local churches , a Christian group based on the teachings of Watchman Nee and Witness Lee, and associated with the Living Stream Ministry publishing house.* Parish church, a local church united with...
s. Pastoral psychology is also concerned with improving the practice of
chaplain
Chaplain
Traditionally, a chaplain is a minister in a specialized setting such as a priest, pastor, rabbi, or imam or lay representative of a religion attached to a secular institution such as a hospital, prison, military unit, police department, university, or private chapel...
s in healthcare and in the
military
Military
A military is an organization authorized by its greater society to use lethal force, usually including use of weapons, in defending its country by combating actual or perceived threats. The military may have additional functions of use to its greater society, such as advancing a political agenda e.g...
. One major concern of pastoral psychology is to improve the practice of
pastoral counseling
Pastoral counseling
Pastoral counseling is a branch of counseling in which psychologically trained ministers, rabbis, priests and other persons provide therapy services...
. Pastoral psychology is a topic of interest for professional journals such as
Pastoral Psychology
,
Journal of Psychology and Christianity
Journal of Psychology and Christianity
The Journal of Psychology and Christianity is an American academic journal that is "designed to provide scholarly interchange among Christian professionals in the psychological and pastoral professions." Topics covered include clinical issues, research, theoretical concerns, book reviews, and...
, and
Journal of Psychology and Theology
. In 1984,
Thomas Oden
Thomas C. Oden
Thomas Clark Oden is an American United Methodist theologian and religious author associated with Drew University in New Jersey. He was born in Altus, Oklahoma, and holds a Doctor of Literature from Asbury College....
severely criticized mid-20th century
pastoral care
Pastoral care
Pastoral care is the ministry of care and counseling provided by pastors, chaplains and other religious leaders to members of their church or congregation, or to persons of all faiths and none within institutional settings. This can range anywhere from home visitation to formal counseling provided...
and the pastoral psychology that guided it as having entirely abandoned its classical/traditional sources, and having become overwhelmingly dominated by modern psychological influences from
Freud
Sigmund Freud
Sigmund Freud , born Sigismund Schlomo Freud , was an Austrian neurologist who founded the discipline of psychoanalysis...
,
Rogers
Carl Rogers
Carl Ransom Rogers was an influential American psychologist and among the founders of the humanistic approach to psychology...
, and others. More recently, others have described pastoral psychology as a field that experiences a tension between psychology and theology.
See also
Cognitive science of religion

Cognitive science of religion

Cognitive science of religion is the study of religious thought and behavior from the perspective of the cognitive and evolutionary sciences. The field employs methods and theories from a very broad range of disciplines, including: cognitive psychology, evolutionary psychology, cognitive...



Altered state of consciousness

Altered state of consciousness

An altered state of consciousness , also named altered state of mind, is any condition which is significantly different from a normal waking beta wave state. The expression was used as early as 1966 by Arnold M. Ludwig and brought into common usage from 1969 by Charles Tart: it describes induced...



Neurotheology

Neurotheology

Neurotheology, also known as spiritual neuroscience, is the study of correlations of neural phenomena with subjective experiences of spirituality and hypotheses to explain these phenomena....



Philosophy of religion

Philosophy of religion

Philosophy of religion is a branch of philosophy concerned with questions regarding religion, including the nature and existence of God, the examination of religious experience, analysis of religious language and texts, and the relationship of religion and science...



Issues in Science and Religion

Issues in Science and Religion

Issues in Science and Religion is a book by Ian Barbour. A biography provided by the John Templeton Foundation and published by PBS online states this book "has been credited with literally creating the contemporary field of science and religion."...



Sociology of religion

Sociology of religion

The sociology of religion concerns the role of religion in society: practices, historical backgrounds, developments and universal themes. There is particular emphasis on the recurring role of religion in all societies and throughout recorded history...



Magical thinking

Magical thinking

Magical thinking is causal reasoning that looks for correlation between acts or utterances and certain events. In religion, folk religion, and superstition, the correlation posited is between religious ritual, such as prayer, sacrifice, or the observance of a taboo, and an expected benefit or...



Philip Brownell
Benjamin Kidd

Benjamin Kidd

Benjamin Kidd was a British sociologist. He entered the British civil service and did not become generally known until the publication of an essay, Social Evolution, in 1894...



Social Evolution

Social Evolution

Social Evolution is the title of an essay by Benjamin Kidd, which became available as a book published by Macmillan and co London in 1894. In it, Kidd discusses the basis for society as an evolving phenomenon, with reference to past societies, the important developments of his own period of...



Handbook of Religion and Health

Handbook of Religion and Health

Handbook of Religion and Health is a scholarly book about the relation of spirituality and religion with physical and mental health. Written by Harold G. Koenig, Michael E. McCullough, and David B. Larson, the book was published in the US in 2001...



Further reading
Fontana, D., Psychology, Religion and Spirituality, Oxford, Blackwell, 2003.
Fuller, A. R. (1994). Psychology & religion: Eight points of view (3rd ed.). Lanham, MD: Littlefield Adams. ISBN 0-8226-3036-2.
Hood, R. W. Jr., Spilka, B., Hunsberger, B., & Gorsuch, R. (1996). The psychology of religion: An empirical approach. New York: Guilford. ISBN 1-57230-116-3
Kugelmann, Robert., Psychology and Catholicism: Contested Boundaries, Cambridge University Press, 2011 ISBN 1-1070-0608-2
Levin, J., God, Faith and Health: Exploring the Spirituality-Health Connection, New York, Wiley, 2001.
Loewenthal, K. M., Psychology of Religion: A Short Introduction, Oxford, Oneworld, 2000.
McNamara, R. (Ed.) (2006), Where God and Science Meet [3 Volumes]: How Brain and Evolutionary Studies Alter Our Understanding of Religion. Westport, CT: Praeger/Greenwood.
Paloutzian, R. (1996). Invitation to the Psychology of Religion, 2nd Ed. New York: Allyn and Bacon. ISBN 0-205-14840-9.
Meissner, W., Psychoanalysis and Religious Experience, London and New Haven, Yale University Press, 1984.
Roberts, T. B., and Hruby, P. J. (1995–2002). Religion and Psychoactive Sacraments An Entheogen Chrestomathy. Online archive. http://www.csp.org/chrestomathy
Tsakiridis, George. Evagrius Ponticus and Cognitive Science: A Look at Moral Evil and the Thoughts. Eugene, OR: Pickwick Publications, 2010.
Wulff, D. M. (1997). Psychology of religion: Classic and contemporary (2nd ed.). New York: John Wiley. ISBN 0-471-03706-0.
External links