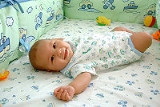 Developmental psychology
Developmental psychology
, also known as
human development
, is the scientific study of systematic psychological changes, emotional changes, and perception changes that occur in
human
Human
Humans are the only living species in the Homo genus...
beings over the course of their life span. Originally concerned with infants and
child
Child
Biologically, a child is generally a human between the stages of birth and puberty. Some vernacular definitions of a child include the fetus, as being an unborn child. The legal definition of "child" generally refers to a minor, otherwise known as a person younger than the age of majority...
ren, the field has expanded to include
adolescence
Adolescence
Adolescence is a transitional stage of physical and mental human development generally occurring between puberty and legal adulthood , but largely characterized as beginning and ending with the teenage stage...
,
adult development
Adult development
Adult Development is a branch of developmental psychology that deals specifically with how adults age through physical, emotional, and cognitive means...
, aging, and the entire life span. This field examines change across a broad range of topics including motor skills and other psycho-physiological processes; cognitive development involving areas such as
problem solving
Problem solving
Problem solving is a mental process and is part of the larger problem process that includes problem finding and problem shaping. Consideredthe most complex of all intellectual functions, problem solving has been defined as higher-order cognitive process that requires the modulation and control of...
,
moral understanding
Morality
Morality is the differentiation among intentions, decisions, and actions between those that are good and bad . A moral code is a system of morality and a moral is any one practice or teaching within a moral code...
, and conceptual understanding;
language acquisition
Language acquisition
Language acquisition is the process by which humans acquire the capacity to perceive, produce and use words to understand and communicate. This capacity involves the picking up of diverse capacities including syntax, phonetics, and an extensive vocabulary. This language might be vocal as with...
; social, personality, and emotional development; and self-concept and
identity formation
Identity formation
Identity formation is the development of the distinct personality of an individual regarded as a persisting entity in a particular stage of life in which individual characteristics are possessed and by which a person is recognised or known . This process defines individuals to others and themselves...
.