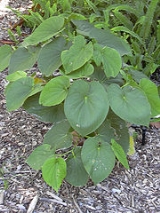 Kava
Kava
or
kava-kava
(
Piper
Piper (genus)
Piper, the pepper plants or pepper vines , are an economically and ecologically important genus in the family Piperaceae...
:
Latin
Latin
Latin is an Italic language originally spoken in Latium and Ancient Rome. It, along with most European languages, is a descendant of the ancient Proto-Indo-European language. Although it is considered a dead language, a number of scholars and members of the Christian clergy speak it fluently, and...
for 'pepper',
methysticum
: (Latinized)
Greek
Ancient Greek
Ancient Greek is the stage of the Greek language in the periods spanning the times c. 9th–6th centuries BC, , c. 5th–4th centuries BC , and the c. 3rd century BC – 6th century AD of ancient Greece and the ancient world; being predated in the 2nd millennium BC by Mycenaean Greek...
for 'intoxicating') is a crop of the western Pacific.
The name
kava(-kava)
is from
Tongan
Tongan language
Tongan is an Austronesian language spoken in Tonga. It has around 200,000 speakers and is a national language of Tonga. It is a VSO language.-Related languages:...
and
Marquesan
Marquesan language
Marquesan is a collection of East-Central Polynesian dialects, of the Marquesic group, spoken in the Marquesas Islands of French Polynesia. They are usually classified into two groups, North Marquesan and South Marquesan, roughly along geographic lines....
; other names for kava include
awa
(
Hawaii
Hawaii
Hawaii is the newest of the 50 U.S. states , and is the only U.S. state made up entirely of islands. It is the northernmost island group in Polynesia, occupying most of an archipelago in the central Pacific Ocean, southwest of the continental United States, southeast of Japan, and northeast of...
),
'ava
Samoa 'ava ceremony
The Ava Ceremony is one of the most important customs of the Samoa Islands involving a solemn ritual where a ceremonial beverage is shared to mark most important occasions in Samoan society. The Samoan word ava is a cognate of the Polynesian word kava associated with the kava cultures in Oceania...
(
Samoa
Samoa
Samoa , officially the Independent State of Samoa, formerly known as Western Samoa is a country encompassing the western part of the Samoan Islands in the South Pacific Ocean. It became independent from New Zealand in 1962. The two main islands of Samoa are Upolu and one of the biggest islands in...
),
yaqona
(
Fiji
Fiji
Fiji , officially the Republic of Fiji , is an island nation in Melanesia in the South Pacific Ocean about northeast of New Zealand's North Island...
), and
sakau
(
Pohnpei
Pohnpei
Not to be confused with Pompeii, the ancient city destroyed by Vesuvius in AD 79.Pohnpei "upon a stone altar " is the name of one of the four states in the Federated States of Micronesia , situated among the Senyavin Islands which are part of the larger Caroline Islands group...
).
The roots of the plant are used to produce a drink with
sedative
Sedative
A sedative or tranquilizer is a substance that induces sedation by reducing irritability or excitement....
and anesthetic properties.