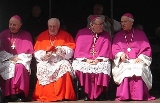 Clergy
"Cleric" redirects here. For other uses, see Cleric (disambiguation)
Clergy
is the generic term used to describe the formal religious leadership within a given
religion
Religion
Religion is a collection of cultural systems, belief systems, and worldviews that establishes symbols that relate humanity to spirituality and, sometimes, to moral values. Many religions have narratives, symbols, traditions and sacred histories that are intended to give meaning to life or to...
. A
clergyman
,
churchman
or
cleric
is a member of the clergy, especially one who is a
priest
Priest
A priest is a person authorized to perform the sacred rites of a religion, especially as a mediatory agent between humans and deities. They also have the authority or power to administer religious rites; in particular, rites of sacrifice to, and propitiation of, a deity or deities...
,
preacher
Preacher
Preacher is a term for someone who preaches sermons or gives homilies. A preacher is distinct from a theologian by focusing on the communication rather than the development of doctrine. Others see preaching and theology as being intertwined...
,
pastor
Pastor
The word pastor usually refers to an ordained leader of a Christian congregation. When used as an ecclesiastical styling or title, this role may be abbreviated to "Pr." or often "Ps"....
, or other religious professional.
Depending on the religion, clergy usually take care of the ritual aspects of the religious life, teach or otherwise help in spreading the religion's
doctrine
Doctrine
Doctrine is a codification of beliefs or a body of teachings or instructions, taught principles or positions, as the body of teachings in a branch of knowledge or belief system...
and practices.