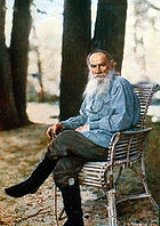 Leo Tolstoy
Lev Nikolayevich Tolstoy
(September 9, 1828 – November 20, 1910) was a Russian writer who primarily wrote
novel
Novel
A novel is a book of long narrative in literary prose. The genre has historical roots both in the fields of the medieval and early modern romance and in the tradition of the novella. The latter supplied the present generic term in the late 18th century....
s and
short stories
Short story
A short story is a work of fiction that is usually written in prose, often in narrative format. This format tends to be more pointed than longer works of fiction, such as novellas and novels. Short story definitions based on length differ somewhat, even among professional writers, in part because...
. Later in life, he also wrote plays and
essay
Essay
An essay is a piece of writing which is often written from an author's personal point of view. Essays can consist of a number of elements, including: literary criticism, political manifestos, learned arguments, observations of daily life, recollections, and reflections of the author. The definition...
s. His two most famous works, the novels
War and Peace
War and Peace
War and Peace is a novel by the Russian author Leo Tolstoy, first published in 1869. The work is epic in scale and is regarded as one of the most important works of world literature...
and
Anna Karenina
Anna Karenina
Anna Karenina is a novel by the Russian writer Leo Tolstoy, published in serial installments from 1873 to 1877 in the periodical The Russian Messenger...
, are acknowledged as two of the greatest novels of all time and a pinnacle of
realist fiction
Literary realism
Literary realism most often refers to the trend, beginning with certain works of nineteenth-century French literature and extending to late-nineteenth- and early-twentieth-century authors in various countries, towards depictions of contemporary life and society "as they were." In the spirit of...
. Many consider Tolstoy to have been one of the world's greatest novelists. Tolstoy is equally known for his complicated and paradoxical persona and for his extreme moralistic and ascetic views, which he adopted after a moral crisis and spiritual awakening in the
1870s
1870s
The 1870s continued the trends of the previous decade, as new empires, imperialism and militarism rose in Europe and Asia. America was recovering from the Civil War. Germany declared independence in 1871 and began its Second Reich. Labor unions and strikes occurred worldwide in the later part of...
, after which he also became noted as a moral thinker and social reformer.
His literal interpretation of the ethical teachings of Jesus, centering on the
Sermon on the Mount
Sermon on the Mount
The Sermon on the Mount is a collection of sayings and teachings of Jesus, which emphasizes his moral teaching found in the Gospel of Matthew...
, caused him in later life to become a fervent
Christian anarchist
Christian anarchism
Christian anarchism is a movement in political theology that combines anarchism and Christianity. It is the belief that there is only one source of authority to which Christians are ultimately answerable, the authority of God as embodied in the teachings of Jesus...
and anarcho-pacifist.
The hero of my tale, whom I love with all the power of my soul, whom I have tried to portray in all his beauty, who has been, is, and will be beautiful, is Truth.

Sevastopol in May 1855 (1855)
Error is the force that welds men together; truth is communicated to men only by deeds of truth.

My Religion, Ch. 12 (1885)
Ivan Ilych's life had been most simple and most ordinary and therefore most terrible.

The Death of Ivan Ilych|The Death of Ivan Ilych, Ch. II (1886)
A man can live and be healthy without killing animals for food; therefore, if he eats meat, he participates in taking animal life merely for the sake of his appetite. And to act so is immoral.

Writings on Civil Disobedience and Nonviolence (1886)
I sit on a man's back, choking him, and making him carry me, and yet assure myself and others that I am very sorry for him and wish to ease his lot by any means possible, except getting off his back.

Writings on Civil Disobedience and Nonviolence (1886)
Six feet of land was all that he needed.

How Much Land Does a Man Need?|How Much Land Does a Man Need? (1886)
The happiness of men consists in life. And life is in labor.

What Is To Be Done? (1886) Chap. XXXVIII, as translated in The Novels and Other Works of Lyof N. Tolstoï (1902) edited by Nathan Haskell Dole, p. 259
The vocation of every man and woman is to serve other people.

What Is To Be Done? (1886) Chap. XL, as translated in The Novels and Other Works of Lyof N. Tolstoï (1902) edited by Nathan Haskell Dole, p. 281