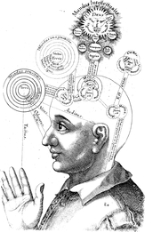 Consciousness
Consciousness
is a term that refers to the relationship between the
mind
Mind
The concept of mind is understood in many different ways by many different traditions, ranging from panpsychism and animism to traditional and organized religious views, as well as secular and materialist philosophies. Most agree that minds are constituted by conscious experience and intelligent...
and the world with which it interacts. It has been defined as:
subjectivity
Subjectivity
Subjectivity refers to the subject and his or her perspective, feelings, beliefs, and desires. In philosophy, the term is usually contrasted with objectivity.-Qualia:...
,
awareness
Awareness
Awareness is the state or ability to perceive, to feel, or to be conscious of events, objects or sensory patterns. In this level of consciousness, sense data can be confirmed by an observer without necessarily implying understanding. More broadly, it is the state or quality of being aware of...
, the ability to
experience
Experience
Experience as a general concept comprises knowledge of or skill in or observation of some thing or some event gained through involvement in or exposure to that thing or event....
or to
feel
Feeling
Feeling is the nominalization of the verb to feel. The word was first used in the English language to describe the physical sensation of touch through either experience or perception. The word is also used to describe experiences, other than the physical sensation of touch, such as "a feeling of...
, wakefulness, having a sense of
self
Self
The self is an individual person as the object of his or her own reflective consciousness. The self has been studied extensively by philosophers and psychologists and is central to many world religions.-Philosophy:...
hood, and the executive control system of the mind. Despite the difficulty in definition, many philosophers believe that there is a broadly shared underlying intuition about what consciousness is.