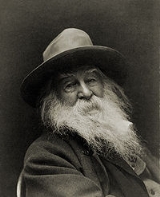 Walt Whitman
Walter "Walt" Whitman
was an American poet, essayist and journalist. A
humanist
Humanism
Humanism is an approach in study, philosophy, world view or practice that focuses on human values and concerns. In philosophy and social science, humanism is a perspective which affirms some notion of human nature, and is contrasted with anti-humanism....
, he was a part of the transition between
transcendentalism
Transcendentalism
Transcendentalism is a philosophical movement that developed in the 1830s and 1840s in the New England region of the United States as a protest against the general state of culture and society, and in particular, the state of intellectualism at Harvard University and the doctrine of the Unitarian...
and
realism
Literary realism
Literary realism most often refers to the trend, beginning with certain works of nineteenth-century French literature and extending to late-nineteenth- and early-twentieth-century authors in various countries, towards depictions of contemporary life and society "as they were." In the spirit of...
, incorporating both views in his works. Whitman is among the most influential poets in the American canon, often called the father of
free verse
Free verse
Free verse is a form of poetry that refrains from consistent meter patterns, rhyme, or any other musical pattern.Poets have explained that free verse, despite its freedom, is not free. Free Verse displays some elements of form...
. His work was very controversial in its time, particularly his poetry collection
Leaves of Grass
Leaves of Grass
Leaves of Grass is a poetry collection by the American poet Walt Whitman . Though the first edition was published in 1855, Whitman spent his entire life writing Leaves of Grass, revising it in several editions until his death...
, which was described as obscene for its overt sexuality.
Born on
Long Island
Long Island
Long Island is an island located in the southeast part of the U.S. state of New York, just east of Manhattan. Stretching northeast into the Atlantic Ocean, Long Island contains four counties, two of which are boroughs of New York City , and two of which are mainly suburban...
, Whitman worked as a journalist, a teacher, a government clerk, and–in addition to publishing his poetry–was a volunteer nurse during the
American Civil War
American Civil War
The American Civil War was a civil war fought in the United States of America. In response to the election of Abraham Lincoln as President of the United States, 11 southern slave states declared their secession from the United States and formed the Confederate States of America ; the other 25...
.