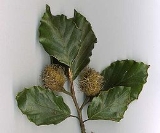 Beech
Beech
is a genus of ten
species
Species
In biology, a species is one of the basic units of biological classification and a taxonomic rank. A species is often defined as a group of organisms capable of interbreeding and producing fertile offspring. While in many cases this definition is adequate, more precise or differing measures are...
of
deciduous
Deciduous
Deciduous means "falling off at maturity" or "tending to fall off", and is typically used in reference to trees or shrubs that lose their leaves seasonally, and to the shedding of other plant structures such as petals after flowering or fruit when ripe...
tree
Tree
A tree is a perennial woody plant. It is most often defined as a woody plant that has many secondary branches supported clear of the ground on a single main stem or trunk with clear apical dominance. A minimum height specification at maturity is cited by some authors, varying from 3 m to...
s in the family
Fagaceae
Fagaceae
The family Fagaceae, or beech family, comprises about 900 species of both evergreen and deciduous trees and shrubs, which are characterized by alternate simple leaves with pinnate venation, unisexual flowers in the form of catkins, and fruit in the form of cup-like nuts. Fagaceous leaves are often...
, native to temperate
Europe
Europe
Europe is, by convention, one of the world's seven continents. Comprising the westernmost peninsula of Eurasia, Europe is generally 'divided' from Asia to its east by the watershed divides of the Ural and Caucasus Mountains, the Ural River, the Caspian and Black Seas, and the waterways connecting...
,
Asia
Asia
Asia is the world's largest and most populous continent, located primarily in the eastern and northern hemispheres. It covers 8.7% of the Earth's total surface area and with approximately 3.879 billion people, it hosts 60% of the world's current human population...
and
North America
North America
North America is a continent wholly within the Northern Hemisphere and almost wholly within the Western Hemisphere. It is also considered a northern subcontinent of the Americas...
.
Habit
The
leaves
Leaf
A leaf is an organ of a vascular plant, as defined in botanical terms, and in particular in plant morphology. Foliage is a mass noun that refers to leaves as a feature of plants....
of beech trees are entire or sparsely toothed, from 5–15 cm long and 4–10 cm broad. The
flower
Flower
A flower, sometimes known as a bloom or blossom, is the reproductive structure found in flowering plants . The biological function of a flower is to effect reproduction, usually by providing a mechanism for the union of sperm with eggs...
s are small single-sex (monoecious), the female flowers borne in pairs, the male flowers wind-pollinating
catkin
Catkin
A catkin or ament is a slim, cylindrical flower cluster, with inconspicuous or no petals, usually wind-pollinated but sometimes insect pollinated . They contain many, usually unisexual flowers, arranged closely along a central stem which is often drooping...
s, produced in spring shortly after the new leaves appear. The bark is smooth and light grey. The
fruit
Fruit
In broad terms, a fruit is a structure of a plant that contains its seeds.The term has different meanings dependent on context. In non-technical usage, such as food preparation, fruit normally means the fleshy seed-associated structures of certain plants that are sweet and edible in the raw state,...
is a small, sharply three–angled
nut
Nut (fruit)
A nut is a hard-shelled fruit of some plants having an indehiscent seed. While a wide variety of dried seeds and fruits are called nuts in English, only a certain number of them are considered by biologists to be true nuts...
10–15 mm long, borne singly or in pairs in soft-spined husks 1.5–2.5 cm long, known as cupules. The nuts are edible, though bitter (though not nearly as bitter as
acorn
Acorn
The acorn, or oak nut, is the nut of the oaks and their close relatives . It usually contains a single seed , enclosed in a tough, leathery shell, and borne in a cup-shaped cupule. Acorns vary from 1–6 cm long and 0.8–4 cm broad...
s) with a high
tannin
Tannin
A tannin is an astringent, bitter plant polyphenolic compound that binds to and precipitates proteins and various other organic compounds including amino acids and alkaloids.The term tannin refers to the use of...
content, and are called beechnuts or beechmast.
Beech grows on a wide range of soil types, acid or basic, provided they are not waterlogged.
The tree canopy casts dense shade, and carpets the ground with dense leaf litter, and the ground flora beneath may be sparse.
In
North America
North America
North America is a continent wholly within the Northern Hemisphere and almost wholly within the Western Hemisphere. It is also considered a northern subcontinent of the Americas...
, they often form
Beech-Maple
Beech-maple forest
A beech-maple forest is a climax mesic closed canopy hardwood forest. It is primarily composed of American Beech and Sugar Maple trees which co-dominate the forest and which are the pinnacle of plant succession in their range...
climax
Climax community
In ecology, a climax community, or climatic climax community, is a biological community of plants and animals which, through the process of ecological succession — the development of vegetation in an area over time — has reached a steady state. This equilibrium occurs because the climax community...
forests by partnering with the
Sugar Maple
Sugar Maple
Acer saccharum is a species of maple native to the hardwood forests of northeastern North America, from Nova Scotia west to southern Ontario, and south to Georgia and Texas...
.
The
southern beeches
Nothofagus
Nothofagus
Nothofagus, also known as the southern beeches, is a genus of 35 species of trees and shrubs native to the temperate oceanic to tropical Southern Hemisphere in southern South America and Australasia...
previously thought closely related to beeches, are now treated as members of a separate family, Nothofagaceae. They are found in
Australia
Australia
Australia , officially the Commonwealth of Australia, is a country in the Southern Hemisphere comprising the mainland of the Australian continent, the island of Tasmania, and numerous smaller islands in the Indian and Pacific Oceans. It is the world's sixth-largest country by total area...
,
New Zealand
New Zealand
New Zealand is an island country in the south-western Pacific Ocean comprising two main landmasses and numerous smaller islands. The country is situated some east of Australia across the Tasman Sea, and roughly south of the Pacific island nations of New Caledonia, Fiji, and Tonga...
,
New Guinea
New Guinea
New Guinea is the world's second largest island, after Greenland, covering a land area of 786,000 km2. Located in the southwest Pacific Ocean, it lies geographically to the east of the Malay Archipelago, with which it is sometimes included as part of a greater Indo-Australian Archipelago...
,
New Caledonia
New Caledonia
New Caledonia is a special collectivity of France located in the southwest Pacific Ocean, east of Australia and about from Metropolitan France. The archipelago, part of the Melanesia subregion, includes the main island of Grande Terre, the Loyalty Islands, the Belep archipelago, the Isle of...
,
Argentina
Argentina
Argentina , officially the Argentine Republic , is the second largest country in South America by land area, after Brazil. It is constituted as a federation of 23 provinces and an autonomous city, Buenos Aires...
and
Chile
Chile
Chile ,officially the Republic of Chile , is a country in South America occupying a long, narrow coastal strip between the Andes mountains to the east and the Pacific Ocean to the west. It borders Peru to the north, Bolivia to the northeast, Argentina to the east, and the Drake Passage in the far...
(principally
Patagonia
Patagonia
Patagonia is a region located in Argentina and Chile, integrating the southernmost section of the Andes mountains to the southwest towards the Pacific ocean and from the east of the cordillera to the valleys it follows south through Colorado River towards Carmen de Patagones in the Atlantic Ocean...
and
Tierra del Fuego
Tierra del Fuego
Tierra del Fuego is an archipelago off the southernmost tip of the South American mainland, across the Strait of Magellan. The archipelago consists of a main island Isla Grande de Tierra del Fuego divided between Chile and Argentina with an area of , and a group of smaller islands including Cape...
).
The
beech blight aphid
Beech blight aphid
The beech blight aphid is a small insect in the order Hemiptera that feeds on the sap of American beech trees. The aphids form dense colonies on small branches and the undersides of leaves....
(
Grylloprociphilus imbricator
) is a common pest of beech trees. Beeches are also used as food plants by some species of
Lepidoptera
Lepidoptera
Lepidoptera is a large order of insects that includes moths and butterflies . It is one of the most widespread and widely recognizable insect orders in the world, encompassing moths and the three superfamilies of butterflies, skipper butterflies, and moth-butterflies...
(see list of Lepidoptera that feed on beeches).
Uses
Beech wood is an excellent
firewood
Firewood
Firewood is any wood-like material that is gathered and used for fuel. Generally, firewood is not highly processed and is in some sort of recognizable log or branch form....
, easily split and burning for many hours with bright but calm flames. Chips of beech wood are used in the brewing of
Budweiser
Budweiser (Anheuser-Busch)
Budweiser is a 5.0% abv American-style lager introduced in 1876 by Adolphus Busch and one of the highest selling beers in the United States. It is made with up to 30% rice in addition to hops and barley malt. Budweiser is produced in various breweries located around the world...
beer
Beer
Beer is the world's most widely consumed andprobably oldest alcoholic beverage; it is the third most popular drink overall, after water and tea. It is produced by the brewing and fermentation of sugars, mainly derived from malted cereal grains, most commonly malted barley and malted wheat...
as a
fining agent
Finings
FiningsThe term is a mass noun rather than a plural. are substances that are usually added at or near the completion of the processing of brewing wine, beer and various nonalcoholic juice beverages. Their purpose is for removal of organic compounds; to either improve clarity or adjust flavor/aroma...
. Beech logs are burned to dry the
malt
Malt
Malt is germinated cereal grains that have been dried in a process known as "malting". The grains are made to germinate by soaking in water, and are then halted from germinating further by drying with hot air...
s used in some German
smoked beer
Smoked beer
Smoked beer is a type of beer with a distinctive smoke flavor imparted by using malted barley dried over an open flame. The Rauchbiers of Bamberg in Germany, Schlenkerla in particular, are the best-known of the smoked beers.-History:...
s, giving the beers their typical flavor. Beech is also used to smoke some cheeses.
Some
drum
Drum
The drum is a member of the percussion group of musical instruments, which is technically classified as the membranophones. Drums consist of at least one membrane, called a drumhead or drum skin, that is stretched over a shell and struck, either directly with the player's hands, or with a...
s are made from beech, which has a tone between those of
maple
Maple
Acer is a genus of trees or shrubs commonly known as maple.Maples are variously classified in a family of their own, the Aceraceae, or together with the Hippocastanaceae included in the family Sapindaceae. Modern classifications, including the Angiosperm Phylogeny Group system, favour inclusion in...
and
birch
Birch
Birch is a tree or shrub of the genus Betula , in the family Betulaceae, closely related to the beech/oak family, Fagaceae. The Betula genus contains 30–60 known taxa...
, the two most popular drum woods.
The textile
modal
Modal (textile)
Modal is a cellulose fiber made by spinning reconstituted cellulose, often from beech trees. It is about 50% more hygroscopic per unit volume than cotton. It takes dye like cotton and is color-fast when washed in warm water. Modal is a kind of rayon.Textiles made from modal are resistant to...
is a kind of
rayon
Rayon
Rayon is a manufactured regenerated cellulose fiber. Because it is produced from naturally occurring polymers, it is neither a truly synthetic fiber nor a natural fiber; it is a semi-synthetic or artificial fiber. Rayon is known by the names viscose rayon and art silk in the textile industry...
often made wholly from the reconstituted
cellulose
Cellulose
Cellulose is an organic compound with the formula , a polysaccharide consisting of a linear chain of several hundred to over ten thousand β linked D-glucose units....
of pulped beech wood.
The European species
fagus sylvatica
yields a utility timber that is tough but dimensionally unstable. It weighs about 720 kg per cubic metre and is widely used for furniture framing and carcass construction, flooring and engineering purposes, in plywood and in household items like plates, but rarely as a decorative wood. The timber can be used to build chalets, houses and log cabins.
The fruit of the beech tree is known as
beechnuts
or
mast
and is found in small burrs that drop from the tree in autumn. It is small, roughly triangular and edible, with a bitter, astringent taste.
Beech was a common writing material in Germanic societies before the development of
paper
Paper
Paper is a thin material mainly used for writing upon, printing upon, drawing or for packaging. It is produced by pressing together moist fibers, typically cellulose pulp derived from wood, rags or grasses, and drying them into flexible sheets....
. The Old English
bōc
and Old Norse
bók
both have the primary sense of
beech
but also a secondary sense of
book,
and it is from
bōc
that the modern word derives. In modern German the word for
book
is
buch,
with
buche
meaning
beech tree
. In Swedish these words are the same,
bok
meaning both
beech tree
and
book
.
The pigment
bistre
Bistre
Bistre is either: 1) A shade of gray, 2) A shade of brown made from soot, and 3) The name for a color resembling the pigment. Bistre's appearance is generally of a dark grayish brown, with a yellowish cast....
was made from beech wood
soot
Soot
Soot is a general term that refers to impure carbon particles resulting from the incomplete combustion of a hydrocarbon. It is more properly restricted to the product of the gas-phase combustion process but is commonly extended to include the residual pyrolyzed fuel particles such as cenospheres,...
.
As an ornamental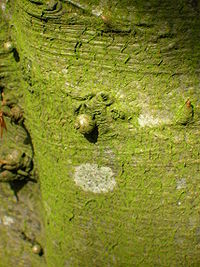 The beech most commonly grown as an ornamental tree is the
European Beech
European Beech
Fagus sylvatica, the European Beech or Common Beech, is a deciduous tree belonging to the beech family Fagaceae.-Natural range:...
(
Fagus sylvatica
), widely cultivated in North America as well as its native Europe. Many varieties are in cultivation, notably the weeping beech
F. sylvatica
'Pendula', several varieties of Copper or purple beech, the fern-leaved beech
F. sylvatica
'Asplenifolia', and the tricolour beech
F. sylvatica
'roseomarginata'. The strikingly columnar Dawyck beech (
F. sylvatica
'Dawyck') occurs in green, gold and purple forms, named after Dawyck Garden in the Scottish Borders, one of the four garden sites of the
Royal Botanic Garden Edinburgh
Royal Botanic Garden Edinburgh
The Royal Botanic Garden Edinburgh is a scientific centre for the study of plants, their diversity and conservation, as well as a popular tourist attraction. Originally founded in 1670 as a physic garden to grow medicinal plants, today it occupies four sites across Scotland — Edinburgh,...
.
In Britain and Ireland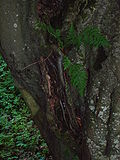 Beech was a late entrant to
Great Britain
Great Britain
Great Britain or Britain is an island situated to the northwest of Continental Europe. It is the ninth largest island in the world, and the largest European island, as well as the largest of the British Isles...
after the last glaciation, and may have been restricted to basic soils in the south of England. The beech is classified as a native in the south of England and as a non-native in the north where it is often removed from 'native' woods. Large areas of the Chilterns are covered with beech woods, which are habitat to the
Common Bluebell
Common Bluebell
Hyacinthoides non-scripta, commonly known as the common bluebell, is a spring-flowering bulbous perennial plant. -Taxonomy:...
and other
flora
Flora
Flora is the plant life occurring in a particular region or time, generally the naturally occurring or indigenous—native plant life. The corresponding term for animals is fauna.-Etymology:...
. The
Cwm Clydach National Nature Reserve
Cwm Clydach National Nature Reserve
Cwm Clydach National Nature Reserve is an area of 24.8ha of steeply sloping valley-side on the southern side of the Clydach Gorge, two miles east of Brynmawr in southeast Wales which is protected for its ancient semi-natural beech woods...
in southeast
Wales
Wales
Wales is a country that is part of the United Kingdom and the island of Great Britain, bordered by England to its east and the Atlantic Ocean and Irish Sea to its west. It has a population of three million, and a total area of 20,779 km²...
was designated for its beech woodlands which are believed to be on the western edge of their natural range in this steep limestone gorge.
Beech is not native to Ireland; however, it was widely planted from the 18th Century, and can become a problem shading out the native woodland understory. The Friends of the Irish Environment say that the best policy is to remove young, naturally regenerating beech while retaining veteran specimens with biodiversity value.
There is a campaign by Friends of the Rusland Beeches and South Lakeland Friends of the Earth launched in 2007 to reclassify the beech as native in Cumbria. The campaign is backed by
Tim Farron
Tim Farron
Timothy James Farron is a British Liberal Democrat politician. He is currently Member of Parliament for the constituency of Westmorland and Lonsdale...
MP who tabled a motion on 3 December 2007 regarding the status of beech in Cumbria.
Today, beech is widely planted for hedging and in deciduous woodlands, and mature, regenerating stands occur throughout mainland Britain below about 650 m. The tallest and longest hedge in the world (according to the
Guinness World Records
Guinness World Records
Guinness World Records, known until 2000 as The Guinness Book of Records , is a reference book published annually, containing a collection of world records, both human achievements and the extremes of the natural world...
) is the
Meikleour Beech Hedge
Meikleour Beech Hedges
The Meikleour Beech Hedge , located near Meikleour, Perth and Kinross, Scotland, alongside the A93 Perth-Blairgowrie Road, was planted in the autumn of 1745 by Jean Mercer and her husband, Robert Murray Nairne on the Marquess of Lansdowne's Meikleour estate...
in
Meikleour
Meikleour
Meikleour, pronounced , is a village in Perth and Kinross, Scotland. Approximately twelve miles north of Perth and four miles south of Blairgowrie, it is home to the Meikleour Beech Hedges, the tallest and longest hedge in the world.-External links:*...
,
Perth and Kinross
Perth and Kinross
Perth and Kinross is one of 32 council areas in Scotland, and a Lieutenancy Area. It borders onto the Aberdeenshire, Angus, Dundee City, Fife, Clackmannanshire, Stirling, Argyll and Bute and Highland council areas. Perth is the administrative centre...
,
Scotland
Scotland
Scotland is a country that is part of the United Kingdom. Occupying the northern third of the island of Great Britain, it shares a border with England to the south and is bounded by the North Sea to the east, the Atlantic Ocean to the north and west, and the North Channel and Irish Sea to the...
.
Scandinavia and northern border
The common European beech (
Fagus sylvatica
) grows naturally in Denmark and southern Sweden up to about the 57:th - 59:th northern latitude. The most northern known naturally growing (not planted) beech trees are found in a few very small forests around the city of
Bergen
Bergen
Bergen is the second largest city in Norway with a population of as of , . Bergen is the administrative centre of Hordaland county. Greater Bergen or Bergen Metropolitan Area as defined by Statistics Norway, has a population of as of , ....
on the southern west coast of Norway with the
North Sea
North Sea
In the southwest, beyond the Straits of Dover, the North Sea becomes the English Channel connecting to the Atlantic Ocean. In the east, it connects to the Baltic Sea via the Skagerrak and Kattegat, narrow straits that separate Denmark from Norway and Sweden respectively...
nearby. Near the city of
Larvik
Larvik
is a city and municipality in Vestfold county, Norway. The administrative centre of the municipality is the city of Larvik. Larvik kommune - has about 41 364 inhabitants and covers 530 km2....
is the largest naturally occurring beech forest in Norway. Planted beeches are grown much further north along the Norwegian coast.
As a naturally growing forest tree, it marks the important border between the European deciduous forest zone and the northern pine forest zone. This border is important for both wildlife and fauna and is a sharp line along the Swedish western coast, which gets broader toward the south. In Denmark and the most southern Swedish county, Skåne, it is the most populous of all forest trees. In Norway, the beech migration very recent, and the species has not reached its distribution potential. Thus, the occurence of oak in Norway is used as an indicator of the border between the temperate deiciduous forest and the boreal spruce - pine forest.
External links