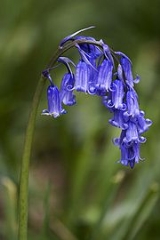 Common Bluebell
Hyacinthoides non-scripta
, commonly known as the
common bluebell
, is a
spring
Spring (season)
Spring is one of the four temperate seasons, the transition period between winter and summer. Spring and "springtime" refer to the season, and broadly to ideas of rebirth, renewal and regrowth. The specific definition of the exact timing of "spring" varies according to local climate, cultures and...
-flowering
bulb
Bulb
A bulb is a short stem with fleshy leaves or leaf bases. The leaves often function as food storage organs during dormancy.A bulb's leaf bases, known as scales, generally do not support leaves, but contain food reserves to enable the plant to survive adverse conditions. At the center of the bulb is...
ous
perennial plant
Perennial plant
A perennial plant or simply perennial is a plant that lives for more than two years. The term is often used to differentiate a plant from shorter lived annuals and biennials. The term is sometimes misused by commercial gardeners or horticulturalists to describe only herbaceous perennials...
. (The English bluebell should not be confused with the Scottish bluebell or harebell,
Campanula rotundifolia
.)
Taxonomy
Hyacinthoides
means "like a hyacinth";
Endymion
Endymion (mythology)
In Greek mythology, Endymion , was variously a handsome Aeolian shepherd or hunter or a king who ruled and was said to reside at Olympia in Elis, but he was also said to reside and was venerated on Mount Latmus in Caria, on the west coast of Asia Minor....
is another character from Greek myth;
Scilla
was the original Greek name for sea squill,
Drimia maritima
.
The
non-scripta
or
non-scriptum
part of the botanical names means "unlettered" or "unmarked" and was intended to distinguish this plant from the classical hyacinth of
Greek mythology
Greek mythology
Greek mythology is the body of myths and legends belonging to the ancient Greeks, concerning their gods and heroes, the nature of the world, and the origins and significance of their own cult and ritual practices. They were a part of religion in ancient Greece...
. This mythical flower (which may have been a wild species of
Hyacinthus
,
Iris
Iris (plant)
Iris is a genus of 260-300species of flowering plants with showy flowers. It takes its name from the Greek word for a rainbow, referring to the wide variety of flower colors found among the many species...
or other flower) sprang up from the blood of the dying prince
Hyacinthus
Hyacinth (mythology)
Hyacinth or Hyacinthus is a divine hero from Greek mythology. His cult at Amyclae, southwest of Sparta, where his tumulus was located— in classical times at the feet of Apollo's statue in the sanctuary that had been built round the burial mound— dates from the Mycenaean era...
. His lover, the god
Apollo
Apollo
Apollo is one of the most important and complex of the Olympian deities in Greek and Roman mythology...
, shed tears that marked the new flower's petals with the letters "AIAI" ("alas") as a sign of his grief.
Other common names for common bluebell include auld man's bell, bluebell, calverkeys, culverkeys, English bluebell, jacinth, ring-o'-bells, wilde hyacint, and wood bells.
Description
The common bluebell flowers in April and May. The flowers are lavender-blue, pendulous, tubular with the petals recurved only at the end, and borne on one side of the flowering stem only. The flower stem is 10–30 cm long and bends over at the top. The anthers are yellowish-white or cream and are attached more than halfway up on the inside the tube. The flowers are pleasantly and usually strongly scented and its leaves are basal and linear.
Distribution and habitat

Hyacinthoides non-scripta
is endemic to
Belgium
Belgium
Belgium , officially the Kingdom of Belgium, is a federal state in Western Europe. It is a founding member of the European Union and hosts the EU's headquarters, and those of several other major international organisations such as NATO.Belgium is also a member of, or affiliated to, many...
,
Great Britain
Great Britain
Great Britain or Britain is an island situated to the northwest of Continental Europe. It is the ninth largest island in the world, and the largest European island, as well as the largest of the British Isles...
,
France
France
The French Republic , The French Republic , The French Republic , (commonly known as France , is a unitary semi-presidential republic in Western Europe with several overseas territories and islands located on other continents and in the Indian, Pacific, and Atlantic oceans. Metropolitan France...
,
Ireland
Ireland
Ireland is an island to the northwest of continental Europe. It is the third-largest island in Europe and the twentieth-largest island on Earth...
, the
Netherlands
Netherlands
The Netherlands is a constituent country of the Kingdom of the Netherlands, located mainly in North-West Europe and with several islands in the Caribbean. Mainland Netherlands borders the North Sea to the north and west, Belgium to the south, and Germany to the east, and shares maritime borders...
,
Spain
Spain
Spain , officially the Kingdom of Spain languages]] under the European Charter for Regional or Minority Languages. In each of these, Spain's official name is as follows:;;;;;;), is a country and member state of the European Union located in southwestern Europe on the Iberian Peninsula...
and
Portugal
Portugal
Portugal , officially the Portuguese Republic is a country situated in southwestern Europe on the Iberian Peninsula. Portugal is the westernmost country of Europe, and is bordered by the Atlantic Ocean to the West and South and by Spain to the North and East. The Atlantic archipelagos of the...
, and also occurs as a naturalized species in
Germany
Germany
Germany , officially the Federal Republic of Germany , is a federal parliamentary republic in Europe. The country consists of 16 states while the capital and largest city is Berlin. Germany covers an area of 357,021 km2 and has a largely temperate seasonal climate...
,
Italy
Italy
Italy , officially the Italian Republic languages]] under the European Charter for Regional or Minority Languages. In each of these, Italy's official name is as follows:;;;;;;;;), is a unitary parliamentary republic in South-Central Europe. To the north it borders France, Switzerland, Austria and...
, and
Romania
Romania
Romania is a country located at the crossroads of Central and Southeastern Europe, on the Lower Danube, within and outside the Carpathian arch, bordering on the Black Sea...
. In spring, bluebells cover the forest floor of many northeastern European woods; these are known as "
bluebell wood
Bluebell wood
A bluebell wood is a woodland that in spring-time has a carpet of bluebells underneath a newly forming leaf canopy...
s". Bluebells are often used as an
indicator species
Indicator species
An indicator species is any biological species that defines a trait or characteristic of the environment. For example, a species may delineate an ecoregion or indicate an environmental condition such as a disease outbreak, pollution, species competition or climate change...
to identify
ancient woodland
Ancient woodland
Ancient woodland is a term used in the United Kingdom to refer specifically to woodland that has existed continuously since 1600 or before in England and Wales . Before those dates, planting of new woodland was uncommon, so a wood present in 1600 was likely to have developed naturally...
, particularly in the
East of England
East of England
The East of England is one of the nine official regions of England. It was created in 1994 and was adopted for statistics from 1999. It includes the ceremonial counties of Essex, Hertfordshire, Bedfordshire, Cambridgeshire, Norfolk and Suffolk. Essex has the highest population in the region.Its...
and
Lincolnshire
Lincolnshire
Lincolnshire is a county in the east of England. It borders Norfolk to the south east, Cambridgeshire to the south, Rutland to the south west, Leicestershire and Nottinghamshire to the west, South Yorkshire to the north west, and the East Riding of Yorkshire to the north. It also borders...
. It is estimated that 70% of all common bluebells are found in Great Britain.
Bluebells are a species of deciduous woodland over much of their range, flowering and leafing early before the canopy closes in late spring. They may also be found growing under
bracken
Bracken
Bracken are several species of large, coarse ferns of the genus Pteridium. Ferns are vascular plants that have alternating generations, large plants that produce spores and small plants that produce sex cells . Brackens are in the family Dennstaedtiaceae, which are noted for their large, highly...
or
Japanese knotweed
Japanese knotweed
Japanese Knotweed is a large, herbaceous perennial plant, native to eastern Asia in Japan, China and Korea...
, perennial plants which also form stands with a dense summer canopy. Bluebells are also frequently found in hedgerows, and in the west of their range they can be found growing as an open field species, as on Skomer Island.
Protection
In the
United Kingdom
United Kingdom
The United Kingdom of Great Britain and Northern IrelandIn the United Kingdom and Dependencies, other languages have been officially recognised as legitimate autochthonous languages under the European Charter for Regional or Minority Languages...
the common bluebell is a protected species under the
Wildlife and Countryside Act 1981
Wildlife and Countryside Act 1981
The Wildlife and Countryside Act 1981 is an Act of Parliament in the United Kingdom and was implemented to comply with the Directive 2009/147/EC on the conservation of wild birds...
. Landowners are prohibited from removing common bluebells on their land for sale and it is a criminal offence to remove the bulbs of wild common bluebells. This legislation was strengthened in 1998 under Schedule 8 of the Act making any trade in wild common bluebell bulbs or seeds an offence.
Ecology
Bluebell flowers are pollinated by insects, including bees. The black seeds may have a long period of viability and can germinate after several years if suitable conditions recur. The seedlings can flower in two years from seed; as a result, bluebells can spread rapidly in suitable conditions.
Varieties
There are varieties with colors other than lavender-blue. The white-flowered variety is called
Hyacinthoides non-scripta
'Alba'.
Hybridisation
In Britain there is extensive hybridisation with the introduced
Hyacinthoides hispanica
producing fertile seeds. This has produced hybrid swarms around sites of introductions and, since the hybrids are able to thrive in a wider range of environmental conditions, the hybrids are frequently out-competing the native English bluebells. Hybrids show a great range of characteristics and any one of the following features indicates some hybridisation:
stems upright and not nodding
flowers borne on more than one side of the flowering stem
flower more open and bell-shaped, without a long and more-or-less parallel-sided tube
anthers blue or cyan, not white or cream, at least when young
leaves broader
scent less strong and less sweet
Uses
Bluebells synthesise a wide range of chemicals with potential medicinal properties. They contain at least 15 biologically active compounds that may provide them with protection against insects and animals. Certain extracts - water-soluble
alkaloid
Alkaloid
Alkaloids are a group of naturally occurring chemical compounds that contain mostly basic nitrogen atoms. This group also includes some related compounds with neutral and even weakly acidic properties. Also some synthetic compounds of similar structure are attributed to alkaloids...
s - are similar to compounds tested for use in combating HIV and cancer.
External links