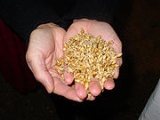 Malt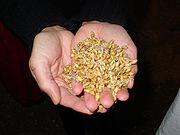 Malt
is
germinated
Germination
Germination is the process in which a plant or fungus emerges from a seed or spore, respectively, and begins growth. The most common example of germination is the sprouting of a seedling from a seed of an angiosperm or gymnosperm. However the growth of a sporeling from a spore, for example the...
cereal
Cereal
Cereals are grasses cultivated for the edible components of their grain , composed of the endosperm, germ, and bran...
grains that have been dried in a process known as "malting". The grains are made to germinate by soaking in water, and are then halted from germinating further by drying with hot air. Malting grains develops the
enzyme
Enzyme
Enzymes are proteins that catalyze chemical reactions. In enzymatic reactions, the molecules at the beginning of the process, called substrates, are converted into different molecules, called products. Almost all chemical reactions in a biological cell need enzymes in order to occur at rates...
s required to modify the grain's
starch
Starch
Starch or amylum is a carbohydrate consisting of a large number of glucose units joined together by glycosidic bonds. This polysaccharide is produced by all green plants as an energy store...
es into sugars, including monosaccharides such as
glucose
Glucose
Glucose is a simple sugar and an important carbohydrate in biology. Cells use it as the primary source of energy and a metabolic intermediate...
or
fructose
Fructose
Fructose, or fruit sugar, is a simple monosaccharide found in many plants. It is one of the three dietary monosaccharides, along with glucose and galactose, that are absorbed directly into the bloodstream during digestion. Fructose was discovered by French chemist Augustin-Pierre Dubrunfaut in 1847...
, and disaccharides, such as
sucrose
Sucrose
Sucrose is the organic compound commonly known as table sugar and sometimes called saccharose. A white, odorless, crystalline powder with a sweet taste, it is best known for its role in human nutrition. The molecule is a disaccharide composed of glucose and fructose with the molecular formula...
or
maltose
Maltose
Maltose , or malt sugar, is a disaccharide formed from two units of glucose joined with an αbond, formed from a condensation reaction. The isomer "isomaltose" has two glucose molecules linked through an α bond. Maltose is the second member of an important biochemical series of glucose chains....
. It also develops other enzymes, such as proteases, which break down the proteins in the grain into forms which can be used by yeast.
Malted grain is used to make
beer
Beer
Beer is the world's most widely consumed andprobably oldest alcoholic beverage; it is the third most popular drink overall, after water and tea. It is produced by the brewing and fermentation of sugars, mainly derived from malted cereal grains, most commonly malted barley and malted wheat...
,
whisky
Whisky
Whisky or whiskey is a type of distilled alcoholic beverage made from fermented grain mash. Different grains are used for different varieties, including barley, malted barley, rye, malted rye, wheat, and corn...
,
malted shakes
Milkshake
A milkshake is a sweet, cold beverage which is made from milk, ice cream or iced milk, and flavorings or sweeteners such as fruit syrup or chocolate sauce....
, malt vinegar, confections such as Maltesers and
Whoppers
Whoppers
Whoppers are malted milk balls covered with a chocolate-flavored coating produced by The Hershey Company. They are typically sold either in a small cardboard candy box, is a cardboard milk carton, the "Fun Size" variety which is a tube-shaped plastic package sealed at the sides, containing twelve...
, flavored drinks such as
Horlicks
Horlicks
Horlicks is the name of a company and of a malted milk hot drink. It is manufactured by GlaxoSmithKline in the United Kingdom, South Africa, New Zealand, Bangladesh, India, Pakistan and Jamaica, and under licence in the Philippines and Malaysia....
,
Ovaltine
Ovaltine
Ovaltine is a brand of milk flavoring product made with malt extract , sugar , cocoa, and whey...
and Milo, and some baked goods, such as
malt loaf
Malt loaf
Malt loaf is a common snack food in the United Kingdom. Malt loaf has a sweet taste and a very chewy texture like very heavy, soft bread. It is made from malt and often contains fruit such as raisins. Malt loaf is usually eaten sliced and with butter....
. Malted grain which has been ground into a coarse meal is known as "sweet meal". Various cereals are malted, though barley is the most common. A high-protein form of malted barley is often a label-listed ingredient in blended flours typically used in the manufacture of yeast breads and other baked goods.
The term "malt" refers to several products of the process: the grains to which this process has been applied, for example malted
barley
Barley
Barley is a major cereal grain, a member of the grass family. It serves as a major animal fodder, as a base malt for beer and certain distilled beverages, and as a component of various health foods...
; the sugar, heavy in maltose, derived from such grains, such as the baker's malt used in various cereals; or a product based on
malted milk
Malted milk
Malted milk is a powdered food product made from a mixture of malted barley, wheat flour, and whole milk, which is evaporated until it forms a powder....
, similar to a malted milkshake (i.e., "malts").
Malting
Malting is the process of converting barley into malt, for use in brewing or distilling, and takes place in a maltings, sometimes called a malthouse, or a malting floor. The sprouted barley is kiln-dried by spreading it on a perforated wooden floor. Smoke, coming from an oasting
fireplace
Fireplace
A fireplace is an architectural structure to contain a fire for heating and, especially historically, for cooking. A fire is contained in a firebox or firepit; a chimney or other flue allows gas and particulate exhaust to escape...
(via smoke channels) is then used to heat the wooden floor and the sprouted grains. The temperature is usually around 55 °C (131 °F). A typical floor maltings is a long, single-story building with a floor that slopes slightly from one end of the building to the other. Floor maltings began to be phased out in the 1940s in favour of "pneumatic plants". Here, large industrial fans are used to blow air through the germinating grain beds and to pass hot air through the malt being kilned. Like floor maltings, these pneumatic plants are batch processes, but of considerably greater size, typically 100 tonne batches compared with 20 tonne batches for floor malting.
The malting process starts with drying the grains to a moisture content below 14%, and then storing for around six weeks to overcome
seed dormancy
Seed dormancy
Seed dormancy is a condition of plant seeds that prevents germination when the seeds are under optimal environmental conditions for germination. Living, non dormant seeds germinate when soil temperatures and moisture conditions are suited for cellular processes and division; dormant seeds do...
. When ready, the grain is immersed or "steeped" in water two or three times over two or three days to allow the grain to absorb moisture and to start to
sprout
Sprouting
Sprouting is the practice of germinating seeds to be eaten either raw or cooked.They are a convenient way to have fresh vegetables for salads, or otherwise, in any season and can be germinated at home or produced industrially...
. When the grain has a moisture content of around 46%, it is transferred to the malting or germination floor, where it is constantly turned over for around five days while it is air dried. The grain at this point is called "green malt". The green malt is then
kiln
Kiln
A kiln is a thermally insulated chamber, or oven, in which a controlled temperature regime is produced. Uses include the hardening, burning or drying of materials...
dried to the desired colour and specification. Malts range in colour from very pale through crystal and amber to chocolate or black malts.
Malts
Barley
Barley
Barley is a major cereal grain, a member of the grass family. It serves as a major animal fodder, as a base malt for beer and certain distilled beverages, and as a component of various health foods...
is the most commonly malted grain, in part because of its high diastatic power or
enzyme
Enzyme
Enzymes are proteins that catalyze chemical reactions. In enzymatic reactions, the molecules at the beginning of the process, called substrates, are converted into different molecules, called products. Almost all chemical reactions in a biological cell need enzymes in order to occur at rates...
content, though
wheat
Wheat
Wheat is a cereal grain, originally from the Levant region of the Near East, but now cultivated worldwide. In 2007 world production of wheat was 607 million tons, making it the third most-produced cereal after maize and rice...
and
rye
Rye
Rye is a grass grown extensively as a grain and as a forage crop. It is a member of the wheat tribe and is closely related to barley and wheat. Rye grain is used for flour, rye bread, rye beer, some whiskeys, some vodkas, and animal fodder...
are also used. Also very important is the retention of the grain's
husk
Husk
Husk in botany is the outer shell or coating of a seed. It often refers to the leafy outer covering of an ear of maize as it grows on the plant. Literally, a husk or hull includes the protective outer covering of a seed, fruit or vegetable...
, even after threshing, unlike the bare seeds of threshed wheat or rye. This protects the growing acrospire (developing plant
embryo
Embryo
An embryo is a multicellular diploid eukaryote in its earliest stage of development, from the time of first cell division until birth, hatching, or germination...
) from damage during malting, which can easily lead to mould growth. It also allows the
mash
Mashing
In brewing and distilling, mashing is the process of combining a mix of milled grain , known as the "grain bill", and water, known as "liquor", and heating this mixture...
of converted grain to create a filter bed during
lautering
Lautering
Lautering is a process in brewing beer in which the mash is separated into the clear liquid wort and the residual grain. Lautering usually consists of 3 steps: mashout, recirculation, and sparging.-Mashout:...
(see
brewing
Brewing
Brewing is the production of beer through steeping a starch source in water and then fermenting with yeast. Brewing has taken place since around the 6th millennium BCE, and archeological evidence suggests that this technique was used in ancient Egypt...
). Malt is often divided into two categories by brewers: base malts and specialty malts. Base malts have enough diastatic power to convert their own starch and usually that of some amount of starch from unmalted grain, called
adjuncts
Adjuncts
Adjuncts are unmalted grains used in brewing beer which supplement the main mash ingredient , often with the intention of cutting costs, but sometimes to create an additional feature, such as better foam retention.- Definition :Ingredients which are standard for certain beers, such as wheat in a...
. Specialty malts have little diastatic power; they are used to provide flavor, color, or "body" (
viscosity
Viscosity
Viscosity is a measure of the resistance of a fluid which is being deformed by either shear or tensile stress. In everyday terms , viscosity is "thickness" or "internal friction". Thus, water is "thin", having a lower viscosity, while honey is "thick", having a higher viscosity...
) to the finished beer. Specialty
caramel
Caramel
Caramel is a beige to dark-brown confection made by heating any of a variety of sugars. It is used as a flavoring in puddings and desserts, as a filling in bonbons, and as a topping for ice cream, custard and coffee....
or crystal malts have been subjected to heat treatment to convert their starches to sugars nonenzymatically. Within these categories are a variety of types distinguished largely by the kilning temperature (see
mash ingredients
Mash ingredients
Mash ingredients, mash bill, or grain bill are those materials used in brewing from which a wort can be obtained for fermenting into alcohol...
). In addition, malts are distinguished by the two major species of barley used for malting, two-row and six-row.
A new encapsulating technology permits the production of malt granules. Malt granules are the dried liquid extract from malt used in the brewing or distilling process.
Malt extract
Malt extract is also known as extract of malt. It is a sweet, treacly substance given to children and adults as a dietary supplement. It was popular in the first half of the twentieth century as a supplement for the children of the British urban working-class, whose diet was often deficient in
vitamin
Vitamin
A vitamin is an organic compound required as a nutrient in tiny amounts by an organism. In other words, an organic chemical compound is called a vitamin when it cannot be synthesized in sufficient quantities by an organism, and must be obtained from the diet. Thus, the term is conditional both on...
s and
mineral
Mineral
A mineral is a naturally occurring solid chemical substance formed through biogeochemical processes, having characteristic chemical composition, highly ordered atomic structure, and specific physical properties. By comparison, a rock is an aggregate of minerals and/or mineraloids and does not...
s. Children were given
cod liver oil
Cod liver oil
Cod liver oil is a nutritional supplement derived from liver of cod fish. It has high levels of the omega-3 fatty acids, EPA and DHA, and very high levels of vitamin A and vitamin D. It is widely taken to ease the symptoms of arthritis and for other health benefits...
for the same reason but it proved so unpalatable that it was combined with extract of malt to produce "Malt and Cod-Liver Oil." It was given as a "strengthening medicine" by Kanga to
Roo
Roo
Roo is a fictional character created in 1926 by A. A. Milne and first featured in the book Winnie-the-Pooh. He is a young kangaroo and his mother is Kanga...
and
Tigger
Tigger
Tigger is a fictional tiger-like character originally introduced in A. A. Milne's book The House at Pooh Corner. Like other Pooh characters, Tigger is based on one of Christopher Robin Milne's stuffed animals...
in
The House at Pooh Corner
The House at Pooh Corner
The House at Pooh Corner is the second volume of stories about Winnie-the-Pooh, written by A. A. Milne and illustrated by E. H. Shepard. It is notable for the introduction of the character Tigger, who went on to become a prominent figure in the Disney Winnie the Pooh franchise.- Plot :The title...
.
The 1907 British Pharmaceutical Codex's instructions for making nutritional extract of malt do not include a mash out at the end of extraction, and include the use of lower mash temperatures than is typical with modern beer brewing practices. The Codex indicates that diastatic activity is to be preserved by the use of temperatures not exceeding 55 °C (131 °F).
Malt extract production
Malt extract is frequently used in the brewing of beer. Its production begins by germinating barley grain in a process known as malting. This procedure entails immersing barley in water to encourage the grain to sprout, then drying the barley to halt the progress when the sprouting begins. The drying step stops the sprouting, but the enzymes remain active due to the low temperatures used in base malt production. In one before-and-after comparison, malting decreased barley's extractable starch content by about 7% on a dry matter basis, and turned that portion into various other carbohydrates.
In the next step, brewers use a process called mashing to extract the sugars. Brewers warm cracked malt in temperature-modulated water, activating the enzymes, which cleave more of the malt's remaining starch into various sugars, the largest percentage of which is maltose. Modern beer mashing practices typically include high enough temperatures at mash-out to deactivate remaining enzymes, thus it is no longer diastatic. The liquid produced from this,
wort
Wort
Wort may refer to:* Wort, the liquid created by the mashing of malted barley to use in brewing beer* Worting, Hampshire, a large district and suburb of the town of Basingstoke, in Hampshire, England....
, is then concentrated by using heat or a vacuum procedure to evaporate water from the mixture.
The concentrated wort is called malt extract. Brewers have the option of using a liquid (LME) or dry (DME) form of it. Each has its pros and cons, so the choice is solely dependent on the individual brewer's preferences.
Liquid malt extract is a thick syrup. Some brewers choose to work only with LME, because they feel it works best for the result they wish to achieve. Also, it requires one less processing step, so it is appealing to those who favor the purest form of product available. However, it is very sticky and therefore, messier to work with, has a shorter shelf life, and some feel the results are just as good with DME.
Research
Scientists aim to discover what goes on inside barley grains as they become malted to help plant breeders produce better malting barley for food and beverage products.
Agricultural Research Service
Agricultural Research Service
The Agricultural Research Service is the principal in-house research agency of the United States Department of Agriculture . ARS is one of four agencies in USDA's Research, Education and Economics mission area...
scientists are interested in specialized enzymes called serine-class proteases that digest beta-amylases, which convert carbohydrates into "simple sugars" during the sprouting process. The enzyme also breaks down stored proteins into their amino acid derivatives. The balance of proteins and carbohydrates broken down by the enzyme affect the malt's flavor.
See also
External links