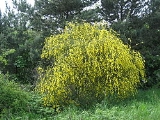 Shrub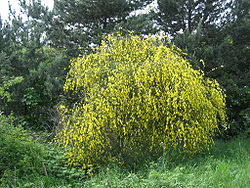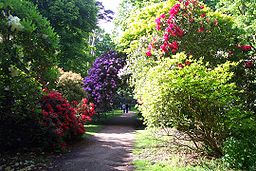 A
shrub
or
bush
is distinguished from a
tree
Tree
A tree is a perennial woody plant. It is most often defined as a woody plant that has many secondary branches supported clear of the ground on a single main stem or trunk with clear apical dominance. A minimum height specification at maturity is cited by some authors, varying from 3 m to...
by its multiple stems and shorter
height
Height
Height is the measurement of vertical distance, but has two meanings in common use. It can either indicate how "tall" something is, or how "high up" it is. For example "The height of the building is 50 m" or "The height of the airplane is 10,000 m"...
, usually under 5–6 m (15–20 ft) tall. A large number of plants may become either shrubs or trees, depending on the growing conditions they experience. Small, low shrubs such as
lavender
Lavender
The lavenders are a genus of 39 species of flowering plants in the mint family, Lamiaceae. An Old World genus, distributed from Macaronesia across Africa, the Mediterranean, South-West Asia, Arabia, Western Iran and South-East India...
,
periwinkle
Vinca
Vinca is a genus of six species in the family Apocynaceae, native to Europe, northwest Africa and southwest Asia. The English name periwinkle is shared with the related genus Catharanthus .-Description:Vinca plants are subshrubs or herbaceous, and have slender trailing stems 1–2 m long...
and
thyme
Thyme
Thyme is a culinary and medicinal herb of the genus Thymus.-History:Ancient Egyptians used thyme for embalming. The ancient Greeks used it in their baths and burnt it as incense in their temples, believing it was a source of courage...
are often termed
subshrub
Subshrub
A subshrub or dwarf shrub is a short woody plant. Prostrate shrub is a similar term.It is distinguished from a shrub by its ground-hugging stems and lower height, with overwintering perennial woody growth typically less than 10–20 cm tall, or by being only weakly woody and/or persisting...
s.
An area of cultivated shrubs in a
park
Park
A park is a protected area, in its natural or semi-natural state, or planted, and set aside for human recreation and enjoyment, or for the protection of wildlife or natural habitats. It may consist of rocks, soil, water, flora and fauna and grass areas. Many parks are legally protected by...
or
garden
Garden
A garden is a planned space, usually outdoors, set aside for the display, cultivation, and enjoyment of plants and other forms of nature. The garden can incorporate both natural and man-made materials. The most common form today is known as a residential garden, but the term garden has...
is known as a
shrubbery
Shrubbery
A shrubbery is a wide border to a garden where shrubs are thickly planted; or a similar larger area with a path winding through it. A shrubbery was a feature of 19th-century gardens in the English manner, with its origins in the gardenesque style of the early part of the century...
. When clipped as
topiary
Topiary
Topiary is the horticultural practice of training live perennial plants, by clipping the foliage and twigs of trees, shrubs and subshrubs to develop and maintain clearly defined shapes, perhaps geometric or fanciful; and the term also refers to plants which have been shaped in this way. It can be...
, shrubs generally have dense foliage and many small leafy
branch
Branch
A branch or tree branch is a woody structural member connected to but not part of the central trunk of a tree...
es growing close together. Many shrubs respond well to renewal
pruning
Pruning
Pruning is a horticultural practice involving the selective removal of parts of a plant, such as branches, buds, or roots. Reasons to prune plants include deadwood removal, shaping , improving or maintaining health, reducing risk from falling branches, preparing nursery specimens for...
, in which hard cutting back to a '
stool
Living stump
A living stump is created when a live tree is cut and its stump remains in the ground. The stump and root system may remain alive for several years if its roots graft to nearby living trees. A living stump capable of producing sprouts or cuttings is known as a stool, and is used in the coppicing...
' results in long new
stems
Plant stem
A stem is one of two main structural axes of a vascular plant. The stem is normally divided into nodes and internodes, the nodes hold buds which grow into one or more leaves, inflorescence , conifer cones, roots, other stems etc. The internodes distance one node from another...
known as "canes". Other shrubs respond better to selective pruning to reveal their structure and character.
Shrubs in common garden practice are generally
broad-leaved plants
Flowering plant
The flowering plants , also known as Angiospermae or Magnoliophyta, are the most diverse group of land plants. Angiosperms are seed-producing plants like the gymnosperms and can be distinguished from the gymnosperms by a series of synapomorphies...
, though some smaller
conifers
Pinophyta
The conifers, division Pinophyta, also known as division Coniferophyta or Coniferae, are one of 13 or 14 division level taxa within the Kingdom Plantae. Pinophytes are gymnosperms. They are cone-bearing seed plants with vascular tissue; all extant conifers are woody plants, the great majority being...
such as
Mountain Pine
Mountain Pine
Pinus mugo, the Mountain Pine or Mugo Pine, is a high-altitude European pine, found in the Pyrenees, Alps, Erzgebirge, Carpathians, northern Apennines and Balkan Peninsula mountains from 1,000 m to 2,200 m, occasionally as low as 200 m in the north of the range in Germany and Poland, and as high...
and Common Juniper are also shrubby in structure. Shrubs can be either
deciduous
Deciduous
Deciduous means "falling off at maturity" or "tending to fall off", and is typically used in reference to trees or shrubs that lose their leaves seasonally, and to the shedding of other plant structures such as petals after flowering or fruit when ripe...
or
evergreen
Evergreen
In botany, an evergreen plant is a plant that has leaves in all seasons. This contrasts with deciduous plants, which completely lose their foliage during the winter or dry season.There are many different kinds of evergreen plants, both trees and shrubs...
.
Shrubs as a botanical structural form
In botany and
ecology
Ecology
Ecology is the scientific study of the relations that living organisms have with respect to each other and their natural environment. Variables of interest to ecologists include the composition, distribution, amount , number, and changing states of organisms within and among ecosystems...
a shrub is more specifically used to describe the particular physical structural or
plant life-form
Plant life-form
Plant life-form schemes constitute a way of classifying plants alternatively to the ordinary species-genus-family scientific classification. In colloquial speech, plants may be classified as trees, shrubs, herbs , etc...
of woody plants which are less than 8 metres (26.2 ft) high and usually have many stems arising at or near the base.
For example, a descriptive system widely adopted in
Australia
Australia
Australia , officially the Commonwealth of Australia, is a country in the Southern Hemisphere comprising the mainland of the Australian continent, the island of Tasmania, and numerous smaller islands in the Indian and Pacific Oceans. It is the world's sixth-largest country by total area...
is based on structural characteristics based on life-form, plus the height and amount of foliage cover of the tallest layer or
dominant
Dominance (ecology)
Ecological dominance is the degree to which a species is more numerous than its competitors in an ecological community, or makes up more of the biomass...
species
Species
In biology, a species is one of the basic units of biological classification and a taxonomic rank. A species is often defined as a group of organisms capable of interbreeding and producing fertile offspring. While in many cases this definition is adequate, more precise or differing measures are...
.
For shrubs 2–8 m (6.6–26.2 ft) high the following structural forms are categorized:
dense foliage cover (70–100%) — closed-scrub
mid-dense foliage cover (30–70%) — open-scrub
sparse foliage cover (10–30%) — tall shrubland

Shrubland

Shrubland, scrubland, scrub or brush is a plant community characterized by vegetation dominated by shrubs, often also including grasses, herbs, and geophytes. Shrubland may either occur naturally or be the result of human activity...



very sparse foliage cover (<10%) — tall open shrubland

Shrubland

Shrubland, scrubland, scrub or brush is a plant community characterized by vegetation dominated by shrubs, often also including grasses, herbs, and geophytes. Shrubland may either occur naturally or be the result of human activity...



For shrubs less than 2 metres (6.6 ft) high the following structural forms are categorized:
List of shrubs (bushes)
Those marked * can also develop into tree form.

A
B

Berberis

Berberis

Berberis , the barberries or pepperidge bushes, is a genus of about 450-500 species of deciduous and evergreen shrubs from 1-5 m tall with thorny shoots, native to the temperate and subtropical regions of Europe, Asia, Africa, North America and South America. They are closely related to the genus...


(Barberry)
Bougainvillea

Bougainvillea

Bougainvillea is a genus of flowering plants native to South America from Brazil west to Peru and south to southern Argentina . Different authors accept between four and 18 species in the genus...


(Bougainvillea

Bougainvillea

Bougainvillea is a genus of flowering plants native to South America from Brazil west to Peru and south to southern Argentina . Different authors accept between four and 18 species in the genus...


)
Brugmansia

Brugmansia

Brugmansia is a genus of seven species of flowering plants in the family Solanaceae, native to subtropical regions of South America, along the Andes from Colombia to northern Chile, and also in southeastern Brazil. They are known as Angel's Trumpets, sharing that name with the closely related genus...


(Angel's trumpet

Brugmansia

Brugmansia is a genus of seven species of flowering plants in the family Solanaceae, native to subtropical regions of South America, along the Andes from Colombia to northern Chile, and also in southeastern Brazil. They are known as Angel's Trumpets, sharing that name with the closely related genus...


)
Buddleja

Buddleja

Buddleja, often misspelled Buddleia but commonly known as the Butterfly Bush, is a genus of flowering plants. The generic name bestowed by Linnaeus honours the Reverend Adam Buddle , a botanist and rector in Essex, England, but who could never have seen a plant of the genus.-Classification:The...


(Butterfly bush

Buddleja

Buddleja, often misspelled Buddleia but commonly known as the Butterfly Bush, is a genus of flowering plants. The generic name bestowed by Linnaeus honours the Reverend Adam Buddle , a botanist and rector in Essex, England, but who could never have seen a plant of the genus.-Classification:The...


)


C

Calia (Mescalbean

Mescalbean

Calia is a genus of three or four species of shrubs and small trees in the subfamily Faboideae of the pea family, Fabaceae. The genus is native to southwestern North America from western Texas to New Mexico and Arizona in the United States, and south through Chihuahua, Coahuila and Nuevo León in...


)
Callicarpa (Beautyberry

Beautyberry

Beautyberry is a genus of shrubs and small trees in the family Verbenaceae; between 40-150 species are accepted by different botanists. They are native to east and southeast Asia , Australia, southeast North America and Central America.-Growth:The temperate species are deciduous, the tropical...


) *
Callistemon (Bottlebrush

Bottlebrush

Callistemon is a genus of 34 species of shrubs in the family Myrtaceae, all of which are endemic to Australia. It is sometimes considered a synonym of Melaleuca, and four Callistemon species from New Caledonia were moved to that genus by Lyndley Craven and John Dawson in 1998...


) *
Calluna

Calluna

Calluna vulgaris is the sole species in the genus Calluna in the family Ericaceae. It is a low-growing perennial shrub growing to tall, or rarely to and taller, and is found widely in Europe and Asia Minor on acidic soils in open sunny situations and in moderate shade...


(Heather)
Calycanthus

Calycanthus

Calycanthus is a genus of flowering plants in the family Calycanthaceae, endemic to North America. The genus includes two to four species depending on taxonomic interpretation; two are accepted by the Flora of North America....


(Sweetshrub)
Camellia

Camellia

Camellia, the camellias, is a genus of flowering plants in the family Theaceae. They are found in eastern and southern Asia, from the Himalaya east to Korea and Indonesia. There are 100–250 described species, with some controversy over the exact number...


(Camellia

Camellia

Camellia, the camellias, is a genus of flowering plants in the family Theaceae. They are found in eastern and southern Asia, from the Himalaya east to Korea and Indonesia. There are 100–250 described species, with some controversy over the exact number...


, Tea

Tea

Tea is an aromatic beverage prepared by adding cured leaves of the Camellia sinensis plant to hot water. The term also refers to the plant itself. After water, tea is the most widely consumed beverage in the world...


) *
Caragana

Caragana

Caragana is a genus of about 80 species of flowering plants in the family Fabaceae, native to Asia and eastern Europe.They are shrubs or small trees growing 1-6 m tall...


(Pea-tree) *
Carpenteria

Carpenteria

Carpenteria californica , the sole species in the genus Carpenteria, is an evergreen shrub native to California. It is closely related to the genus Philadelphus...


(Carpenteria

Carpenteria

Carpenteria californica , the sole species in the genus Carpenteria, is an evergreen shrub native to California. It is closely related to the genus Philadelphus...


)
Caryopteris

Caryopteris

Caryopteris is a genus of 16 species of flowering plants in the family Lamiaceae , native to eastern and southern Asia....


(Blue Spiraea)
Cassiope

Cassiope

Cassiope is a genus of 9-12 small shrubby species in the family Ericaceae. They are native to the Arctic and north temperate montane regions. Common names, shared with several other similar related genera, include heather and heath....


(Moss-heather)
Ceanothus

Ceanothus

Ceanothus L. is a genus of about 50–60 species of shrubs or small trees in the buckthorn family Rhamnaceae. The genus is confined to North America, the center of its distribution in California, with some species in the eastern United States and southeast Canada, and others extending as far south...


(Ceanothus

Ceanothus

Ceanothus L. is a genus of about 50–60 species of shrubs or small trees in the buckthorn family Rhamnaceae. The genus is confined to North America, the center of its distribution in California, with some species in the eastern United States and southeast Canada, and others extending as far south...


) *
Celastrus (Staff vine

Staff vine

The staff vines, also known as staff trees or bittersweet, genus Celastrus, comprise about 30 species of shrubs and vines. They have a wide distribution in East Asia, Australasia, Africa and the Americas....


) *
Ceratostigma

Ceratostigma

Ceratostigma , or Leadwort, Plumbago, is a genus of eight species of flowering plants in the family Plumbaginaceae, native to warm temperate to tropical regions of Africa and Asia. Common names are shared with the genus Plumbago....


(Hardy Plumbago)
Cercocarpus (Mountain-mahogany

Mountain-mahogany

Cercocarpus, commonly known as mountain mahogany, is a small genus of five or six species of deciduous shrubs or small trees in the rose family , native to the western United States and northern Mexico, where they grow in chaparral and semi-desert habitats and climates, often at high altitudes...


) *
Chaenomeles

Chaenomeles

Chaenomeles is a genus of three species of deciduous spiny shrubs, usually 1–3 m tall, in the family Rosaceae. They are native to eastern Asia in Japan, China and Korea...


(Japanese Quince)
Chamaebatiaria

Chamaebatiaria

Chamaebatiaria is a monotypic genus of aromatic shrub in the rose family containing the single species Chamaebatiaria millefolium, which is known by the common names fern bush and desert sweet. Its genus name comes from its physical resemblance to the mountain miseries of genus Chamaebatia, which...


(Fernbush)
Chamaedaphne

Chamaedaphne

The Leatherleaf is a shrub in the plant family Ericaceae and the only species in the genus Chamaedaphne. It has a wide distribution throughout the cool temperate and subarctic regions of the Northern Hemisphere....


(Leatherleaf)
Chimonanthus

Chimonanthus

Chimonanthus is a genus of flowering plants in the family Calycanthaceae, endemic to China. It is also grown in Iran, called "Ice Flower" and probably imported from China. The genus includes three to six species depending on taxonomic interpretation; three are accepted by the Draft Flora of China...


(Wintersweet)
Chionanthus

Chionanthus

Chionanthus is a genus of about 80 species of flowering plants in the family Oleaceae.The genus has a wide distribution primarily in the tropics and subtropics, but with two species extending north into temperate regions, one in eastern Asia and one in eastern North America...


(Fringe-tree) *
Choisya

Choisya

Choisya is a small genus of aromatic evergreen shrubs in the rue family, Rutaceae. Members of the genus are commonly known as Mexican Orange or Mock Orange due to the similarity of their flowers with those of the closely related Orange, both in shape and scent...


(Mexican-orange Blossom) *
Cistus

Cistus

Cistus is a genus of flowering plants in the rockrose family Cistaceae, containing about 20 species . They are perennial shrubs found on dry or rocky soils throughout the Mediterranean region, from Morocco and Portugal through to the Middle East, and also on the Canary Islands...


(Rockrose)
Clerodendrum

Clerodendrum

Clerodendrum is a genus of flowering plants in the family Lamiaceae. Its common names include glorybower, bagflower and bleeding-heart...


(Clerodendrum

Clerodendrum

Clerodendrum is a genus of flowering plants in the family Lamiaceae. Its common names include glorybower, bagflower and bleeding-heart...


)
Clethra

Clethra

Clethra is a genus of between 30-70 species of flowering shrubs or small trees. It is one of two genera in the family Clethraceae...


(Summersweet, Pepperbush) *
Clianthus (Glory Pea)
Colletia

Colletia

Colletia is a genus of flowering plants in the family Rhamnaceae, with 15 to 17 species of spiny shrubs. All species of this genus are native to southern South America. They are non-legume nitrogen fixers.-Selected species:*Colletia armata...


(Colletia

Colletia

Colletia is a genus of flowering plants in the family Rhamnaceae, with 15 to 17 species of spiny shrubs. All species of this genus are native to southern South America. They are non-legume nitrogen fixers.-Selected species:*Colletia armata...


)
Colutea

Colutea

Colutea is a genus of about 25 species of deciduous flowering shrubs in the legume family Fabaceae, growing from 2-5 m tall, native to southern Europe, north Africa and southwest Asia. The leaves are pinnate and light green to glaucous grey-green. The flowers are yellow to orange, pea-shaped and...


(Bladder Senna)
Comptonia

Comptonia

Comptonia is a monotypic genus in the family Myricaceae, order Fagales. It is native to eastern North America, from southern Quebec south to the extreme north of Georgia, and west to Minnesota. The common name is Sweetfern or Sweet-fern, a confusing name as it is not a fern.It is a deciduous...


(Sweetfern)
Cornus

Dogwood

The genus Cornus is a group of about 30-60 species of woody plants in the family Cornaceae, commonly known as dogwoods. Most dogwoods are deciduous trees or shrubs, but a few species are nearly herbaceous perennial subshrubs, and a few of the woody species are evergreen...


(Dogwood

Dogwood

The genus Cornus is a group of about 30-60 species of woody plants in the family Cornaceae, commonly known as dogwoods. Most dogwoods are deciduous trees or shrubs, but a few species are nearly herbaceous perennial subshrubs, and a few of the woody species are evergreen...


) *
Corylopsis

Corylopsis

Corylopsis is a genus of nearly 30 species of shrubs in the witch hazel family, Hamamelidaceae, native to eastern Asia with the majority of species endemic in China but with some also in Japan, Korea, and the Himalaya...


(Winter-hazel) *
Cotinus (Smoketree) *
Cotoneaster

Cotoneaster

Cotoneaster is a genus of woody plants in the rose family, Rosaceae, native to the Palaearctic region , with a strong concentration of diversity in the genus in the mountains of southwestern China and the Himalayas...


(Cotoneaster

Cotoneaster

Cotoneaster is a genus of woody plants in the rose family, Rosaceae, native to the Palaearctic region , with a strong concentration of diversity in the genus in the mountains of southwestern China and the Himalayas...


) *
Cowania (Cliffrose)
Crataegus

Crataegus

Crataegus , commonly called hawthorn or thornapple, is a large genus of shrubs and trees in the rose family, Rosaceae, native to temperate regions of the Northern Hemisphere in Europe, Asia and North America. The name hawthorn was originally applied to the species native to northern Europe,...


(Hawthorn

Crataegus

Crataegus , commonly called hawthorn or thornapple, is a large genus of shrubs and trees in the rose family, Rosaceae, native to temperate regions of the Northern Hemisphere in Europe, Asia and North America. The name hawthorn was originally applied to the species native to northern Europe,...


) *
Crinodendron

Crinodendron

Crinodendron is a botanic genus with 8 species of flowering plants belonging to the family Elaeocarpaceae....


(Crinodendron

Crinodendron

Crinodendron is a botanic genus with 8 species of flowering plants belonging to the family Elaeocarpaceae....


) *
Cytisus

Cytisus

Cytisus is a genus of flowering plants in the legume family, Fabaceae. It belongs to the subfamily Faboideae.-Selected species:* Cytisus arboreus DC.* Cytisus ardoini E.Fourn.* Cytisus baeticus Steud....


and allied genera (Broom

Broom (shrub)

Brooms are a group of evergreen, semi-evergreen, and deciduous shrubs in the subfamily Faboideae of the legume family Fabaceae, mainly in the three genera Chamaecytisus, Cytisus and Genista, but also in many other small genera . All genera in this group are from the tribe Genisteae...


) *


D

Daboecia

Daboecia

Daboecia is a small genus in the family Ericaceae, containing two shrubby species, closely related to the genus Erica.Daboecia differs from European Erica species in having a deciduous corolla which is substantially larger than the corolla in the same species of Erica. The leaves are always...


(Heath

Heath

-Habitats:* Heath or heathland, low-growing woody vegetation, mostly consisting of heathers and related species* Heaths in the British National Vegetation Classification system...


)
Danae

Danae (plant)

Danae is a monotypic genus of flowering plants with only one species, Danae racemosa. It is a slow-growing evergreen shrub about 60 cm in diameter and its common names are Alexandrian laurel and Poet's laurel. In the APG III classification system, Danae is placed in the family Asparagaceae,...


(Alexandrian Laurel)
Daphne

Daphne (plant)

Daphne is a genus of between 50 and 95 species of deciduous and evergreen shrubs in the family Thymelaeaceae, native to Asia, Europe, and north Africa...


(Daphne

Daphne (plant)

Daphne is a genus of between 50 and 95 species of deciduous and evergreen shrubs in the family Thymelaeaceae, native to Asia, Europe, and north Africa...


)
Decaisnea

Decaisnea

Decaisnea is a genus of flowering plant in the family Lardizabalaceae, native to eastern Asia, from China west to Nepal and south to Myanmar.The genus comprises one or two species, depending on taxonomic opinion. Decaisnea insignis Hook.f...


(Decaisnea

Decaisnea

Decaisnea is a genus of flowering plant in the family Lardizabalaceae, native to eastern Asia, from China west to Nepal and south to Myanmar.The genus comprises one or two species, depending on taxonomic opinion. Decaisnea insignis Hook.f...


)
Dasiphora

Dasiphora

Dasiphora is a genus of three species of shrubs in the rose family Rosaceae, native to Asia, with one species D. fruticosa , with a circumpolar range across the entire cool temperate Northern Hemisphere. In the past, the genus was normally included in Potentilla as Potentilla sect...


(Shrubby Cinquefoil

Shrubby Cinquefoil

Dasiphora fruticosa is a shrub in the family Rosaceae, native to the cool temperate to subarctic regions of the Northern Hemisphere, often growing at high altitudes in mountains.It is a deciduous, much branched flowering shrub growing to 0.1–1 m tall, rarely up to 1.5 m...


)
Dendromecon

Dendromecon

Dendromecon, the tree poppy, is a genus of one or two species of shrubs to small trees, native to California and northern Baja California. The leaves are evergreen, alternate, lanceolate to ovate, 3-10 cm long...


(Tree poppy)
Desfontainea (Desfontainea)
Deutzia

Deutzia

Deutzia is a genus of about 60 species of shrubs in the family Hydrangeaceae, native to eastern and central Asia , and Central America and also Europe. By far the highest species diversity is in China, where 50 species occur.The species are shrubs ranging from 1–4 m in height...


(Deutzia

Deutzia

Deutzia is a genus of about 60 species of shrubs in the family Hydrangeaceae, native to eastern and central Asia , and Central America and also Europe. By far the highest species diversity is in China, where 50 species occur.The species are shrubs ranging from 1–4 m in height...


)
Diervilla (Bush Honeysuckle

Bush Honeysuckle

Bush Honeysuckle is genus of three species of deciduous shrubs in the family Caprifoliaceae, all indigenous to eastern North America. The genus is named after a French surgeon Dr...


)
Dipelta (Dipelta)
Dirca

Dirca

Dirca is a genus of three or four species of flowering plants in the family Thymelaeaceae, native to North America. The genus is named after Dirce in Greek mythology. The general common name for this deciduous shrub is leatherwood; others include moosewood, ropebark and Powhatan-derived wicopy...


(Leatherwood

Leatherwood

Leatherwood may refer to:*Cyrilla, a plant genus of tropical to warm temperate Americas*Dirca, a plant genus of temperate North America*Eucryphia lucida, a plant species of Tasmania*Leatherwood, Kentucky, an area in Perry County, Kentucky...


)
Dracaena

Dracaena (plant)

Dracaena is a genus of about 40 species of trees and succulent shrubs. In the APG III classification system, it is placed in the family Asparagaceae, subfamily Nolinoideae . It has also formerly been separated into the family Dracaenaceae or placed in the Agavaceae...


(Dragon tree

Dracaena (plant)

Dracaena is a genus of about 40 species of trees and succulent shrubs. In the APG III classification system, it is placed in the family Asparagaceae, subfamily Nolinoideae . It has also formerly been separated into the family Dracaenaceae or placed in the Agavaceae...


) *
Drimys

Drimys

Drimys is a genus of about eight species of woody evergreen flowering plants, in the family Winteraceae. The species are native to the Neotropics, ranging from southern Mexico to the southern tip of South America...


(Winter's Bark) *
Dryas

Dryas (plant)

Dryas is a genus of dwarf perennial herbaceous plants in the rose family Rosaceae, native to the arctic and alpine regions of Europe, Asia and North America. The genus is named after the Greek nymph Dryas. The classification of Dryas within the Rosaceae has been unclear...


(Mountain Avens)


E

Edgeworthia

Edgeworthia

Edgeworthia is a genus of plants in the family Thymelaeaceae. When the genus was first described, it was published twice in the same year , in two separate publications: Plantarum vascularium genera: secundum ordines naturales digesta eorumque differentiae et affinitates tabulis diagnostacis...


(Paper Bush) *
Elaeagnus

Elaeagnus

Elaeagnus , silverberry or oleaster, is a genus of about 50–70 species of flowering plants in the family Elaeagnaceae.The vast majority of the species are native to temperate and subtropical regions of Asia. Elaeagnus triflora extends from Asia south into northeastern Australia, while E...


(Elaeagnus

Elaeagnus

Elaeagnus , silverberry or oleaster, is a genus of about 50–70 species of flowering plants in the family Elaeagnaceae.The vast majority of the species are native to temperate and subtropical regions of Asia. Elaeagnus triflora extends from Asia south into northeastern Australia, while E...


) *
Embothrium

Embothrium

Embothrium is a genus of two to eight species in the plant family Proteaceae, native to southern South America, in Chile and adjacent western Argentina and southern Peru; the genus occurs as far south as Tierra del Fuego...


(Chilean Firebush) *
Empetrum (Crowberry

Crowberry

Crowberry is a small genus of dwarf evergreen shrubs that bear edible fruit. They are commonly found in the northern hemisphere, from temperate to subarctic climates, and also in the Southern Andes of South America and on the South Atlantic islands of South Georgia, the Falklands and Tristan da...


)
Enkianthus

Enkianthus

Enkianthus is a genus of shrubs or small trees in the heath family . Its native range is in Asia, as far west as the eastern Himalayas, as far south as Indochina, and as far north and east as China and Japan....


(Pagoda Bush)
Ephedra

Ephedra (genus)

Ephedra is a genus of gymnosperm shrubs, the only genus in its family, Ephedraceae, and order, Ephedrales. Ephedra grows in dry climates over wide areas of the northern hemisphere, including southwestern North America, Europe, north Africa, and southwest and central Asia, and, in the southern...


(Ephedra

Ephedra (genus)

Ephedra is a genus of gymnosperm shrubs, the only genus in its family, Ephedraceae, and order, Ephedrales. Ephedra grows in dry climates over wide areas of the northern hemisphere, including southwestern North America, Europe, north Africa, and southwest and central Asia, and, in the southern...


)
Epigaea

Epigaea

Epigaea is a genus comprising three species of flowering plants in the Ericaceae. The species are small creeping shrubs that are typically anywhere from 10 to 20 cm tall at full growth, forming large patches. The leaves are evergreen, alternate and simple, ranging amongst the three species...


(Trailing Arbutus)
Erica

Erica

Erica ,the heaths or heathers, is a genus of approximately 860 species of flowering plants in the family Ericaceae. The English common names "heath" and "heather" are shared by some closely related genera of similar appearance....


(Heath

Heath

-Habitats:* Heath or heathland, low-growing woody vegetation, mostly consisting of heathers and related species* Heaths in the British National Vegetation Classification system...


)
Eriobotrya

Eriobotrya

Eriobotrya is a genus of about ten species of large evergreen shrubs and small trees in the family Rosaceae, native to east and southeast Asia.-Species:By far the best known species is the Loquat, E...


(Loquat

Loquat

The loquat , Eriobotrya japonica, is a fruit tree in the family Rosaceae, indigenous to southeastern China. It was formerly thought to be closely related to the genus Mespilus, and is still sometimes known as the Japanese medlar...


) *
Escallonia

Escallonia

Escallonia is a genus of flowering plants of the Escalloniaceae family.Commonly used as a hedging plant, it grows about 1 ft per year, and reaches between 4-8 ft in height. It is happy in coastal areas, but not very tolerant of dry winds....


(Escallonia

Escallonia

Escallonia is a genus of flowering plants of the Escalloniaceae family.Commonly used as a hedging plant, it grows about 1 ft per year, and reaches between 4-8 ft in height. It is happy in coastal areas, but not very tolerant of dry winds....


)
Eucryphia

Eucryphia

Eucryphia is a small genus of trees or large shrubs of the Antarctic flora, native to the south temperate regions of South America and coastal eastern Australia. Traditionally placed in a family of their own, the Eucryphiaceae, more recent classifications place them in the Cunoniaceae. There are...


(Eucryphia

Eucryphia

Eucryphia is a small genus of trees or large shrubs of the Antarctic flora, native to the south temperate regions of South America and coastal eastern Australia. Traditionally placed in a family of their own, the Eucryphiaceae, more recent classifications place them in the Cunoniaceae. There are...


) *
Euonymus

Euonymus

Euonymus , often called spindle or spindle tree, is a genus of flowering plants in the staff vine family, Celastraceae. It comprises about 170–180 species of deciduous and evergreen shrubs and small trees...


(Spindle) *
Exochorda

Exochorda

Exochorda is a small genus of flowering plants in the family Rosaceae, native to China and central Asia . They are used as ornamental plants with the common name pearl bush...


(Pearl Bush)


F
G
H
I
J
K
L
M
N
O

P
Q
R
S
T
U
V
W
X
Y
Z