 Oleander
Nerium oleander
is an evergreen shrub or small tree in the
dogbane
Apocynum
Apocynum, commonly known as Dogbane and Indian Hemp, is a genus of the plant family of the Apocynaceae with seven species. From the Greek: apo, away; cyno, dog, attributed to its toxicity...
family
Apocynaceae
Apocynaceae
The Apocynaceae or dogbane family is a family of flowering plants that includes trees, shrubs, herbs, and lianas.Many species are tall trees found in tropical rainforests, and most are from the tropics and subtropics, but some grow in tropical dry, xeric environments. There are also perennial herbs...
, toxic in all its parts. It is the only species currently classified in the genus
Nerium
. It is most commonly known as
oleander
, from its superficial resemblance to the unrelated
olive
Olive
The olive , Olea europaea), is a species of a small tree in the family Oleaceae, native to the coastal areas of the eastern Mediterranean Basin as well as northern Iran at the south end of the Caspian Sea.Its fruit, also called the olive, is of major agricultural importance in the...
Olea
, but has many other names. It is so widely cultivated that no precise region of origin has been identified, though southwest Asia has been suggested. The ancient city of
Volubilis
Volubilis
Volubilis is an archaeological site in Morocco situated near Meknes between Fez and Rabat along the N13 road. The nearest town is Moulay Idriss. Volubilis features the best preserved Roman ruins in this part of northern Africa...
in Morocco took its name from the old Latin name for the flower. Oleander is one of the most poisonous of commonly grown garden plants.
Description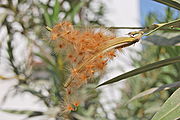 Oleander grows to 2–6 m (6.6–19.7 ft) tall, with erect stems that splay outward as they mature; first-year stems have a glaucous bloom, while mature stems have a grayish bark. The
leaves
Leaf
A leaf is an organ of a vascular plant, as defined in botanical terms, and in particular in plant morphology. Foliage is a mass noun that refers to leaves as a feature of plants....
are in pairs or whorls of three, thick and leathery, dark-green, narrow lanceolate, 5–21 cm (2–8.3 in) long and 1–3.5 cm (0.393700787401575–1.4 in) broad, and with an entire margin. The
flower
Flower
A flower, sometimes known as a bloom or blossom, is the reproductive structure found in flowering plants . The biological function of a flower is to effect reproduction, usually by providing a mechanism for the union of sperm with eggs...
s grow in clusters at the end of each branch; they are white, pink to red, 2.5–5 cm (0.984251968503937–2 in) diameter, with a deeply 5-lobed fringed corolla round the central corolla tube. They are often, but not always, sweet-scented. The
fruit
Fruit
In broad terms, a fruit is a structure of a plant that contains its seeds.The term has different meanings dependent on context. In non-technical usage, such as food preparation, fruit normally means the fleshy seed-associated structures of certain plants that are sweet and edible in the raw state,...
is a long narrow
capsule
Capsule (fruit)
In botany a capsule is a type of simple, dry fruit produced by many species of flowering plants. A capsule is a structure composed of two or more carpels that in most cases is dehiscent, i.e. at maturity, it splits apart to release the seeds within. A few capsules are indehiscent, for example...
5–23 cm (2–9.1 in) long, which splits open at maturity to release numerous downy
seed
Seed
A seed is a small embryonic plant enclosed in a covering called the seed coat, usually with some stored food. It is the product of the ripened ovule of gymnosperm and angiosperm plants which occurs after fertilization and some growth within the mother plant...
s.
Habitat and range
N. oleander
is native or naturalized to a broad area from
Mauritania
Mauritania
Mauritania is a country in the Maghreb and West Africa. It is bordered by the Atlantic Ocean in the west, by Western Sahara in the north, by Algeria in the northeast, by Mali in the east and southeast, and by Senegal in the southwest...
,
Morocco
Morocco
Morocco , officially the Kingdom of Morocco , is a country located in North Africa. It has a population of more than 32 million and an area of 710,850 km², and also primarily administers the disputed region of the Western Sahara...
, and
Portugal
Portugal
Portugal , officially the Portuguese Republic is a country situated in southwestern Europe on the Iberian Peninsula. Portugal is the westernmost country of Europe, and is bordered by the Atlantic Ocean to the West and South and by Spain to the North and East. The Atlantic archipelagos of the...
eastward through the Mediterranean region and the
Sahara
Sahara
The Sahara is the world's second largest desert, after Antarctica. At over , it covers most of Northern Africa, making it almost as large as Europe or the United States. The Sahara stretches from the Red Sea, including parts of the Mediterranean coasts, to the outskirts of the Atlantic Ocean...
(where it is only found sporadically), to the
Arabian peninsula
Arabian Peninsula
The Arabian Peninsula is a land mass situated north-east of Africa. Also known as Arabia or the Arabian subcontinent, it is the world's largest peninsula and covers 3,237,500 km2...
, southern
Asia
Asia
Asia is the world's largest and most populous continent, located primarily in the eastern and northern hemispheres. It covers 8.7% of the Earth's total surface area and with approximately 3.879 billion people, it hosts 60% of the world's current human population...
, and as far East as
Yunnan
Yunnan
Yunnan is a province of the People's Republic of China, located in the far southwest of the country spanning approximately and with a population of 45.7 million . The capital of the province is Kunming. The province borders Burma, Laos, and Vietnam.Yunnan is situated in a mountainous area, with...
in southern parts of
China
China
Chinese civilization may refer to:* China for more general discussion of the country.* Chinese culture* Greater China, the transnational community of ethnic Chinese.* History of China* Sinosphere, the area historically affected by Chinese culture...
. It typically occurs around dry stream beds. Nerium oleander is planted in many subtopical and tropical areas of the world. In the East Coast of the US, it can be planted as far north as the
Outer Banks
Outer Banks
The Outer Banks is a 200-mile long string of narrow barrier islands off the coast of North Carolina, beginning in the southeastern corner of Virginia Beach on the east coast of the United States....
,
North Carolina
North Carolina
North Carolina is a state located in the southeastern United States. The state borders South Carolina and Georgia to the south, Tennessee to the west and Virginia to the north. North Carolina contains 100 counties. Its capital is Raleigh, and its largest city is Charlotte...
, while in Southern California and Texas it is naturalized as a median strip planting.
Garden history
Theophrastus
Theophrastus
Theophrastus , a Greek native of Eresos in Lesbos, was the successor to Aristotle in the Peripatetic school. He came to Athens at a young age, and initially studied in Plato's school. After Plato's death he attached himself to Aristotle. Aristotle bequeathed to Theophrastus his writings, and...
in his
Enquiries into Plants
of ca. 300 BCE described among plants that affect the mind a shrub he called
onotheras
, which modern editors render oleander; "the root of
onotheras
[oleander] administered in wine," he alleges, "makes the temper gentler and more cheerful."
"The plant has a leaf like that of the almond, but smaller, and the flower is red like a rose. The plant itself (which loves hilly country) forms a large bush; the root is red and large, and, if this is dried, it gives off a fragrance like wine."
In another mention, of "wild bay" (
Daphne agria
), Theophrastus appears to intend the same shrub.
Ornamental
Oleander grows well in warm subtropical regions, where it is extensively used as an
ornamental plant
Ornamental plant
Ornamental plants are plants that are grown for decorative purposes in gardens and landscape design projects, as house plants, for cut flowers and specimen display...
in landscapes, in parks, and along roadsides. It is drought-tolerant and will tolerate occasional light frost down to -10 C. It is commonly used in landscaping freeway medians in California, Texas and other mild-winter states in the Continental United States because it is upright in habit and easily maintained. Its toxicity renders it deer-resistant. It is tolerant of poor soils and drought. Oleander can also be grown in cooler climates in greenhouses and conservatories, or as indoor plants that can be kept outside in the summer. Oleander flowers are showy and fragrant and are grown for these reasons. Over 400
cultivar
Cultivar
A cultivar'Cultivar has two meanings as explained under Formal definition. When used in reference to a taxon, the word does not apply to an individual plant but to all those plants sharing the unique characteristics that define the cultivar. is a plant or group of plants selected for desirable...
s have been named, with several additional flower colours not found in wild plants having been selected, including red, purple, pink, and orange; white and a variety of pinks are the most common. Many cultivars also have double flowers. Young plants grow best in spaces where they do not have to compete with other plants for nutrients.
Toxicity
Nerium oleander has historically been considered a
poisonous plant
based on a number of its compounds that may exhibit toxicity, especially to animals, when consumed in high amounts. Among these compounds are
oleandrin
Oleandrin
Oleandrin is a toxic cardiac glycoside found in oleander . Along with neandrin it is primarily responsible for the toxicity of the sap of oleander...
and
oleandrigenin
Oleandrin
Oleandrin is a toxic cardiac glycoside found in oleander . Along with neandrin it is primarily responsible for the toxicity of the sap of oleander...
, known as "cardiac glycosides" which are known to have a narrow therapeutic index and can be toxic when ingested.
Toxicity studies of animals administered oleander extract concluded that the rodent and avian species were observed to be relatively insensitive to oleander "cardioactive glycosides". Other mammals, however, such as dogs and humans, are relatively sensitive to the effects of cardiac glycosides and the clinical manifestations of "glycoside intoxication".
However, despite the common "poisonous" designation of this plant, very few toxic events in humans have been reported. According to the Toxic Exposure Surveillance System (TESS) in 2002 there were 847 human exposures to oleander reported to poison centers in the United States. Despite this exposure level, from 1985 through 2005, only three deaths were reported. One cited death was apparently due to the ingestion of oleander leaves by a diabetic man. His blood indicated a total blood concentration of cardiac glycosides of approximately 20 microgm/L which is well above the reported fatal level. Another study reported on the death of a woman who self-administered "an undefined oleander extract" both orally and rectally and her oleandrin tissue levels were 10 to 39 microgm/gm which were in the high range of reported levels at autopsy. And, finally, one study reported the death of a woman who ingested oleander 'tea'. Few other details were provided.
In contrast to consumption of these undefined oleander derived materials, there is no toxicity or deaths reported from topical administration or contact with Nerium oleander or specific products derived from them. In reviewing oleander toxicity Lanford and Boor concluded that, except for children who might be at greater risk, "the human mortality associated with oleander ingestion is generally very low, even in cases of moderate intentional consumption (suicide attempts)."
The safety of parenterally and topically administered Nerium oleander extract and its glycoside constituents, intended for therapeutic application, has been studied in animals and humans. These studies all indicate that administration of Nerium oleander extracts as either a
parenteral
Parenteral
Parenteral is a route of administration that involves piercing the skin or mucous membrane. Parenteral nutrition refers to providing nutrition via the veins.-Etymology:...
or
topical
Topical
In medicine, a topical medication is applied to body surfaces such as the skin or mucous membranes such as the vagina, anus, throat, eyes and ears.Many topical medications are epicutaneous, meaning that they are applied directly to the skin...
preparation is safe when doses anticipated for commercial products are applied. Toxicity studies that have been conducted in dogs and rodents administered oleander extracts by intramuscular (IM) injection indicated that on an equivalent weight basis, doses of an oleander extract with glycosides 10-times in excess of those likely to be administered therapeutically to humans are still safe and without any "severe toxicity observed". These pre-clinical studies, which also include oral dosing of
oleandrin
Oleandrin
Oleandrin is a toxic cardiac glycoside found in oleander . Along with neandrin it is primarily responsible for the toxicity of the sap of oleander...
, were conducted in preparation for an investigational drug submission to the U.S.
Food and Drug Administration
Food and Drug Administration
The Food and Drug Administration is an agency of the United States Department of Health and Human Services, one of the United States federal executive departments...
to allow for administration of the oleander extract to patients with cancer.
A study in which a proprietary, concentrated extract of Nerium oleander (containing
oleandrin
Oleandrin
Oleandrin is a toxic cardiac glycoside found in oleander . Along with neandrin it is primarily responsible for the toxicity of the sap of oleander...
and other cardiac glycosides) was administered orally to humans for the first time was recently concluded. A concentrated oleander extract (PBI-05204) was formulated for oral consumption was given to 46 cancer patients where doses explored included those from 0.2 mg to 10.2 mg extract/day. These doses were administered daily in cycles consisting of 21 out of every 28 days. The researchers concluded that PBI-05204 was "well tolerated up to the 10.2 mg extract/day dosage" with few significant side effects and with evidence of tumor response.
There does not appear to be any toxicity associated with exposure of a Nerium oleander extract to the skin. Both animal and human studies suggest that dermal application of Nerium oleander extract is safe. In four human studies in which a Nerium oleander extract was applied to the skin of people with different dermal conditions, sensitive
mass spectrometry
Mass spectrometry
Mass spectrometry is an analytical technique that measures the mass-to-charge ratio of charged particles.It is used for determining masses of particles, for determining the elemental composition of a sample or molecule, and for elucidating the chemical structures of molecules, such as peptides and...
based blood analyses were not able to detect the presence of cardio glycosides such as
oleandrin
Oleandrin
Oleandrin is a toxic cardiac glycoside found in oleander . Along with neandrin it is primarily responsible for the toxicity of the sap of oleander...
, indicating that these compounds are not readily absorbed through the skin.
Therapeutic efficacy
Historically, Nerium oleander has been reported in ancient texts and folklore for more than 1500 years. Used traditionally by herbalists as a folk remedy for a wide variety of maladies and conditions, including dermatitis, abscesses, eczema, psoriasis, sores, warts, corns, ringworm, scabies, herpes, skin cancer, asthma, dysmenorrheal, epilepsy, malaria, abortifacients, emetics, heart tonics, and tumors. It has been used extensively for medicinal purposes in Mediterranean and Central and Southern Asian countries, although these applications also have their basis in folk medicine and efficacy has not been documented by clinical research. Macerated leaves of oleander have been applied topically for treatment of
dermatitis
Dermatitis
-Etymology:Dermatitis derives from Greek derma "skin" + -itis "inflammation" and genetic disorder.-Terminology:There are several different types of dermatitis. The different kinds usually have in common an allergic reaction to specific allergens. The term may describe eczema, which is also called...
, loss of hair, superficial tumors and
syphilis
Syphilis
Syphilis is a sexually transmitted infection caused by the spirochete bacterium Treponema pallidum subspecies pallidum. The primary route of transmission is through sexual contact; however, it may also be transmitted from mother to fetus during pregnancy or at birth, resulting in congenital syphilis...
. A decoction of oleander leaves has been used for the treatment of
gingivitis
Gingivitis
Gingivitis is a term used to describe non-destructive periodontal disease. The most common form of gingivitis is in response to bacterial biofilms adherent to tooth surfaces, termed plaque-induced gingivitis, and is the most common form of periodontal disease...
and as a nose drop for children.
The "cardiac glycosides", are known to increase cardiac contractility and have been traditionally used for treatment of
congestive heart failure
Congestive heart failure
Heart failure often called congestive heart failure is generally defined as the inability of the heart to supply sufficient blood flow to meet the needs of the body. Heart failure can cause a number of symptoms including shortness of breath, leg swelling, and exercise intolerance. The condition...
in China. In correct dosages, they are also used as anti-arrhythmic agents to control
atrial fibrillation
Atrial fibrillation
Atrial fibrillation is the most common cardiac arrhythmia . It is a common cause of irregular heart beat, identified clinically by taking a pulse. Chaotic electrical activity in the two upper chambers of the heart result in the muscle fibrillating , instead of achieving coordinated contraction...
. Additionally, recent research has determined that small quantities of these glycosides are responsible for stimulating effects on the immune system in cancer patients.
Despite their potential for what could be serious side-effects, application of Nerium oleander cardiac glycosides applied intramuscularly (IM) and orally to combat cancers is now being investigated. The National Cancer Institute has defined oleandrin, one of the principal glycosides in Nerium oleander as "A lipid soluble
cardiac glycoside
Cardiac glycoside
Cardiac glycosides are drugs used in the treatment of congestive heart failure and cardiac arrhythmia. These glycosides are found as secondary metabolites in several plants, but also in some animals, such as the milkweed butterflies. -Function:...
with potential antineoplastic activity."
After evaluating all safety and toxicity data, the U.S.
Food and Drug Administration
Food and Drug Administration
The Food and Drug Administration is an agency of the United States Department of Health and Human Services, one of the United States federal executive departments...
determined that a defined Nerium oleander extract is safe enough to be administered to humans by mouth, and a defined Nerium oleander extract is now being used to treat cancer patients under an FDA-approved
Investigational New Drug
Investigational New Drug
The United States Food and Drug Administration's Investigational New Drug program is the means by which a pharmaceutical company obtains permission to ship an experimental drug across state lines before a marketing application for the drug has been approved...
application. At this time the Nerium oleander extract has been administered to over 100 people by injection or mouth at total IM doses of from 0.5 mL to 2.25 mL and oral doses of 0.6 to 10.2 mg/day, for treatment of cancer, with no substantial negative side effects.
With regard to dermal application, three industry-sponsored human studies in which 1 to 2 mL of Nerium oleander extract containing the cardiac glycosides were applied topically on a twice daily basis to 85 subjects with different skin conditions, including sunburn, acne, cold sores and age spots, for up to 30 days. Improvement in some of the conditions was noted, and safety was confirmed by the lack of adverse dermal reactions and by the lack of detectable glycosides in blood samples taken periodically during this 30-day period.
Effects of poisoning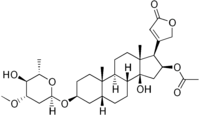 Reactions to this plant are as follows: Ingestion can cause both gastrointestinal and cardiac effects. The gastrointestinal effects can consist of nausea and vomiting, excess salivation, abdominal pain,
diarrhea
Diarrhea
Diarrhea , also spelled diarrhoea, is the condition of having three or more loose or liquid bowel movements per day. It is a common cause of death in developing countries and the second most common cause of infant deaths worldwide. The loss of fluids through diarrhea can cause dehydration and...
that may or may not contain blood, and especially in
horse
Horse
The horse is one of two extant subspecies of Equus ferus, or the wild horse. It is a single-hooved mammal belonging to the taxonomic family Equidae. The horse has evolved over the past 45 to 55 million years from a small multi-toed creature into the large, single-toed animal of today...
s,
colic
Horse colic
Colic in horses is defined as abdominal pain, but it is a clinical sign rather than a diagnosis. The term colic can encompass all forms of gastrointestinal conditions which cause pain as well as other causes of abdominal pain not involving the gastrointestinal tract. The most common forms of colic...
. Cardiac reactions consist of irregular heart rate, sometimes characterized by a racing heart at first that then slows to below normal further along in the reaction. The heart may also beat erratically with no sign of a specific rhythm. Extremities may become pale and cold due to poor or irregular circulation. Reactions to poisonings from this plant can also affect the
central nervous system
Central nervous system
The central nervous system is the part of the nervous system that integrates the information that it receives from, and coordinates the activity of, all parts of the bodies of bilaterian animals—that is, all multicellular animals except sponges and radially symmetric animals such as jellyfish...
. These symptoms can include drowsiness, tremors or shaking of the muscles, seizures, collapse, and even
coma
Coma
In medicine, a coma is a state of unconsciousness, lasting more than 6 hours in which a person cannot be awakened, fails to respond normally to painful stimuli, light or sound, lacks a normal sleep-wake cycle and does not initiate voluntary actions. A person in a state of coma is described as...
that can lead to death. Oleander sap can cause skin irritations, severe eye inflammation and irritation, and allergic reactions characterized by
dermatitis
Dermatitis
-Etymology:Dermatitis derives from Greek derma "skin" + -itis "inflammation" and genetic disorder.-Terminology:There are several different types of dermatitis. The different kinds usually have in common an allergic reaction to specific allergens. The term may describe eczema, which is also called...
.
Medical treatment required
Poisoning and reactions to oleander plants are evident quickly, requiring immediate medical care in suspected or known poisonings of both humans and animals. Induced vomiting and
gastric lavage
Gastric lavage
Gastric lavage, also commonly called stomach pumping or Gastric irrigation, is the process of cleaning out the contents of the stomach. It has been used for over 200 years as a means of eliminating poisons from the stomach. Such devices are normally used on a person who has ingested a poison or...
are protective measures to reduce absorption of the toxic compounds. Charcoal may also be administered to help absorb any remaining toxins. Further medical attention may be required and will depend on the severity of the poisoning and symptoms. Temporary cardiac pacing will be required in many cases (usually for a few days) till the toxin is excreted.
Digoxin Immune Fab
Digoxin Immune Fab
Digoxin Immune Fab is the generic name for an antidote for overdose of digitalis. It is made from immunoglobulin fragments from sheep who have already been immunized with a digoxin derivative, digoxindicarboxymethoxylamine...
is the best way to cure an oleander poisoning if inducing vomiting has no or minimal success, although it is usually used only for life-threatening conditions due to side-effects.
Drying of plant materials does not eliminate the toxins. It is also hazardous for animals such as sheep,
horse
Horse
The horse is one of two extant subspecies of Equus ferus, or the wild horse. It is a single-hooved mammal belonging to the taxonomic family Equidae. The horse has evolved over the past 45 to 55 million years from a small multi-toed creature into the large, single-toed animal of today...
s,
cattle
Cattle
Cattle are the most common type of large domesticated ungulates. They are a prominent modern member of the subfamily Bovinae, are the most widespread species of the genus Bos, and are most commonly classified collectively as Bos primigenius...
and other grazing animals, with as little as 100 g being enough to kill an adult horse. Plant clippings are especially dangerous to horses, as they are sweet. In July 2009, several horses were poisoned in this manner from the leaves of the plant. Symptoms of a poisoned horse include severe diarrhea and abnormal heartbeat. There is a wide range of toxins and secondary compounds within oleander, and care should be taken around this plant due to its toxic nature. Different names for oleander are used around the world in different locations, so, when encountering a plant with this appearance, regardless of the name used for it, one should exercise great care and caution to avoid ingestion of any part of the plant, including its sap and dried leaves or twigs. The dried or fresh branches should not be used for spearing food, for preparing a cooking fire, or as a food skewer. Many of the oleander relatives, such as the Desert Rose (
Adenium obesum
Adenium
Adenium is a genus of flowering plants in the dogbane family, Apocynaceae.-Cultivation and uses:Adenium obesum is grown as a houseplant in temperate regions. Numerous hybrids have been developed. Adeniums are appreciated for their colorful flowers, but also for their unusual, thick caudexes...
) found in East Africa, have similar leaves and flowers and are equally toxic.
Ecology
Some
invertebrate
Invertebrate
An invertebrate is an animal without a backbone. The group includes 97% of all animal species – all animals except those in the chordate subphylum Vertebrata .Invertebrates form a paraphyletic group...
s are known to be unaffected by oleander toxins, and feed on the plants. Caterpillars of the Oleander or Polka-Dot Wasp Moth (
Syntomeida epilais
Syntomeida epilais
The Polka-Dot Wasp Moth is a species of moth thought to be native to the Caribbean. The species is also called the Oleander Moth after the Oleander plant, from which its young feed. Like most wasp moths, these moths are day fliers....
) feed specifically on oleanders and survive by eating only the pulp surrounding the leaf-veins, avoiding the fibers. Larvae of the Common Crow Butterfly (
Euploea core
Euploea core
The Common Crow is a common butterfly found in South Asia. In India it is also sometimes referred to as the Common Indian Crow, and in Australia as the Australian Crow. It belongs to the Crows and Tigers subfamily of the Nymphalidae .The Common Crow is the most common representative of its genus...
) also feed on oleanders. The Common Crow larvae retain or modify toxins, making them unpalatable to would-be predators such as birds, but not to other invertebrates such as spiders and wasps.
See also
Tibesti-Jebel Uweinat montane xeric woodlands

Tibesti-Jebel Uweinat montane xeric woodlands

The Tibesti-Jebel Uweinat montane xeric woodlands ecoregion, in the deserts and xeric shrublands Biome, is located in the Maghreb of North Africa...



External links