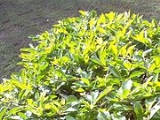 Pruning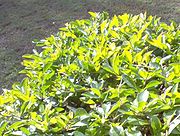 Pruning
is a
horticultural
Horticulture
Horticulture is the industry and science of plant cultivation including the process of preparing soil for the planting of seeds, tubers, or cuttings. Horticulturists work and conduct research in the disciplines of plant propagation and cultivation, crop production, plant breeding and genetic...
practice involving the
selective
removal of parts of a
plant
Plant
Plants are living organisms belonging to the kingdom Plantae. Precise definitions of the kingdom vary, but as the term is used here, plants include familiar organisms such as trees, flowers, herbs, bushes, grasses, vines, ferns, mosses, and green algae. The group is also called green plants or...
, such as
branch
Branch
A branch or tree branch is a woody structural member connected to but not part of the central trunk of a tree...
es,
bud
Bud
In botany, a bud is an undeveloped or embryonic shoot and normally occurs in the axil of a leaf or at the tip of the stem. Once formed, a bud may remain for some time in a dormant condition, or it may form a shoot immediately. Buds may be specialized to develop flowers or short shoots, or may have...
s, or
root
Root
In vascular plants, the root is the organ of a plant that typically lies below the surface of the soil. This is not always the case, however, since a root can also be aerial or aerating . Furthermore, a stem normally occurring below ground is not exceptional either...
s. Reasons to prune plants include deadwood removal, shaping (by controlling or directing growth), improving or maintaining health, reducing risk from falling branches, preparing nursery specimens for
transplanting
Transplanting
For botanical organ transplant, see GraftingIn agriculture and gardening, transplanting or replanting is the technique of moving a plant from one location to another. Most often this takes the form of starting a plant from seed in optimal conditions, such as in a greenhouse or protected nursery...
, and both
harvest
Harvest
Harvest is the process of gathering mature crops from the fields. Reaping is the cutting of grain or pulse for harvest, typically using a scythe, sickle, or reaper...
ing and increasing the yield or quality of
flower
Flower
A flower, sometimes known as a bloom or blossom, is the reproductive structure found in flowering plants . The biological function of a flower is to effect reproduction, usually by providing a mechanism for the union of sperm with eggs...
s and
fruit
Fruit
In broad terms, a fruit is a structure of a plant that contains its seeds.The term has different meanings dependent on context. In non-technical usage, such as food preparation, fruit normally means the fleshy seed-associated structures of certain plants that are sweet and edible in the raw state,...
s. The practice entails
targeted
removal of diseased, damaged, dead, non-productive, structurally unsound, or otherwise unwanted
tissue
Tissue (biology)
Tissue is a cellular organizational level intermediate between cells and a complete organism. A tissue is an ensemble of cells, not necessarily identical, but from the same origin, that together carry out a specific function. These are called tissues because of their identical functioning...
from crop and
landscape plants
Landscaping
Landscaping refers to any activity that modifies the visible features of an area of land, including:# living elements, such as flora or fauna; or what is commonly referred to as gardening, the art and craft of growing plants with a goal of creating a beautiful environment within the landscape.#...
. Specialized pruning practices may be applied to certain plants, such as roses, fruit trees, and grapevines. Different pruning techniques may be deployed on herbaceous plants than those used on perennial woody plants.
Hedge
Hedge
Hedge may refer to:* Hedge or hedgerow, line of closely spaced shrubs planted to act as a barrier* Hedge , investment made to limit loss* Hedge , intentionally non-committal or ambiguous sentence fragments-See also:...
s, by design, are usually (but not exclusively) maintained by
hedge trimming
Hedge trimmer
A hedge trimmer, shrub trimmer, or bush trimmer, is a gardening tool or machine used for trimming hedges or solitary shrubs...
, rather than by pruning.
Arborist
Arborist
An arborist, or arboriculturist, is a professional in the practice of arboriculture, which is the cultivation, management, and study of individual trees, shrubs, vines, and other perennial woody plants...
s, orchardists, and gardeners use various
garden tool
Garden tool
A garden tool is any one of many tools made for gardens and gardening and overlaps with the range of tools made for agriculture and horticulture...
s and tree cutting tools designed for the purpose, such as hand pruners,
loppers
Loppers
Loppers are a type of scissors used for pruning twigs and small branches. They are the largest type of manual garden cutting tool. They are usually operated with two hands, and with handles around 65 cm long to give good leverage...
, or
chainsaw
Chainsaw
A chainsaw is a portable mechanical saw, powered by electricity, compressed air, hydraulic power, or most commonly a two-stroke engine...
s. In nature,
meteorological
Meteorology
Meteorology is the interdisciplinary scientific study of the atmosphere. Studies in the field stretch back millennia, though significant progress in meteorology did not occur until the 18th century. The 19th century saw breakthroughs occur after observing networks developed across several countries...
conditions such as
wind
Wind
Wind is the flow of gases on a large scale. On Earth, wind consists of the bulk movement of air. In outer space, solar wind is the movement of gases or charged particles from the sun through space, while planetary wind is the outgassing of light chemical elements from a planet's atmosphere into space...
,
ice and snow
Ice pruning
Ice pruning is the natural process of selective vegetative pruning on the windward side of a plant, executed by the impact of ice and snow particles driven by wind. The process is sometimes termed snow pruning...
, and
Salt pruning
Salt pruning
Salt pruning is the process by which saline mists generated by seawater are driven ashore by winds to alter the shape of trees or shrubs over considerable times throughout the growth cycle of the affected plant. The process of salt pruning selectively degrades foliage and branches on the windward...
can cause plants to self-prune. This natural shedding is called
abscission
Abscission
Abscission is a term used in several areas of biology. In plant sciences it most commonly refers to the process by which a plant drops one or more of its parts, such as a leaf, fruit, flower or seed...
.
In general, the smaller the branch that is cut, the easier it is for a
woody plant
Woody plant
A woody plant is a plant that uses wood as its structural tissue. These are typically perennial plants whose stems and larger roots are reinforced with wood produced adjacent to the vascular tissues. The main stem, larger branches, and roots of these plants are usually covered by a layer of...
to
compartmentalize
CODIT
Compartmentalization Of Decay In Trees is a concept created by Dr. Alex Shigo after years of studying tree decay patterns. Though disputed upon its introduction in the late 1970s, the concept is now widely accepted and can be found in many arboriculture textbooks...
the wound and thus limit the potential for
pathogen
Pathogen
A pathogen gignomai "I give birth to") or infectious agent — colloquially, a germ — is a microbe or microorganism such as a virus, bacterium, prion, or fungus that causes disease in its animal or plant host...
intrusion and decay. It is therefore preferable to make any necessary formative structural pruning cuts to young plants, when possible, rather than removing large, poorly placed branches from mature plants.
Pruning landscape and amenity trees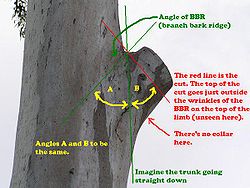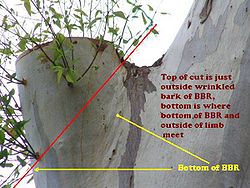 Branch structure and how they are attached to each other in trees falls into 3 categories. Collared unions, collarless unions and codominant unions. Each specific attachment has its own unique way of being cut so that the branch has less chance of regrowth from the cut area and best chance of sealing over and compartmentalising decay. This means that there are 3 types of cuts made, whether that be to remove a little branch coming of another or cutting a whole branch off back to the trunk. This term is often referred to by arborists as "target cutting".
Some of the terms used predominantly by arborists and what they entail:
Dead-wooding
Branches die off for a number of reasons ranging from light deficiency, pests and disease damage to root damage. A dead branch will at some point decay back to the parent stem causing abscission and fall off. This is normally a slow process but can be shortened by high winds and extremities of temperature. Therefore the main reason deadwooding is carried out is safety. The situations that usually demand such removal would normally be trees that overhang public roads, houses, public areas and gardens. Trees that are located in wooded areas are usually considered and assessed as lower risk but such assessments would need to consider the amount of visitors. Usually, trees adjacent to the footpaths and access roads are considered for deadwood removal.
Another reason for deadwooding is amenity value, i.e. a tree with a large amount of dead throughout the crown looks more aesthetically pleasing with the deadwood removed. The physical practice of deadwooding can be carried out most of the year although preferably not when the tree is coming into leaf. The deadwooding process will speed up the natural abscission process the tree follows. It will help remove unwanted weight; wind resistance the tree carries and can help the overall balance.
Crown and canopy thinning
Increase light and reduce wind resistance by selective removal of branches throughout the canopy of the tree. This is a common practice which improves the tree's strength against adverse weather conditions as the wind can pass through the tree resulting in less "load" being placed on the tree.
Crown canopy lifting
Crown lifting involves the removal of the lower branches to a given height. The height is achieved by the removal of whole branches or removing the parts of branches which extend below the desired height. The branches are normally not lifted to more than one third of the tree's total height.
Crown lifting is done for access; these being pedestrian, vehicle or space for buildings and street furniture. Lifting the crown will allow traffic and pedestrians to pass underneath safely. This pruning technique is usually used in the urban environment as it is for public safety and aesthetics rather than tree form and timber value.
Crown lifting introduces light to the lower part of the trunk; this, in some species can encourage epicormic growth from dormant buds. To reduce this sometimes smaller branches are left on the lower part of the trunk. Excessive removal of the lower branches can displace the canopy weight, this will make the tree top heavy, therefore adding stress to the tree. When a branch is removed from the trunk, it creates a large wound. This wound is susceptible to disease and decay, and could lead to reduced trunk stability. Therefore much time and consideration must be taken when choosing the height the crown is to be lifted to.
This would be an inappropriate operation if the tree species' form was of a shrubby nature. This would therefore remove most of the foliage and would also largely unbalance the tree. This procedure should not be carried out if the tree is in decline, poor health or dead, dying or dangerous (DDD) as the operation will remove some of the photosynthetic area the tree uses. This will increase the decline rate of the tree and could lead to death.
If the tree is of great importance to an area or town, (i.e. veteran or ancient) then an alternative solution to crown lifting would be to move the target or object so it is not in range. For example, diverting a footpath around a tree's drip line so the crown lift is not needed. Another solution would be to prop up or cable-brace the low hanging branch. This is a non-invasive solution which in some situations can work out more economically and environmentally friendly.
Directional or formative pruning
Removal of appropriate branches to make the tree structurally sound whilst shaping it.
Crown reduction
Reducing the height and or spread of a tree by selectively cutting back to smaller branches And in fruit trees for increasing of light interception and enhancing fruit quality.
Pollarding
A regular form of pruning where certain deciduous species are pruned back to pollard heads every year in the dormant period. This practice is usually commenced on juvenile trees so they can adapt to the harshness of the practice.
Types of pruning
Regardless of the various names used for types of pruning, there are only two basic cuts: One cuts back to an intermediate point, called
heading back cut
, and the other cuts back to some point of origin, called
thinning out cut
.
Removing a portion of a growing stem down to a set of desirable buds or side-branching stems. This is commonly performed in well trained plants for a variety of reasons, for example to stimulate growth of flowers, fruit or branches, as a preventative measure to wind and snow damage on long stems and branches, and finally to encourage growth of the stems in a desirable direction. Also commonly known as
heading-back
.
Thinning: A more drastic form of pruning, a thinning out cut is the removal of an entire shoot, limb, or branch at its point of origin. This is usually employed to revitalize a plant by removing over-mature, weak, problematic, and excessive growths. When performed correctly, thinning encourages the formation of new growth that will more readily bear fruit and flowers. This is a common technique in pruning roses and for implifying and "opening-up" the branching of neglected tree

Tree

A tree is a perennial woody plant. It is most often defined as a woody plant that has many secondary branches supported clear of the ground on a single main stem or trunk with clear apical dominance. A minimum height specification at maturity is cited by some authors, varying from 3 m to...


s, or for renewing shrubs with multiple branches.
Topping: Topping is a very severe form of pruning which involves removing all branches and growths down to a few large branches or to the trunk of the tree. When performed correctly it is used on very young trees, and can be used to begin training younger trees for pollarding

Pollarding

Pollarding is a pruning system in which the upper branches of a tree are removed, promoting a dense head of foliage and branches. It has been common in Great Britain and Europe since medieval times and is practiced today in urban areas worldwide, primarily to maintain trees at a predetermined...


or for trellis

Trellis

Trellis may refer to:* Trellis Drainage System* Trellis , an architectural structure often used to support plants* Trellis , a special kind of graph, often used in coding...


ing to form an espalier

Espalier

Espalier is the horticultural and ancient agricultural practice of controlling woody plant growth by pruning and tying branches so that they grow into a flat plane, frequently in formal patterns, against a structure such as a wall, fence, or trellis, and also plants which have been shaped in this...


.
Raising removes the lower branches from a tree in order to provide clearance for buildings, vehicles, pedestrians, and vistas.
Reduction reduces the size of a tree, often for clearance for utility lines. Reducing the height or spread of a tree is best accomplished by pruning back the leaders and branch terminals to lateral branches that are large enough to assume the terminal roles (at least one-third the diameter of the cut stem). Compared to topping

Topping

Topping may refer to:* Hill-topping, a mate-acquisition strategy amongst insects* Topping, slang term for capital punishment, especially hanging or beheading* Topping , the name of several people...


, reduction helps maintain the form and structural integrity of the tree.
In orchards, fruit trees are often lopped to encourage regrowth and to maintain a smaller tree for ease of picking fruit. The pruning regime in orchards is more planned and the productivity of each tree is an important factor.
Deadheading
is the act of removing spent flowers or flowerheads for aesthetics, to prolong bloom for up to several weeks or promote rebloom, or to prevent
seed
Seed
A seed is a small embryonic plant enclosed in a covering called the seed coat, usually with some stored food. It is the product of the ripened ovule of gymnosperm and angiosperm plants which occurs after fertilization and some growth within the mother plant...
ing.
Technique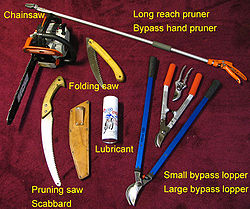 The general rule of pruning is to always cut in a location where growth will occur, whether the cut is next to a bud or another branch. Cutting a branch beyond where growth will occur will prevent the plant from forming a callus over the cut surface, which in turn will invite insects and infection. It effectively kills all portions of that branch back to the closest branch, bud, or dormant bud clusters, leaving a stub of dead wood. The withered stub will eventually rot away and fall off. All cuts should be relatively smooth since this will aid in healing.
Also, the pruning cut should not be too large when compared to the growing point. For instance, a large cut on a 20 cm trunk down to a 15 cm branch should be fine, but the same cut to the trunk down to a 1 cm twig or bud is considerably less ideal and should be avoided if possible.
Pruning to a bud
A correct pruning cut will allow for quick healing and promote vigorous growth from the closest bud to the cut. The cut should be close enough to the bud to reduce the size of the stub of dead wood that will form from the cut, but far enough away to prevent the bud from being adversely affected by the cut through
desiccation
Desiccation
Desiccation is the state of extreme dryness, or the process of extreme drying. A desiccant is a hygroscopic substance that induces or sustains such a state in its local vicinity in a moderately sealed container.-Science:...
. Cutting too close to the bud (under-cutting) sometimes results in the death of the bud, which results in a scenario similar to cutting too far away from the bud (over-cutting). In general, a correct cut should be angled at a moderate 35-45
degree
Degree (angle)
A degree , usually denoted by ° , is a measurement of plane angle, representing 1⁄360 of a full rotation; one degree is equivalent to π/180 radians...
slant such that its lowest point is situated on the same level as the tip of the growth bud. This technique is usually applied when pinching or when cutting-back.
Pruning to a main branch
The pruning cut should occur slightly away from and follow the branch collar. When cutting away branches growing directly from the roots, the cut should be flush and level to the ground. This technique is usually applied when thinning or to remove larger dead or damaged branches.
When using
pruning shears
Pruning shears
Pruning shears, also called hand pruners , or secateurs are a type of scissors for use with plants. They are strong enough to prune hard branches of trees and shrubs, sometimes up to two centimetres thick...
or loppers to remove a branch back to a main branch, the "hook" portion of the shears should always face away from the main branch. This ensures that the blade will not leave a protruding stub and the hook will not damage the branch collar or parts of the main branch.
Large heavy branches
Depending on the weight of the branch, the first cut should be a notch on the underside of the branch about a third to half of the way through. The bulk of the branch should then be removed with a follow-through cut slightly above the first cut, thus leaving a limb stub. The purpose of this is to stop the weight of the branch from tearing the bark of the tree from the underside, which would normally occur if the removal was done with one cut. The limb stub ensures that any cracking of the wood resulting from the branch separation is limited to the portion of the wood to be removed. The branch collar should then be located, and can be identified by the strip of rough bark running down from the topside of the branch at its junction with the stem. The cut for removing the limb stub should be just outside the branch collar, leaving a small bump. The bump and the branch collar should not be removed since this action can increase healing time, which could result in a major infection.
Time period
Pruning small branches can be done at any time of year. Large branches, with more than 5-10% of the plant's crown, can be pruned either during
dormancy
Dormancy
Dormancy is a period in an organism's life cycle when growth, development, and physical activity are temporarily stopped. This minimizes metabolic activity and therefore helps an organism to conserve energy. Dormancy tends to be closely associated with environmental conditions...
in winter, or, for species where winter
frost
Frost
Frost is the solid deposition of water vapor from saturated air. It is formed when solid surfaces are cooled to below the dew point of the adjacent air as well as below the freezing point of water. Frost crystals' size differ depending on time and water vapour available. Frost is also usually...
can harm a recently-pruned plant, in mid summer just after flowering. Autumn should be avoided, as the spores of disease and decay
fungi
Fungus
A fungus is a member of a large group of eukaryotic organisms that includes microorganisms such as yeasts and molds , as well as the more familiar mushrooms. These organisms are classified as a kingdom, Fungi, which is separate from plants, animals, and bacteria...
are abundant at this time of year.
Some woody plants that tend to bleed profusely from cuts, such as
maple
Maple
Acer is a genus of trees or shrubs commonly known as maple.Maples are variously classified in a family of their own, the Aceraceae, or together with the Hippocastanaceae included in the family Sapindaceae. Modern classifications, including the Angiosperm Phylogeny Group system, favour inclusion in...
s, or which callous over slowly, such as
magnolia
Magnolia
Magnolia is a large genus of about 210 flowering plant species in the subfamily Magnolioideae of the family Magnoliaceae. It is named after French botanist Pierre Magnol....
s, are better pruned in summer or at the onset of dormancy instead. Woody plants that flower early in the season, on spurs that form on wood that has matured the year before, such as
apple
Apple
The apple is the pomaceous fruit of the apple tree, species Malus domestica in the rose family . It is one of the most widely cultivated tree fruits, and the most widely known of the many members of genus Malus that are used by humans. Apple grow on small, deciduous trees that blossom in the spring...
s, should be pruned right after flowering, as later pruning will sacrifice flowers the following season.
Forsythia
,
azalea
Azalea
Azaleas are flowering shrubs comprising two of the eight subgenera of the genus Rhododendron, Pentanthera and Tsutsuji . Azaleas bloom in spring, their flowers often lasting several weeks...
s and
lilac
Lilac
Syringa is a genus of about 20–25 species of flowering woody plants in the olive family , native to woodland and scrub from southeastern Europe to eastern Asia, and widely and commonly cultivated in temperate areas elsewhere....
s all fall into this category.
See also
Arborist

Arborist

An arborist, or arboriculturist, is a professional in the practice of arboriculture, which is the cultivation, management, and study of individual trees, shrubs, vines, and other perennial woody plants...



Coppicing
Fruit tree forms

Fruit tree forms

The Forms, or shapes, of most fruit trees can be manipulated by pruning and training in order to increase yield. Tree shaping can improve their suitability for different situations and conditions. Pruning a tree to a pyramid shape means that trees can be planted closer together...



Lopping
Pollarding

Pollarding

Pollarding is a pruning system in which the upper branches of a tree are removed, promoting a dense head of foliage and branches. It has been common in Great Britain and Europe since medieval times and is practiced today in urban areas worldwide, primarily to maintain trees at a predetermined...



Professional Landcare Network

Professional Landcare Network

The Professional Landcare Network is a professional body for lawn care professionals, landscape management professionals , design/build/installation professionals, and interior plantscapers...


(PLANET)
Pruning fruit trees

Pruning fruit trees

Pruning fruit trees is a technique that is employed by arboriculture to control growth, remove dead or diseased wood, and stimulate the formation of flowers and fruit buds. Pruning often means cutting branches back to laterals or back to the main stem using proper pruning techniques. It may also...



Topiary

Topiary

Topiary is the horticultural practice of training live perennial plants, by clipping the foliage and twigs of trees, shrubs and subshrubs to develop and maintain clearly defined shapes, perhaps geometric or fanciful; and the term also refers to plants which have been shaped in this way. It can be...



External links