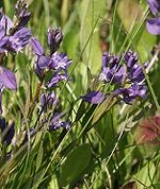 Polygala
Polygala
is a genus of about 500 species of
flowering plant
Flowering plant
The flowering plants , also known as Angiospermae or Magnoliophyta, are the most diverse group of land plants. Angiosperms are seed-producing plants like the gymnosperms and can be distinguished from the gymnosperms by a series of synapomorphies...
s belonging to the family
Polygalaceae
Polygalaceae
The Polygalaceae or Milkwort family is a family of flowering plants in the order Fabales. They have a near-cosmopolitan range, with about 17 genera and 900–1,000 species of herbs, shrubs and trees...
, commonly known as
milkwort
or
snakeroot
. The genus includes
herbaceous
Herbaceous
A herbaceous plant is a plant that has leaves and stems that die down at the end of the growing season to the soil level. They have no persistent woody stem above ground...
perennial plant
Perennial plant
A perennial plant or simply perennial is a plant that lives for more than two years. The term is often used to differentiate a plant from shorter lived annuals and biennials. The term is sometimes misused by commercial gardeners or horticulturalists to describe only herbaceous perennials...
s,
shrub
Shrub
A shrub or bush is distinguished from a tree by its multiple stems and shorter height, usually under 5–6 m tall. A large number of plants may become either shrubs or trees, depending on the growing conditions they experience...
s and small
tree
Tree
A tree is a perennial woody plant. It is most often defined as a woody plant that has many secondary branches supported clear of the ground on a single main stem or trunk with clear apical dominance. A minimum height specification at maturity is cited by some authors, varying from 3 m to...
s, and has a
subcosmopolitan
Cosmopolitan distribution
In biogeography, a taxon is said to have a cosmopolitan distribution if its range extends across all or most of the world in appropriate habitats. For instance, the killer whale has a cosmopolitan distribution, extending over most of the world's oceans. Other examples include humans, the lichen...
distribution.
Polygala
species are used as food plants by the
larva
Larva
A larva is a distinct juvenile form many animals undergo before metamorphosis into adults. Animals with indirect development such as insects, amphibians, or cnidarians typically have a larval phase of their life cycle...
e of some
Lepidoptera
Lepidoptera
Lepidoptera is a large order of insects that includes moths and butterflies . It is one of the most widespread and widely recognizable insect orders in the world, encompassing moths and the three superfamilies of butterflies, skipper butterflies, and moth-butterflies...
species including
Large Grizzled Skipper
Large Grizzled Skipper
The Large Grizzled Skipper is a species of skipper . It is distributed throughout most of continental Europe but is absent from Denmark and practically all European islands including Great Britain, Ireland, Azores, Balearic Islands, Channel Islands, Canary Islands, Crete, Cyprus, Iceland, etc.This...
.
Species
Selected species
Polygala acanthoclada

Polygala acanthoclada

Polygala acanthoclada is a species of flowering plant in the milkwort family known by the common name desert polygala. It is native to the desert woodlands of the southwestern United States from Utah to the Mojave Desert. It is a small, bushy shrub spreading or growing erect and approaching one...


- Desert Polygala
Polygala alba - White Milkwort
Polygala alpestris - Alpine Milkwort
Polygala amara - Bitter Milkwort
Polygala amarella - Dwarf Milkwort
Polygala apopetala
Polygala arillata
Polygala calcarea - Chalk Milkwort
Polygala californica

Polygala californica

Polygala californica is a species of flowering plant in the milkwort family known by the common name California milkwort. It is native to southwestern Oregon and northern and central California, where it grows in the coastal mountain ranges in local habitat types such as chaparral and forest...


- California Milkwort
Polygala chamaebuxus

Polygala chamaebuxus

Polygala chamaebuxus is an ornamental plant of Polygala genus in Polygalaceae family.-External links:*...


- Shrubby Milkwort
Polygala comosa - Tufted Milkwort
Polygala cornuta

Polygala cornuta

Polygala cornuta is a species of flowering plant in the milkwort family known by the common name Sierra milkwort. It is native to many of the mountain ranges of California and northern Baja California, where it grows in local habitat types such as chaparral and forest...


- Sierra Milkwort
Polygala cowellii - Tortuguero
Polygala heterorhyncha

Polygala heterorhyncha

Polygala heterorhyncha is a species of flowering plant in the milkwort family known by the common names beaked spiny milkwort and notch-beaked milkwort. It is native to southern Nevada and it is known from a few occurrences just over the border in the Funeral Mountains of California above Death...


- Beaked Spiny Milkwort
Polygala intermontana

Polygala intermontana

Polygala intermontana is a species of flowering plant in the milkwort family known by the common name Intermountain milkwort. It is native to the southwestern United States from Utah to northern Arizona and far eastern California, where it grows in desert scrub and woodland habitat. It is a small...


- Intermountain Milkwort
Polygala lewtonii

Polygala lewtonii

Polygala lewtonii is a rare species of flowering plant in the milkwort family known by the common name Lewton's polygala, or Lewton's milkwort. It is endemic to Florida in the United States, where it is limited to the central ridge of the peninsula. There are about 49 occurrences of the plant...


- Lewton's Polygala
Polygala lutea - Yellow Milkwort
Polygala major
Polygala myrtifolia - September Bush, "Augustusbos" (Afrikaans)
Polygala nicaeensis - Nice Milkwort
Polygala paucifolia

Polygala paucifolia

Polygala paucifolia, known as Gaywings or Fringed polygala, is a perennial plant of the family Polygalaceae.Mature plants are 3 to 6 inches tall. Stems are smooth, slender and green. Leaves are clustered at the top, appearing to be whorled, but they are not. Leaflets are oblong to lanceolate —...


- Fringed Milkwort
Polygala senega - Senega

Senega

Senega is the dried root of the Polygala senega, In 1911, it was official in the British and United States pharmacopoeias. Senega contains an active ingredient, saponin. Senega is used chiefly as a stimulating expectorant in chronic bronchitis. It is occasionally used as a diuretic in renal dropsy...


Root
Polygala serpyllifolia

Polygala serpyllifolia

Polygala serpyllifolia is a native perennial of heaths and grassy places. Height to 25 cm. The lower leaves are in opposite pairs. Flowers May to August....


- Thyme-leaved Milkwort
Polygala smallii

Polygala smallii

Polygala smallii is a rare species of flowering plant in the milkwort family known by the common name tiny polygala, or tiny milkwort. It is endemic to Florida in the United States, where it is limited to the southeastern coast of the peninsula. The plant is now only known from eight sites, with...


- Tiny Milkwort
Polygala subspinosa

Polygala subspinosa

Polygala subspinosa is a species of flowering plant in the milkwort family known by the common name spiny milkwort. It is native to the southwestern United States, where it grows in desert and plateau habitat. It is a perennial herb or small shrub growing in a clump no more than 25 centimeters...


- Spiny Milkwort
Polygala tenuifolia

Polygala tenuifolia

Polygala tenuifolia is an herb in the family Polygalaceae which is hardy to USDA Zone 6.-Medicinal uses:Yuan Zhi is used primarily as an expectorant...


- Yuan Zhi in Chinese
Polygala vayredae
Polygala virgata
Polygala vulgaris - Common Milkwort
External links