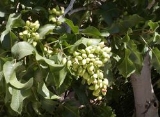 Pistachio
The
pistachio
,
Pistacia vera
in the
Anacardiaceae
Anacardiaceae
Anacardiaceae are a family of flowering plants bearing fruits that are drupes and in some cases producing urushiol, an irritant. Anacardiaceae include numerous genera with several of economic importance. Notable plants in this family include cashew , mango, poison ivy, sumac, smoke tree, and marula...
family, is a small
tree
Tree
A tree is a perennial woody plant. It is most often defined as a woody plant that has many secondary branches supported clear of the ground on a single main stem or trunk with clear apical dominance. A minimum height specification at maturity is cited by some authors, varying from 3 m to...
originally from Persia (
Iran
Iran
Iran , officially the Islamic Republic of Iran , is a country in Southern and Western Asia. The name "Iran" has been in use natively since the Sassanian era and came into use internationally in 1935, before which the country was known to the Western world as Persia...
), which now can also be found in regions of
Syria
Syria
Syria , officially the Syrian Arab Republic , is a country in Western Asia, bordering Lebanon and the Mediterranean Sea to the West, Turkey to the north, Iraq to the east, Jordan to the south, and Israel to the southwest....
,
Lebanon
Lebanon
Lebanon , officially the Republic of LebanonRepublic of Lebanon is the most common term used by Lebanese government agencies. The term Lebanese Republic, a literal translation of the official Arabic and French names that is not used in today's world. Arabic is the most common language spoken among...
,
Turkey
Turkey
Turkey , known officially as the Republic of Turkey , is a Eurasian country located in Western Asia and in East Thrace in Southeastern Europe...
,
Greece
Greece
Greece , officially the Hellenic Republic , and historically Hellas or the Republic of Greece in English, is a country in southeastern Europe....
,
Kyrgyzstan
Kyrgyzstan
Kyrgyzstan , officially the Kyrgyz Republic is one of the world's six independent Turkic states . Located in Central Asia, landlocked and mountainous, Kyrgyzstan is bordered by Kazakhstan to the north, Uzbekistan to the west, Tajikistan to the southwest and China to the east...
,
Turkmenistan
Turkmenistan
Turkmenistan , formerly also known as Turkmenia is one of the Turkic states in Central Asia. Until 1991, it was a constituent republic of the Soviet Union, the Turkmen Soviet Socialist Republic . Turkmenistan is one of the six independent Turkic states...
,
India
India
India , officially the Republic of India , is a country in South Asia. It is the seventh-largest country by geographical area, the second-most populous country with over 1.2 billion people, and the most populous democracy in the world...
,
Pakistan
Pakistan
Pakistan , officially the Islamic Republic of Pakistan is a sovereign state in South Asia. It has a coastline along the Arabian Sea and the Gulf of Oman in the south and is bordered by Afghanistan and Iran in the west, India in the east and China in the far northeast. In the north, Tajikistan...
,
Egypt
Egypt
Egypt , officially the Arab Republic of Egypt, Arabic: , is a country mainly in North Africa, with the Sinai Peninsula forming a land bridge in Southwest Asia. Egypt is thus a transcontinental country, and a major power in Africa, the Mediterranean Basin, the Middle East and the Muslim world...
,
Sicily
Sicily
Sicily is a region of Italy, and is the largest island in the Mediterranean Sea. Along with the surrounding minor islands, it constitutes an autonomous region of Italy, the Regione Autonoma Siciliana Sicily has a rich and unique culture, especially with regard to the arts, music, literature,...
and possibly
Afghanistan
Afghanistan
Afghanistan , officially the Islamic Republic of Afghanistan, is a landlocked country located in the centre of Asia, forming South Asia, Central Asia and the Middle East. With a population of about 29 million, it has an area of , making it the 42nd most populous and 41st largest nation in the world...
(especially in the provinces of
Samangan
Samangan
Samangan is a provincial town, medieval caravan stop, and the headquarters of the Samangan Province in the district of the same name in the northern part of Afghanistan...
and Badghis), as well as in the United States, specifically California. The tree produces an important culinary nut.
Pistacia vera
often is confused with other species in the genus
Pistacia
Pistacia
Pistacia is a genus of flowering plants in the cashew family, Anacardiaceae. It contains ten to twenty species that are native to Africa and Eurasia from the Canary Islands, whole Africa, and southern Europe, warm and semi-desert areas across Asia, and also North America from Mexico to warm and...
that are also known as pistachio. These species can be
distinguished
Differential diagnosis
A differential diagnosis is a systematic diagnostic method used to identify the presence of an entity where multiple alternatives are possible , and may also refer to any of the included candidate alternatives A differential diagnosis (sometimes abbreviated DDx, ddx, DD, D/Dx, or ΔΔ) is a...
from
P. vera
by their geographic distributions (in the wild) and their nuts. Their nuts are much smaller, have a strong flavor of
turpentine
Turpentine
Turpentine is a fluid obtained by the distillation of resin obtained from trees, mainly pine trees. It is composed of terpenes, mainly the monoterpenes alpha-pinene and beta-pinene...
, and have a shell that is not hard.
History
Pistachios have been a part of the human diet at least since the late
Paleolithic
Paleolithic
The Paleolithic Age, Era or Period, is a prehistoric period of human history distinguished by the development of the most primitive stone tools discovered , and covers roughly 99% of human technological prehistory...
. The modern pistachio nut
P. vera
was first cultivated in Western Asia, where it has long been an important crop in cooler parts of Iran. It appears in Dioscurides as
pistakia
πιστάκια, recognizable as
P. vera
by its comparison to
pine nut
Pine nut
Pine nuts are the edible seeds of pines . About 20 species of pine produce seeds large enough to be worth harvesting; in other pines the seeds are also edible, but are too small to be of great value as a human food....
s. Its cultivation spread into the Mediterranean world by way of Iran from Syria: Pliny in his
Natural History
asserts that
pistacia
, "well known among us," was one of the trees unique to Syria, and in another place, that the nut was introduced into Italy by the Roman consul in Syria, Lucius Vitellius the Elder (consul in Syria in 35CE) and into
Hispania
Hispania
Another theory holds that the name derives from Ezpanna, the Basque word for "border" or "edge", thus meaning the farthest area or place. Isidore of Sevilla considered Hispania derived from Hispalis....
at the same time by Flaccus Pompeius. The early sixth-century manuscript
De observatione ciborum
(
On the observance of foods
) by
Anthimus
Anthimus (physician)
Anthimus was a Byzantine physician at the court of the Ostrogoth king Theodoric the Great and author of De observatione ciborum , which is a valuable source for Late Latin linguistics as well as Byzantine dietetics.-Editions:...
implies that
pistacia
remained well known in Europe in
Late Antiquity
Late Antiquity
Late Antiquity is a periodization used by historians to describe the time of transition from Classical Antiquity to the Middle Ages, in both mainland Europe and the Mediterranean world. Precise boundaries for the period are a matter of debate, but noted historian of the period Peter Brown proposed...
. The pistachio is one of two nuts mentioned in the Bible.
More recently, the pistachio has been cultivated commercially in the English-speaking world, in
Australia
Australia
Australia , officially the Commonwealth of Australia, is a country in the Southern Hemisphere comprising the mainland of the Australian continent, the island of Tasmania, and numerous smaller islands in the Indian and Pacific Oceans. It is the world's sixth-largest country by total area...
,
New Mexico
New Mexico
New Mexico is a state located in the southwest and western regions of the United States. New Mexico is also usually considered one of the Mountain States. With a population density of 16 per square mile, New Mexico is the sixth-most sparsely inhabited U.S...
, and in
California
California
California is a state located on the West Coast of the United States. It is by far the most populous U.S. state, and the third-largest by land area...
, where it was introduced in 1854 as a garden tree.
David Fairchild
David Fairchild
David Grandison Fairchild was an American botanist and plant explorer. Fairchild was responsible for the introduction of more than 200,000 exotic plants and varieties of established crops into the United States, including soybeans, pistachios, mangos, nectarines, dates, bamboos, and flowering...
of the
United States Department of Agriculture
United States Department of Agriculture
The United States Department of Agriculture is the United States federal executive department responsible for developing and executing U.S. federal government policy on farming, agriculture, and food...
introduced hardier cultivars collected in China to California in 1904 and 1905, but it was not promoted as a commercial crop until 1929.
Walter T. Swingle's
Walter Tennyson Swingle
Walter Tennyson Swingle was an American agricultural botanist who was born in Canaan, Pennsylvania and moved with his family to Kansas two years later. He graduated from the Kansas State Agricultural College in 1890, and studied in Bonn in 1895-96 and 1898...
pistachios from Syria had already fruited well at Niles by 1917.
The earliest records of pistachio in English are around roughly year 1400, with the spellings "pistace" and "pistacia". The word pistachio comes from medieval Italian
pistacchio
, which is from classical Latin
pistacium
, which is from ancient Greek
pistákion
and
pistákē
, which is generally believed to be from
Middle Persian
Middle Persian
Middle Persian , indigenously known as "Pârsig" sometimes referred to as Pahlavi or Pehlevi, is the Middle Iranian language/ethnolect of Southwestern Iran that during Sassanid times became a prestige dialect and so came to be spoken in other regions as well. Middle Persian is classified as a...
, although unattested in Middle Persian. Later in Persian, the word is attested in Persian as
pista
. As mentioned, the tree came to the ancient Greeks from Western Asia.
Habitat
Pistachio is a desert plant, and is highly tolerant of saline soil. It has been reported to grow well when irrigated with water having 3,000–4,000 ppm of soluble salts. Pistachio trees are fairly hardy in the right conditions, and can survive temperatures ranging between −10°C (14°F) in winter and 40°C (104°F) in summer. They need a sunny position and well-drained soil. Pistachio trees do poorly in conditions of high humidity, and are susceptible to root rot in winter if they get too much water and the soil is not sufficiently free-draining. Long, hot summers are required for proper ripening of the fruit.
The
Jylgyndy Forest Reserve
Jylgyndy Forest Reserve
The Jylgyndy Forest Reserve is located in Nooken District of Jalal-Abad Province of Kyrgyzstan. It was established in 1975 with a purpose of conservation of pistachio habitat. The forest reserve occupies 300 hectares. -References:...
, a preserve protecting the native
habitat
Habitat
* Habitat , a place where a species lives and grows*Human habitat, a place where humans live, work or play** Space habitat, a space station intended as a permanent settlement...
of
Pistacia vera
groves, is located in the Nooken District of
Jalal-Abad Province
Jalal-Abad Province
Jalal-Abad Province, also known as Jalalabat , is a province of Kyrgyzstan. Its capital is the city of the same name, Jalal-Abad. It is surrounded by Talas Province, Chui Province, Naryn Province, Osh Province and Uzbekistan. The Jalal-Abad Province was established on November 21, 1939...
of
Kyrgyzstan
Kyrgyzstan
Kyrgyzstan , officially the Kyrgyz Republic is one of the world's six independent Turkic states . Located in Central Asia, landlocked and mountainous, Kyrgyzstan is bordered by Kazakhstan to the north, Uzbekistan to the west, Tajikistan to the southwest and China to the east...
.
Characteristics
The bush grows up to 10 metres (32.8 ft) tall. It has
deciduous
Deciduous
Deciduous means "falling off at maturity" or "tending to fall off", and is typically used in reference to trees or shrubs that lose their leaves seasonally, and to the shedding of other plant structures such as petals after flowering or fruit when ripe...
pinnate
Pinnate
Pinnate is a term used to describe feather-like or multi-divided features arising from both sides of a common axis in plant or animal structures, and comes from the Latin word pinna meaning "feather", "wing", or "fin". A similar term is pectinate, which refers to a comb-like arrangement of parts...
leaves
Leaf
A leaf is an organ of a vascular plant, as defined in botanical terms, and in particular in plant morphology. Foliage is a mass noun that refers to leaves as a feature of plants....
10–20 centimeters (4–8 inches) long. The plants are dioecious, with separate male and female trees. The
flower
Flower
A flower, sometimes known as a bloom or blossom, is the reproductive structure found in flowering plants . The biological function of a flower is to effect reproduction, usually by providing a mechanism for the union of sperm with eggs...
s are apetalous and unisexual, and borne in
panicle
Panicle
A panicle is a compound raceme, a loose, much-branched indeterminate inflorescence with pedicellate flowers attached along the secondary branches; in other words, a branched cluster of flowers in which the branches are racemes....
s.
The
fruit
Fruit
In broad terms, a fruit is a structure of a plant that contains its seeds.The term has different meanings dependent on context. In non-technical usage, such as food preparation, fruit normally means the fleshy seed-associated structures of certain plants that are sweet and edible in the raw state,...
is a
drupe
Drupe
In botany, a drupe is a fruit in which an outer fleshy part surrounds a shell of hardened endocarp with a seed inside. These fruits develop from a single carpel, and mostly from flowers with superior ovaries...
, containing an elongated
seed
Seed
A seed is a small embryonic plant enclosed in a covering called the seed coat, usually with some stored food. It is the product of the ripened ovule of gymnosperm and angiosperm plants which occurs after fertilization and some growth within the mother plant...
, which is the edible portion. The seed, commonly thought of as a nut, is a culinary nut, not a botanical nut. The fruit has a hard, whitish exterior shell. The seed has a mauvish skin and light green flesh, with a distinctive flavor. When the fruit ripens, the shell changes from green to an autumnal yellow/red, and abruptly splits part way open (see photo). This is known as
dehiscence
Dehiscence (botany)
Dehiscence is the opening, at maturity, in a pre-defined way, of a plant structure, such as a fruit, anther, or sporangium, to release its contents. Sometimes this involves the complete detachment of a part. Structures that open in this way are said to be dehiscent...
, and happens with an audible pop. The splitting open is a trait that has been selected by humans. Commercial cultivars vary in how consistently they split open.
Each pistachio tree averages around 50 kg of seeds, or around 50,000, every two years.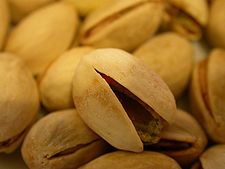 The shell of the pistachio is naturally a beige color, but it is sometimes
dye
Dye
A dye is a colored substance that has an affinity to the substrate to which it is being applied. The dye is generally applied in an aqueous solution, and requires a mordant to improve the fastness of the dye on the fiber....
d red or green in commercial pistachios. Originally, dye was applied by importers to hide stains on the shells caused when the nuts were picked by hand. Most pistachios are now picked by machine and the shells remain unstained, making dyeing unnecessary except to meet ingrained consumer expectations. Roasted pistachio nuts can be artificially turned red if they are marinated prior to roasting in a salt and strawberry marinade, or salt and citrus salts.
Like other members of the Anacardiaceae family (which includes
poison ivy
Poison ivy
Toxicodendron radicans, better known as poison ivy , is a poisonous North American plant that is well known for its production of urushiol, a clear liquid compound found within the sap of the plant that causes an itching rash in most people who touch it...
,
sumac
Sumac
Sumac is any one of approximately 250 species of flowering plants in the genus Rhus and related genera, in the family Anacardiaceae. Sumacs grow in subtropical and temperate regions throughout the world, especially in Africa and North America....
,
mango
Mango
The mango is a fleshy stone fruit belonging to the genus Mangifera, consisting of numerous tropical fruiting trees in the flowering plant family Anacardiaceae. The mango is native to India from where it spread all over the world. It is also the most cultivated fruit of the tropical world. While...
, and
cashew
Cashew
The cashew is a tree in the family Anacardiaceae. Its English name derives from the Portuguese name for the fruit of the cashew tree, caju, which in turn derives from the indigenous Tupi name, acajú. It is now widely grown in tropical climates for its cashew nuts and cashew apples.-Etymology:The...
), pistachios contain
urushiol
Urushiol
Urushiol is an oily organic allergen found in plants of the family Anacardiaceae, especially Toxicodendron spp. . It causes an allergic skin rash on contact, known as urushiol-induced contact dermatitis...
, an irritant that can cause allergic reactions.
Cultivation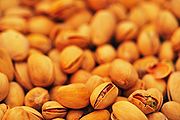 The trees are planted in
orchard
Orchard
An orchard is an intentional planting of trees or shrubs that is maintained for food production. Orchards comprise fruit or nut-producing trees which are grown for commercial production. Orchards are also sometimes a feature of large gardens, where they serve an aesthetic as well as a productive...
s, and take approximately seven to ten years to reach significant production. Production is alternate bearing or
biennial
Biennial plant
A biennial plant is a flowering plant that takes two years to complete its biological lifecycle. In the first year the plant grows leaves, stems, and roots , then it enters a period of dormancy over the colder months. Usually the stem remains very short and the leaves are low to the ground, forming...
bearing, meaning the harvest is heavier in alternate years. Peak production is reached at approximately 20 years. Trees are usually pruned to size to make the harvest easier. One male tree produces enough pollen for eight to twelve nut-bearing females. Harvesting in the United States and in Greece is often accomplished by using shaking equipment to shake the nuts off the tree. After hulling and drying, pistachios are sorted according to open mouth and closed mouth shell. Sun drying has been found to be the best method of drying. Then they are roasted or processed by special machines to produce pistachio kernels.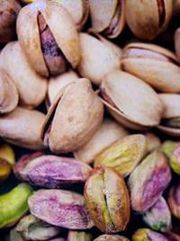 Pistachio trees are vulnerable to a wide variety of
disease
Disease
A disease is an abnormal condition affecting the body of an organism. It is often construed to be a medical condition associated with specific symptoms and signs. It may be caused by external factors, such as infectious disease, or it may be caused by internal dysfunctions, such as autoimmune...
s (see
List of pistachio diseases
). Among these is infection by the
fungus
Fungus
A fungus is a member of a large group of eukaryotic organisms that includes microorganisms such as yeasts and molds , as well as the more familiar mushrooms. These organisms are classified as a kingdom, Fungi, which is separate from plants, animals, and bacteria...
Botryosphaeria
, which causes panicle and shoot blight (
i.e.,
kills flowers and young shoots), and can damage entire pistachio orchards.
In
California
California
California is a state located on the West Coast of the United States. It is by far the most populous U.S. state, and the third-largest by land area...
, almost all female pistachio trees are the
cultivar
Cultivar
A cultivar'Cultivar has two meanings as explained under Formal definition. When used in reference to a taxon, the word does not apply to an individual plant but to all those plants sharing the unique characteristics that define the cultivar. is a plant or group of plants selected for desirable...
"Kerman". A sprig from a mature female Kerman is grafted onto a one-year-old
rootstock
Rootstock
A rootstock is a plant, and sometimes just the stump, which already has an established, healthy root system, used for grafting a cutting or budding from another plant. The tree part being grafted onto the rootstock is usually called the scion...
. Male pistachios may be a different variety.
In
Greece
Greece
Greece , officially the Hellenic Republic , and historically Hellas or the Republic of Greece in English, is a country in southeastern Europe....
, the cultivated type of pistachios is different. It has an almost-white shell, an excellent, sweet taste, a red-green kernel and a little bit more close mouth shell than "Kerman" variety. Most of the production in Greece comes from the region of
Almyros
Almyros
Almyros is a town and a municipality of the peripheral unit of Magnesia, periphery of Thessaly, Greece. It lies in the center of prosperous fertile plain known as 'Krokio Pedio', which is crossed by torrents, and produces wheat, tobacco, and other crops. Almyros is an important agricultural and...
.
Bulk container shipments of pistachio nuts are prone to self-heating and
spontaneous combustion
Spontaneous combustion
Spontaneous combustion is the self-ignition of a mass, for example, a pile of oily rags. Allegedly, humans can also ignite and burn without an obvious cause; this phenomenon is known as spontaneous human combustion....
because of their high fat and low water content.
| Country | 2005 | 2006 | 2007 | 2008 |
| --- | --- | --- | --- | --- |
|  Iran | 229 657 | 250 000 | 315 500 | 192 269 |
|  United States | 128 367 | 107 955 | 188 696 | 126 100 |
|  Turkey | 60 000 | 110 000 | 73 416 | 120 113 |
|  Syria | 44 642 | 73 183 | 52 066 | 52 600 |
|  Mainland China | 34 000 | 36 000 | 38 000 | 40 000 |
|  Greece | 8 847 | 8 233 | 8 148 | 8 100 |
|  Afghanistan | 2 457 | 2 457 | 3 600 | 2 500 |
|  Tunisia | 2 000 | 2 700 | 2 500 | 2 500 |
|  Italy | 2 719 | 1 024 | 2 782 | 2 000 |
|  Kyrgyzstan | 300 | 500 | 800 | 800 |
|  Pakistan | 597 | 632 | 536 | 773 |
|  Madagascar | 210 | 220 | 230 | 230 |
|  Uzbekistan | 300 | 203 | 200 | 200 |
|  Côte d'Ivoire | 100 | 100 | 100 | 100 |
|  Morocco | 50 | 50 | 50 | 50 |
|  Cyprus | 15 | 12 | 25 | 24 |
|  Mexico | 26 | 4 | 10 | 10 |
|  Mauritius | 5 | 5 | 5 | 5 |
|  Azerbaijan | 11 | 15 | 3 | 3 |
Consumption
The kernels are often eaten whole, either fresh or roasted and
salted
Sodium chloride
Sodium chloride, also known as salt, common salt, table salt or halite, is an inorganic compound with the formula NaCl. Sodium chloride is the salt most responsible for the salinity of the ocean and of the extracellular fluid of many multicellular organisms...
, and are also used in
ice cream
Ice cream
Ice cream is a frozen dessert usually made from dairy products, such as milk and cream, and often combined with fruits or other ingredients and flavours. Most varieties contain sugar, although some are made with other sweeteners...
, pistachio butter, pistachio paste and confections such as
baklava
Baklava
Baklava is a rich, sweet pastry made of layers of filo pastry filled with chopped nuts and sweetened with syrup or honey. It is characteristic of the cuisines of the former Ottoman Empire and much of central and southwest Asia....
, pistachio chocolate, pistachio halva or
biscotti
Biscotti
Biscotti more correctly known as biscotti di Prato , also known as cantuccini , are twice-baked biscuits originating in the Italian city of Prato...
and
cold cuts
Cold Cuts
Cold Cuts is a 2002 live album by English acoustic roots duo Show of Hands. It was their first live album to be released in a gatefold/digipack case...
such as
mortadella
Mortadella
Mortadella is a large Italian sausage or cold cut made of finely hashed or ground, heat-cured pork sausage, which incorporates at least 15% small cubes of pork fat . Mortadella is a staple product of Bologna, Italy...
.
Americans
United States
The United States of America is a federal constitutional republic comprising fifty states and a federal district...
make pistachio salad, which includes fresh pistachios or pistachio pudding, whipped cream, canned fruit and sometimes cottage cheese. In July 2003, the
Food and Drug Administration
Food and Drug Administration
The Food and Drug Administration is an agency of the United States Department of Health and Human Services, one of the United States federal executive departments...
(FDA) approved the first qualified health claim specific to nuts lowering the risk of heart disease: "Scientific evidence suggests but does not prove that eating 1.5 ounces (42.5g) per day of most nuts, such as pistachios, as part of a diet low in saturated fat and cholesterol may reduce the risk of heart disease".
China is the top pistachio consumer worldwide with annual consumption of 80,000 tons, while the United States consumes 45,000 tons. Russia (with consumption of 15,000 tons) and India (with consumption of 10,000 tons) are in the third and fourth places.
Health benefits
In research at
Pennsylvania State University
Pennsylvania State University
The Pennsylvania State University, commonly referred to as Penn State or PSU, is a public research university with campuses and facilities throughout the state of Pennsylvania, United States. Founded in 1855, the university has a threefold mission of teaching, research, and public service...
, pistachios in particular significantly reduced levels of low-density lipoprotein (LDL
cholesterol
Cholesterol
Cholesterol is a complex isoprenoid. Specifically, it is a waxy steroid of fat that is produced in the liver or intestines. It is used to produce hormones and cell membranes and is transported in the blood plasma of all mammals. It is an essential structural component of mammalian cell membranes...
) while increasing
antioxidant
Antioxidant
An antioxidant is a molecule capable of inhibiting the oxidation of other molecules. Oxidation is a chemical reaction that transfers electrons or hydrogen from a substance to an oxidizing agent. Oxidation reactions can produce free radicals. In turn, these radicals can start chain reactions. When...
levels in the
serum
Blood plasma
Blood plasma is the straw-colored liquid component of blood in which the blood cells in whole blood are normally suspended. It makes up about 55% of the total blood volume. It is the intravascular fluid part of extracellular fluid...
of volunteers. In rats, consumption of pistachios as 20% of daily caloric intake increased beneficial high-density lipoprotein (HDL cholesterol) without lowering LDL cholesterol, and while reducing LDL oxidation.
Human studies have shown that 32-63 grams per day of pistachio nut can significantly elevate plasma levels of
lutein
Lutein
Lutein is a xanthophyll and one of 600 known naturally occurring carotenoids. Lutein is synthesized only by plants and like other xanthophylls is found in high quantities in green leafy vegetables such as spinach and kale...
,
alpha-carotene
Alpha-carotene
α-Carotene is a form of carotene with a β-ring at one end and an ε-ring at the other. It is the second most common form of carotene.-Human physiology:...
,
beta-carotene
Beta-carotene
β-Carotene is a strongly-coloured red-orange pigment abundant in plants and fruits. It is an organic compound and chemically is classified as a hydrocarbon and specifically as a terpenoid , reflecting its derivation from isoprene units...
, and
gamma-tocopherol
Gamma-tocopherol
γ-Tocopherol is one of the chemical compounds that is considered vitamin E. As a food additive, it has E number E308.See the main article tocopherol for more information.-See also:* alpha-Tocopherol* beta-Tocopherol* delta-Tocopherol...
.
In December 2008, Dr. James Painter, a behavioral eating expert, professor and chair of School of Family and Consumer Sciences at
Eastern Illinois University
Eastern Illinois University
Eastern Illinois University is a state university located in Charleston, Illinois, United States. Established in 1895 as the Eastern Illinois State Normal School, a teacher's college offering a two-year degree, Eastern Illinois University gradually expanded into a comprehensive university with a...
, described the Pistachio Principle. The Pistachio Principle describes methods of "fooling" one's body into eating less. One example used is that the act of shelling and eating pistachios one by one slows one's consumption, allowing one to feel full faster after having eaten less.
External links