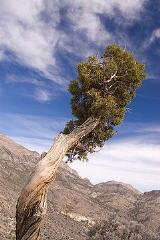 Juniper
Junipers are coniferous plants in the genus
Juniperus
(icon) of the cypress family
Cupressaceae
Cupressaceae
The Cupressaceae or cypress family is a conifer family with worldwide distribution. The family includes 27 to 30 genera , which include the junipers and redwoods, with about 130-140 species in total. They are monoecious, subdioecious or dioecious trees and shrubs from 1-116 m tall...
. Depending on taxonomic viewpoint, there are between 50-67 species of juniper, widely distributed throughout the northern hemisphere, from the
Arctic
Arctic
The Arctic is a region located at the northern-most part of the Earth. The Arctic consists of the Arctic Ocean and parts of Canada, Russia, Greenland, the United States, Norway, Sweden, Finland, and Iceland. The Arctic region consists of a vast, ice-covered ocean, surrounded by treeless permafrost...
, south to tropical
Africa
Africa
Africa is the world's second largest and second most populous continent, after Asia. At about 30.2 million km² including adjacent islands, it covers 6% of the Earth's total surface area and 20.4% of the total land area...
in the
Old World
Old World
The Old World consists of those parts of the world known to classical antiquity and the European Middle Ages. It is used in the context of, and contrast with, the "New World" ....
, and to the mountains of
Central America
Central America
Central America is the central geographic region of the Americas. It is the southernmost, isthmian portion of the North American continent, which connects with South America on the southeast. When considered part of the unified continental model, it is considered a subcontinent...
.
Junipers vary in size and shape from tall
tree
Tree
A tree is a perennial woody plant. It is most often defined as a woody plant that has many secondary branches supported clear of the ground on a single main stem or trunk with clear apical dominance. A minimum height specification at maturity is cited by some authors, varying from 3 m to...
s, 20–40 m tall, to columnar or low spreading
shrub
Shrub
A shrub or bush is distinguished from a tree by its multiple stems and shorter height, usually under 5–6 m tall. A large number of plants may become either shrubs or trees, depending on the growing conditions they experience...
s with long trailing branches.