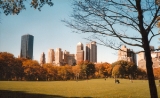 Park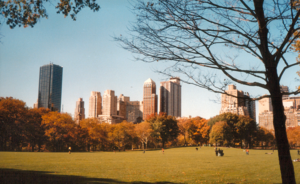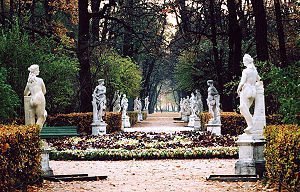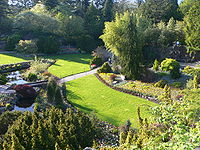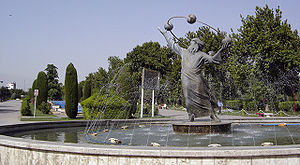 A
park
is a
protected area
Environmental protection
Environmental protection is a practice of protecting the environment, on individual, organizational or governmental level, for the benefit of the natural environment and humans. Due to the pressures of population and our technology the biophysical environment is being degraded, sometimes permanently...
, in its natural or semi-natural state, or planted, and set aside for human recreation and enjoyment, or for the protection of wildlife or natural habitats. It may consist of rocks, soil,
water
Body of water
A body of water or waterbody is any significant accumulation of water, usually covering the Earth or another planet. The term body of water most often refers to large accumulations of water, such as oceans, seas, and lakes, but it may also include smaller pools of water such as ponds, puddles or...
,
flora
Flora
Flora is the plant life occurring in a particular region or time, generally the naturally occurring or indigenous—native plant life. The corresponding term for animals is fauna.-Etymology:...
and
fauna
Fauna
Fauna or faunæ is all of the animal life of any particular region or time. The corresponding term for plants is flora.Zoologists and paleontologists use fauna to refer to a typical collection of animals found in a specific time or place, e.g. the "Sonoran Desert fauna" or the "Burgess shale fauna"...
and
grass
Grass
Grasses, or more technically graminoids, are monocotyledonous, usually herbaceous plants with narrow leaves growing from the base. They include the "true grasses", of the Poaceae family, as well as the sedges and the rushes . The true grasses include cereals, bamboo and the grasses of lawns ...
areas. Many parks are legally protected by law.
Wilderness
Wilderness
Wilderness or wildland is a natural environment on Earth that has not been significantly modified by human activity. It may also be defined as: "The most intact, undisturbed wild natural areas left on our planet—those last truly wild places that humans do not control and have not developed with...
parks are intact and undeveloped areas used mainly by wild species. Protected wilderness zones are required for some wild
species
Species
In biology, a species is one of the basic units of biological classification and a taxonomic rank. A species is often defined as a group of organisms capable of interbreeding and producing fertile offspring. While in many cases this definition is adequate, more precise or differing measures are...
to survive. Some protected parks focus mainly on the survival of a few
threatened species
Endangered species
An endangered species is a population of organisms which is at risk of becoming extinct because it is either few in numbers, or threatened by changing environmental or predation parameters...
, such as gorillas or chimpanzees.
History
The first parks were
deer parks
Medieval deer park
A medieval deer park was an enclosed area containing deer. It was bounded by a ditch and bank with a wooden park pale on top of the bank. The ditch was typically on the inside, thus allowing deer to enter the park but preventing them from leaving.-History:...
, land set aside for hunting by royalty and the
aristocracy
Aristocracy
Aristocracy , is a form of government in which a few elite citizens rule. The term derives from the Greek aristokratia, meaning "rule of the best". In origin in Ancient Greece, it was conceived of as rule by the best qualified citizens, and contrasted with monarchy...
in medieval times. They had walls or thick hedges around them to keep game in and people out.
These game preserves evolved into landscaped parks set around
mansion
Mansion
A mansion is a very large dwelling house. U.S. real estate brokers define a mansion as a dwelling of over . A traditional European mansion was defined as a house which contained a ballroom and tens of bedrooms...
s and country houses from the sixteenth century onwards. These may have served as hunting grounds but they also proclaimed the owner's wealth and status. An aesthetic of landscape design began in these
stately home
Stately home
A stately home is a "great country house". It is thus a palatial great house or in some cases an updated castle, located in the British Isles, mostly built between the mid-16th century and the early part of the 20th century, as well as converted abbeys and other church property...
parks where the
natural landscape
Natural landscape
A natural landscape is a landscape that is unaffected by human activity. A natural landscape is intact when all living and nonliving elements are free to move and change. The nonliving elements distinguish a natural landscape from a wilderness. A wilderness includes areas within which natural...
was enhanced by
landscape architect
Landscape architect
A landscape architect is a person involved in the planning, design and sometimes direction of a landscape, garden, or distinct space. The professional practice is known as landscape architecture....
s such as
Capability Brown
Capability Brown
Lancelot Brown , more commonly known as Capability Brown, was an English landscape architect. He is remembered as "the last of the great English eighteenth-century artists to be accorded his due", and "England's greatest gardener". He designed over 170 parks, many of which still endure...
. As cities became crowded, the private hunting grounds became places for the public.
With the
Industrial revolution
Industrial Revolution
The Industrial Revolution was a period from the 18th to the 19th century where major changes in agriculture, manufacturing, mining, transportation, and technology had a profound effect on the social, economic and cultural conditions of the times...
parks took on a new meaning as areas set aside to preserve a sense of nature in the cities and towns. Sporting activity came to be a major use for these urban parks. Areas of outstanding natural beauty were also set aside as
national park
National park
A national park is a reserve of natural, semi-natural, or developed land that a sovereign state declares or owns. Although individual nations designate their own national parks differently A national park is a reserve of natural, semi-natural, or developed land that a sovereign state declares or...
s to prevent their being spoilt by uncontrolled development.
National parks
A national park is a reserve of land, usually, but not always declared and owned by a national
government
Government
Government refers to the legislators, administrators, and arbitrators in the administrative bureaucracy who control a state at a given time, and to the system of government by which they are organized...
, protected from most human development and pollution. National parks are a
protected area
Protected area
Protected areas are locations which receive protection because of their recognised natural, ecological and/or cultural values. There are several kinds of protected areas, which vary by level of protection depending on the enabling laws of each country or the regulations of the international...
of
IUCN
World Conservation Union
The International Union for Conservation of Nature and Natural Resources is an international organization dedicated to finding "pragmatic solutions to our most pressing environment and development challenges." The organization publishes the IUCN Red List, compiling information from a network of...
category II. The largest national park in the world is the
Northeast Greenland National Park
Northeast Greenland National Park
Northeast Greenland National Park is the largest national park in the world, with an area of , making the park larger than 163 countries. It is the only national park in Greenland, and the most northerly national park in the world, its most northerly point reaching slightly further than the most...
, which was established in 1974.
In the United States the concept of preserving landscapes for the pleasure of the people was established on June 30, 1864, when President Abraham Lincoln signed the bill creating the Yosemite Grant. A policy of preservation, rather than co-usage as in the
National Forests
United States National Forest
National Forest is a classification of federal lands in the United States.National Forests are largely forest and woodland areas owned by the federal government and managed by the United States Forest Service, part of the United States Department of Agriculture. Land management of these areas...
, where grazing, farming and logging are licensed, was implemented four decades later during the presidential administration of Teddy Roosevelt, and Yosemite became a national park. Tourism and, later, recreation were the intended purposes of the lands Roosevelt set aside in the system.
John Muir
John Muir
John Muir was a Scottish-born American naturalist, author, and early advocate of preservation of wilderness in the United States. His letters, essays, and books telling of his adventures in nature, especially in the Sierra Nevada mountains of California, have been read by millions...
was instrumental in this effort.
These parks were termed national parks and today are looked after by the U.S. National Park Service. There are also national parks in many other countries.
Sub-national parks
In
Federal systems
Federation
A federation , also known as a federal state, is a type of sovereign state characterized by a union of partially self-governing states or regions united by a central government...
, many parks are managed by the local levels of government, rather than by the central government. In the United States these include
state park
State park
State parks are parks or other protected areas managed at the federated state level within those nations which use "state" as a political subdivision. State parks are typically established by a state to preserve a location on account of its natural beauty, historic interest, or recreational...
s and in Canada
provincial or territorial parks
Provincial park
A provincial park is a park under the management of a provincial or territorial government in Canada.While provincial parks are not the same as national parks, their workings are very similar...
, except in Quebec where they are known as
National Parks
(see
Quebec nationalism
Quebec nationalism
Quebec nationalism is a nationalist movement in the Canadian province of Quebec .-1534–1774:Canada was first a french colony. Jacques Cartier claimed it for France in 1534, and permanent French settlement began in 1608. It was part of New France, which constituted all French colonies in North America...
).
Urban parks
A park is an area of open space provided for recreational use, usually owned and maintained by a local government. Parks commonly resemble
savanna
Savanna
A savanna, or savannah, is a grassland ecosystem characterized by the trees being sufficiently small or widely spaced so that the canopy does not close. The open canopy allows sufficient light to reach the ground to support an unbroken herbaceous layer consisting primarily of C4 grasses.Some...
s or open
woodland
Woodland
Ecologically, a woodland is a low-density forest forming open habitats with plenty of sunlight and limited shade. Woodlands may support an understory of shrubs and herbaceous plants including grasses. Woodland may form a transition to shrubland under drier conditions or during early stages of...
s, the types of
landscape
Landscape
Landscape comprises the visible features of an area of land, including the physical elements of landforms such as mountains, hills, water bodies such as rivers, lakes, ponds and the sea, living elements of land cover including indigenous vegetation, human elements including different forms of...
that human beings find most relaxing.
Grass
Grass
Grasses, or more technically graminoids, are monocotyledonous, usually herbaceous plants with narrow leaves growing from the base. They include the "true grasses", of the Poaceae family, as well as the sedges and the rushes . The true grasses include cereals, bamboo and the grasses of lawns ...
is typically kept short to discourage
insect
Insect
Insects are a class of living creatures within the arthropods that have a chitinous exoskeleton, a three-part body , three pairs of jointed legs, compound eyes, and two antennae...
pests and to allow for the enjoyment of
picnic
Picnic
In contemporary usage, a picnic can be defined simply as a pleasure excursion at which a meal is eaten outdoors , ideally taking place in a beautiful landscape such as a park, beside a lake or with an interesting view and possibly at a public event such as before an open air theatre performance,...
s and sporting activities. Trees are chosen for their beauty and to provide
shade
Shade
Shade is the blocking of sunlight by any object, and also the shadow created by that object. Shade also consists of the colors grey, black, white, etc...
.
The world's first public park is claimed to be la Alameda de Hércules, in
Seville
Seville
Seville is the artistic, historic, cultural, and financial capital of southern Spain. It is the capital of the autonomous community of Andalusia and of the province of Seville. It is situated on the plain of the River Guadalquivir, with an average elevation of above sea level...
. It is a promenaded public mall, urban garden and park built in 1574, within the historic center of Seville. It is located between the river Guadalquivir and the Macarena neighborhood. Other early parks include the
City Park
City Park (Budapest)
Városliget is a public park in Budapest, Hungary close to the city centre. It is located in District XIV of Budapest. Its main entrance is Heroes' Square , one of Hungary's World Heritage sites.-Name:The area was formerly called Ökör-dűlő, meaning "Oxmeadow"...
, in Budapest, Hungary, which was property of the Batthyány family. In 1808 an Imperial law converted it to the English style. Some years later the Count Batthyány ordered that it should be established as a public park. The earliest purpose built public park, although financed privately, was
Princes Park
Princes Park, Liverpool
Princes Park in Toxteth, Liverpool, England, is a 45 hectare municipal park, 2 miles south east of Liverpool city centre. In 2009 it had it status upgraded to a Grade II* Historic Park by English Heritage....
in the
Liverpool
Liverpool
Liverpool is a city and metropolitan borough of Merseyside, England, along the eastern side of the Mersey Estuary. It was founded as a borough in 1207 and was granted city status in 1880...
suburb of
Toxteth
Toxteth
Toxteth is an inner city area of Liverpool, England. Located to the south of the city, Toxteth is bordered by Liverpool City Centre, Dingle, Edge Hill, Wavertree and Aigburth.-Description:...
. This was laid out to the designs of
Joseph Paxton
Joseph Paxton
Sir Joseph Paxton was an English gardener and architect, best known for designing The Crystal Palace.-Early life:...
from 1842 and opened in 1843. The land on which the park was built was purchased by Richard Vaughan Yates, an iron merchant and philanthropist, in 1841 for £50,000. The creation of Princes Park showed great foresight and introduced a number of highly influential ideas. First and foremost was the provision of open space for the benefit of townspeople and local residents within an area that was being rapidly built up. Secondly it took the concept of the designed landscape as a setting for the suburban domicile, an idea pioneered by
John Nash
John Nash (architect)
John Nash was a British architect responsible for much of the layout of Regency London.-Biography:Born in Lambeth, London, the son of a Welsh millwright, Nash trained with the architect Sir Robert Taylor. He established his own practice in 1777, but his career was initially unsuccessful and...
at Regent's Park, and re-fashioned it for the provincial town in a most original way. Nash's remodelling of St James's Park from 1827 and the sequence of processional routes he created to link The Mall with Regent's Park completely transformed the appearance of London's West End. With the establishment of Princes Park in 1842, Joseph Paxton did something similar for the benefit of a provincial town, albeit one of international stature by virtue of its flourishing mercantile contingent. Liverpool had a burgeoning presence on the scene of global maritime trade before 1800 and during the Victorian era its wealth rivalled that of London itself.
The form and layout of Paxton's ornamental grounds, structured about an informal lake within the confines of a serpentine carriageway, put in place the essential elements of his much imitated design for
Birkenhead Park
Birkenhead Park
Birkenhead Park is a public park in the centre of Birkenhead, on the Wirral Peninsula, England. It was designed by Joseph Paxton and opened on 5 April 1847...
. The latter was commenced in 1843 with the help of public finance and deployed the ideas he pioneered at Princes Park on a more expansive scale. Frederick Law Olmstead visited Birkenhead Park in 1850 and praised its qualities. Indeed Paxton is widely credited as having been one of the principal influences on Olmstead and Calvert's design for New York's Central Park of 1857.
Another early public park is the
Peel Park, Salford
Peel Park, Salford
Peel Park is a public urban park in Salford, Greater Manchester, England located on the flood plain of the River Irwell below Salford Crescent and adjacent to the University of Salford...
, England opened on 22 August 1846. Another possible claimant for status as the world's first public park is Boston Common (Boston, Massachusetts, USA), set aside in 1634, whose first recreational promenade, Tremont Mall, dates from 1728. True park status for the entire common seems to have emerged no later than 1830, when the grazing of cows was ended and renaming the Common as Washington Park was proposed (renaming the bordering Sentry Street to Park Street in 1808 already acknowledged the reality).
Parks can be divided into active and passive
recreation
Recreation
Recreation is an activity of leisure, leisure being discretionary time. The "need to do something for recreation" is an essential element of human biology and psychology. Recreational activities are often done for enjoyment, amusement, or pleasure and are considered to be "fun"...
. Active recreation is that which require intensive development and often involves cooperative or team activity, including
playground
Playground
A playground or play area is a place with a specific design for children be able to play there. It may be indoors but is typically outdoors...
s, ball fields and skateparks. Passive recreation is that which emphasizes the open-space aspect of a park and which involves a low level of development, including picnic areas and trails.
Many smaller
neighborhood parks
are receiving increased attention and valuation as significant community assets and places of refuge in heavily populated urban areas. Neighborhood groups around the world are joining together to support local parks that have suffered from
urban decay
Urban decay
Urban decay is the process whereby a previously functioning city, or part of a city, falls into disrepair and decrepitude...
and government neglect.
A linear park is a park that has a much greater length than width. A typical example of a linear park is a section of a former railway that has been converted into a park called a
rail trail
Rail trail
A rail trail is the conversion of a disused railway easement into a multi-use path, typically for walking, cycling and sometimes horse riding. The characteristics of former tracks—flat, long, frequently running through historical areas—are appealing for various development. The term sometimes also...
or
greenway
Greenway (landscape)
A greenway is a long, narrow piece of land, often used for recreation and pedestrian and bicycle user traffic, and sometimes for streetcar, light rail or retail uses.- Terminology :...
(i.e. the tracks removed, vegetation allowed to grow back). Parks are sometimes made out of oddly shaped areas of land, much like the vacant lots that often become city neighborhood parks. Linked parks may form a greenbelt.
Country parks
In some countries, especially the United Kingdom,
country parks
are areas designated for recreation, and managed by local authorities. They are often located near urban populations, but they provide recreational facilities typical of the countryside rather than the town.
Private parks
Private parks are owned by individuals or businesses and are used at the discretion of the owner. There are a few types of private parks, and some which once were privately maintained and used have now been made open to the public.
Hunting parks
were originally areas maintained as open space where residences, industry and farming were not allowed, often originally so that nobility might have a place to hunt — see
medieval deer park
Medieval deer park
A medieval deer park was an enclosed area containing deer. It was bounded by a ditch and bank with a wooden park pale on top of the bank. The ditch was typically on the inside, thus allowing deer to enter the park but preventing them from leaving.-History:...
. These were known for instance, as
deer parks
(deer being originally a term meaning any wild animal). Many country houses in Great Britain and Ireland still have parks of this sort, which since the 18th century have often been landscaped for aesthetic effect. They are usually a mixture of open grassland with scattered trees and sections of woodland, and are often enclosed by a high wall. The area immediately around the house is the garden. In some cases this will also feature sweeping lawns and scattered trees; the basic difference between a
country house's park
and its garden is that the park is grazed by animals, but they are excluded from the garden.
Other uses
The term park is also used in reference to industrial areas, often termed
industrial park
Industrial park
An industrial park is an area zoned and planned for the purpose of industrial development...
s. Some technology research areas are also called
research park
Research park
A Research park is a research facility that is often linked with a major research university. Throughout North America, there are more than 170 research parks. They exist to create linkages between the university, industry and the community...
s. Small environmental areas, often part of urban renewal plans, are called
pocket park
Pocket park
A pocket park, parkette or mini-park is a small park accessible to the general public. In some areas they are called miniparks or vest-pocket parks....
s. The word park may also be used in community names, such as Oak Park or College Park. Sometimes the active recreational aspect may be expressed in the extreme of naming an
amusement park
Amusement park
thumb|Cinderella Castle in [[Magic Kingdom]], [[Disney World]]Amusement and theme parks are terms for a group of entertainment attractions and rides and other events in a location for the enjoyment of large numbers of people...
, usually privately owned. A car park is an area of land or a building in which cars are parked.
An amusement park, or theme park is a generic term for a collection of rides and other entertainment attractions assembled for the purpose of entertainment.
See also
External links