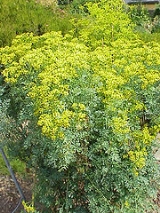 Rue
Rue
is a genus of strongly scented
evergreen
Evergreen
In botany, an evergreen plant is a plant that has leaves in all seasons. This contrasts with deciduous plants, which completely lose their foliage during the winter or dry season.There are many different kinds of evergreen plants, both trees and shrubs...
subshrub
Subshrub
A subshrub or dwarf shrub is a short woody plant. Prostrate shrub is a similar term.It is distinguished from a shrub by its ground-hugging stems and lower height, with overwintering perennial woody growth typically less than 10–20 cm tall, or by being only weakly woody and/or persisting...
s 20–60 cm tall, in the family
Rutaceae
Rutaceae
Rutaceae, commonly known as the rue or citrus family, is a family of flowering plants, usually placed in the order Sapindales.Species of the family generally have flowers that divide into four or five parts, usually with strong scents...
, native to the Mediterranean region,
Macaronesia
Macaronesia
Macaronesia is a modern collective name for several groups of islands in the North Atlantic Ocean near Europe and North Africa belonging to three countries: Portugal, Spain, and Cape Verde...
and southwest
Asia
Asia
Asia is the world's largest and most populous continent, located primarily in the eastern and northern hemispheres. It covers 8.7% of the Earth's total surface area and with approximately 3.879 billion people, it hosts 60% of the world's current human population...
. There are perhaps 8 to 40 species in the genus. A well-known species is the
Common Rue
Common Rue
The Common Rue , also known as Herb-of-Grace, is a species of rue grown as a herb. It is native to the Balkan Peninsula, southeastern Europe. It is sometimes grown as an ornamental plant in gardens, especially because of its bluish leaves, and also sometimes for its tolerance of hot and dry soil...
.
The
leaves
Leaf
A leaf is an organ of a vascular plant, as defined in botanical terms, and in particular in plant morphology. Foliage is a mass noun that refers to leaves as a feature of plants....
are bipinnate or tripinnate, with a feathery appearance, and green to strongly glaucous blue-green in colour. The
flower
Flower
A flower, sometimes known as a bloom or blossom, is the reproductive structure found in flowering plants . The biological function of a flower is to effect reproduction, usually by providing a mechanism for the union of sperm with eggs...
s are yellow, with 4–5
petal
Petal
Petals are modified leaves that surround the reproductive parts of flowers. They often are brightly colored or unusually shaped to attract pollinators. Together, all of the petals of a flower are called a corolla. Petals are usually accompanied by another set of special leaves called sepals lying...
s, about 1 cm diameter, and borne in cymes. The
fruit
Fruit
In broad terms, a fruit is a structure of a plant that contains its seeds.The term has different meanings dependent on context. In non-technical usage, such as food preparation, fruit normally means the fleshy seed-associated structures of certain plants that are sweet and edible in the raw state,...
is a 4–5 lobed capsule, containing numerous
seed
Seed
A seed is a small embryonic plant enclosed in a covering called the seed coat, usually with some stored food. It is the product of the ripened ovule of gymnosperm and angiosperm plants which occurs after fertilization and some growth within the mother plant...
s.
It is very bitter. It was used extensively in Middle Eastern cuisine in olden days, as well as in many ancient Roman recipes (according to
Apicius
Apicius
Apicius is the title of a collection of Roman cookery recipes, usually thought to have been compiled in the late 4th or early 5th century AD and written in a language that is in many ways closer to Vulgar than to Classical Latin....
), and it is still used in northern Africa. In
Italy
Italy
Italy , officially the Italian Republic languages]] under the European Charter for Regional or Minority Languages. In each of these, Italy's official name is as follows:;;;;;;;;), is a unitary parliamentary republic in South-Central Europe. To the north it borders France, Switzerland, Austria and...
rue leaves are sometimes added to
grappa
Grappa
Grappa is an alcoholic beverage, a fragrant, grape-based pomace brandy of Italian origin that contains 35%–60% alcohol by volume...
to obtain
grappa alla ruta
.
Medicinal uses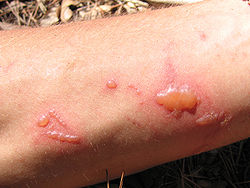 According to
The Oxford Book of Health Foods
, extracts from rue have been used to treat eyestrain, sore eyes, and as an insect repellent. Rue has been used internally as an
antispasmodic
Antispasmodic
An antispasmodic is a drug or a herb that suppresses muscle spasms.-Smooth muscle spasm:One type of antispasmodics is used for smooth muscle contraction, especially in tubular organs of the gastrointestinal tract...
, as a treatment for menstrual problems, as an
abortifacient
Abortifacient
An abortifacient is a substance that induces abortion. Abortifacients for animals that have mated undesirably are known as mismating shots....
, and as a sedative.
Precautions
Caution should be taken with using rue topically. Applied to the skin with sun exposure, the oil and leaves can cause blistering. Some people are much more sensitive than others.
Literary references
Rue is mentioned in the Bible, Luke 11.42: "But woe unto you, Pharisees! For ye tithe mint and rue and all manner of herbs".
Rue is well known for its symbolic meaning of regret and it is sometimes been called "herb-of-grace" in literary works. It is one of the flowers distributed by the mad Ophelia in
William Shakespeare
William Shakespeare
William Shakespeare was an English poet and playwright, widely regarded as the greatest writer in the English language and the world's pre-eminent dramatist. He is often called England's national poet and the "Bard of Avon"...
's
Hamlet
Hamlet
The Tragical History of Hamlet, Prince of Denmark, or more simply Hamlet, is a tragedy by William Shakespeare, believed to have been written between 1599 and 1601...
(IV.5):
"There's fennel

Fennel

Fennel is a plant species in the genus Foeniculum . It is a member of the family Apiaceae . It is a hardy, perennial, umbelliferous herb, with yellow flowers and feathery leaves...


for you, and columbines

Aquilegia

Aquilegia is a genus of about 60-70 species of perennial plants that are found in meadows, woodlands, and at higher altitudes throughout the Northern Hemisphere, known for the spurred petals of their flowers.-Etymology:The genus name Aquilegia is derived from the Latin word for eagle , because...


:
there's rue for you; and here's some for me:
we may call it herb-grace o' Sundays:
O you must wear your rue with a difference..."
It was also planted by the gardener in Shakespeare's
Richard II
Richard II (play)
King Richard the Second is a history play by William Shakespeare believed to be written in approximately 1595. It is based on the life of King Richard II of England and is the first part of a tetralogy, referred to by some scholars as the Henriad, followed by three plays concerning Richard's...
to mark the spot where the Queen wept upon hearing news of Richard's capture (III.4.104–105):
"Here did she fall a tear, here in this place
I'll set a bank of rue, sour herb of grace."
Rue is considered a
national herb of Lithuania
Symbols of Lithuania
The symbols of Lithuania are used in Lithuania and abroad to represent the country and its people, history, culture, and nature. These symbols are seen in official capacities, such as flags, coats of arms, postage stamps, and currency, and in URLs...
and it is the most frequently referred herb in Lithuanian folk songs, as an attribute of young girls, associated with virginity and maidenhood.
In
mythology
Mythology
The term mythology can refer either to the study of myths, or to a body or collection of myths. As examples, comparative mythology is the study of connections between myths from different cultures, whereas Greek mythology is the body of myths from ancient Greece...
, the
basilisk
Basilisk
In European bestiaries and legends, a basilisk is a legendary reptile reputed to be king of serpents and said to have the power to cause death with a single glance...
, whose breath could cause plants to wilt and stones to crack, had no effect on rue. Weasels who were bitten by the basilisk would retreat and eat rue in order to recover and return to fight.
In the novel
The Hunger Games
The Hunger Games
The Hunger Games is a first person young-adult science fiction novel written by Suzanne Collins. It was originally published on September 14, 2008, by Scholastic. It is the first book of the Hunger Games trilogy. It introduces sixteen-year-old Katniss Everdeen, who lives in a post-apocalyptic world...
, the female tribute from District 11 is named Rue.
The
Tacuinum Sanitatis
Tacuinum Sanitatis
The Tacuinum Sanitatis is a medieval handbook on health and wellbeing, based on the Taqwim al‑sihha , an eleventh-century Arab medical treatise by Ibn Butlan of Baghdad...
, a medieval handbook on wellness, lists these properties of rue:
Nature: Warm and dry in the third degree.
Optimum: That which is grown near a fig tree.
Usefulness: It sharpens the eyesight and dissipates flatulence.
Dangers: It augments the sperm and dampens the desire for coitus.
Neutralization of the Dangers: With foods that multiply the sperm.



Rue is used by Gulliver in "
Gulliver's Travels
Gulliver's Travels
Travels into Several Remote Nations of the World, in Four Parts. By Lemuel Gulliver, First a Surgeon, and then a Captain of Several Ships, better known simply as Gulliver's Travels , is a novel by Anglo-Irish writer and clergyman Jonathan Swift that is both a satire on human nature and a parody of...
" (by Jonathan Swift) when he returns to England after living among the "Houyhnhnms". Gulliver can no longer stand the smell of the English Yahoos (people), so he stuffs rue or tobacco in his nose to block out the smell. "I was at last bold enough to walk the street in his (Don Pedro's) company, but kept my nose well with rue, or sometimes with tobacco".
In
Harry Potter and the Half-Blood Prince
Harry Potter and the Half-Blood Prince
Harry Potter and the Half-Blood Prince is the sixth and penultimate novel in the Harry Potter series by British author J. K. Rowling...
, Ron has to take essence of rue for a couple of weeks while recovering from the poisoned oak-matured
mead
Mead
Mead , also called honey wine, is an alcoholic beverage that is produced by fermenting a solution of honey and water. It may also be produced by fermenting a solution of water and honey with grain mash, which is strained immediately after fermentation...
he drank in Professor Slughorn's office.
Songs associated with rue
"
Chervona Ruta
Chervona Ruta (song)
Chervona Ruta is a popular Ukrainian song written by Volodymyr Ivasyuk in 1968 and performed by many singers. The song was never copyrighted and therefore is considered the Ukrainian folk song....
" (Червона Рута—"Red Rue")—a song, written by
Volodymyr Ivasyuk
Volodymyr Ivasyuk
Volodymyr Mykhailovych Ivasyuk or Volodymyr Ivasiuk was a very popular Ukrainian songwriter, composer and poet from the Ukrainian SSR...
, a popular Ukrainian poet and composer. Pop singer
Sofia Rotaru
Sofia Rotaru
Sofia Mykhailivna Yevdokymenko-Rotaru known as Sofia Rotaru is a Soviet and Ukrainian pop singer of Romanian/Moldavian heritage....
performed the song in 1971. Recently Rotaru performed in a rap arrangement.
The
progressive metal
Progressive metal
Progressive metal is a subgenre of heavy metal originating in the United Kingdom and North America in the late 1980s...
band
Symphony X
Symphony X
Symphony X is an American progressive metal band from Middletown, New Jersey.Founded in 1994 by guitarist Michael Romeo, their albums The Divine Wings of Tragedy and V: The New Mythology Suite have given the band considerable attention within the progressive metal community...
named a song "Absinthe and Rue" on their first album,
Symphony X
Symphony X (album)
Symphony X is the first album by progressive metal band Symphony X, released in 1994 through Zero Corporation and reissued in 1996 through InsideOut Music .-Track listing:-Personnel:*Rod Tyler – vocals, engineering, mixing, production...
, and
Kathleen Battle
Kathleen Battle
Kathleen Battle , is an African-American operatic soprano known for her agile and light voice and her silvery, pure tone. Battle initially became known for her work within the concert repertoire through performances with major orchestras during the early and mid 1970s. She made her opera debut in...
, American soprano, has recorded the song cycle "Honey and Rue" written by composer Andre Previn in collaboration with the Nobel Laureate Toni Morrison.
Many traditional English folk songs use rue to symbolise regret. Often it is paired with thyme: thyme used to symbolise virginity, and rue the regret supposed to follow its loss.
"
Una Matica de Ruda
" is a traditional Sephardic wedding song, dating back to the
Middle Ages
Middle Ages
The Middle Ages is a periodization of European history from the 5th century to the 15th century. The Middle Ages follows the fall of the Western Roman Empire in 476 and precedes the Early Modern Era. It is the middle period of a three-period division of Western history: Classic, Medieval and Modern...
.