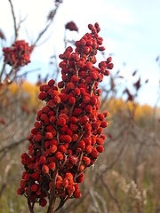 Sumac
Sumac
is any one of approximately 250 species of
flowering plant
Flowering plant
The flowering plants , also known as Angiospermae or Magnoliophyta, are the most diverse group of land plants. Angiosperms are seed-producing plants like the gymnosperms and can be distinguished from the gymnosperms by a series of synapomorphies...
s in the
genus
Genus
In biology, a genus is a low-level taxonomic rank used in the biological classification of living and fossil organisms, which is an example of definition by genus and differentia...
Rhus
and related genera, in the family
Anacardiaceae
Anacardiaceae
Anacardiaceae are a family of flowering plants bearing fruits that are drupes and in some cases producing urushiol, an irritant. Anacardiaceae include numerous genera with several of economic importance. Notable plants in this family include cashew , mango, poison ivy, sumac, smoke tree, and marula...
. Sumacs grow in
subtropical
Subtropics
The subtropics are the geographical and climatical zone of the Earth immediately north and south of the tropical zone, which is bounded by the Tropic of Cancer and the Tropic of Capricorn, at latitudes 23.5°N and 23.5°S...
and
temperate
Temperate
In geography, temperate or tepid latitudes of the globe lie between the tropics and the polar circles. The changes in these regions between summer and winter are generally relatively moderate, rather than extreme hot or cold...
regions throughout the world, especially in
Africa
Africa
Africa is the world's second largest and second most populous continent, after Asia. At about 30.2 million km² including adjacent islands, it covers 6% of the Earth's total surface area and 20.4% of the total land area...
and
North America
North America
North America is a continent wholly within the Northern Hemisphere and almost wholly within the Western Hemisphere. It is also considered a northern subcontinent of the Americas...
.
Sumacs are
shrub
Shrub
A shrub or bush is distinguished from a tree by its multiple stems and shorter height, usually under 5–6 m tall. A large number of plants may become either shrubs or trees, depending on the growing conditions they experience...
s and small
tree
Tree
A tree is a perennial woody plant. It is most often defined as a woody plant that has many secondary branches supported clear of the ground on a single main stem or trunk with clear apical dominance. A minimum height specification at maturity is cited by some authors, varying from 3 m to...
s that can reach a height of 1–10 m (3.3–32.8 ft). The
leaves
Leaf
A leaf is an organ of a vascular plant, as defined in botanical terms, and in particular in plant morphology. Foliage is a mass noun that refers to leaves as a feature of plants....
are spirally arranged; they are usually
pinnately compound
Pinnate
Pinnate is a term used to describe feather-like or multi-divided features arising from both sides of a common axis in plant or animal structures, and comes from the Latin word pinna meaning "feather", "wing", or "fin". A similar term is pectinate, which refers to a comb-like arrangement of parts...
, though some species have trifoliate or simple leaves. The
flower
Flower
A flower, sometimes known as a bloom or blossom, is the reproductive structure found in flowering plants . The biological function of a flower is to effect reproduction, usually by providing a mechanism for the union of sperm with eggs...
s are in dense
panicle
Panicle
A panicle is a compound raceme, a loose, much-branched indeterminate inflorescence with pedicellate flowers attached along the secondary branches; in other words, a branched cluster of flowers in which the branches are racemes....
s or spikes 5–30 cm (2–11.8 in) long, each flower very small, greenish, creamy white or red, with five petals. The
fruit
Fruit
In broad terms, a fruit is a structure of a plant that contains its seeds.The term has different meanings dependent on context. In non-technical usage, such as food preparation, fruit normally means the fleshy seed-associated structures of certain plants that are sweet and edible in the raw state,...
s form dense clusters of reddish
drupe
Drupe
In botany, a drupe is a fruit in which an outer fleshy part surrounds a shell of hardened endocarp with a seed inside. These fruits develop from a single carpel, and mostly from flowers with superior ovaries...
s called sumac bobs. The dried drupes of some species are ground to produce a tangy purple spice.
Sumacs propagate both by
seed
Seed
A seed is a small embryonic plant enclosed in a covering called the seed coat, usually with some stored food. It is the product of the ripened ovule of gymnosperm and angiosperm plants which occurs after fertilization and some growth within the mother plant...
(spread by
bird
Bird
Birds are feathered, winged, bipedal, endothermic , egg-laying, vertebrate animals. Around 10,000 living species and 188 families makes them the most speciose class of tetrapod vertebrates. They inhabit ecosystems across the globe, from the Arctic to the Antarctic. Extant birds range in size from...
s and other animals through their
droppings
Feces
Feces, faeces, or fæces is a waste product from an animal's digestive tract expelled through the anus or cloaca during defecation.-Etymology:...
), and by new
shoot
Shoot
Shoots are new plant growth, they can include stems, flowering stems with flower buds, and leaves. The new growth from seed germination that grows upward is a shoot where leaves will develop...
s from
rhizome
Rhizome
In botany and dendrology, a rhizome is a characteristically horizontal stem of a plant that is usually found underground, often sending out roots and shoots from its nodes...
s, forming large
clonal colonies
Clonal colony
A clonal colony or genet is a group of genetically identical individuals that have grown in a given location, all originating vegetatively from a single ancestor. In plants, an individual in such a population is referred to as a ramet...
.
The word
sumac
traces its etymology from Old French
sumac
(13th century), from Medieval Latin
sumach
, from Arabic , from
Syriac
Syriac language
Syriac is a dialect of Middle Aramaic that was once spoken across much of the Fertile Crescent. Having first appeared as a script in the 1st century AD after being spoken as an unwritten language for five centuries, Classical Syriac became a major literary language throughout the Middle East from...
- meaning "red."
Cultivation and uses
The fruits (
drupe
Drupe
In botany, a drupe is a fruit in which an outer fleshy part surrounds a shell of hardened endocarp with a seed inside. These fruits develop from a single carpel, and mostly from flowers with superior ovaries...
s) of the genus
Rhus
are ground into a deep-red or purple powder used as a
spice
Spice
A spice is a dried seed, fruit, root, bark, or vegetative substance used in nutritionally insignificant quantities as a food additive for flavor, color, or as a preservative that kills harmful bacteria or prevents their growth. It may be used to flavour a dish or to hide other flavours...
in
Middle Eastern cuisine
Middle Eastern cuisine
Middle-Eastern cuisine, West Asian cuisine, or in some place in the United States, Persian-Mediterranean cuisine is the cuisine of the various countries and peoples of the Middle East . The cuisine of the region is diverse while having a degree of homogeneity...
to add a
lemon
Lemon
The lemon is both a small evergreen tree native to Asia, and the tree's ellipsoidal yellow fruit. The fruit is used for culinary and non-culinary purposes throughout the world – primarily for its juice, though the pulp and rind are also used, mainly in cooking and baking...
y taste to salads or meat. In
Arab cuisine
Arab cuisine
Arab cuisine is defined as the various regional cuisines spanning the Arab World, from Morocco and Tunisia to Saudi Arabia, and incorporating Levantine, Egyptian .-History:...
, it is used as a garnish on
meze
Meze
Meze or mezze is a selection of small dishes served in the Mediterranean and Middle East as dinner or lunch, with or without drinks. In Levantine cuisines and in the Caucasus region, meze is served at the beginning of all large-scale meals....
dishes such as
hummus
Hummus
Hummus is high in iron and vitamin C and also has significant amounts of folate and vitamin B6. The chickpeas make it a good source of protein and dietary fiber; the tahini consists mostly of sesame seeds, which are an excellent source of the amino acid methionine, complementing the proteins in the...
and is added to salads in the
Levant
Levant
The Levant or ) is the geographic region and culture zone of the "eastern Mediterranean littoral between Anatolia and Egypt" . The Levant includes most of modern Lebanon, Syria, Jordan, Israel, the Palestinian territories, and sometimes parts of Turkey and Iraq, and corresponds roughly to the...
. In
Iranian
Iranian cuisine
Iranian cuisine is diverse, with each province featuring dishes, culinary traditions and styles distinct to its region.It includes a wide variety of foods ranging from chelo kabab , khoresht Iranian cuisine is diverse, with each province featuring dishes, culinary traditions and styles distinct to...
(Persian and
Kurdish
Kurdish cuisine
Kurdish cuisine consists of a wide variety of foods prepared by the Kurdish people that have got many traditions from their homeland, Kurdistan.-Culinary customs:...
) cuisine, sumac is added to rice or
kebab
Kebab
Kebab is a wide variety of meat dishes originating in Middle East and later on adopted by the Middle East, and Asia Minor, and now found worldwide. In English, kebab with no qualification generally refers more specifically to shish kebab served on the skewer...
. In
Turkish cuisine
Turkish cuisine
Turkish cuisine is largely the heritage of Ottoman cuisine, which can be described as a fusion and refinement of Central Asian, Middle Eastern and Balkan cuisines. Turkish cuisine has in turn influenced those and other neighbouring cuisines, including that of western Europe...
, it is added to salad-servings of kebabs and
lahmacun
Lahmacun
Lahmacun or lahmajoun , from , , "meat with dough", is an item of prepared food originating in the early Syrian cuisine of the Levant, consisting of a round, thin piece of dough topped with minced meat...
.
Rhus coriaria
Rhus coriaria
Rhus coriaria, commonly called Elm-Leaved Sumach or Tanner's Sumach is a deciduous shrub to small tree in the Anacardiaceae or Cashew family, native to southern Europe. The dried fruit are used as a spice, particularly in combination with other spices in the mixture called Za'atar.- Uses :Caution...
is used in the spice mixture
za'atar
Za'atar
Za'atar is a generic name for a family of related Middle Eastern herbs from the genera Origanum , Calamintha , Thymus vulgaris and Satureja . It is also the name for a condiment made from the dried herb, mixed together with sesame seeds, dried sumac, and often salt, as well as other spices...
.
In North America, the Smooth Sumac (
R. glabra
Rhus glabra
Rhus glabra is a species of sumac in the family Anacardiaceae, native to North America, from southern Quebec west to southern British Columbia in Canada, and south to northern Florida and Arizona in the United States and Tamaulipas in northeastern Mexico.One of the easiest shrubs to identify...
) and the Staghorn Sumac (
R. typhina
Rhus typhina
The Staghorn Sumac is a deciduous shrub to small tree in the Anacardiaceae or Cashew family, native to eastern North America...
) are sometimes used to make a beverage termed "sumac-ade," "Indian lemonade" or "rhus juice". This drink is made by soaking the drupes in cool water, rubbing them to extract the essence, straining the liquid through a cotton cloth and sweetening it. Native Americans also used the leaves and drupes of the Smooth and Staghorn Sumacs combined with
tobacco
Tobacco
Tobacco is an agricultural product processed from the leaves of plants in the genus Nicotiana. It can be consumed, used as a pesticide and, in the form of nicotine tartrate, used in some medicines...
in traditional smoking mixtures.
Species including the Fragrant Sumac (
R. aromatica
Rhus aromatica
Rhus aromatica is a plant species in the family Anacardiaceae native to Canada and the United States....
), the Littleleaf Sumac (
R. microphylla
Rhus microphylla
Rhus microphylla is a species of sumac in the family Anacardiaceae, native to North America, in the southwestern United States and northern and central Mexico, from central and western Texas, southern New Mexico, central and northern regions of the Mexican Altiplano-, and extreme...
), the Skunkbush Sumac (
R. trilobata
), the Smooth Sumac and the Staghorn Sumac are grown for
ornament
Ornamental plant
Ornamental plants are plants that are grown for decorative purposes in gardens and landscape design projects, as house plants, for cut flowers and specimen display...
, either as the wild types or as
cultivar
Cultivar
A cultivar'Cultivar has two meanings as explained under Formal definition. When used in reference to a taxon, the word does not apply to an individual plant but to all those plants sharing the unique characteristics that define the cultivar. is a plant or group of plants selected for desirable...
s.
The leaves of certain sumacs yield
tannin
Tannin
A tannin is an astringent, bitter plant polyphenolic compound that binds to and precipitates proteins and various other organic compounds including amino acids and alkaloids.The term tannin refers to the use of...
(mostly pyrogallol-type), a substance used in vegetable
tanning
Tanning
Tanning is the making of leather from the skins of animals which does not easily decompose. Traditionally, tanning used tannin, an acidic chemical compound from which the tanning process draws its name . Coloring may occur during tanning...
. Notable sources include the leaves of
R. coriaria
, Chinese gall on
R. chinensis
Rhus chinensis
Rhus chinensis, the Chinese sumac or nutgall tree, is a plant species in the genus Rhus.The species is used to produce galls, called Chinese gall, Galla Chinensis or Wu Bei Zi in Chinese, which are rich in gallotannins, a type of hydrolysable tannins...
, and wood and roots of
R. pentaphylla
Rhus pentaphylla
Rhus pentaphylla, the tizra tree, is a sumac shrub or small tree species in the genus Rhus found in North Africa, especially in Morroco. Its roots and heartwood are used to produce tannin of the condensed type....
.
Leather
Leather
Leather is a durable and flexible material created via the tanning of putrescible animal rawhide and skin, primarily cattlehide. It can be produced through different manufacturing processes, ranging from cottage industry to heavy industry.-Forms:...
tanned with sumac is flexible, light in weight, and light in color. One type of leather made with sumac tannins is
morocco leather
Morocco leather
Morocco leather is a leather made from goatskin, dyed red on the grain side and then tanned by hand to bring up the grain in a bird's-eye pattern....
.
Sumac was used as a treatment for half a dozen different ailments in medieval medicine, primarily in Islamic countries (where sumac was more readily available than in Europe). An 11th-century shipwreck off the coast of
Rhodes
Rhodes
Rhodes is an island in Greece, located in the eastern Aegean Sea. It is the largest of the Dodecanese islands in terms of both land area and population, with a population of 117,007, and also the island group's historical capital. Administratively the island forms a separate municipality within...
, excavated by archeologists in the 1970s, contained commercial quantities of sumac drupes. These could have been intended for use as medicine, or as a culinary spice, or as a dye.
Some beekeepers use dried sumac bobs as a source of fuel for their smokers.
Dried sumac wood
fluoresces
Fluorescence
Fluorescence is the emission of light by a substance that has absorbed light or other electromagnetic radiation of a different wavelength. It is a form of luminescence. In most cases, emitted light has a longer wavelength, and therefore lower energy, than the absorbed radiation...
under long-wave
ultraviolet
Ultraviolet
Ultraviolet light is electromagnetic radiation with a wavelength shorter than that of visible light, but longer than X-rays, in the range 10 nm to 400 nm, and energies from 3 eV to 124 eV...
radiation, commonly known as
black light
Black light
A black light, also referred to as a UV light, ultraviolet light, or Wood's lamp, is a lamp that emits ultraviolet radiation in the long-wave range, and little visible light...
.
Toxicity and control
Some species, such as
Poison ivy
Poison ivy
Toxicodendron radicans, better known as poison ivy , is a poisonous North American plant that is well known for its production of urushiol, a clear liquid compound found within the sap of the plant that causes an itching rash in most people who touch it...
(
Rhus toxicodendron
, syn.
Toxicodendron radicans
), Poison oak (
Rhus diversiloba
, syn.
Toxicodendron diversilobum
) and
Poison sumac
Poison Sumac
Poison sumac is a woody shrub or small tree growing to 7 m tall. All parts of the plant contain a resin called urushiol that causes skin and mucous membrane irritation to humans...
(
Rhus vernix
, syn.
Toxicodendron vernix
), have the allergen
urushiol
Urushiol
Urushiol is an oily organic allergen found in plants of the family Anacardiaceae, especially Toxicodendron spp. . It causes an allergic skin rash on contact, known as urushiol-induced contact dermatitis...
and can cause severe allergic reactions. Poison sumac may be identified by its white
drupe
Drupe
In botany, a drupe is a fruit in which an outer fleshy part surrounds a shell of hardened endocarp with a seed inside. These fruits develop from a single carpel, and mostly from flowers with superior ovaries...
s.
Mowing of sumac is not a good control measure, since the wood is springy, resulting in jagged, sharp pointed stumps when mowed. The plant will quickly recover with new growth after mowing. Goats have long been considered an efficient and quick removal method as they eat the bark, which helps prevent new shoots.
Taxonomy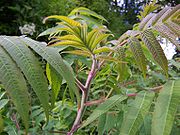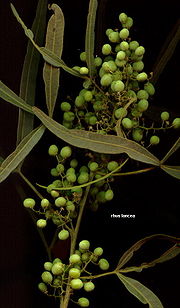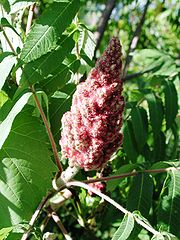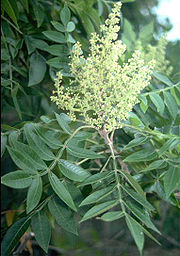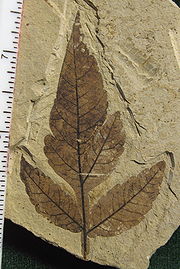 At times
Rhus
has held over 250 species. Recent
molecular phylogeny
Molecular phylogeny
Molecular phylogenetics is the analysis of hereditary molecular differences, mainly in DNA sequences, to gain information on an organism's evolutionary relationships. The result of a molecular phylogenetic analysis is expressed in a phylogenetic tree...
research suggests breaking
Rhus
sensu lato into
Actinocheita
,
Baronia
,
Cotinus
,
Malosma
Malosma
Malosma is a plant genus which contains only a single species, Malosma laurina, with the common names Laurel sumac and Lentisco ....
,
Searsia
,
Toxicodendron
Toxicodendron
Toxicodendron a genus of flowering plants in the sumac family, Anacardiaceae. It contains woody trees, shrubs and vines, including poison ivy, poison oak, and the lacquer tree. All members of the genus produce the skin-irritating oil urushiol, which can cause a severe allergic reaction...
, and
Rhus
sensu stricto. If this is done, about 35 species would remain in
Rhus
. However, the data are not yet clear enough to settle the proper placement of all species into these genera.
Selected species

Africa:

Rhus acocksii Moffett
Rhus albomarginata Sond.
Rhus angustifolia

Rhus angustifolia

Rhus angustifolia is a small, bushy, evergreen tree which is confined to the South Western Cape in South Africa....


L.
Rhus batophylla Codd
Rhus baurii Schönl.
Rhus bolusii Sond. ex Engl.
Rhus burchellii Sond. ex Engl.
Rhus carnosula Schönl.
Rhus chirindensis Bakh.f.
Rhus ciliata Licht. ex Schult.
Rhus crenata

Rhus crenata

Rhus crenata is a species of Rhus native to South Africa, where it occurs in frost-free and light frost areas....


Thunb.
Rhus cuneifolia L.
Rhus dentata

Rhus dentata

Rhus dentata, Nana Berry , Nanabessie is a medium sized, deciduous tree, reaching a height of about 5 metres and a spread of 4 metres. It occurs naturally in almost the whole of South Africa except the Western and Northern Cape Provinces. Its habitat varies from sea level to the highlands of the...


Thunb.
Rhus discolor E.Mey. ex Sond.
Rhus dissecta Thunb.
Rhus divaricata Eckl. & Zeyh.
Rhus dracomontana Moffett
Rhus dregeana Sond.
Rhus dura Schönl.
Rhus engleri Britt.
Rhus erosa Thunb.
Rhus fastigiata Eckl. & Zeyh.
Rhus gerrardii

Rhus gerrardii

Rhus gerrardii is a deciduous, drought resistant tree, native to South Africa. It reaches a height of up to 5 metres. It is frost hardy and occurs naturally in mountain areas, often along riverbanks. The tree has a graceful drooping habit. It produces small yellowish flowers which, on female...


(Harv. ex Engl.) Diels.
Rhus glauca

Rhus glauca

Rhus glauca is a small tree or bush that is commonly found along the coastline of southern Africa. Although commonest near the coast, it is also found inland among fynbos vegetation....


Thunb.
Rhus gracillima Engl.
Rhus grandidens Harv. ex Engl.
Rhus gueinzii Sond.
Rhus harveyi Moffett
Rhus horrida Eckl. & Zeyh.
Rhus incisa L.f.
Rhus kirkii Oliv.
Rhus keetii Schönl.
Rhus krebsiana Presl ex Engl.
Rhus laevigata

Rhus laevigata

Rhus laevigata is a small, bushy, evergreen tree that occurs in fynbos and coastal shrub in South Africa. It looks very similar to its close relative Rhus glauca but has larger leaflets.-References:...


L.
Rhus lancea

Rhus lancea

Rhus lancea L.f. , commonly known as Karee in Hlokoshiyne Umhlakotshane Mokalaabata , is an evergreen, frost hardy, drought resistant tree, which can reach up to 8 metres in height with a 5 metre spread...


L.f. (syn. Searsia lancea)
Rhus leptodictya

Rhus leptodictya

Rhus leptodictya is known as Mountain Karee in English, Bergkaree in Afrikaans, and Mohlwehlwe in Sotho. An evergreen tree reaching a height of 5 metres and a similar spread, it is drought resistant but only semi frost hardy. It is an attractive small tree with a rounded crown and a pleasing...


Diels.
Rhus loemnodia Ruckt.
Rhus longispina Eckl. & Zeyh.
Rhus lucens Hutch.
Rhus lucida

Rhus lucida

Rhus lucida, Varnished Kuni-Rhus Blinktaaibos . This small tree has a distribution along the West Coast of South Africa from Saldanha Bay around the Cape and up the East Coast almost until the Mozambique border...


L.
Rhus macowanii Schönl.
Rhus magalismontana Sond.
Rhus maricoana Moffett
Rhus marlothii Engl.
Rhus microcarpa Schönl.
Rhus montana Diels
Rhus natalensis Bernh. ex Krauss
Rhus nebulosa Schönl.
Rhus pallens Eckl. & Zeyh.
Rhus pendulina

Rhus pendulina

Rhus pendulina, White Karee or Witkaree is a hardy, very fast growing, semi-deciduous tree. It occurs naturally along the Orange river and some of its tributaries. It is wind and drought resistant and has a pleasing, slightly drooping effect, somewhat similar to a Weeping Willow...


Jacq.
Rhus pentheri

Rhus pentheri

Rhus pentheri Common Crowberry Gewone Kraaibessie iNhlokoshiyane Mutasiri .Frost hardy tree reaching a height of up to 6 metres. The tree is mainly evergreen but loses its leaves in severe winters. It has olive-green foliage with dark brown bark and can be grown in either full sun or semi...


Zahlbr.
Rhus pondoensis Schönl.
Rhus populifolia E.Mey. ex Sond.
Rhus problematodes Merxm. & Roessl.
Rhus pterota Presl
Rhus pygmaea Moffett
Rhus pyroides

Rhus pyroides

Rhus pyroides is a species of Rhus, native to southern Africa...


Burch.
Rhus quartiniana A.Rich.
Rhus refracta Eckl. & Zeyh.
Rhus rehmanniana Engl.
Rhus rigida Mill.
Rhus rimosa Eckl. & Zeyh.
Rhus rogersii Schönl.
Rhus rosmarinifolia Vahl
Rhus rudatisii Engl.
Rhus scytophylla Eckl. & Zeyh.
Rhus sekhukhuniensis

Rhus sekhukhuniensis

Rhus sekhukhuniensis is a medium sized, deciduous tree, reaching a height of about 3 metres and a spread of 4 metres. It's endemic to Africa....


Moffett
Rhus stenophylla Eckl. & Zeyh.
Rhus tenuinervis Engl.
Rhus tomentosa

Rhus tomentosa

Rhus tomentosa , Real Wild Currant, Umhlakoti or Korentebos is a small, bushy, evergreen tree that occurs in fynbos and coastal shrub in South Africa. It is naturally most common in forest margins.The sprays of small greenish flowers emit an unpleasant smell that attracts flies...


L.
Rhus transvaalensis Engl.
Rhus tridactyla Burch.
Rhus tumulicola S.Moore
Rhus undulata Jacq.
Rhus volkii Suesseng.
Rhus wilmsii Diels.
Rhus zeyheri Sond.
Rhus sp. nov. A

Rhus sp. nov. A

Rhus sp. nov. A is a species of flowering plant in the cashew family, Anacardiaceae, that is endemic to the Socotra Archipelago in Yemen. It can be found on the rocky slopes of wadis in drought-deciduous woodlands and succulent shrublands.-Source:...


(Yemen

Yemen

The Republic of Yemen , commonly known as Yemen , is a country located in the Middle East, occupying the southwestern to southern end of the Arabian Peninsula. It is bordered by Saudi Arabia to the north, the Red Sea to the west, and Oman to the east....


's Socotra Archipelago

Socotra

Socotra , also spelt Soqotra, is a small archipelago of four islands in the Indian Ocean. The largest island, also called Socotra, is about 95% of the landmass of the archipelago. It lies some east of the Horn of Africa and south of the Arabian Peninsula. The island is very isolated and through...


)


Asia:

Rhus chinensis

Rhus chinensis

Rhus chinensis, the Chinese sumac or nutgall tree, is a plant species in the genus Rhus.The species is used to produce galls, called Chinese gall, Galla Chinensis or Wu Bei Zi in Chinese, which are rich in gallotannins, a type of hydrolysable tannins...


Mill.

Philip Miller

Philip Miller FRS was a Scottish botanist.Miller was chief gardener at the Chelsea Physic Garden from 1722 until he was pressured to retire shortly before his death...


- Chinese Sumac
Rhus hypoleuca
Rhus javanica
Rhus punjabensis - Punjab Sumac
Rhus verniciflua (syn. Toxicodendron vernicifluum, Lacquer Tree)
Rhus succedanea (syn. Toxicodendron succedaneum)



Australia, Pacific:

Rhus taitensis

Rhus taitensis

Rhus taitensis is a small tree or shrub in the sumac family of plants. It is found from tropical Asia, to Australia and many islands of the Pacific ocean. The chemical tetrahydroxysqualene from dried and ground parts of R...


Guill.

Jean Baptiste Antoine Guillemin

Jean Baptiste Antoine Guillemin was a French botanist.In 1812 he was apprenticed to a pharmacist in Dijon, and in 1814 moved to Geneva, where he studied with Jean Pierre Étienne Vaucher and Augustin Pyramus de Candolle...


(Northeast Australia

Australia

Australia , officially the Commonwealth of Australia, is a country in the Southern Hemisphere comprising the mainland of the Australian continent, the island of Tasmania, and numerous smaller islands in the Indian and Pacific Oceans. It is the world's sixth-largest country by total area...


, Malesia

Malesia

Malesia is a biogeographical region straddling the boundaries of the Indomalaya ecozone and Australasia ecozone, and also a phytogeographical floristic region in the Paleotropical Kingdom.-Floristic province:...


, Micronesia

Micronesia

Micronesia is a subregion of Oceania, comprising thousands of small islands in the western Pacific Ocean. It is distinct from Melanesia to the south, and Polynesia to the east. The Philippines lie to the west, and Indonesia to the southwest....


, French Polynesia

French Polynesia

French Polynesia is an overseas country of the French Republic . It is made up of several groups of Polynesian islands, the most famous island being Tahiti in the Society Islands group, which is also the most populous island and the seat of the capital of the territory...


)
Rhus sandwicensis

Rhus sandwicensis

Rhus sandwicensis, commonly known as Neneleau or Hawaiian Sumac, is a species of flowering plant in the cashew family, Anacardiaceae, that is endemic to Hawaii. It is small tree, reaching a height of and a trunk diameter of...


A.Gray

Asa Gray

-References:*Asa Gray. Dictionary of American Biography. American Council of Learned Societies, 1928–1936.*Asa Gray. Encyclopedia of World Biography, 2nd ed. 17 Vols. Gale Research, 1998.*Asa Gray. Plant Sciences. 4 vols. Macmillan Reference USA, 2001....


- Neneleau (Hawaii

Hawaii

Hawaii is the newest of the 50 U.S. states , and is the only U.S. state made up entirely of islands. It is the northernmost island group in Polynesia, occupying most of an archipelago in the central Pacific Ocean, southwest of the continental United States, southeast of Japan, and northeast of...


)



Mediterranean Basin:

Rhus coriaria

Rhus coriaria

Rhus coriaria, commonly called Elm-Leaved Sumach or Tanner's Sumach is a deciduous shrub to small tree in the Anacardiaceae or Cashew family, native to southern Europe. The dried fruit are used as a spice, particularly in combination with other spices in the mixture called Za'atar.- Uses :Caution...


- Tanner's Sumac
Rhus pentaphylla

Rhus pentaphylla

Rhus pentaphylla, the tizra tree, is a sumac shrub or small tree species in the genus Rhus found in North Africa, especially in Morroco. Its roots and heartwood are used to produce tannin of the condensed type....



Rhus tripartita



Eastern North America:

Rhus aromatica

Rhus aromatica

Rhus aromatica is a plant species in the family Anacardiaceae native to Canada and the United States....


- Fragrant Sumac
Rhus copallina

Rhus copallina

Rhus copallina , Shining Sumac or Winged Sumac, is a species of flowering plant in the cashew family that is native to eastern North America. It is a deciduous tree growing to tall and an equal spread with a rounded crown...


- Winged or Shining Sumac
Rhus glabra

Rhus glabra

Rhus glabra is a species of sumac in the family Anacardiaceae, native to North America, from southern Quebec west to southern British Columbia in Canada, and south to northern Florida and Arizona in the United States and Tamaulipas in northeastern Mexico.One of the easiest shrubs to identify...


- Smooth Sumac
Rhus lanceolata - Prairie Sumac
Rhus michauxii

Rhus michauxii

Rhus michauxii is a rare species of flowering plant in the cashew family known by the common names Michaux's sumac and false poison sumac. It is endemic to the southeastern United States, where it can be found in the states of Virginia, North Carolina, South Carolina and Georgia. It is threatened...


- Michaux's Sumac
Rhus typhina

Rhus typhina

The Staghorn Sumac is a deciduous shrub to small tree in the Anacardiaceae or Cashew family, native to eastern North America...


- Staghorn Sumac
Rhus toxicodendron (syn. Toxicodendron radicans, poison ivy

Poison ivy

Toxicodendron radicans, better known as poison ivy , is a poisonous North American plant that is well known for its production of urushiol, a clear liquid compound found within the sap of the plant that causes an itching rash in most people who touch it...


)
Rhus vernix (syn. Toxicodendron vernix, poison sumac

Poison Sumac

Poison sumac is a woody shrub or small tree growing to 7 m tall. All parts of the plant contain a resin called urushiol that causes skin and mucous membrane irritation to humans...


)



Western North America:

Rhus choriophylla - Mearn's Sumac (Arizona, New Mexico

New Mexico

New Mexico is a state located in the southwest and western regions of the United States. New Mexico is also usually considered one of the Mountain States. With a population density of 16 per square mile, New Mexico is the sixth-most sparsely inhabited U.S...


)
Rhus laurina (syn. Malosma laurina

Malosma

Malosma is a plant genus which contains only a single species, Malosma laurina, with the common names Laurel sumac and Lentisco ....


) - Laurel Sumac
Rhus integrifolia

Rhus integrifolia

Rhus integrifolia, also known as Lemonade Berry, Lemonadeberry, or Lemonade Sumac is a shrub to small tree. It is native to the Transverse and Peninsular Ranges and the South Coast regions of Southern California...


- Lemonade Sumac
Rhus glabra

Rhus glabra

Rhus glabra is a species of sumac in the family Anacardiaceae, native to North America, from southern Quebec west to southern British Columbia in Canada, and south to northern Florida and Arizona in the United States and Tamaulipas in northeastern Mexico.One of the easiest shrubs to identify...


- Smooth sumac
†Rhus malloryi Wolfe

Jack A. Wolfe

Jack Albert Wolfe was an American paleontologist best known for his studies of Tertiary climate in western North America through analysis of fossil angiosperm leaves.-External links:...


& Wehr

Wesley C. Wehr

Wesley Conrad Wehr was an American paleontologist and artist best known for his studies of Tertiary fossil floras in western North America, the Stonerose Interpretive Center, and as a part of the Northwest School of art.-Early life:...


Eocene

Eocene

The Eocene Epoch, lasting from about 56 to 34 million years ago , is a major division of the geologic timescale and the second epoch of the Paleogene Period in the Cenozoic Era. The Eocene spans the time from the end of the Palaeocene Epoch to the beginning of the Oligocene Epoch. The start of the...



Rhus microphylla

Rhus microphylla

Rhus microphylla is a species of sumac in the family Anacardiaceae, native to North America, in the southwestern United States and northern and central Mexico, from central and western Texas, southern New Mexico, central and northern regions of the Mexican Altiplano-, and extreme...


- Desert Sumac, Littleleaf Sumac
Rhus ovata

Rhus ovata

Rhus ovata, also known as Sugar Bush or Sugar Sumac, is an evergreen shrub to small tree that grows in chaparral in dry canyons and south-facing slopes below 1300 m in Southern California, Arizona and Baja California.-Distribution:...


- Sugar Sumac
Rhus trilobata

Rhus trilobata

Rhus trilobata is a shrub in the sumac genus with the common names sourberry, skunkbush, and three-leaf sumac. It is native to the western half of Canada and the Western United States, from the Great Plains to California and south through Arizona extending into northern Mexico...


Nutt.

Thomas Nuttall

Thomas Nuttall was an English botanist and zoologist, who lived and worked in America from 1808 until 1841....


- Skunkbush Sumac
Rhus virens - Evergreen Sumac



Mexico and Central America:

Rhus muelleri - Müller's Sumac (northeast Mexico)
External links