 Heath (habitat)
A
heath
or
heathland
is a dwarf-shrub
habitat
Habitat (ecology)
A habitat is an ecological or environmental area that is inhabited by a particular species of animal, plant or other type of organism...
found on mainly low quality
acid
Acid
An acid is a substance which reacts with a base. Commonly, acids can be identified as tasting sour, reacting with metals such as calcium, and bases like sodium carbonate. Aqueous acids have a pH of less than 7, where an acid of lower pH is typically stronger, and turn blue litmus paper red...
ic soils, characterised by open, low growing woody
vegetation
Vegetation
Vegetation is a general term for the plant life of a region; it refers to the ground cover provided by plants. It is a general term, without specific reference to particular taxa, life forms, structure, spatial extent, or any other specific botanical or geographic characteristics. It is broader...
, often
dominated
Dominance (ecology)
Ecological dominance is the degree to which a species is more numerous than its competitors in an ecological community, or makes up more of the biomass...
by plants of the
Ericaceae
Ericaceae
The Ericaceae, commonly known as the heath or heather family, is a group of mostly calcifuge flowering plants. The family is large, with roughly 4000 species spread across 126 genera, making it the 14th most speciose family of flowering plants...
. There are some clear differences between
heath
and
moorland
Moorland
Moorland or moor is a type of habitat, in the temperate grasslands, savannas, and shrublands biome, found in upland areas, characterised by low-growing vegetation on acidic soils and heavy fog...
. for example
moorland
has a very peaty topsoil, it is also free draining whereas a heath is not,
moorland
is generally related to high-ground heaths with — especially in Great Britain — a cooler and damper climate.
Heaths are widespread worldwide. They form extensive and highly diverse communities across
Australia
Australia
Australia , officially the Commonwealth of Australia, is a country in the Southern Hemisphere comprising the mainland of the Australian continent, the island of Tasmania, and numerous smaller islands in the Indian and Pacific Oceans. It is the world's sixth-largest country by total area...
in humid and sub-humid areas. Fire regimes with recurring burning are required for the maintenance of the heathlands. Even more diverse though less widespread heath communities occur in Southern Africa. Extensive heath communities can also be found in
California
California
California is a state located on the West Coast of the United States. It is by far the most populous U.S. state, and the third-largest by land area...
-
chaparral
Chaparral
Chaparral is a shrubland or heathland plant community found primarily in the U.S. state of California and in the northern portion of the Baja California peninsula, Mexico...
,
New Caledonia
New Caledonia
New Caledonia is a special collectivity of France located in the southwest Pacific Ocean, east of Australia and about from Metropolitan France. The archipelago, part of the Melanesia subregion, includes the main island of Grande Terre, the Loyalty Islands, the Belep archipelago, the Isle of...
, central
Chile
Chile
Chile ,officially the Republic of Chile , is a country in South America occupying a long, narrow coastal strip between the Andes mountains to the east and the Pacific Ocean to the west. It borders Peru to the north, Bolivia to the northeast, Argentina to the east, and the Drake Passage in the far...
and along the shores of the
Mediterranean Sea
Mediterranean Sea
The Mediterranean Sea is a sea connected to the Atlantic Ocean surrounded by the Mediterranean region and almost completely enclosed by land: on the north by Anatolia and Europe, on the south by North Africa, and on the east by the Levant...
. In addition to these extensive heath areas, the vegetation type is also found in scattered locations across all continents, except Antarctica.
Characteristics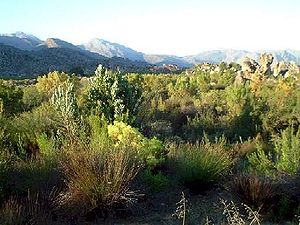 Heathland is favoured where climatic conditions are typically warm and dry, particularly in summer, and soils acidic, of low fertility, and often
sand
Sand
Sand is a naturally occurring granular material composed of finely divided rock and mineral particles.The composition of sand is highly variable, depending on the local rock sources and conditions, but the most common constituent of sand in inland continental settings and non-tropical coastal...
y and very free-draining;
mire
Miré
Miré is a commune in the Maine-et-Loire department in western France....
s do occur where drainage is poor, but are usually only small in extent. Heaths are dominated by low
shrub
Shrub
A shrub or bush is distinguished from a tree by its multiple stems and shorter height, usually under 5–6 m tall. A large number of plants may become either shrubs or trees, depending on the growing conditions they experience...
s, 0.2–2 m tall.
Heath vegetation is extremely plant-species rich, and heathlands of Australia are home to some 3,700 endemic or typical species in addition to numerous less restricted species. The
fynbos
Fynbos
Fynbos is the natural shrubland or heathland vegetation occurring in a small belt of the Western Cape of South Africa, mainly in winter rainfall coastal and mountainous areas with a Mediterranean climate...
heathlands of South Africa are second only to tropical rainforests in plant biodiversity with over 7,000 species. In marked contrast the tiny pockets of heathland in Europe are extremely depauperate with a flora consisting primarily of
heather
Calluna
Calluna vulgaris is the sole species in the genus Calluna in the family Ericaceae. It is a low-growing perennial shrub growing to tall, or rarely to and taller, and is found widely in Europe and Asia Minor on acidic soils in open sunny situations and in moderate shade...
(
Calluna vulgaris
),
heath
Erica
Erica ,the heaths or heathers, is a genus of approximately 860 species of flowering plants in the family Ericaceae. The English common names "heath" and "heather" are shared by some closely related genera of similar appearance....
(
Erica
species) and
gorse
Gorse
Gorse, furze, furse or whin is a genus of about 20 plant species of thorny evergreen shrubs in the subfamily Faboideae of the pea family Fabaceae, native to western Europe and northwest Africa, with the majority of species in Iberia.Gorse is closely related to the brooms, and like them, has green...
(
Ulex
species).
The bird fauna of heathlands are usually cosmopolitan species of the region. In the depauperate heathlands of Europe bird species tend to be more characteristic of the community and include
Montagu's Harrier
Montagu's Harrier
The Montagu's Harrier is a migratory bird of prey of the harrier family. Its common name commemorates the British naturalist George Montagu.-Plumage:...
, and the
Tree Pipit
Tree Pipit
Tree Pipit, Anthus trivialis, is a small passerine bird which breeds across most of Europe and temperate western and central Asia. It is a long-distance migrant moving in winter to Africa and southern Asia....
. In Australia the heathland avian fauna is dominated by nectar feeding birds such as
Honey-eaters
Honeyeater
The honeyeaters are a large and diverse family of small to medium sized birds most common in Australia and New Guinea, but also found in New Zealand, the Pacific islands as far east as Samoa and Tonga, and the islands to the north and west of New Guinea known as Wallacea...
and lorikeets although numerous other birds from
emu
Emu
The Emu Dromaius novaehollandiae) is the largest bird native to Australia and the only extant member of the genus Dromaius. It is the second-largest extant bird in the world by height, after its ratite relative, the ostrich. There are three subspecies of Emus in Australia...
s to
eagle
Eagle
Eagles are members of the bird family Accipitridae, and belong to several genera which are not necessarily closely related to each other. Most of the more than 60 species occur in Eurasia and Africa. Outside this area, just two species can be found in the United States and Canada, nine more in...
s are also common Australian heathlands. Australian heathlands are also home to the world's only nectar feeding terrestrial mammal: the
Honey Possum
Honey Possum
The honey possum or tait, its Native Australian name or noolbenger is a tiny Australian marsupial weighing just seven to eleven grams for the male, and eight to sixteen grams for the female—about half the weight of a mouse. Their physical size ranges from a body length of between 6.5 –...
. The bird fauna of the South African fynbos includes
sunbird
Sunbird
The sunbirds and spiderhunters are a family, Nectariniidae, of very small passerine birds. There are 132 species in 15 genera. The family is distributed throughout Africa, southern Asia and just reaches northern Australia. Most sunbirds feed largely on nectar, but also take insects and spiders,...
s warblers and siskins. Heathlands are also an excellent habitat for insects including
ant
Ant
Ants are social insects of the family Formicidae and, along with the related wasps and bees, belong to the order Hymenoptera. Ants evolved from wasp-like ancestors in the mid-Cretaceous period between 110 and 130 million years ago and diversified after the rise of flowering plants. More than...
s, moths, butterflies and wasps with many species being restricted entirely to it.
Anthropogenic heaths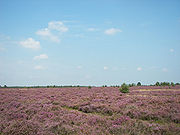 Anthropogenic heaths habitats are a
cultural landscape
Cultural landscape
Cultural Landscapes have been defined by the World Heritage Committee as distinct geographical areas or properties uniquely "..represent[ing] the combined work of nature and of man.."....
that can be found worldwide in locations as diverse as northern and western Europe, the
Americas
Americas
The Americas, or America , are lands in the Western hemisphere, also known as the New World. In English, the plural form the Americas is often used to refer to the landmasses of North America and South America with their associated islands and regions, while the singular form America is primarily...
, Australia,
New Zealand
New Zealand
New Zealand is an island country in the south-western Pacific Ocean comprising two main landmasses and numerous smaller islands. The country is situated some east of Australia across the Tasman Sea, and roughly south of the Pacific island nations of New Caledonia, Fiji, and Tonga...
,
Madagascar
Madagascar
The Republic of Madagascar is an island country located in the Indian Ocean off the southeastern coast of Africa...
and
New Guinea
New Guinea
New Guinea is the world's second largest island, after Greenland, covering a land area of 786,000 km2. Located in the southwest Pacific Ocean, it lies geographically to the east of the Malay Archipelago, with which it is sometimes included as part of a greater Indo-Australian Archipelago...
.
These heaths were originally created or expanded by centuries of human clearance of the natural
forest
Forest
A forest, also referred to as a wood or the woods, is an area with a high density of trees. As with cities, depending where you are in the world, what is considered a forest may vary significantly in size and have various classification according to how and what of the forest is composed...
and
woodland
Woodland
Ecologically, a woodland is a low-density forest forming open habitats with plenty of sunlight and limited shade. Woodlands may support an understory of shrubs and herbaceous plants including grasses. Woodland may form a transition to shrubland under drier conditions or during early stages of...
vegetation, by grazing and
burning
Wildfire
A wildfire is any uncontrolled fire in combustible vegetation that occurs in the countryside or a wilderness area. Other names such as brush fire, bushfire, forest fire, desert fire, grass fire, hill fire, squirrel fire, vegetation fire, veldfire, and wilkjjofire may be used to describe the same...
. In some cases this clearance went so far that parts of the heathland have given way to open spots of pure sand and sand dunes, with a very local desert climate that, even in Europe, can create local temperatures of 50 degrees Celsius in summer, drying the sand spot bordering the heathland and further raising its vulnerability for wildfires. Referring to heathland in England, Rackham says, "Heaths are clearly the product of human activities and need to be managed as heathland; if neglected they turn into woodland".
In recent years the conservation value of even these man-made heaths has become much more appreciated, and consequently most heathlands are protected. However they are also threatened by tree incursion because of the discontinuation of traditional management techniques such as grazing and burning that mediated the landscapes. Some are also threatened by
urban sprawl
Urban sprawl
Urban sprawl, also known as suburban sprawl, is a multifaceted concept, which includes the spreading outwards of a city and its suburbs to its outskirts to low-density and auto-dependent development on rural land, high segregation of uses Urban sprawl, also known as suburban sprawl, is a...
. Anthropogenic heathlands are maintained artificially by a combination of grazing and periodic burning (known as Swailing), or (rarely) mowing; if not so maintained, they are rapidly re-colonised by forest or woodland. The re-colonising tree species will depend on what is available as the local seed source, and thus it may not reflect the natural vegetation before the heathland became established.
See also
Bolster heath

Bolster heath

Bolster heath or cushion moorland is a type of vegetation community that features a patchwork of very low growing, tightly packed plants found at the limits of some alpine environments. The cushion plants form a smooth surfaced 'cushions' from several different plants, hence the common name of...



California chaparral and woodlands

California chaparral and woodlands

The California chaparral and woodlands is a terrestrial ecoregion of lower northern, central, and southern California and northwestern Baja California , located on the west coast of North America...



Chalk heath

Chalk heath

Chalk heath is a rare habitat, in the Temperate grasslands, savannas, and shrublands biome, formed of a paradoxical mixture of shallow-rooted calcifuge and deeper-rooted calcicole plants, growing on a thin layer of acidic soil over an alkaline substrate...



Fynbos

Fynbos

Fynbos is the natural shrubland or heathland vegetation occurring in a small belt of the Western Cape of South Africa, mainly in winter rainfall coastal and mountainous areas with a Mediterranean climate...



Garrigue

Garrigue

Garrigue or phrygana is a type of low, soft-leaved scrubland ecoregion and plant community in the Mediterranean forests, woodlands, and scrub biome. It is found on limestone soils around the Mediterranean Basin, generally near the seacoast, where the climate is ameliorated, but where annual summer...



Moorland

Moorland

Moorland or moor is a type of habitat, in the temperate grasslands, savannas, and shrublands biome, found in upland areas, characterised by low-growing vegetation on acidic soils and heavy fog...



Scrubland
Shrubland

Shrubland

Shrubland, scrubland, scrub or brush is a plant community characterized by vegetation dominated by shrubs, often also including grasses, herbs, and geophytes. Shrubland may either occur naturally or be the result of human activity...



Maquis shrubland

Maquis shrubland

thumb|220px|Low Maquis in Corsica.220px|thumb|High macchia in Sardinia.Maquis or macchia is a shrubland biome in the Mediterranean region, typically consisting of densely growing evergreen shrubs such as holm oak, tree heath, strawberry tree, sage, juniper, buckthorn, spurge olive and myrtle...



Matorral

Matorral

Matorral is a Spanish word, along with tomillares, for shrubland, thicket or bushes. It is used in naming and describing a Mediterranean climate ecosystem in Southern Europe.-Mediterranean region:...



External links