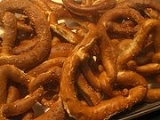 Pretzel
A
pretzel
is a type of baked food made from
dough
Dough
Dough is a paste made out of any cereals or leguminous crops by mixing flour with a small amount of water and/or other liquid. This process is a precursor to making a wide variety of foodstuffs, particularly breads and bread-based items , flatbreads, noodles, pastry, and similar items)...
in soft and hard varieties and savory or sweet flavors in a unique
knot
Knot
A knot is a method of fastening or securing linear material such as rope by tying or interweaving. It may consist of a length of one or several segments of rope, string, webbing, twine, strap, or even chain interwoven such that the line can bind to itself or to some other object—the "load"...
-like shape, originating in
Europe
Europe
Europe is, by convention, one of the world's seven continents. Comprising the westernmost peninsula of Eurasia, Europe is generally 'divided' from Asia to its east by the watershed divides of the Ural and Caucasus Mountains, the Ural River, the Caspian and Black Seas, and the waterways connecting...
. The pretzel shape is a distinctive symmetrical looped form, with the ends of a long strip of dough intertwine brought together and then twisted back onto itself in a certain way ("a pretzel loop"). Pretzels in stick form may also be called pretzels in the English-speaking context. For seasoning and decoration various glazes, salt crystals, sugar and various seeds or nuts can be used. The size varies from large enough for one to be a sufficient serving, to much smaller.
A bread pretzel popular in southern Germany and adjoining German-speaking areas, as well as in some areas of the United States, is made from wheat flour, water and yeast, usually sprinkled with coarse salt, hand-sized and made for consumption on the same day. It is relatively soft, rather than brittle. To avoid confusion with any other kind of pretzel, German speakers call this variety "Laugenbrezel" (lye pretzel) because it is dipped in lye solution (
NaOH
) before baking. Sweet
pastry
Pastry
Pastry is the name given to various kinds of baked products made from ingredients such as flour, sugar, milk, butter, shortening, baking powder and/or eggs. Small cakes, tarts and other sweet baked products are called "pastries."...
pretzels with many different textures, toppings and coatings, are made. Crisp hard pretzels, e.g. pretzel sticks and a variety of shapes basically made from the same ingredients, have evolved from the lye pretzel by baking out excess moisture, thereby increasing shelf life and crispness.
History
There are numerous accounts on the origin of the looped pretzels, as well as the origin of the name; most agree that they have Christian backgrounds and were invented by monks. According to
The History of Science and Technology
, by Bryan Bunch and Alexander Hellemans, in 610 AD "...an Italian monk invents pretzels as a reward to children who learn their prayers. He calls the strips of baked dough, folded to resemble arms crossing the chest, 'pretiola' ("little rewards")". However, no source is cited to back up these details. Another source locates the invention in a monastery in southern France. The looped pretzel may also be related to a
Greek
Greece
Greece , officially the Hellenic Republic , and historically Hellas or the Republic of Greece in English, is a country in southeastern Europe....
ring bread, derived from communion bread used in monasteries a thousand years ago. In Germany there are stories that pretzels were the invention of desperate bakers. Meyers Konversationslexikon from 1905 suspects the origin of pretzels in a ban of heathen baking traditions, such as in the form of a
sun cross
Sun cross
The sun cross, also known as the wheel cross, Odin's cross, or Woden's cross, a cross inside a circle, is a common symbol in artifacts of the Americas and Prehistoric Europe, particularly during the Neolithic to Bronze Age periods.-Stone Age:...
, at the Synod of Estinnes in the year 743. The pretzel may have emerged as a substitute. The German name "
Brezel
" may derive also from
Latin
Latin
Latin is an Italic language originally spoken in Latium and Ancient Rome. It, along with most European languages, is a descendant of the ancient Proto-Indo-European language. Although it is considered a dead language, a number of scholars and members of the Christian clergy speak it fluently, and...
bracellus
(a medieval term for "bracelet"), or
bracchiola
("little arms").
The pretzel has been in use as an emblem of bakers and formerly their
guild
Guild
A guild is an association of craftsmen in a particular trade. The earliest types of guild were formed as confraternities of workers. They were organized in a manner something between a trade union, a cartel, and a secret society...
s in southern German areas since at least the 12th century. A 12th-century illustration in the
Hortus deliciarum
Hortus deliciarum
Hortus deliciarum is a medieval manuscript compiled by Herrad of Landsberg at the Hohenburg Abbey in Alsace, better known today as Mont Sainte-Odile. It was an illuminated encyclopedia, begun in 1167 as a pedagogical tool for young novices at the convent. It is the first encyclopedia that was...
from the southwest German
Alsace
Alsace
Alsace is the fifth-smallest of the 27 regions of France in land area , and the smallest in metropolitan France. It is also the seventh-most densely populated region in France and third most densely populated region in metropolitan France, with ca. 220 inhabitants per km²...
region (today France) may contain the earliest depiction of a pretzel.
Within the Catholic church, pretzels were regarded as having religious significance for both ingredients and shape. Pretzels made with a simple recipe using only flour and water could be eaten during Lent, when Christians were forbidden to eat eggs, lard, or dairy products such as milk and butter. As time passed, pretzels became associated with both Lent and Easter. Pretzels were hidden on Easter morning just as eggs are hidden today, and are particularly associated with
Lent
Lent
In the Christian tradition, Lent is the period of the liturgical year from Ash Wednesday to Easter. The traditional purpose of Lent is the preparation of the believer – through prayer, repentance, almsgiving and self-denial – for the annual commemoration during Holy Week of the Death and...
, fasting, and prayers before
Easter
Easter
Easter is the central feast in the Christian liturgical year. According to the Canonical gospels, Jesus rose from the dead on the third day after his crucifixion. His resurrection is celebrated on Easter Day or Easter Sunday...
.
Like the holes in the hubs of round Swedish flat bread (which let them be hung on strings), the loops in pretzels may have served a practical purpose: bakers could hang them on sticks, for instance, projecting upwards from a central column, as shown in a painting by Job Berckheyde (1630–93) from around 1681.
German-speaking countries
Pretzel baking has most firmly taken root in southern Germany and adjoining German-speaking areas, and pretzels have been an integral part of German baking traditions for centuries.
The custom of using lye in baking is thought to have evolved by accident in the 19th century. A baker dropped a tray of pretzels ready for baking into a trough of lye, which was used for cleaning and disinfecting baking utensils. After baking the pretzels nevertheless, the appealing colour and renowned flavour was discovered. Lye pretzels are popular in southern Germany,
Alsace
Alsace
Alsace is the fifth-smallest of the 27 regions of France in land area , and the smallest in metropolitan France. It is also the seventh-most densely populated region in France and third most densely populated region in metropolitan France, with ca. 220 inhabitants per km²...
, Austria and German-speaking Switzerland as a variety of bread, a side dish or a snack, and come in many local varieties. Almost every region and even city has its own way of baking them. Examples for pretzel names in various German dialects are
Brezn
,
Bretzel
,
Brezzl
,
Brezgen
,
Bretzga
,
Bretzet
,
Bretschl
,
Kringel
,
Silserli
and
Sülzerli
. Baked for consumption on the same day, they are sold in every bakery and in special booths or stands in downtown streets. Often, they are sliced horizontally, buttered, and sold as
Butterbrezel
, or come with slices of cold meats or cheese.
Sesame
Sesame
Sesame is a flowering plant in the genus Sesamum. Numerous wild relatives occur in Africa and a smaller number in India. It is widely naturalized in tropical regions around the world and is cultivated for its edible seeds, which grow in pods....
,
poppy
Poppy seed
Poppy seed is an oilseed obtained from the opium poppy . The tiny kidney-shaped seeds have been harvested from dried seed pods by various civilizations for thousands of years...
,
sunflower
Sunflower
Sunflower is an annual plant native to the Americas. It possesses a large inflorescence . The sunflower got its name from its huge, fiery blooms, whose shape and image is often used to depict the sun. The sunflower has a rough, hairy stem, broad, coarsely toothed, rough leaves and circular heads...
,
pumpkin
Pumpkin
A pumpkin is a gourd-like squash of the genus Cucurbita and the family Cucurbitaceae . It commonly refers to cultivars of any one of the species Cucurbita pepo, Cucurbita mixta, Cucurbita maxima, and Cucurbita moschata, and is native to North America...
or caraway seeds, melted cheese and bacon bits are other popular toppings. Some bakeries offer pretzels made of different flours, such as whole wheat,
rye
Rye
Rye is a grass grown extensively as a grain and as a forage crop. It is a member of the wheat tribe and is closely related to barley and wheat. Rye grain is used for flour, rye bread, rye beer, some whiskeys, some vodkas, and animal fodder...
or
spelt
Spelt
Spelt is a hexaploid species of wheat. Spelt was an important staple in parts of Europe from the Bronze Age to medieval times; it now survives as a relict crop in Central Europe and northern Spain and has found a new market as a health food. Spelt is sometimes considered a subspecies of the...
. In Bavaria, lye pretzels accompany a main dish such as Weisswurst sausage. The same dough and baking procedure with lye and salt is used to make other kinds of "lye pastry" (
Laugengebäck
):
lye roll
Lye roll
thumb|right|Typical lye roll.Lye rolls are a baked specialty in Germany , Austria, and Switzerland. They are made by glazing bread rolls with a lye solution before baking...
s, buns, croissants and even loaves (
Laugenbrötchen
,
Laugenstangen
,
Laugencroissant

Croissant

A croissant is a buttery flaky pastry named for its distinctive crescent shape. It is also sometimes called a crescent, from the French word for "crescent". Croissants are made of a leavened variant of puff pastry...


s
,
Laugenbrot
). Yet, in some parts of
Bavaria
Bavaria
Bavaria, formally the Free State of Bavaria is a state of Germany, located in the southeast of Germany. With an area of , it is the largest state by area, forming almost 20% of the total land area of Germany...
, especially in lower Bavaria, unglazed "white" pretzels, sprinkled with salt and caraway seeds are still popular. Basically with the same ingredients, lye pretzels come in numerous local varieties. Sizes are usually similar; the main differences are the thickness of the dough, the content of fat and the degree of baking. Typical
Swabia
Swabia
Swabia is a cultural, historic and linguistic region in southwestern Germany.-Geography:Like many cultural regions of Europe, Swabia's borders are not clearly defined...
n pretzels, for example, have very thin "arms" and a "fat belly" with a split, and a higher fat content. The thicker part makes it easier to slice them for the use of sandwiches. In Bavarian pretzels, the arms are left thicker so they do not bake to a crisp and contain very little fat.
The pretzel shape is used for a variety of sweet pastries made of different kinds of dough (flaky, brittle, soft, crispy) with a variety of toppings (icing, nuts, seeds, cinnamon). Around Christmas they can be made of soft gingerbread ("
Lebkuchen
Lebkuchen
Lebkuchen is a traditional German baked Christmas treat, somewhat resembling gingerbread.Lebkuchen were invented by Medieval monks in Franconia, Germany in the 13th century. Lebkuchen bakers were recorded as early as 1296 in Ulm, and 1395 in Nürnberg...
") with chocolate coating.
In southern Germany and adjoining German-speaking areas pretzels have retained their original religious meanings and are still used in various traditions and festivals.
In some areas, on January 1, people give each other lightly sweetened yeast pretzels for good luck and good fortune. These "New-Years pretzels" are made in different sizes and can have a width of 50 centimetres (19.7 in) and more. Sometimes children visit their godparents to fetch their New Years pretzel. On May 1, love-struck boys used to paint a pretzel on the doors of the adored. On the other hand, an upside-down pretzel would have been a sign of disgrace. Especially Catholic areas, such as Austria, Bavaria or some parts of Swabia, know the "Palm pretzel" made for
Palm Sunday
Palm Sunday
Palm Sunday is a Christian moveable feast that falls on the Sunday before Easter. The feast commemorates Jesus' triumphal entry into Jerusalem, an event mentioned in all four Canonical Gospels. ....
celebrations. Sizes can range from 30 cm up to 1 metre and they can weigh up to 2.5 kg (6 lbs!). An old tradition on Palm Sunday dating back to 1533 is the outdoor pretzel market (
Brezgenmarkt
) in the Hungerbrunnen Valley near Heldenfingen.
In the
Rhineland
Rhineland
Historically, the Rhinelands refers to a loosely-defined region embracing the land on either bank of the River Rhine in central Europe....
region, sweet pretzels are made with pudding-filled loops (pudding pretzels).
On
Laetare Sunday
Laetare Sunday
Laetare Sunday , so called from the incipit of the Introit at Mass, "Laetare Jerusalem" , is a name often used to denote the fourth Sunday of the season of Lent in the Christian liturgical calendar...
in
Luxembourg
Luxembourg
Luxembourg , officially the Grand Duchy of Luxembourg , is a landlocked country in western Europe, bordered by Belgium, France, and Germany. It has two principal regions: the Oesling in the North as part of the Ardennes massif, and the Gutland in the south...
, the fourth Sunday in
Lent
Lent
In the Christian tradition, Lent is the period of the liturgical year from Ash Wednesday to Easter. The traditional purpose of Lent is the preparation of the believer – through prayer, repentance, almsgiving and self-denial – for the annual commemoration during Holy Week of the Death and...
, there is a festival called "Pretzel Sunday". Boys give their girlfriends pretzels or cakes in pretzel form. The size symbolizes how much he likes her. In return, if a girl wants to increase his attention, she will give him a decorated egg on Easter. The pretzel custom is reversed on Pretzel Sunday during
leap year
Leap year
A leap year is a year containing one extra day in order to keep the calendar year synchronized with the astronomical or seasonal year...
s. This custom also still exists in some areas of the
Swabian Alb
Swabian Alb
The Swabian Alps or Swabian Jura is a low mountain range in Baden-Württemberg, Germany, extending 220 km from southwest to northeast and 40 to 70 km in width. It is named after the region of Swabia....
.
On the same occasion in Rhenish Hesse and the Palatinate, people have parades carrying big pretzels mounted on colourful decorated poles.
Popular during Lent in
Biberach
Biberach
Biberach is the name of several locations in Germany.* Biberach an der Riss, a town in Upper Swabia* Biberach , which has Biberach an der Riss as its capital* Biberach, Baden, a municipality in the Ortenaukreis...
are "Lent pretzels", which are shortly boiled in water before baking and afterwards sprinkled with salt.
Schloss Burg
Schloss Burg
Burg Castle , located in Burg an der Wupper , is the largest reconstructed castle in North Rhine-Westphalia, Germany and a popular tourist attraction...
is renowned for a 200-year-old speciality, the "Burger pretzel". Its texture and flavour resembles
rusk
Rusk
A rusk is a hard, dry biscuit or a twice-baked bread. It is sometimes used as a baby teething food. In the United Kingdom, the name also refers to a wheat-based food additive.- Germany :The zwieback A rusk is a hard, dry biscuit or a twice-baked bread. It is sometimes used as a baby teething food....
or
zwieback
Zwieback
Zwieback is a type of crisp, sweetened bread, made with eggs and baked twice.It is sliced before it is baked a second time, which produces crisp, brittle slices that closely resemble melba toast...
. A local story says that the recipe came from a grateful Napoleonic soldier in 1795, whose wounds were treated by a baker's family in the little town of
Burg
Solingen
Solingen is a city in North Rhine-Westphalia, Germany. It is located on the northern edge of the region called Bergisches Land, south of the Ruhr area, and with a 2009 population of 161,366 is the second largest city in the Bergisches Land...
. The cultural importance of the pretzel for Burg is expressed by a monument in honour of the pretzel bakers, and by an 18-km hiking trail nearby called "Pretzel Hiking Trail".
A variety typical for Upper
Franconia
Franconia
Franconia is a region of Germany comprising the northern parts of the modern state of Bavaria, a small part of southern Thuringia, and a region in northeastern Baden-Württemberg called Tauberfranken...
is the "anise pretzel". The town of
Weidenberg
Weidenberg
Weidenberg is a municipality in the district of Bayreuth in Bavaria in Germany. The Ölschnitz river discharges near Weidenberg-Neunkirchen into the Red Main....
celebrates the "Pretzel weeks" during the
carnival
Carnival
Carnaval is a festive season which occurs immediately before Lent; the main events are usually during February. Carnaval typically involves a public celebration or parade combining some elements of a circus, mask and public street party...
season, when
anise
Anise
Anise , Pimpinella anisum, also called aniseed, is a flowering plant in the family Apiaceae native to the eastern Mediterranean region and Southwest Asia. Its flavor resembles that of liquorice, fennel, and tarragon.- Biology :...
flavored pretzels are served with special dishes such as cooked meat with horse radish or roast.
In the city of
Lübeck
Lübeck
The Hanseatic City of Lübeck is the second-largest city in Schleswig-Holstein, in northern Germany, and one of the major ports of Germany. It was for several centuries the "capital" of the Hanseatic League and, because of its Brick Gothic architectural heritage, is listed by UNESCO as a World...
, the 500-year old
guild
Guild
A guild is an association of craftsmen in a particular trade. The earliest types of guild were formed as confraternities of workers. They were organized in a manner something between a trade union, a cartel, and a secret society...
of boatmen on the Stecknitz Canal call their annual meetings in January
Kringelhöge
(Pretzelfun). The elaborate affair, with about 200 participants, is celebrated as a breakfast with beer, and includes Mass in the Lübeck Cathedral and a presentation of songs by a children's choir. In earlier times, the children were very poor, coming from an orphanage, and each received a
Kringel
(pretzel) as a reward. Hence, the name "Pretzelfun" was adopted, because this gift was considered a highlight. Today, the children come from schools, but they still get the pretzels.
The city of
Osnabrück
Osnabrück
Osnabrück is a city in Lower Saxony, Germany, some 80 km NNE of Dortmund, 45 km NE of Münster, and some 100 km due west of Hanover. It lies in a valley penned between the Wiehen Hills and the northern tip of the Teutoburg Forest...
celebrates the anniversary of the
Peace of Westphalia
Peace of Westphalia
The Peace of Westphalia was a series of peace treaties signed between May and October of 1648 in Osnabrück and Münster. These treaties ended the Thirty Years' War in the Holy Roman Empire, and the Eighty Years' War between Spain and the Dutch Republic, with Spain formally recognizing the...
(1648) and organizes an annual
hobby horse
Hobby horse (toy)
A hobby horse is a child's toy horse, particularly popular during the days before cars. Children played at riding a wooden hobby horse made of a straight stick with a small horse's head , and perhaps reins, attached to one end. The bottom end of the stick sometimes had a small wheel or wheels...
race for grade-four children. On finishing the race, they are presented with a sweet pretzel.
The lye pretzel is the theme for a number of festivals in Germany. The city of
Speyer
Speyer
Speyer is a city of Rhineland-Palatinate, Germany with approximately 50,000 inhabitants. Located beside the river Rhine, Speyer is 25 km south of Ludwigshafen and Mannheim. Founded by the Romans, it is one of Germany's oldest cities...
prides itself to be the "pretzel town", and around the second weekend of July, from Friday to Tuesday, it holds an annual
funfair
Funfair
A funfair or simply "fair" is a small to medium sized travelling show primarily composed of stalls and other amusements. Larger fairs such as the permanent fairs of cities and seaside resorts might be called a fairground, although technically this should refer to the land where a fair is...
and festival called "
Brezelfest
Speyer Brezelfest
The Speyer Brezelfest is an annual funfair and beer festival in honour of the pretzel in the city of Speyer, Germany, running the second weekend of July from Friday to Tuesday.-History:...
", which is the largest
beer festival
Beer festival
A Beer Festival is an organised event during which a variety of beers are available for tasting and purchase. Beer festivals are held in a number of countries...
in the
Upper Rhine
Upper Rhine
The Upper Rhine is the section of the Rhine in the Upper Rhine Plain between Basel, Switzerland and Bingen, Germany. The river is marked by Rhine-kilometers 170 to 529 ....
region, and attracts around 300,000 visitors. The festival includes a parade with over 100 bands, floats and clubs participating from the whole region, and 22,000 pretzels are thrown among the crowds. On the market square of Speyer, there is a fountain with a statue of a boy selling pretzels. The pretzel booths on the main street are permanently installed and were specially designed when the whole downtown area was redone for the 2000th anniversary. One-day pretzel fests and markets in other German towns are in Kirchhellen, a borough of
Bottrop
Bottrop
Bottrop is a city in west central Germany, on the Rhine-Herne Canal, in North Rhine-Westphalia. Located in the Ruhr industrial area, Bottrop adjoins Essen, Oberhausen, Gladbeck and Dorsten. The city had been a coal-mining and rail center and contains factories producing coal-tar derivatives,...
, or in
Kornwestheim
Kornwestheim
Kornwestheim is a town in the district of Ludwigsburg, Baden-Württemberg, Germany. It is situated about 10 km north of Stuttgart, and 5 km south of Ludwigsburg.-Entertainment:...
.
In 2003 and 2004, "Peace Pretzels" were baked for a UNICEF charity event and other charity purposes in Munich. Instead of the typical pretzel loop, they were made in the similar shape of a
peace symbol
Peace symbol
A number of peace symbols have been used in various cultures and contexts, one of the most ancient being the olive branch. The dove and olive branch was used by early Christians and was later adopted as a secular symbol. It was popularised by Pablo Picasso in 1949 and became widely used in the...
.
United States
In the 19th century, southern German and Swiss German immigrants introduced the pretzel to North America. The immigrants became known as the
Pennsylvania Dutch
Pennsylvania Dutch
Pennsylvania Dutch refers to immigrants and their descendants from southwestern Germany and Switzerland who settled in Pennsylvania in the 17th and 18th centuries...
, and in time, many handmade pretzel bakeries populated the central Pennsylvania countryside, and the pretzel's popularity spread.
In the 20th century, soft pretzels became extremely popular in other regions of the United States. Cities like Philadelphia,
Chicago
Chicago
Chicago is the largest city in the US state of Illinois. With nearly 2.7 million residents, it is the most populous city in the Midwestern United States and the third most populous in the US, after New York City and Los Angeles...
, and
New York
New York City
New York is the most populous city in the United States and the center of the New York Metropolitan Area, one of the most populous metropolitan areas in the world. New York exerts a significant impact upon global commerce, finance, media, art, fashion, research, technology, education, and...
became renowned for their soft pretzels. The key to success was the introduction of the new mass production methods of the industrialized age, which increased the availability and quantity, and the opening up of multiple points of distribution at schools, convenience and grocery stores, and entertainment venues such as movie theaters, arenas, concert halls, and sport stadiums. Prior to that, street vendors used to sell pretzels on street corners in wooden glass-enclosed cases.
In particular, it became iconic with Philadelphia and was established as a
cuisine of Philadelphia
Cuisine of Philadelphia
The cuisine of Philadelphia was shaped largely by the city's mixture of ethnicities, available foodstuffs and history. Certain foods have become iconic to the city. Invented in Philadelphia in the 1930s, the cheesesteak is the most well known icon of the city, and soft pretzels have become a part...
for snacking at school, work, or home, and considered by most to be a quick meal. The average Philadelphian today consumes about twelve times as many pretzels as the national average. The baking skill of the large immigrant
Italian American
Italian American
An Italian American , is an American of Italian ancestry. The designation may also refer to someone possessing Italian and American dual citizenship...
populations in Philadelphia played a significant role in pretzels being established as a local cuisine of Philadelphia. Other Italian centric populations in the USA have furthered the popularity of pretzel production and consumption.
Pennsylvania today is the center of American pretzel production for both the hard crispy and the soft bread types of pretzels.
Southeastern Pennsylvania
Delaware Valley
The Delaware Valley is a term used to refer to the valley where the Delaware River flows, along with the surrounding communities. This includes the metropolitan area centered on the city of Philadelphia. Such educational institutions as Delaware Valley Regional High School in Alexandria Township...
, with its large population of German background, is considered the birthplace of the American pretzel industry, and many pretzel bakers are still located in the area. Pennsylvania produces 80% of the nation's pretzels.
The annual United States pretzel industry is worth over $550 million. The average American consumes about 1.5 pound (0.680388555 kg) of pretzels per year.
The privately run "Pretzel Museum" opened in Philadelphia in 1993. In 2003,
Pennsylvania
Pennsylvania
The Commonwealth of Pennsylvania is a U.S. state that is located in the Northeastern and Mid-Atlantic regions of the United States. The state borders Delaware and Maryland to the south, West Virginia to the southwest, Ohio to the west, New York and Ontario, Canada, to the north, and New Jersey to...
Governor
Ed Rendell
Ed Rendell
Edward Gene "Ed" Rendell is an American politician who served as the 45th Governor of Pennsylvania. Rendell, a member of the Democratic Party, was elected Governor of Pennsylvania in 2002, and his term of office began January 21, 2003...
declared April 26 "National Pretzel Day" to acknowledge the importance of the pretzel to the state's history and economy. Philly Pretzel Factory stores offer a free pretzel to each customer on this day.
In Tell City, Indiana, the Tell City Pretzels originated over 100 years ago. In 1858 Casper Gloor, a baker from Switzerland settled in Tell City, Indiana. Gloor was a member of the Swiss Colonization Society. He soon became known for the pretzels that he baked from a recipe brought from Switzerland. Today, the recipe remains in use.
Hard pretzels originated in the United States, where, in 1850, the
Sturgis bakery
Sturgis Pretzel House
The Sturgis Pretzel House of Lititz, Pennsylvania, founded in 1861, is the oldest commercial pretzel bakery in the United States. The bakery remains active in pretzel production and is a tourist attraction.- History :...
in
Lititz, Pennsylvania
Lititz, Pennsylvania
Lititz is a borough in Lancaster County, Pennsylvania, 6 miles north of the city of Lancaster.-History:Lititz was founded by members of the Moravian Church in 1756, and was named after a castle in Bohemia near the village of Kunvald where the ancient Bohemian Brethren's Church had...
, became the first commercial hard pretzel bakery.
Snack food
Snack food
A snack is a portion of food oftentimes smaller than that of a regular meal, that is generally eaten between meals. Snacks come in a variety of forms including packaged and processed foods and items made from fresh ingredients at home....
hard pretzels were shaped as sticks (around 3 millimetre (0.118110236220472 in) thick and 12 centimetres (4.7 in) long), loops, braids, letters or little pretzels; they have become a popular snack in many countries around the world. A thicker variety of sticks can be 1 centimetre (0.393700787401575 in) thick; in the U. S. these are called
Bavaria
Bavaria
Bavaria, formally the Free State of Bavaria is a state of Germany, located in the southeast of Germany. With an area of , it is the largest state by area, forming almost 20% of the total land area of Germany...
n pretzels. Unlike the soft pretzels, these were durable when kept in an airtight environment and marketable in a variety of convenience stores. In Europe, snack food pretzels are usually sprinkled with salt, but also with sesame seed, poppy seed or cheese. In the U.S., they come in many varieties of flavors and different coatings, such as yogurt, chocolate, strawberry, mustard, cheese and others, and chocolate-covered hard pretzels are popular around Christmas time and given at gifts. The variety of shapes and sizes became contest of imagination in the marketing of the pretzels taste.
Mars, Incorporated
Mars, Incorporated
Mars, Incorporated is a worldwide manufacturer of confectionery, pet food, and other food products with US$30 billion in annual sales in 2010, and is ranked as the 5th largest privately held company in the United States by Forbes. Headquartered in McLean, unincorporated Fairfax County, Virginia,...
manufactures
M&M's
M&M's
M&M's are dragée-like "colorful button-shaped candies" produced by Mars, Incorporated...
with a small spherical pretzel covered in milk chocolate and
candy
Candy
Candy, specifically sugar candy, is a confection made from a concentrated solution of sugar in water, to which flavorings and colorants are added...
coated in all of the standard M&Ms colors (except yellow), called "Pretzel M&M's".
During the 1900s, people in Philadelphia would use the small slender pretzel stick as a common accompaniment to
ice cream
Ice cream
Ice cream is a frozen dessert usually made from dairy products, such as milk and cream, and often combined with fruits or other ingredients and flavours. Most varieties contain sugar, although some are made with other sweeteners...
or would crumble pretzels as a topping. This combination of cold sweet and salty taste was very popular for many years. Eventually this led to the development of an ice cream cone tasting like a pretzel.
1861:
Sturgis Pretzel House
Sturgis Pretzel House
The Sturgis Pretzel House of Lititz, Pennsylvania, founded in 1861, is the oldest commercial pretzel bakery in the United States. The bakery remains active in pretzel production and is a tourist attraction.- History :...
in
Lititz, Pennsylvania
Lititz, Pennsylvania
Lititz is a borough in Lancaster County, Pennsylvania, 6 miles north of the city of Lancaster.-History:Lititz was founded by members of the Moravian Church in 1756, and was named after a castle in Bohemia near the village of Kunvald where the ancient Bohemian Brethren's Church had...
becomes the first commercial pretzel bakery in the United States.
1889: The Anderson Pretzel Factory in
Lancaster, Pennsylvania
Lancaster, Pennsylvania
Lancaster is a city in the south-central part of the Commonwealth of Pennsylvania. It is the county seat of Lancaster County and one of the older inland cities in the United States, . With a population of 59,322, it ranks eighth in population among Pennsylvania's cities...
is founded. Today it calls itself the world's largest, producing 65 tons of pretzels daily.
1935: The Reading Pretzel Machinery Company introduced the first automatic pretzel twisting machine.
1963: The largest pretzel of its time, weighing 40
pounds
Pound (mass)
The pound or pound-mass is a unit of mass used in the Imperial, United States customary and other systems of measurement...
and measuring 5 feet across, is baked by Joseph Nacchio of the
Federal Pretzel Baking Company
Federal Pretzel Baking Company
Federal Pretzel Baking Company of South Philadelphia was the first large scale manufacturing soft pretzel factory in Philadelphia and the United States of America...
.
1978: The first machine-produced soft pretzel was created at Federal Pretzel Baking Company.
1993: The Pretzel Museum opens in Philadelphia, operated by the Nacchio family.
2003: Pennsylvania Governor Ed Rendell declares April 26 National Pretzel Day to acknowledge the importance of the pretzel to the state's history and economy.
Other countries
Although not as popular as among German speakers and Americans, the looped pretzel is known in other European countries and in other countries around the world. In the
Czech Republic
Czech Republic
The Czech Republic is a landlocked country in Central Europe. The country is bordered by Poland to the northeast, Slovakia to the east, Austria to the south, and Germany to the west and northwest....
, the pretzel is known as
preclík
, in Finland as
viipurinrinkeli
. The Spanish, French and Italians call it
pretzel
,
bretzel
or
brezel
, the Dutch favor sweet variants called
krakeling
, Norwegian and Danish call it a
kringle
, in Polish it is
precel
, in Serbian it is
pereca
, and in Hungarian it is
perec
. In Romania the pretzel is known as
covrigi
Covrigi
Covrigi is the plural form of the Romanian word covrig is the name of a type of Romanian salted pastry topped with poppy, sesame seeds or large salt grains, especially in the central area of the country, and the recipe does not contain any added sweetener...
and it's a very popular fast food in urban areas and also as a holiday gift in rural areas.
In Popular Culture
The pretzel has become an element in
Popular culture
both as a food staple and it's unique knotted twist shape which has inspired
idea
Idea
In the most narrow sense, an idea is just whatever is before the mind when one thinks. Very often, ideas are construed as representational images; i.e. images of some object. In other contexts, ideas are taken to be concepts, although abstract concepts do not necessarily appear as images...
s,
perspective
Perspective (cognitive)
Perspective in theory of cognition is the choice of a context or a reference from which to sense, categorize, measure or codify experience, cohesively forming a coherent belief, typically for comparing with another...
s,
attitude
Attitude (psychology)
An attitude is a hypothetical construct that represents an individual's degree of like or dislike for something. Attitudes are generally positive or negative views of a person, place, thing, or event— this is often referred to as the attitude object...
s,
meme
Meme
A meme is "an idea, behaviour or style that spreads from person to person within a culture."A meme acts as a unit for carrying cultural ideas, symbols or practices, which can be transmitted from one mind to another through writing, speech, gestures, rituals or other imitable phenomena...
s,
image
Image
An image is an artifact, for example a two-dimensional picture, that has a similar appearance to some subject—usually a physical object or a person.-Characteristics:...
s and other phenomena. Although historically, the pretzel has influenced culture it has more recently been heavily influenced by
mass media
Mass media
Mass media refers collectively to all media technologies which are intended to reach a large audience via mass communication. Broadcast media transmit their information electronically and comprise of television, film and radio, movies, CDs, DVDs and some other gadgets like cameras or video consoles...
with a collection of
Pretzel ideas
that continues to permeate
everyday lives
Everyday Life
Everyday Life is the first solo album made by Life MC of the British Hip Hop group Phi Life Cypher....
of the
society
Society
A society, or a human society, is a group of people related to each other through persistent relations, or a large social grouping sharing the same geographical or virtual territory, subject to the same political authority and dominant cultural expectations...
.
Landscape architecture

Landscape architecture

Landscape architecture is the design of outdoor and public spaces to achieve environmental, socio-behavioral, or aesthetic outcomes. It involves the systematic investigation of existing social, ecological, and geological conditions and processes in the landscape, and the design of interventions...


and sculpture

Sculpture

Sculpture is three-dimensional artwork created by shaping or combining hard materials—typically stone such as marble—or metal, glass, or wood. Softer materials can also be used, such as clay, textiles, plastics, polymers and softer metals...


memorialized the strong identity that the City of Philadelphia had with pretzel cuisine of local bakers and popularity in Philadelphia. The Philadelphia Recreation Department renamed in 2004 a facility formerly identified as Manayunk Park, located on the 4300 block of Silverwood Street as "Pretzel Park." The re-designed park includes pretzel like looped pathways and a public art

Public art

The term public art properly refers to works of art in any media that have been planned and executed with the specific intention of being sited or staged in the physical public domain, usually outside and accessible to all...


statue in the shape of a pretzel sculpted by Warren C. Holzman.
Municipal government adopts pretzel logo as trademark by the City of Freeport, Illinois, also known as "Pretzel City USA". The City got the name when the Billerbeck Bakery, which was established in 1869, flooded the local marketplace with an over abundance of cripsy baked pretzels.
Dance

Dance

Dance is an art form that generally refers to movement of the body, usually rhythmic and to music, used as a form of expression, social interaction or presented in a spiritual or performance setting....


steps developed in swing dancing became the "pretzel dance move", which dates back to the 1920s, where the African American

African American

African Americans are citizens or residents of the United States who have at least partial ancestry from any of the native populations of Sub-Saharan Africa and are the direct descendants of enslaved Africans within the boundaries of the present United States...


community developed the Charleston

Charleston (dance)

The Charleston is a dance named for the harbor city of Charleston, South Carolina. The rhythm was popularized in mainstream dance music in the United States by a 1923 tune called "The Charleston" by composer/pianist James P. Johnson which originated in the Broadway show Runnin' Wild and became one...


and the Lindy Hop

Lindy Hop

The Lindy Hop is an American social dance, from the swing dance family. It evolved in Harlem, New York City in the 1920s and '30s and originally evolved with the jazz music of that time. Lindy was a fusion of many dances that preceded it or were popular during its development but is mainly based...


, while dancing to contemporary jazz

Jazz

Jazz is a musical style that originated at the beginning of the 20th century in African American communities in the Southern United States. It was born out of a mix of African and European music traditions. From its early development until the present, jazz has incorporated music from 19th and 20th...


music. It "move" was also adopted by salsa dancing. Video instruction tutorial.
Furniture Design inspired Pretzel Chair designed in 1952 by George Nelson

George Nelson (designer)

George Nelson was a noted American industrial designer, and one of the founders of American Modernism. While Director of Design for the Herman Miller furniture company both Nelson, and his design studio, George Nelson Associates, Inc., designed much of the 20th century's most iconic modernist...


, who was an influential figure in American design during the second half of the twentieth century. During the 1950s, designers developed for him an expressive range of seating pieces, several of which have achieved classic status.
Amusement ride

Amusement ride

Amusement rides are large mechanical devices that move people to create enjoyment. They are frequently found at amusement parks, traveling carnivals, and funfairs.-Notable types:*Afterburner*Ali Baba*Balloon Race*Booster...


of the Pretzel Loop design in Roller coaster elements

Roller coaster elements

Roller coasters are composed of various elements, the individual parts of the design and operation, such as a track, hill, loop, turn, etc. Variations in normal track movement that add thrill or excitement to the ride are often called "thrill elements."...


maximizes the g-forces on riders, increasing the "thrill element" of riding a roller coaster. On a pretzel loop, riders are upside down at the beginning, and on their backs and going backwards at the bottom. The riders then regain normal flying position at the exit of the loop. This design is an attraction at major amusement parks in the USA.
Fashion

Fashion

Fashion, a general term for a currently popular style or practice, especially in clothing, foot wear, or accessories. Fashion references to anything that is the current trend in look and dress up of a person...


inspired sling bikini

Bikini

The bikini is typically a women's two-piece swimsuit. One part of the attire covers the breasts and the other part covers the crotch and part of or the entire buttocks, leaving an uncovered area between the two. Merriam–Webster describes the bikini as "a woman's scanty two-piece bathing suit" or "a...


is a pretzel bathing suit design emerged in the early 1990s, as a new fashion product of Spandex

Spandex

Spandex or elastane is a synthetic fibre known for its exceptional elasticity. It is strong, but less durable than natural Latex, its major non-synthetic competitor. It is a polyurethane-polyurea copolymer that was co-invented in 1959 by chemists C. L. Sandquist and Joseph Shivers at DuPont's...


. It is a bikini variant, haltered maillot that criss-crosses the front and fastens to the waistline. With the advent of the 1990s fabric known as Lycra, these bikinis first emerged and became most popular on the beaches of Europe, including Saint Tropez, Marabella

Marabella

Marabella is a former town in southern Trinidad, between San Fernando and Pointe-à-Pierre . Originally a separate town, it was incorporated into the City of San Fernando in the 1990s....


, Mykonos

Mykonos

Mykonos is a Greek island, part of the Cyclades, lying between Tinos, Syros, Paros and Naxos. The island spans an area of and rises to an elevation of at its highest point. There are 9,320 inhabitants most of whom live in the largest town, Mykonos, which lies on the west coast. The town is also...


and Ibiza

Ibiza

Ibiza or Eivissa is a Spanish island in the Mediterranean Sea 79 km off the coast of the city of Valencia in Spain. It is the third largest of the Balearic Islands, an autonomous community of Spain. With Formentera, it is one of the two Pine Islands or Pityuses. Its largest cities are Ibiza...


.
Recordings of music in "Pretzel Logic

Pretzel Logic (song)

"Pretzel Logic" is a single released by Steely Dan from their album Pretzel Logic, originally released in 1974 by ABC Records. In the lyrics, the speaker describes wanting to visit the Southern United States with a minstrel show, wanting to meet Napoleon Bonaparte because Napoleon is lonely, and...


" is the name of a single released by the pop music group Steely Dan

Steely Dan

Steely Dan is an American rock band; its core members are Donald Fagen and Walter Becker. The band's popularity peaked in the late 1970s, with the release of seven albums blending elements of jazz, rock, funk, R&B, and pop...


from their album Pretzel Logic

Pretzel Logic

Pretzel Logic is the third studio album by the American jazz-rock band Steely Dan, originally released in 1974. The album's opening song, "Rikki Don't Lose That Number", became the band's biggest hit, reaching #4 on the charts soon after the release of the album. The album itself went gold, and...


, originally released in 1974. Pretzel Nugget

Pretzel Nugget

Pretzel Nugget is a 1994 EP by the Beastie Boys, released on the Grand Royal records label. Almost every song on the EP is from the contemporary album, Ill Communication, with the exception of "Mullet Head", which appeared only on Japanese versions as a bonus track.-Track listing:#"Sabotage" -...


is a 1994 EP

Extended play

An EP is a musical recording which contains more music than a single, but is too short to qualify as a full album or LP. The term EP originally referred only to specific types of vinyl records other than 78 rpm standard play records and LP records, but it is now applied to mid-length Compact...


by the Beastie Boys

Beastie Boys

Beastie Boys are an American hip hop trio from New York City. The group consists of Mike D who plays the drums, MCA who plays the bass, and Ad-Rock who plays the guitar....


, released on the Grand Royal records label.
Musical Instrument

Musical instrument

A musical instrument is a device created or adapted for the purpose of making musical sounds. In principle, any object that produces sound can serve as a musical instrument—it is through purpose that the object becomes a musical instrument. The history of musical instruments dates back to the...


French horns are sometimes called "pretzels" by their players, and a "pretzel bender" can mean a musician who plays one, a wrestler, or a man who drinks too much.
Americans use the phrase "pretzel logic" in reference to political thinking in government actions that are looped without an outcome. This is similar to the term "circular logic", only more confusing.
Recording media in the 1990s American TV situation comedy

Situation comedy

A situation comedy, often shortened to sitcom, is a genre of comedy that features characters sharing the same common environment, such as a home or workplace, accompanied with jokes as part of the dialogue...


Seinfeld

Seinfeld

Seinfeld is an American television sitcom that originally aired on NBC from July 5, 1989, to May 14, 1998, lasting nine seasons, and is now in syndication. It was created by Larry David and Jerry Seinfeld, the latter starring as a fictionalized version of himself...


was responsible for several new pop culture expressions. TV series supporting actor Cosmo Kramer landed a speaking part in a Woody Allen

Woody Allen

Woody Allen is an American screenwriter, director, actor, comedian, jazz musician, author, and playwright. Allen's films draw heavily on literature, sexuality, philosophy, psychology, Jewish identity, and the history of cinema...


film, and he practiced his line with his co-stars Jerry, Elaine, and George. The line was "these pretzels are making me thirsty." Eventually, the phrase is used as a general expression of frustration by cast members and repeated in the media.
Literature

Literature

Literature is the art of written works, and is not bound to published sources...


as a concept David Brenner

David Brenner

David Brenner is an American standup comedian, actor, author, and filmmaker.-Career:Born and raised in poor areas of Philadelphia, Brenner found comedy a major source of relief from the daily trials and tribulations he faced in his youth. His neighborhood has been one of the top-ranked crime...


, an international comedian born in Philadelphia called his memoir 1983 book Soft Pretzels With Mustard. He adopted the ultimate street food as the title because this humble twist of bread seemed indigenously Philadelphian; and while growing up there, it symbolized his cultural roots.
Phrase

Phrase

In everyday speech, a phrase may refer to any group of words. In linguistics, a phrase is a group of words which form a constituent and so function as a single unit in the syntax of a sentence. A phrase is lower on the grammatical hierarchy than a clause....


coined in Philadelphia "Pretzelphyte" meaning a follower loyal to soft pretzels; or a soft pretzel aficionado.
Metaphysical

Metaphysical

Metaphysical may refer to:*Metaphysics, a branch of philosophy dealing with aspects of existence and the theory of knowledge*The supernatural...


context in 1609, the German astronomer Johannes Kepler

Johannes Kepler

Johannes Kepler was a German mathematician, astronomer and astrologer. A key figure in the 17th century scientific revolution, he is best known for his eponymous laws of planetary motion, codified by later astronomers, based on his works Astronomia nova, Harmonices Mundi, and Epitome of Copernican...


stated that "If one puts all of this information together in one bundle, and at the same time believes that the sun truly moves across the Zodiac over the space of a year, as Ptolemy

Ptolemy

Claudius Ptolemy , was a Roman citizen of Egypt who wrote in Greek. He was a mathematician, astronomer, geographer, astrologer, and poet of a single epigram in the Greek Anthology. He lived in Egypt under Roman rule, and is believed to have been born in the town of Ptolemais Hermiou in the...


and Tycho Brahe

Tycho Brahe

Tycho Brahe , born Tyge Ottesen Brahe, was a Danish nobleman known for his accurate and comprehensive astronomical and planetary observations...


believed, then it is necessary to concede that the circuits of the three above planets through ethereal space are, as it were, a complex of several movements, that they are actually twisted; not like piled-up cord, with coils in a sequential order, but rather in the image of a lenten bread, as the following diagram shows..." (panis quadragesimalis or lenten bread is a pretzel).
Automobile

Automobile

An automobile, autocar, motor car or car is a wheeled motor vehicle used for transporting passengers, which also carries its own engine or motor...


design in the early 1950s, the Volkswagen Beetle

Volkswagen Beetle

The Volkswagen Type 1, widely known as the Volkswagen Beetle or Volkswagen Bug, is an economy car produced by the German auto maker Volkswagen from 1938 until 2003...


was nicknamed "Pretzel Beetle" because of its rear window.
Environmental design cause of its shape, the pretzel gave its name to an inflatable United Nations research platform, "SolVin-Pretzel", which is placed in the canopy of rainforests.
See also
External links