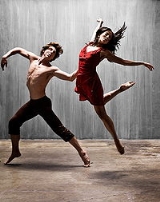 Dance
Dance
is an art form that generally refers to
movement
Motion (physics)
In physics, motion is a change in position of an object with respect to time. Change in action is the result of an unbalanced force. Motion is typically described in terms of velocity, acceleration, displacement and time . An object's velocity cannot change unless it is acted upon by a force, as...
of the body, usually rhythmic and to music, used as a form of
expression
Emotional expression
In psychology, emotional expression is observable verbal and nonverbal behaviour that communicates emotion. Emotional expression can occur with or without self-awareness...
,
social
Social
The term social refers to a characteristic of living organisms...
interaction
Interpersonal relationship
An interpersonal relationship is an association between two or more people that may range from fleeting to enduring. This association may be based on limerence, love, solidarity, regular business interactions, or some other type of social commitment. Interpersonal relationships are formed in the...
or presented in a
spiritual
Spirituality
Spirituality can refer to an ultimate or an alleged immaterial reality; an inner path enabling a person to discover the essence of his/her being; or the "deepest values and meanings by which people live." Spiritual practices, including meditation, prayer and contemplation, are intended to develop...
or
performance
Performance
A performance, in performing arts, generally comprises an event in which a performer or group of performers behave in a particular way for another group of people, the audience. Choral music and ballet are examples. Usually the performers participate in rehearsals beforehand. Afterwards audience...
setting.
Dance may also be regarded as a form of
nonverbal communication
Nonverbal communication
Nonverbal communication is usually understood as the process of communication through sending and receiving wordless messages. Messages can be communicated through gestures and touch , by body language or posture, by facial expression and eye contact...
between humans, and is also performed by other
animal
Animal
Animals are a major group of multicellular, eukaryotic organisms of the kingdom Animalia or Metazoa. Their body plan eventually becomes fixed as they develop, although some undergo a process of metamorphosis later on in their life. Most animals are motile, meaning they can move spontaneously and...
s (bee dance,
patterns of behaviour
Fixed action pattern
In ethology, a fixed action pattern , or modal action pattern, is an instinctive behavioral sequence that is indivisible and runs to completion...
such as a mating dance).
Gymnastics
Gymnastics
Gymnastics is a sport involving performance of exercises requiring physical strength, flexibility, agility, coordination, and balance. Internationally, all of the gymnastic sports are governed by the Fédération Internationale de Gymnastique with each country having its own national governing body...
,
figure skating
Figure skating
Figure skating is an Olympic sport in which individuals, pairs, or groups perform spins, jumps, footwork and other intricate and challenging moves on ice skates. Figure skaters compete at various levels from beginner up to the Olympic level , and at local, national, and international competitions...
and
synchronized swimming
Synchronized swimming
Synchronized swImming is a hybrid form of swimming, dance and gymnastics, consisting of swimmers performing a synchronized routine of elaborate moves in the water, accompanied by music....
are
sport
Sport
A Sport is all forms of physical activity which, through casual or organised participation, aim to use, maintain or improve physical fitness and provide entertainment to participants. Sport may be competitive, where a winner or winners can be identified by objective means, and may require a degree...
s that incorporate dance, while
martial arts
Martial arts
Martial arts are extensive systems of codified practices and traditions of combat, practiced for a variety of reasons, including self-defense, competition, physical health and fitness, as well as mental and spiritual development....
kata are often compared to dances.
I have no desire to prove anything by it. I have never used it as an outlet or a means of expressing myself. I just dance.

Fred Astaire, Steps in Time (1959), p325.
On with the dance! let joy be unconfined; No sleep till morn, when Youth and Pleasure meet To chase the glowing hours with flying feet.

Lord Byron, Childe Harold's Pilgrimage, Canto III (1816), Stanza 22.
There comes a pause, for human strength Will not endure to dance without cessation; And everyone must reach the point at length Of absolute prostration.

Lewis Carroll, Four Riddles, no. 1 (1869); reprinted in Phantasmagoria and Other Poems (1919)
Yes, to dance beneath the diamond sky with one hand waving free, Silhouetted by the sea, circled by the circus sands, With all memory and fate driven deep beneath the waves, Let me forget about today until tomorrow.

Bob Dylan, "Mr. Tambourine Man|Mr. Tambourine Man", Bringing It All Back Home|Bringing It All Back Home (1965)
At the still point of the turning world. Neither flesh nor fleshless; Neither from nor towards; at the still point, there the dance is, But neither arrest nor movement. And do not call it fixity, Where past and future are gathered. Neither movement from nor towards, Neither ascent nor decline. Except for the point, the still point, There would be no dance, and there is only the dance.

T.S. Eliot, The Four Quartets, "Burnt Norton", II
We look at the dance to impart the sensation of living in an affirmation of life, to energize the spectator into keener awareness of the vigor, the mystery, the humor, the variety, and the wonder of life. This is the function of the American dance.

Martha Graham, "The American Dance", in Modern Dance, ed. Virginia Stewart (1935)
Ich würde nur an einen Gott glauben, der zu tanzen verstünde.

I would only believe in a God that knows how to dance.
It is sweet to dance to violins When Love and Life are fair: To dance to flutes, to dance to lutes Is delicate and rare: But it is not sweet with nimble feet To dance upon the air!

Oscar Wilde, The Ballad of Reading Gaol (1898), Pt. II, st. 9
O body swayed to music, O brightening glance, How can we know the dancer from the dance?

William Butler Yeats, "Among School Children" st. 8, The Tower (1928)