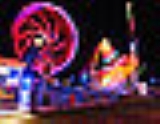 Funfair

A
funfair
or simply "fair" (e.g., "
county
County
A county is a jurisdiction of local government in certain modern nations. Historically in mainland Europe, the original French term, comté, and its equivalents in other languages denoted a jurisdiction under the sovereignty of a count A county is a jurisdiction of local government in certain...
fair", "state fair") is a small to medium sized travelling
show
Show
Show may refer to:* Show , 1993* Show , 2003* Show , 1994* Show , an Australian fair* Show , a judged event in the hobby of animal fancy** Conformation dog show...
primarily composed of stalls and other
amusements
Amusement ride
Amusement rides are large mechanical devices that move people to create enjoyment. They are frequently found at amusement parks, traveling carnivals, and funfairs.-Notable types:*Afterburner*Ali Baba*Balloon Race*Booster...
. Larger fairs such as the permanent fairs of cities and seaside resorts might be called a
fairground
, although technically this should refer to the land where a fair is traditionally held. The word
fair
comes from the Latin word
feria
, meaning a holiday.
Organization
In the UK and much of Europe, individual rides and stalls are run by different, independent showmen who all converge for the duration of the fair, then often go their separate ways to set up at fairs in other towns.
In the United States, regional companies own large numbers of rides and games, and book schedules of fairs with multiple
units
of machinery and staff. They are typically on the road throughout a season that runs from mid-February through December, usually beginning in the southern US and traveling north as summer approaches, then becoming active again in the south with the arrival of cooler fall weather. The relative costs and profitability of such long-distance operations are largely impacted by fuel prices; when prices are unusually high, smaller operators often resort to spending long stretches in shopping mall parking lots, drumming up what business they can as they accumulate additional funds, or wait for prices to fall.
Attractions
Fairs contain a mixture of attractions which can be divided into the categories of adult, teenager and child; usually including thrill rides, children's rides,
sideshow
Sideshow
In America, a sideshow is an extra, secondary production associated with a circus, carnival, fair or other such attraction.- Types of attractions :There are four main types of classic sideshow attractions:...
s and sidestalls. Originally a fair would also have had a significant number of
market
Market
A market is one of many varieties of systems, institutions, procedures, social relations and infrastructures whereby parties engage in exchange. While parties may exchange goods and services by barter, most markets rely on sellers offering their goods or services in exchange for money from buyers...
stalls, but today this is rare and most sidestalls only offer food or games. The first fairground rides began to appear in the eighteenth century, these were small and made of wood and propelled by gangs of boys. In 1868, Frederick Savage, an agricultural engineer from Kings Lynn, devised a method of driving rides by steam. His invention, a steam engine mounted in the centre of the ride, transformed the fairground industry.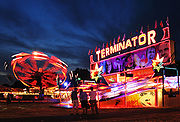 Thrill rides
There is a core set of thrill rides which are common at fairs and which most funfairs have. These include the Sizzler Twist,
The Gravitron
Gravitron
The Gravitron is an amusement ride, most commonly found as a portable ride at fairs and carnivals. The Gravitron first appeared at Morey's Piers in 1983 and quickly became a fixture at amusement parks in many countries. It is a modification of an earlier ride called the Rotor...
,
Booster
Speed (ride)
Speed is an amusement ride design produced by the Dutch company KMG. It is commonly referred to as KMG Booster, due to its similarity with the Fabbri Booster ride....
,
Freak Out
Freak Out (ride)
A Freak Out is a pendulum-based fairground ride. It is a smaller version of the Afterburner ride; both of which are manufactured by KMG of the Netherlands.The riders sit facing each other on chairs suspended around the bob on the pendulum...
, Miami and the Top Spin.
There is constant innovation, with new variations on ways to spin and throw passengers around, in an effort to attract customers. With the requirement that rides be packed into one or more trailers for travel, there is a limit to the size of the rides, and funfairs struggle to compete with much larger attractions, such as
roller coaster
Roller coaster
The roller coaster is a popular amusement ride developed for amusement parks and modern theme parks. LaMarcus Adna Thompson patented the first coasters on January 20, 1885...
s, found in
amusement park
Amusement park
thumb|Cinderella Castle in [[Magic Kingdom]], [[Disney World]]Amusement and theme parks are terms for a group of entertainment attractions and rides and other events in a location for the enjoyment of large numbers of people...
s. See also amusement rides.
Roller coasters
Some fairs may feature compact roller coasters to attract teenagers and preteens. Roller coasters feature steep drops, sharp curves, and sometimes loops. Roller coasters are generally the most attractive aspect of a fair, but many people come for other reasons. Fairs usually only feature one or two coasters.
Children's rides
Funfairs are seen as family entertainment, and most include a significant number of children's rides designed for children from 2 – 10 years old. Many of these are smaller, slower versions of the adult rides, such as merry-go-rounds, teacup rides and
Ferris wheel
Ferris wheel
A Ferris wheel is a nonbuilding structure consisting of a rotating upright wheel with passenger cars attached to the rim in such a way that as the wheel turns, the cars are kept upright, usually by gravity.Some of the largest and most modern Ferris wheels have cars mounted on...
s. Such rides are usually referred to as "kiddie rides" or "juveniles". Others are simple
train ride
Train ride
A train ride in an amusement park, or a municipal park setting, is a small ride consisting of a miniature train, often running on a permanent or portable track, but sometimes without any track whatsoever. In the latter case, the "trains" are simulated by connecting railroad-like cars behind an...
s, slides, mirror mazes and variations on the bouncy castle.
Sideshows
In the 19th century, before the development of mechanical attractions, sideshows were the mainstay of most funfairs. Typical shows included
menagerie
Menagerie
A menagerie is/was a form of keeping common and exotic animals in captivity that preceded the modern zoological garden. The term was first used in seventeenth century France in reference to the management of household or domestic stock. Later, it came to be used primarily in reference to...
s of wild animals,
freak show
Freak show
A freak show is an exhibition of biological rarities, referred to as "freaks of nature". Typical features would be physically unusual humans, such as those uncommonly large or small, those with both male and female secondary sexual characteristics, people with other extraordinary diseases and...
s, wax works,
boxing
Tent boxing
Tent boxing, an amusement commonly seen at agricultural shows throughout Australia between the 1920s and the 1960s is an old Australian tradition that is barely kept alive today...
/
wrestling
Wrestling
Wrestling is a form of grappling type techniques such as clinch fighting, throws and takedowns, joint locks, pins and other grappling holds. A wrestling bout is a physical competition, between two competitors or sparring partners, who attempt to gain and maintain a superior position...
challenges and
theatrical shows
Theatre
Theatre is a collaborative form of fine art that uses live performers to present the experience of a real or imagined event before a live audience in a specific place. The performers may communicate this experience to the audience through combinations of gesture, speech, song, music or dance...
.
Up until the 1960s, boxing shows were a common feature of British fairs, but they went into decline when in 1947 the
British Boxing Board of Control
British Boxing Board of Control
The British Boxing Board of Control is the governing body of professional boxing in the United Kingdom. It was formed in 1929 from the old National Sporting Club and is headquartered in Cardiff.- Councils :...
prohibited appearances of licensed members in fairground boxing booths. An echo of the boxing booth remains with boxing or punchball machines being common around fairgrounds. The last travelling boxing booth was still making annual visits to the
Great Dorset Steam Fair
Great Dorset Steam Fair
The Great Dorset Steam Fair is an annual show featuring steam-powered vehicles and machinery. It now covers and runs for five days from the Wednesday after the UK August bank holiday...
until 2006. The owner, Ronnie Taylor, died a few weeks before the 2006 show, and the future of this unique attraction is uncertain.
After
World War II
World War II
World War II, or the Second World War , was a global conflict lasting from 1939 to 1945, involving most of the world's nations—including all of the great powers—eventually forming two opposing military alliances: the Allies and the Axis...
, sideshows featuring
burlesque
American burlesque
American Burlesque is a genre of variety show. Derived from elements of Victorian burlesque, music hall and minstrel shows, burlesque shows in America became popular in the 1860s and evolved to feature ribald comedy and female striptease...
and
striptease
Striptease
A striptease is an erotic or exotic dance in which the performer gradually undresses, either partly or completely, in a seductive and sexually suggestive manner...
performances also declined with the general relaxation of censorship legislation.
Sidestalls and games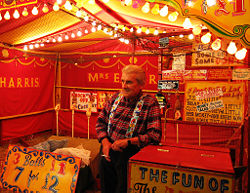 Most stalls feature games of skill or strength. The most traditional example being the
coconut shy
Coconut shy
A coconut shy is a traditional game, originally known as 'The love grove alley', frequently found as a sidestall at funfairs and fêtes. The game consists of throwing wooden balls at a row of coconuts balanced on posts. Typically a player buys three balls and wins each coconut successfully dislodged...
in which players throw balls at
coconut
Coconut
The coconut palm, Cocos nucifera, is a member of the family Arecaceae . It is the only accepted species in the genus Cocos. The term coconut can refer to the entire coconut palm, the seed, or the fruit, which is not a botanical nut. The spelling cocoanut is an old-fashioned form of the word...
s balanced on posts, winning the coconut if they manage to dislodge it.
Other sidestalls range from the trivially easy, such as hooking
rubber duck
Rubber duck
A rubber duck is a toy shaped like a stylised Yellow-billed Duck , and is generally yellow with a flat base. It may be made of rubber or rubber-like material such as vinyl plastic...
s from a water trough in which nearly every player is expected to win a prize, to the deceptively challenging, which includes games which utilise optical illusions or physical relationships that are difficult to judge. In the United States, the funfair is one of the few arenas of public life in which classical hoodwinkery in the form of outright fraud can be perpetrated by the light of day. Highly profitable (and therefore timeless) games include:
the hoopla, in which a ring can be demonstrated to fit neatly around a wooden block, but when the customer attempts to throw the ring over the block, it is nearly impossible to achieve the perfect angle which the attendant deftly demonstrates. This game is similar to quoits

Quoits

Quoits is a traditional game which involves the throwing of metal, rope or rubber rings over a set distance, usually to land over or near a spike . The sport of quoits encompasses several distinct variations.-The history of quoits:The history of quoits is disputed...


and horseshoe pitching.
ball-in-the-basket games in which the basket is presented at an angle almost certain to bounce the ball out. (The basket bottom may also be suspiciously springy.)
basketball-shooting games in which the basket is ovoid in shape and the basketball literally cannot fit inside the rim under any circumstances, but takes advantage of the oval shape an individual expects to see when directly confronted by a circle presented at an angle nearly parallel with the ground. (The sides of such a game are walled with netting which presumably keeps the ball in play, but the netting is typically covered with the prizes the customer hopes to win, which block the view of the basket from the side and thus exposing the hoax.) Sometimes the basketballs are also inflated to their full capacity, thus allowing the ball to bounce out of the hoop more easily.
archery

Archery

Archery is the art, practice, or skill of propelling arrows with the use of a bow, from Latin arcus. Archery has historically been used for hunting and combat; in modern times, however, its main use is that of a recreational activity...


, air rifles, and paint ball guns with sometimes misaligned sights, with targets ranging from bullseye

Bullseye (target)

The bullseye, or bull's-eye, is the centre of a target , and by extension the name given to any shot that hits the bullseye...


s to playing card

Playing card

A playing card is a piece of specially prepared heavy paper, thin cardboard, plastic-coated paper, cotton-paper blend, or thin plastic, marked with distinguishing motifs and used as one of a set for playing card games...


s.
Hit-The-Bell, high striker

High striker

A high striker, also known as a strength tester, or strongman game, is an attraction used in funfairs, fundraisers, and carnivals. It operates by utilizing the lever where one end holds a puck attached to the tower and the other end is struck by the person or contestant using a hammer or mallet....


device to test prowess, originally fabricated from various hardware.
Much of the true "con artistry" has been driven out of funfairs in the twentieth century, and combined with an increasing emphasis on the role of families and small children in such entertainment, contemporary showmen often find greater profit in pricing their games far above the value of the prizes being offered, with complex formulae for upgrading to the large prizes that advertise the game and instil desire among customers. The rises in pricing of many sidestalls must often reflect the overheads of running fairground equipment - the cost of swag (see below), diesel, staff and rents.
Typical prizes change to reflect popular tastes. A traditional fairground prize used to be a
goldfish
Goldfish
The goldfish is a freshwater fish in the family Cyprinidae of order Cypriniformes. It was one of the earliest fish to be domesticated, and is one of the most commonly kept aquarium fish....
in a small plastic bag, but these have fallen out of favour, partly because goldfish are no longer seen as exotic, but also because of
animal welfare
Animal welfare
Animal welfare is the physical and psychological well-being of animals.The term animal welfare can also mean human concern for animal welfare or a position in a debate on animal ethics and animal rights...
concerns. Many stalls offer cuddly toys as prizes — many teenage romances are established at funfairs, where thrill rides provide ample excuse for embracing. Displays of skill at shooting and winning a cuddly toy for your girlfriend is a rite of passage for many young men. In showland, the prizes are known as swag and are supplied by a swagman.
Food booths
Food is routinely sold through
food booth
Food booth
A food booth is generally a temporary structure used to prepare and sell food to the general public, usually where large groups of people are situated outdoors in a park, at a parade, near a stadium or otherwise...
s and the offerings range from common
fast food
Fast food
Fast food is the term given to food that can be prepared and served very quickly. While any meal with low preparation time can be considered to be fast food, typically the term refers to food sold in a restaurant or store with preheated or precooked ingredients, and served to the customer in a...
items to indigenous
street food
Street food
Street food is ready-to-eat food or drink sold in a street or other public place, such as a market or fair, by a hawker or vendor, often from a portable stall. While some street foods are regional, many are not, having spread beyond their region of origin. Most street food are both finger and fast...
, and may include specialty items or delicacies depending on the nature of the festival and availability of ingredients.
In North America and Europe a funfair generally includes:
Hot dogs/Corn dogs / Sausages
Hamburgers
Lollipops
Candy Apples

Candy Apples

Candy Apples is the stage name of a pornographic actress.In October 1999, Apples became the world gangbang record holder, with 742 "instances of sex", including oral sex and strap-on use...


/ Toffee Apples

Candy Apples

Candy Apples is the stage name of a pornographic actress.In October 1999, Apples became the world gangbang record holder, with 742 "instances of sex", including oral sex and strap-on use...



Fried chicken

Fried chicken

Fried chicken is a dish consisting of chicken pieces usually from broiler chickens which have been floured or battered and then pan fried, deep fried, or pressure fried. The breading adds a crisp coating or crust to the exterior...



French fries

French fries

French fries , chips, fries, or French-fried potatoes are strips of deep-fried potato. North Americans tend to refer to any pieces of deep-fried potatoes as fries or French fries, while in the United Kingdom, Australia, Ireland and New Zealand, long, thinly cut slices of deep-fried potatoes are...



Funnel cake

Funnel cake

Funnel cake or funnelcake is a regional food popular in North America at carnivals, fairs, sporting events, and seaside resorts. Funnel cakes are made by pouring batter into hot cooking oil in a circular pattern and deep frying the overlapping mass until golden-brown. When made at concession...



Cotton candy

Cotton candy

Cotton candy , candy floss or candyfloss or candy buttox , or fairy floss is a form of spun sugar. Since cotton candy is mostly air, a small initial quantity of sugar generates a tremendously greater final volume, causing servings to be physically large and voluminous...


/ Candyfloss
Nougat

Nougat

Nougat is a variety of similar traditional confectioneries made with sugar and/or honey, roasted nuts , and sometimes chopped candied fruit. The consistency of nougat can range from soft and chewy to hard and crunchy depending on its composition, and it is used in a variety of candy bars and...



Gingerbread

Gingerbread

Gingerbread is a term used to describe a variety of sweet food products, which can range from a soft, moist loaf cake to something close to a ginger biscuit. What they have in common are the predominant flavors of ginger and a tendency to use honey or molasses rather than just sugar...



Ice cream

Ice cream

Ice cream is a frozen dessert usually made from dairy products, such as milk and cream, and often combined with fruits or other ingredients and flavours. Most varieties contain sugar, although some are made with other sweeteners...



Fried dough

Fried dough

.Fried dough is a North American food associated with outdoor food stands in carnivals, amusement parks, fairs, rodeos, and seaside resorts . Fried dough is the specific name for a particular variety of fried bread made of a yeast dough; see the accompanying images for an example of use on...


/ doughnuts
Popcorn

Popcorn

Popcorn, or popping corn, is corn which expands from the kernel and puffs up when heated. Corn is able to pop because, like sorghum, quinoa and millet, its kernels have a hard moisture-sealed hull and a dense starchy interior. This allows pressure to build inside the kernel until an explosive...



Giant Pretzels
Soda

Soft drink

A soft drink is a non-alcoholic beverage that typically contains water , a sweetener, and a flavoring agent...



Pizza

Pizza

Pizza is an oven-baked, flat, disc-shaped bread typically topped with a tomato sauce, cheese and various toppings.Originating in Italy, from the Neapolitan cuisine, the dish has become popular in many parts of the world. An establishment that makes and sells pizzas is called a "pizzeria"...



Nachos

Nachos

Nachos are a popular food based on nixtamalized corn, of Mexican origin associated with Tex-Mex cuisine that can be either made quickly to serve as a snack or prepared with more ingredients to make a full meal. In their simplest form, nachos are tortilla chips or totopos covered in melted cheese...



British funfairs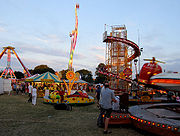 In the
United Kingdom
United Kingdom
The United Kingdom of Great Britain and Northern IrelandIn the United Kingdom and Dependencies, other languages have been officially recognised as legitimate autochthonous languages under the European Charter for Regional or Minority Languages...
, many larger towns host travelling fairs at specific times of the year (for example
Mop Fair
Mop Fair
Mop Fairs are a feature of many English towns and are traditionally held on or around "Old Michaelmas Day". They originated as a Hiring fair and their history dates back some 600 to 700 years.-History:...
s). Frequently the fairground is on an area of
common land
Common land
Common land is land owned collectively or by one person, but over which other people have certain traditional rights, such as to allow their livestock to graze upon it, to collect firewood, or to cut turf for fuel...
and has a history extending back to the
Middle Ages
Middle Ages
The Middle Ages is a periodization of European history from the 5th century to the 15th century. The Middle Ages follows the fall of the Western Roman Empire in 476 and precedes the Early Modern Era. It is the middle period of a three-period division of Western history: Classic, Medieval and Modern...
. For example,
St Giles' Fair
St Giles' Fair
St Giles' Fair is an annual fair held in St Giles', a wide thoroughfare in central north Oxford, England.It is unusual for an English fair, being held in a major street of a city and blocking traffic for its two-day duration in September each year.The fair is organised by the Oxford City Council...
has been held in
St Giles'
St Giles', Oxford
St Giles is a wide street leading north from the centre of Oxford, England. At its northern end, the road divides into Woodstock Road to the left and Banbury Road to the right, both major roads through North Oxford. At the southern end, the road continues as Magdalen Street at the junction with...
,
Oxford
Oxford
The city of Oxford is the county town of Oxfordshire, England. The city, made prominent by its medieval university, has a population of just under 165,000, with 153,900 living within the district boundary. It lies about 50 miles north-west of London. The rivers Cherwell and Thames run through...
since the consecration of
St Giles' Church
St Giles' Church, Oxford
St. Giles' Church is a church in North Oxford, England. It is at the northern end of the wide thoroughfare of St Giles', at the point where meets Woodstock Road and Banbury Road...
in 1200. In
Cambridge
Cambridge
The city of Cambridge is a university town and the administrative centre of the county of Cambridgeshire, England. It lies in East Anglia about north of London. Cambridge is at the heart of the high-technology centre known as Silicon Fen – a play on Silicon Valley and the fens surrounding the...
, the Midsummer Fair is held on
Midsummer Common
Midsummer Common
Midsummer Common is an area of common land in central Cambridge, UK. The Cambridge Midsummer Fair held on the common is one of the oldest fairs in the UK and at one point was among England's largest...
, an ancient area of common land to the northeast of the city centre. In Scotland, the 1982 Civic Government act brought Funfair/Fairgrounds into the category of Legislated Entertainment. Now all Fairs in Scotland have to apply to the local authority for a Public Entertainments License. The process takes 6–8 weeks to complete and costs vary dramatically from region to region.There is no refund for refused license applications.This licensing act has led to some Fairs being lost due to costs or refusal. The 1982 act was not adopted for Fairs in England or Wales.
Funfairs in England,
Scotland
Scotland
Scotland is a country that is part of the United Kingdom. Occupying the northern third of the island of Great Britain, it shares a border with England to the south and is bounded by the North Sea to the east, the Atlantic Ocean to the north and west, and the North Channel and Irish Sea to the...
and
Wales
Wales
Wales is a country that is part of the United Kingdom and the island of Great Britain, bordered by England to its east and the Atlantic Ocean and Irish Sea to its west. It has a population of three million, and a total area of 20,779 km²...
are not the property of one owner, but a collaborative effort between families of fairground travellers. Descended from the medieval strollers and players of mainly Romani descent who have followed this way of life for generations, they have a distinct culture related to their trade and nomadic existence. The routes they travel are usually inherited and are much the same from year to year. The average fairground is made up when a Lessee (usually the owner of a large ride) sublets ground and pitches to other showmen who bring their own rides, stalls and shows to make up a fair. This may involve negotiation and bargaining over who gets to put their stalls and rides where, although in many well established fairs 'standing rights' are recognized and passed down through the generations.
Once the fair is over, the families go their separate ways, but will cross each other's paths regularly. Their sense of community is strong and few 'marry out' of the trade.
Showmen
Showman
Showman can have a variety of meanings, usually by context and depending on the country.- Australia :Travelling showmen are people who run amusement and side show equipment at regional shows, state capital shows, events and festivals throughout Australia...
, as they are known, are proud of their heritage and have their own language,
Parlyaree
Polari
Polari is a form of cant slang used in Britain by actors, circus and fairground showmen, criminals, prostitutes, and by the gay subculture. It was popularised in the 1960s by camp characters Julian and Sandy in the popular BBC radio show Round the Horne...
(a mixture of
Lingua Franca
Mediterranean Lingua Franca
The Mediterranean Lingua Franca or Sabir was a pidgin language used as a lingua franca in the Mediterranean Basin from the 11th to the 19th century.-History:...
,
Romani
Romani language
Romani or Romany, Gypsy or Gipsy is any of several languages of the Romani people. They are Indic, sometimes classified in the "Central" or "Northwestern" zone, and sometimes treated as a branch of their own....
, Yiddish,
Thieves' Cant
Thieves' cant
Thieves' cant or Rogues' cant was a secret language which was formerly used by thieves, beggars and hustlers of various kinds in Great Britain and to a lesser extent in other English-speaking countries...
, sailor slang, and backslang) e.g. words such as
flatty
or
joskin
(meaning someone not from the showman community). Those showmen who don't travel with the fair still remain showmen, being said just to be settled down. The community is clannish and somewhat insular, the received wisdom being that one cannot just become a showman, but must be born into it.
This by definition makes running fairgrounds a family business, and family names are synonymous with fairgrounds in certain areas. e.g. Breeze, Hirst, Fleming, Vanner, Hatwell, Atha, Danter, Marshalls, etc., in the North, and Thurston's, Stocks, Harris and Hedges in the South. The Show/Fairground community is close knit, with multiple ties often existing between the older families and a vibrant social scene centered both around the summer fairs and the various sites and yards used as winter quarters. Hosting an estimated 80% of all
Scottish
Scotland
Scotland is a country that is part of the United Kingdom. Occupying the northern third of the island of Great Britain, it shares a border with England to the south and is bounded by the North Sea to the east, the Atlantic Ocean to the north and west, and the North Channel and Irish Sea to the...
showfamilies,
Glasgow
Glasgow
Glasgow is the largest city in Scotland and third most populous in the United Kingdom. The city is situated on the River Clyde in the country's west central lowlands...
is believed to have the largest concentration of Showmen in winter quarters in
Europe
Europe
Europe is, by convention, one of the world's seven continents. Comprising the westernmost peninsula of Eurasia, Europe is generally 'divided' from Asia to its east by the watershed divides of the Ural and Caucasus Mountains, the Ural River, the Caspian and Black Seas, and the waterways connecting...
, centered mostly in
Whiteinch
Whiteinch
Whiteinch is a district in the Scottish city of Glasgow. It is situated north of the River Clyde between the Partick and Scotstoun areas of the city...
,
Shettleston
Shettleston
Shettleston is a district in the east end of Glasgow in Scotland. Like many of the city's districts, Shettleston was originally a small village on its outer edge. Today Shettleston lies between the neighbouring districts of Parkhead to the west, and Baillieston to the east, and is about 2 and a...
and
Carntyne
Carntyne
Carntyne is a district in the Scottish city of Glasgow. It is situated north of the River Clyde, and to the east end of the city...
. However, new zoning laws and planning difficulties posed by
Glasgow
Glasgow
Glasgow is the largest city in Scotland and third most populous in the United Kingdom. The city is situated on the River Clyde in the country's west central lowlands...
City Council look set to push many of these long-established facilities out of the city in the near future.
Since the late 19th century, fairgrounds in the UK have been run by a
guild
Guild
A guild is an association of craftsmen in a particular trade. The earliest types of guild were formed as confraternities of workers. They were organized in a manner something between a trade union, a cartel, and a secret society...
known as the
Showmen's Guild of Great Britain
Showmen's Guild of Great Britain
The Showmen's Guild of Great Britain exists to protect the interests of travelling showmen at funfairs in Great Britain.The Showmen's Guild was originally founded as the United Kingdom Van Dwellers Protection Association in 1889 in Salford...
. This lays down rules for managing and running fairs, helps them organize fairs and settle member disputes and serves to protect them from deleterious legislation. Unusual for an industrial body, membership is awarded exclusively on a hereditary basis.
A new breed of showmen is now appearing. These people are usually fairground enthusiasts and can own preserved older rides. They are connected to the Show communities around Britain but only loosely and they, therefore, have their own organizations such as the Society of Independent Roundabout Proprietors.
Fairgrounds are common at British seaside resorts, usually run by travelling fairground families who have decided to settle down, in whole or part. Showmen who run fair equipment at the seaside are referred to as sand scratchers.
An interesting annual attraction in the North Wales resort of
Llandudno
Llandudno
Llandudno is a seaside resort and town in Conwy County Borough, Wales. In the 2001 UK census it had a population of 20,090 including that of Penrhyn Bay and Penrhynside, which are within the Llandudno Community...
is the
Victorian Extravaganza
held over the May Day
Bank Holiday
Bank Holiday
A bank holiday is a public holiday in the United Kingdom or a colloquialism for public holiday in Ireland. There is no automatic right to time off on these days, although the majority of the population is granted time off work or extra pay for working on these days, depending on their contract...
weekend.
In regard to
confectionery
Confectionery
Confectionery is the set of food items that are rich in sugar, any one or type of which is called a confection. Modern usage may include substances rich in artificial sweeteners as well...
, candy floss stalls are especially associated with funfairs. Sweets are known as fairings and include such things as brandy snaps, toffee apples and at
Nottingham Goose Fair
Nottingham Goose Fair
The Nottingham Goose Fair is an annual fun fair held in Nottingham, England, during the first week of October. It is largely provided by travelling fair people...
, cocks on sticks. Of savoury food, the mainstays are hot dogs, burgers and, in the Midlands and the North of England, hot peas served with mint sauce.
Fairgrounds have sharply declined in popularity over the last few decades, although many families continue to follow their unusual lifestyle.
The largest British (and European) travelling fair is
The Hoppings
The Hoppings
The Hoppings is held on the Town Moor in Newcastle upon Tyne during the last week in June.It is recognised to be Europe's largest travelling fun fair....
on Newcastle Town Moor, which is held annually in the last two weeks of June. The second largest travelling fair is
Nottingham Goose Fair
Nottingham Goose Fair
The Nottingham Goose Fair is an annual fun fair held in Nottingham, England, during the first week of October. It is largely provided by travelling fair people...
held annually in October. The Largest travelling fair in Scotland is held in Kirkcaldy, Fife and known as The Links Market. It dates back over 700 years.
Historically, travelling showmen and the gypsy community had close links, necessitated by the heavy reliance of the business on horsepower. Intermarrying and sharing the same land was not uncommon, although they remained two distinct groups. Nowadays, however, there is often friction between the two communities, and travelling showmen have been known to distance themselves from the gypsy community (by not using Polari, for example) because they feel that the negative stereotype that the British public holds towards the gypsy community could adversely affect their business. The word "gypsy" is often used to refer to travelling showmen, but it is not a phrase that they would use to refer to themselves (the usual term is "traveller") and in fact many would regard this as a slur.
German funfairs
Most things said about British funfairs apply to Germany. Rides include roller coasters, dark rides and
log flumes
Log flume (attraction)
Log flumes originally referred to a special construct used to transport lumber and logs down mountainous terrain to a sawmill by using flowing water. Today, however, the term is also used to refer to an amusement ride consisting of a water flume and artificial hollow logs or boats...
that often eclipse many theme park equivalents in terms of both size and quality.
The language of German showmen contains elements of
Sinti
Sinti
Sinti or Sinta or Sinte is the name of a Romani or Gypsy population in Europe. Traditionally nomadic, today only a small percentage of the group remains unsettled...
tikes,
Rotwelsch
Rotwelsch
Rotwelsch or Gaunersprache is a secret language, a cant or thieves' argot, spoken by covert groups primarily in southern Germany and Switzerland.-Origin and development:...
, Yiddish and other old minority languages. Their children are almost always sent to a small set of showmen-friendly
boarding school
Boarding school
A boarding school is a school where some or all pupils study and live during the school year with their fellow students and possibly teachers and/or administrators. The word 'boarding' is used in the sense of "bed and board," i.e., lodging and meals...
s where they can remain in contact with other showmen's children; during school holidays, they travel with their parents. In the west of the country, there is some overlap with Dutch showmen. A relatively small number of "showmen dynasties" run most of the medium- to large size amusement rides at funfairs around the country. There have been some allegations of
forced marriage
Forced marriage
Forced marriage is a term used to describe a marriage in which one or both of the parties is married without his or her consent or against his or her will...
s among them in recent years.
In
Catholic
Catholicism
Catholicism is a broad term for the body of the Catholic faith, its theologies and doctrines, its liturgical, ethical, spiritual, and behavioral characteristics, as well as a religious people as a whole....
areas of the country, it is still customary for most villages and small towns to hold their annual funfair on or near the saint's day of the
patron saint
Patron saint
A patron saint is a saint who is regarded as the intercessor and advocate in heaven of a nation, place, craft, activity, class, clan, family, or person...
of the local church.
Very common are the so called "Volksfeste", which are mainly held in the larger cities. They consist of a funfair and a
beer festival
Beer festival
A Beer Festival is an organised event during which a variety of beers are available for tasting and purchase. Beer festivals are held in a number of countries...
at the same place. The largest and best known of them is the
Oktoberfest
Oktoberfest
Oktoberfest, or Wiesn, is a 16–18 day beer festival held annually in Munich, Bavaria, Germany, running from late September to the first weekend in October. It is one of the most famous events in Germany and is the world's largest fair, with more than 5 million people attending every year. The...
in
Munich
Munich
Munich The city's motto is "" . Before 2006, it was "Weltstadt mit Herz" . Its native name, , is derived from the Old High German Munichen, meaning "by the monks' place". The city's name derives from the monks of the Benedictine order who founded the city; hence the monk depicted on the city's coat...
, the largest fair of the world. The second largest is the
Cranger Kirmes
Cranger Kirmes
The Cranger Kirmes is a fair in Germany, located in Wanne-Eickel in the city of Herne. It is the biggest fair in the whole state of Northrhine-Westphalia and the second biggest fair in Germany, only behind the Oktoberfest. In 2008 there were 4.7 million visitors...
in
Herne
Herne, Germany
Herne is a city in North Rhine-Westphalia, Germany. It is located in the Ruhr area directly between the cities of Bochum and Gelsenkirchen.- History :Like most other cities in the region Herne was a tiny village until the 19th century...
in the eastern part of the
Ruhr Area
Ruhr Area
The Ruhr, by German-speaking geographers and historians more accurately called Ruhr district or Ruhr region , is an urban area in North Rhine-Westphalia, Germany. With 4435 km² and a population of some 5.2 million , it is the largest urban agglomeration in Germany...
. Another famous "Volksfest" is the
Cannstatter Wasen
Cannstatter Wasen
The Cannstatter Wasen is a 35 hectare festival area on the banks of the Neckar river in the part of Stuttgart known as Bad Cannstatt.The Cannstatter Wasen form part of the Neckar Park Fairground....
in
Stuttgart
Stuttgart
Stuttgart is the capital of the state of Baden-Württemberg in southern Germany. The sixth-largest city in Germany, Stuttgart has a population of 600,038 while the metropolitan area has a population of 5.3 million ....
and the Rheinkirmes in
Düsseldorf
Düsseldorf
Düsseldorf is the capital city of the German state of North Rhine-Westphalia and centre of the Rhine-Ruhr metropolitan region.Düsseldorf is an important international business and financial centre and renowned for its fashion and trade fairs. Located centrally within the European Megalopolis, the...
. One of the oldest is the
Annaberger Kät
Annaberger Kät
The Annaberger Kät is the largest folk festival in the Ore Mountains and takes place annually for 14 days after Pentecost in the town of Annaberg-Buchholz in East Germany...
held in the
Ore Mountains
Ore Mountains
The Ore Mountains in Central Europe have formed a natural border between Saxony and Bohemia for many centuries. Today, the border between Germany and the Czech Republic runs just north of the main crest of the mountain range...
of East Germany since 1520.
Canadian funfairs (exhibitions)
North America's (and the world's) largest, and one of longest running exhibitions is
Toronto
Toronto
Toronto is the provincial capital of Ontario and the largest city in Canada. It is located in Southern Ontario on the northwestern shore of Lake Ontario. A relatively modern city, Toronto's history dates back to the late-18th century, when its land was first purchased by the British monarchy from...
's
Canadian National Exhibition
Canadian National Exhibition
Canadian National Exhibition , also known as The Ex, is an annual event that takes place at Exhibition Place in Toronto, Ontario, Canada during the 18 days leading up to and including Labour Day Monday. With an attendance of approximately 1.3 million visitors each season, it is Canada's largest...
, it takes place at
Exhibition Place
Exhibition Place
Exhibition Place is a mixed-use district in Toronto, Ontario, Canada, by the shoreline of Lake Ontario, just west of downtown. The 197–acre area includes expo, trade, and banquet centres, theatre and music buildings, monuments, parkland, sports facilities, and a number of civic, provincial,...
from late August to early September. Most carnival fairs are run by traveling companies that move town to town with their rides and exhibits.
Conklin Shows
Conklin Shows
Conklin Shows was the largest traveling amusement corporation in North America. The 75 year-old company operated 'fun fairs' at various summer agricultural shows across North America and is based in Brantford, Ontario and West Palm Beach, FL. The company has a long history in Canada, providing...
is the largest and oldest organization of its type in North America.
Other notable fairs are the
Pacific National Exhibition
Pacific National Exhibition
The Pacific National Exhibition is a non profit organization which hosts an annual 17-day summer fair, seasonal amusement park, and arena in Vancouver, British Columbia, Canada. It usually begins in mid-to-late August, and ends in early September, usually Labour Day.-History:The exhibition has been...
in
Vancouver
Vancouver
Vancouver is a coastal seaport city on the mainland of British Columbia, Canada. It is the hub of Greater Vancouver, which, with over 2.3 million residents, is the third most populous metropolitan area in the country,...
and the
Calgary Stampede
Calgary Stampede
The Calgary Stampede is an annual rodeo, exhibition and festival held every July in Calgary, Alberta, Canada. The ten-day event, which bills itself as "The Greatest Outdoor Show on Earth", attracts over one million visitors per year and features one of the world's largest rodeos, a parade, midway,...
.
See also
External links