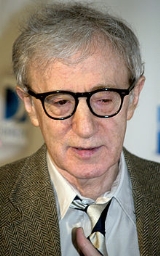 Woody Allen
Woody Allen
is an American screenwriter, director, actor, comedian, jazz musician, author, and playwright. Allen's films draw heavily on literature, sexuality, philosophy, psychology,
Jewish identity
Jewish identity
Jewish identity is the objective or subjective state of perceiving oneself as a Jew and as relating to being Jewish. Under the broader definition, the Jewish identity does not depend on whether or not a person is regarded as a Jew by others, or by an external set of religious, or legal, or...
, and the history of cinema. He is also a jazz clarinetist who performs regularly at small venues in
Manhattan
Manhattan
Manhattan is the oldest and the most densely populated of the five boroughs of New York City. Located primarily on the island of Manhattan at the mouth of the Hudson River, the boundaries of the borough are identical to those of New York County, an original county of the state of New York...
.
Allen was born and raised in Brooklyn, NY. The son of Nettie (née Cherrie; November 8, 1906 – January 27, 2002), a bookkeeper at her family's delicatessen, and Martin Konigsberg (December 25, 1900 – January 13, 2001), a jewelry engraver and waiter.
Marriage? That's for life! It's like cement!

What's New, Pussycat? (1965)
I think crime pays. The hours are good, you meet a lot of interesting people, you travel a lot.

Take the Money and Run|Take the Money and Run (1969)
To you I'm an atheist; to God, I'm the Loyal Opposition.

Stardust Memories|Stardust Memories (1980)
Sex alleviates tension. Love causes it.

A Midsummer Night's Sex Comedy|A Midsummer Night's Sex Comedy (1982)
What a world. It could be so wonderful if it wasn't for certain people.

Radio Days|Radio Days (1987)
I can't listen to that much Richard Wagner|Wagner. I start getting the urge to conquer Poland.

Manhattan Murder Mystery|Manhattan Murder Mystery (1993)
We're worth a lot of dough. Whatever you see is antiques. This thing here. This is from — I don't remember exactly. I think it's the Renaissance or the Magna Carta or something. But that's where it's from.

Small Time Crooks|Small Time Crooks (2001)
I'm not saying I didn't enjoy myself, but I didn't.

The Curse of the Jade Scorpion|The Curse of the Jade Scorpion (2001)