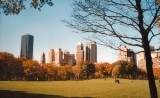 Landscape architecture
Landscape architecture is the design of outdoor and public spaces to achieve environmental, socio-behavioral, or aesthetic outcomes. It involves the systematic investigation of existing social, ecological, and geological conditions and processes in the landscape, and the design of interventions that will produce the desired outcome. The scope of the profession includes:
urban design
Urban design
Urban design concerns the arrangement, appearance and functionality of towns and cities, and in particular the shaping and uses of urban public space. It has traditionally been regarded as a disciplinary subset of urban planning, landscape architecture, or architecture and in more recent times has...
;
site planning
Site planning
Site planning in landscape architecture and architecture refers to the organizational stage of the landscape design process. It involves the organization of land use zoning, access, circulation, privacy, security, shelter, land drainage, and other factors...
; town or
urban planning
Urban planning
Urban planning incorporates areas such as economics, design, ecology, sociology, geography, law, political science, and statistics to guide and ensure the orderly development of settlements and communities....
;
environmental
Natural environment
The natural environment encompasses all living and non-living things occurring naturally on Earth or some region thereof. It is an environment that encompasses the interaction of all living species....
restoration;
park
Park
A park is a protected area, in its natural or semi-natural state, or planted, and set aside for human recreation and enjoyment, or for the protection of wildlife or natural habitats. It may consist of rocks, soil, water, flora and fauna and grass areas. Many parks are legally protected by...
s and recreation planning; visual resource management; green infrastructure planning and provision; and private estate and
residence
House
A house is a building or structure that has the ability to be occupied for dwelling by human beings or other creatures. The term house includes many kinds of different dwellings ranging from rudimentary huts of nomadic tribes to free standing individual structures...
landscape master planning and design; all at varying scales of design, planning and management.