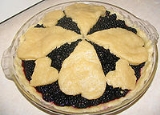 Pastry
This article describes Pastry in food. For the Distributed Hash Table system, see Pastry (DHT)

Pastry (DHT)

Pastry is an overlay and routing network for the implementation of a distributed hash table similar to Chord. The key-value pairs are stored in a redundant peer-to-peer network of connected Internet hosts. The protocol is bootstrapped by supplying it with the IP address of a peer already in the...


.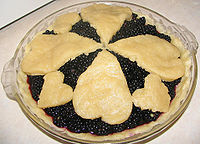 Pastry
is the name given to various kinds of
baked products
Baking
Baking is the technique of prolonged cooking of food by dry heat acting by convection, and not by radiation, normally in an oven, but also in hot ashes, or on hot stones. It is primarily used for the preparation of bread, cakes, pastries and pies, tarts, quiches, cookies and crackers. Such items...
made from ingredients such as
flour
Flour
Flour is a powder which is made by grinding cereal grains, other seeds or roots . It is the main ingredient of bread, which is a staple food for many cultures, making the availability of adequate supplies of flour a major economic and political issue at various times throughout history...
,
sugar
Sugar
Sugar is a class of edible crystalline carbohydrates, mainly sucrose, lactose, and fructose, characterized by a sweet flavor.Sucrose in its refined form primarily comes from sugar cane and sugar beet...
,
milk
Milk
Milk is a white liquid produced by the mammary glands of mammals. It is the primary source of nutrition for young mammals before they are able to digest other types of food. Early-lactation milk contains colostrum, which carries the mother's antibodies to the baby and can reduce the risk of many...
,
butter
Butter
Butter is a dairy product made by churning fresh or fermented cream or milk. It is generally used as a spread and a condiment, as well as in cooking applications, such as baking, sauce making, and pan frying...
,
shortening
Shortening
Shortening is any fat that is solid at room temperature and used to make crumbly pastry. The reason it is called shortening is because it prevents cross-linkage between gluten molecules. Cross linking is what causes doughs to be sticky. Seeing as cake is not meant to be sticky, shortening is used...
,
baking powder
Baking powder
Baking powder is a dry chemical leavening agent used to increase the volume and lighten the texture of baked goods such as muffins, cakes, scones and American-style biscuits. Baking powder works by releasing carbon dioxide gas into a batter or dough through an acid-base reaction, causing bubbles in...
and/or
egg
Egg (food)
Eggs are laid by females of many different species, including birds, reptiles, amphibians, and fish, and have probably been eaten by mankind for millennia. Bird and reptile eggs consist of a protective eggshell, albumen , and vitellus , contained within various thin membranes...
s. Small cakes, tarts and other sweet baked products are called "pastries."
Pastry may also refer to the
dough
Dough
Dough is a paste made out of any cereals or leguminous crops by mixing flour with a small amount of water and/or other liquid. This process is a precursor to making a wide variety of foodstuffs, particularly breads and bread-based items , flatbreads, noodles, pastry, and similar items)...
from which such baked products are made. Pastry dough is rolled out thinly and used as a base for baked products. Common pastry dishes include
pie
Pie
A pie is a baked dish which is usually made of a pastry dough casing that covers or completely contains a filling of various sweet or savoury ingredients....
s, tarts,
quiche
Quiche
Quiche is a savory, open-faced pie of vegetables, cheese, or meat in custard, baked in a pastry crust.The quiche is sometimes regarded as the savoury equivalent ofegg custard tart.- Etymology:...
s and pasties.
Pastry is differentiated from
bread
Bread
Bread is a staple food prepared by cooking a dough of flour and water and often additional ingredients. Doughs are usually baked, but in some cuisines breads are steamed , fried , or baked on an unoiled frying pan . It may be leavened or unleavened...
by having a higher fat content, which contributes to a flaky or crumbly texture. A good pastry is light and airy and fatty, but firm enough to support the weight of the filling. When making a
shortcrust pastry
Shortcrust pastry
Shortcrust pastry is a type of pastry often used for the base of a tart or pie. It does not puff up during baking because it usually contains no leavening agent. It is possible to make shortcrust pastry with self-raising flour, however...
, care must be taken to blend the fat and flour thoroughly before adding any liquid. This ensures that the flour granules are adequately coated with fat and less likely to develop
gluten
Gluten
Gluten is a protein composite found in foods processed from wheat and related grain species, including barley and rye...
. On the other hand, overmixing results in long gluten strands that toughen the pastry. In other types of pastry, such as
Danish pastry
Danish pastry
Danish pastry is a sweet pastry which has become a specialty of Denmark and neighbouring Scandinavian countries and is popular throughout the industrialized world, although the form it takes can differ significantly from country to country...
and croissants, the characteristic flaky texture is achieved by repeatedly rolling out a dough similar to that for
yeast
Yeast
Yeasts are eukaryotic micro-organisms classified in the kingdom Fungi, with 1,500 species currently described estimated to be only 1% of all fungal species. Most reproduce asexually by mitosis, and many do so by an asymmetric division process called budding...
bread, spreading it with butter, and folding it to produce many thin layers of folds.
Many pie recipes involve
blind-baking
Blind-baking
Baking Blind is the process of baking a pie crust or other pastry without the filling. Blind baking a pie crust is necessary when it will be filled with an unbaked filling or when the filling has a shorter bake time than the crust...
the pastry before the filling is added. Pastry dough may be sweetened or perhaps unsweetened.
Main types of pastry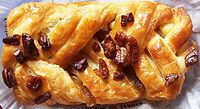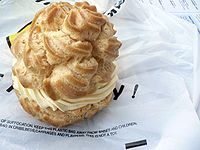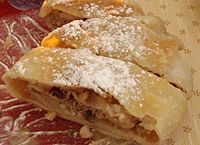 Shortcrust pastry
Shortcrust pastry
Shortcrust pastry is a type of pastry often used for the base of a tart or pie. It does not puff up during baking because it usually contains no leavening agent. It is possible to make shortcrust pastry with self-raising flour, however...
: Shortcrust, or short, pastry is the simplest and most common pastry. It is made with flour, fat, salt, and water. The process of making pastry includes mixing of the fat and flour, adding water, and rolling out the paste. The fat is mixed with the flour first, generally by rubbing with fingers or a
pastry blender
Pastry blender
A pastry blender or pastry cutter is a kitchen tool used to mix a hard fat into flour in order to make pastries. The tool is usually made of narrow metal strips or wires attached to a handle, and is used by pressing down on the items to be mixed...
, which inhibits
gluten
Gluten
Gluten is a protein composite found in foods processed from wheat and related grain species, including barley and rye...
formation and results in a soft, tender pastry. A related type is the sweetened sweetcrust pastry.
Flaky
Flaky pastry
In baking, a flaky pastry is a light, flaky, unleavened pastry, similar to a puff pastry. The main difference is that, in a flaky pastry, large lumps of shortening , are mixed into the dough, as opposed to a large rectangle of shortening with a puff pastry...
(or rough puff) pastry : Flaky pastry is a simple pastry that expands when cooked due to the number of layers. It bakes into a crisp, buttery pastry. The "puff" is obtained by beginning the baking process with a high temperature and lowering the temperature to finish.
Puff pastry
Puff pastry
In baking, a puff pastry is a light, flaky, leavened pastry containing several layers of fat which is in solid state at 20 °C . In raw form, puff pastry is a dough which is spread with solid fat and repeatedly folded and rolled out and used to produce the aforementioned pastries...
: Puff pastry has many layers that cause it to expand or "puff" when baked. Pastries are made using flour, butter, salt, and water. Pastry rises up due to the combination and reaction of the four ingredients and also from the air that gets between the layers. Puff pastries come out of the oven light, flaky, and tender.
Choux pastry
Choux pastry
Choux pastry, or pâte à choux , is a light pastry dough used to make profiteroles, croquembouches, éclairs, French crullers, beignets, St. Honoré cake, Indonesian kue sus, and gougères. It contains only butter, water, flour, and eggs...
: Choux pastry is a very light pastry that is often filled with
cream
Cream
Cream is a dairy product that is composed of the higher-butterfat layer skimmed from the top of milk before homogenization. In un-homogenized milk, over time, the lighter fat rises to the top. In the industrial production of cream this process is accelerated by using centrifuges called "separators"...
. The pastry is filled with various flavors of cream and is often topped with
chocolate
Chocolate
Chocolate is a raw or processed food produced from the seed of the tropical Theobroma cacao tree. Cacao has been cultivated for at least three millennia in Mexico, Central and South America. Its earliest documented use is around 1100 BC...
. Choux pastries can also be filled with ingredients such as cheese, tuna, or chicken to be used as appetizers.
Phyllo
Phyllo
Phyllo, filo, or fillo dough is paper-thin sheets of unleavened flour dough used for making pastries in Middle Eastern and Balkan cuisine.-History:An early, thick form of phyllo appears to be of Central Asian Turkic origin...
(filo) pastry : Phyllo pastries are usually paper-thin and greatly stretched. They involve several stretched out layers and are wrapped around a filling and brushed with butter. These pastries are very delicate and can break easily.
Background
Pastries go back to the ancient Mediterranean with almost paper-thin, multi-layered
baklava
Baklava
Baklava is a rich, sweet pastry made of layers of filo pastry filled with chopped nuts and sweetened with syrup or honey. It is characteristic of the cuisines of the former Ottoman Empire and much of central and southwest Asia....
and filo.
Northern Europe
Northern Europe
Northern Europe is the northern part or region of Europe. Northern Europe typically refers to the seven countries in the northern part of the European subcontinent which includes Denmark, Estonia, Latvia, Lithuania, Norway, Finland and Sweden...
took on pastry-making after the
Crusaders
Crusaders
The Crusaders are a New Zealand professional rugby union team based in Christchurch that competes in the Super Rugby competition. They are the most successful team in Super Rugby history with seven titles...
brought it back from the Mediterranean. French and Italian
Renaissance
Renaissance
The Renaissance was a cultural movement that spanned roughly the 14th to the 17th century, beginning in Italy in the Late Middle Ages and later spreading to the rest of Europe. The term is also used more loosely to refer to the historical era, but since the changes of the Renaissance were not...
chefs eventually perfected the Puff and Choux pastries, while 17th and 18th century chefs brought new recipes to the table. These new pastries included
brioche
Brioche
Brioche is a highly enriched French pastry, whose high egg and butter content give it a rich and tender crumb. It is "light and slightly puffy, more or less fine, according to the proportion of butter and eggs" It has a dark, golden, and flaky crust, frequently accentuated by an egg wash applied...
,
Napoleons
Mille-feuille
The mille-feuille , vanilla slice, cream slice, custard slice, also known as the Napoleon, is a pastry originating in France.Traditionally, a mille-feuille is made up of three layers of puff pastry , alternating with two layers of pastry cream , but sometimes whipped cream, or jam are substituted...
, cream puffs, and éclairs. French chef Antonin Carême reportedly was the first to incorporate art in pastry making.
Definitions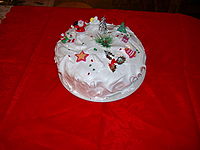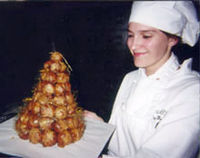 Pastry: A type of food in famous dishes like pie and strudel

Strudel

A strudel is a type of layered pastry with a — most often sweet — filling inside, often served with cream. It became well known and gained popularity in the 18th century through the Habsburg Empire....


.
Pastry bag

Pastry bag

A pastry bag is an often cone- or triangular-shaped, hand-held bag made from cloth, paper, or plastic that is used to pipe semi-solid foods by pressing them through a narrow opening at one end, for many purposes including cake decoration...


or Piping bag: An often cone shaped bag that is used to make an even stream of dough, frosting

Icing (food)

Icing, also called frosting in the United States, is a sweet often creamy glaze made of sugar with a liquid such as water or milk, that is often enriched with ingredients such as butter, egg whites, cream cheese, or flavorings and is used to cover or decorate baked goods, such as cakes or cookies...


, or flavored substance, to form a structure, decorate a baked good, or fill a pastry with a custard, cream, jelly

Fruit preserves

Fruit preserves are preparations of fruits and sugar, often canned or sealed for long-term storage. The preparation of fruit preserves today often involves adding commercial or natural pectin as a gelling agent, although sugar or honey may be used, as well. Prior to World War II, fruit preserve...


, or other filling.
Pastry board: A square or oblong board preferably marble but usually wood on which pastry is rolled out.
Pastry brake: Opposed and contra-rotating rollers with a variable gap through which pastry can be worked and reduced in thickness for commercial production. A very small version is used domestically for pasta

Pasta

Pasta is a staple food of traditional Italian cuisine, now of worldwide renown. It takes the form of unleavened dough, made in Italy, mostly of durum wheat , water and sometimes eggs. Pasta comes in a variety of different shapes that serve for both decoration and to act as a carrier for the...


production.
Pastry case: An uncooked or blind baked pastry container used to hold savory or sweet mixtures.
Pastry cream: Confectioner's custard. An egg and flour thickened custard made with sweetened milk flavored with vanilla. Used as a filling for flans, cakes, pastries, tarts, etc. The flour prevents the egg from curdling.
Pastry cutters: Various metal or plastic outlines of shapes, e.g. circles fluted circles, diamonds, ginger bread men, etc. Sharpened on one edge and used to cut out corresponding shapes from biscuit, scone, pastry, or cakes mixtures.
Pastry blender

Pastry blender

A pastry blender or pastry cutter is a kitchen tool used to mix a hard fat into flour in order to make pastries. The tool is usually made of narrow metal strips or wires attached to a handle, and is used by pressing down on the items to be mixed...


: A kitchen implement used to properly combine the fat and flour. Usually constructed of wire or plastic, with multiple wires or small blades connected to a handle.
Viennoiserie

Viennoiserie

Viennoiseries are baked goods made from a yeast-leavened dough in a manner similar to bread, or from puff pastry, but with added ingredients giving them a richer, sweeter character, approaching that of pastry. The dough is often laminated...


: French term for "Viennese pastry," now used as a common term for many puff- and choux-based pastries, including croissants, brioche

Brioche

Brioche is a highly enriched French pastry, whose high egg and butter content give it a rich and tender crumb. It is "light and slightly puffy, more or less fine, according to the proportion of butter and eggs" It has a dark, golden, and flaky crust, frequently accentuated by an egg wash applied...


, and pain au chocolat

Pain au chocolat

A pain au chocolat , also called a chocolatine in southern France and in French Canada, is a French pastry consisting of a cuboid-shaped piece of yeast-leavened laminated dough, similar to puff pastry, with one or two pieces of chocolate in the centre.Pain au chocolat is made of the same puff...


.
Chemistry of a pastry
Different kinds of pastries are made by the nature of wheat flour and also due to certain types of fats. When wheat flour is kneaded into plain dough and made with water it develops strands of gluten, which are what make the bread tough and elastic. In a typical pastry, however, this toughness is unwanted so fat or oil is put in to slow down the development of gluten. It is common to use
lard
Lard
Lard is pig fat in both its rendered and unrendered forms. Lard was commonly used in many cuisines as a cooking fat or shortening, or as a spread similar to butter. Its use in contemporary cuisine has diminished because of health concerns posed by its saturated-fat content and its often negative...
or
suet
Suet
Suet is raw beef or mutton fat, especially the hard fat found around the loins and kidneys.Suet has a melting point of between 45° and 50°C and congelation between 37° and 40°C....
here because they have a coarse, crystalline structure that is very effective. Using only unclarified butter does not always work well because of its water content;
clarified butter
Clarified butter
Clarified butter is milk fat rendered from butter to separate the milk solids and water from the butterfat. Typically, it is produced by melting butter and allowing the different components to separate by density...
is virtually water free. Shortcrust pastry using only butter may develop an inferior texture. If the fat is melted with hot water, or if liquid oil is used, the thin oily layer between the grains offers less obstacle to gluten formation and the resulting pastry is tougher.
History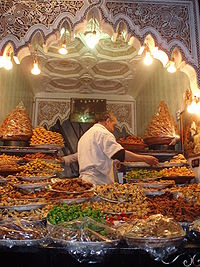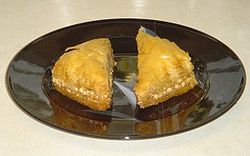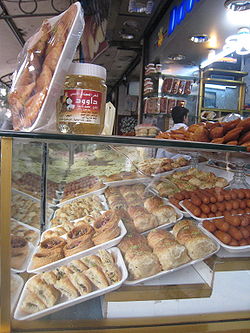 European traditions of pastry-making is often traced back to the short crust era flaky doughs that were in use throughout the Mediterranean in ancient times. These recipes were popularized in Western Europe by Crusaders returning home.
In the Mediterranean, the Romans, Greeks and Phoenicians all had filo-style pastries in their culinary traditions. There is also strong evidence that the ancient Egyptians produced pastry-like confections. It is very possible that Egyptians made and ate pastries. They had professional bakers that surely had the skills to do so, and they also had needed materials like flour, oil, and honey.
In the plays of
Aristophanes
Aristophanes
Aristophanes , son of Philippus, of the deme Cydathenaus, was a comic playwright of ancient Athens. Eleven of his forty plays survive virtually complete...
, in 5th century BC, there are mentions of sweetmeats including small pastries filled with fruit.
The Roman cuisine used flour, oil and water to make pastries that were used to cover meats and
fowl
Fowl
Fowl is a word for birds in general but usually refers to birds belonging to one of two biological orders, namely the gamefowl or landfowl and the waterfowl...
s. They did this during baking to keep in the juices, but this was not meant to be eaten by people. A pastry that was meant to be eaten was a richer pastry that was made into small pastries and contained eggs or little birds. It was often served at banquets. Greeks and Roman both struggled in making a good pastry because they both used oil in the cooking process and oil causes the pastry to lose its stiffness.
In
medieval cuisine
Medieval cuisine
Medieval cuisine includes the foods, eating habits, and cooking methods of various European cultures during the Middle Ages, a period roughly dating from the 5th to the 16th century...
of North Europe they were able to produce nice, stiff pastries because they cooked with shortening and butter. There were some incomplete lists of ingredients found in medieval cookbooks, but no full, detailed versions. There were stiff, empty pastries called coffins or '
huff paste
Huff paste
Huff paste was a cooking technique involved making a stiff pie shell or coffyn using a mixture of flour, suet, and boiling water. The pastry when cooked created a tough protective layer around the food inside...
', that were eaten by servants only and included an
egg yolk
Egg yolk
An egg yolk is a part of an egg which feeds the developing embryo. The egg yolk is suspended in the egg white by one or two spiral bands of tissue called the chalazae...
glaze to help make them more enjoyable to consume. Medieval pastries also included small tarts to add richness to the snack.
It was not until about the Mid 16th century until actual pastry recipes showed up.
These recipes were adopted and adapted over time in various European countries, resulting in the myriad of pastry traditions known to the region, from Portuguese "pastéis de nata" in the west to Russian "
pirozhky
Pirozhki
Pirozhki , sometimes transliterated as piroshki , is a generic word for individual-sized baked or fried buns stuffed with a variety of fillings. The stress in pirozhki is properly placed on the last syllable: . Pirozhok is the diminutive form of the Russian cognate pirog , which refers to a...
" in the east. The use of chocolate in pastry-making in the West, so commonplace today, arose only after Spanish and Portuguese traders brought chocolate to Europe from the New World starting in the 16th century.
Many culinary historians consider French pastry chef Antonin Carême (1784–1833) to have been the first great master of pastry making in modern times.
Pastry-making also has a strong tradition in many parts of Asia. Chinese pastry is made from rice, or different types of flour, with fruit,
sweet bean paste
Sweet bean paste
Sweet bean paste is a food ingredient used in several Asian cuisines. Within Chinese cuisine, it is primarily used as a filling for sweet desserts and Chinese pastry.- Production :...
or
sesame
Sesame
Sesame is a flowering plant in the genus Sesamum. Numerous wild relatives occur in Africa and a smaller number in India. It is widely naturalized in tropical regions around the world and is cultivated for its edible seeds, which grow in pods....
-based fillings. Beginning in the 19th century, the British brought western-style pastry to the
far east
Far East
The Far East is an English term mostly describing East Asia and Southeast Asia, with South Asia sometimes also included for economic and cultural reasons.The term came into use in European geopolitical discourse in the 19th century,...
, though it would be the French influenced
Maxim
Maxim's Catering
Maxim's is Hong Kong's largest food & beverage corporation and restaurant chain. Founded in 1956 by Dr James Tak Wu and his brother S.T...
in the 1950s that made western pastry popular in Chinese-speaking regions starting with
Hong Kong
Hong Kong
Hong Kong is one of two Special Administrative Regions of the People's Republic of China , the other being Macau. A city-state situated on China's south coast and enclosed by the Pearl River Delta and South China Sea, it is renowned for its expansive skyline and deep natural harbour...
. Still, the term "Western Cake" (西餅) is used to differentiate between the automatically assumed Chinese pastry. Other Asian countries such as Korea have traditionally prepared pastry-confections such as
tteok
Tteok
Tteok is a class of Korean rice cakes made with glutinous rice flour , by steaming. Normal rice flour can be used for some kinds of tteok. There are hundreds of different kinds of tteok eaten year round...
,
hangwa
Hangwa
Hangwa is a general term for Korean traditional confectionery. Common ingredients in hangwa are grain flour, honey, yeot, sugar, fruit or edible root.-Types of hangwa:*Yumilgwa : made by frying and kneading....
, and yaksi with flour, rice, fruits, and regional specific ingredients to make unique type desserts. And Japan also has specialized pastry-confections better known as
mochi
Mochi
Mochi is a Japanese rice cake made of glutinous rice pounded into paste and molded into shape. In Japan it is traditionally made in a ceremony called mochitsuki. While also eaten year-round, mochi is a traditional food for the Japanese New Year and is commonly sold and eaten during that time...
and
manju
Manju
Manju is a Sanskrit word with following associated meanings - pleasant, sweet, snow, beautiful, Lord Shiva's name, clouds, morning dew and is predominantly an Indian male/female/given name.Manju, means a language of clouds.That is Rain...
. Pastry-confection that originate in Asia are clearly distinct from those that originate in the West that are generally much sweeter.
Pastry chef
Those who make pastries professionally are known as either
bakers
Bakers
Baker's is a supermarket chain operating primarily in the metro area of Omaha, Nebraska. It is owned by Kroger.-History:Abraham Baker opened his first grocery store in Walnut, Iowa in 1927. His first Omaha-area store opened in Bellevue, Nebraska in 1947, and his first in Omaha itself opened in 1957...
or pastry chefs, depending on whether they produce pastries for a
bakery
Bakery
A bakery is an establishment which produces and sells flour-based food baked in an oven such as bread, cakes, pastries and pies. Some retail bakeries are also cafés, serving coffee and tea to customers who wish to consume the baked goods on the premises.-See also:*Baker*Cake...
or a
restaurant
Restaurant
A restaurant is an establishment which prepares and serves food and drink to customers in return for money. Meals are generally served and eaten on premises, but many restaurants also offer take-out and food delivery services...
.
Pastry chefs use a combination of culinary ability and creativity in baking, decoration, and flavoring with ingredients. Many baked goods require a lot of time and focus. Presentation is an important part of pastry and dessert preparation. The job is often physically demanding; requiring attention to detail and long hours. They are also responsible for creating new recipes to put on the menu. Pastry chefs work in restaurants, bistros, large hotels, casinos and bakeries. Pastry baking is usually held in a slightly separate part from the main kitchen. This section of the kitchen is in charge of making pastries, desserts, and other baked goods.
See also
Konditorei

Konditorei

Konditorei is the German word for a pâtisserie and confectionery shop. A Konditorei typically offers a wide variety of pastries and is like a little café. In Germany and Austria it is a very popular custom to go to a Konditorei to have a cake and some coffee or hot chocolate mid-afternoon...



Pastry fork

Pastry fork

A pastry fork, also known as a "pie fork", is a fork designed for eating pastries and other desserts while holding a plate. The fork has 3 or 4 tines...



Pâtisserie

Pâtisserie

A pâtisserie is the type of French or Belgian bakery that specializes in pastries and sweets. In both countries it is a legally controlled title that may only be used by bakeries that employ a licensed maître pâtissier ....



Pie crust
Pastry brush

Pastry brush

A pastry brush, also known as a basting brush, is a cooking utensil used to spread oil or glaze on food. Traditional pastry brushes are made with natural bristles or a plastic or nylon fiber similar to a paint brush, while modern kitchen brushes may have silicone bristles...