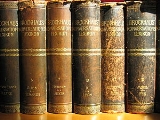 Mass media
Mass media
refers collectively to all
media
Media (communication)
In communications, media are the storage and transmission channels or tools used to store and deliver information or data...
technologies
Technology
Technology is the making, usage, and knowledge of tools, machines, techniques, crafts, systems or methods of organization in order to solve a problem or perform a specific function. It can also refer to the collection of such tools, machinery, and procedures. The word technology comes ;...
which are intended to reach a large audience via
mass communication
Mass communication
Mass communication is the term used to describe the academic study of the various means by which individuals and entities relay information through mass media to large segments of the population at the same time...
. Broadcast media (also known as electronic media) transmit their information electronically and comprise of
television
Television
Television is a telecommunication medium for transmitting and receiving moving images that can be monochrome or colored, with accompanying sound...
,
film
Film
A film, also called a movie or motion picture, is a series of still or moving images. It is produced by recording photographic images with cameras, or by creating images using animation techniques or visual effects...
and
radio
Radio
Radio is the transmission of signals through free space by modulation of electromagnetic waves with frequencies below those of visible light. Electromagnetic radiation travels by means of oscillating electromagnetic fields that pass through the air and the vacuum of space...
, movies, CDs, DVDs and some other gadgets like cameras or video consoles. Alternatively, print media uses a physical object as a means of sending their information, such as a
newspaper
Newspaper
A newspaper is a scheduled publication containing news of current events, informative articles, diverse features and advertising. It usually is printed on relatively inexpensive, low-grade paper such as newsprint. By 2007, there were 6580 daily newspapers in the world selling 395 million copies a...
, magazines, brochures, newsletters, books, leaflets and pamphlets.