Beach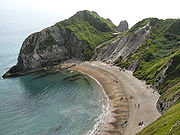 A
beach
is a
geological
Geology
Geology is the science comprising the study of solid Earth, the rocks of which it is composed, and the processes by which it evolves. Geology gives insight into the history of the Earth, as it provides the primary evidence for plate tectonics, the evolutionary history of life, and past climates...
landform
Landform
A landform or physical feature in the earth sciences and geology sub-fields, comprises a geomorphological unit, and is largely defined by its surface form and location in the landscape, as part of the terrain, and as such, is typically an element of topography...
along the
shore
Shore
A shore or shoreline is the fringe of land at the edge of a large body of water, such as an ocean, sea, or lake. In Physical Oceanography a shore is the wider fringe that is geologically modified by the action of the body of water past and present, while the beach is at the edge of the shore,...
line of an ocean, sea, lake or river. It usually consists of loose particles which are often composed of
rock
Rock (geology)
In geology, rock or stone is a naturally occurring solid aggregate of minerals and/or mineraloids.The Earth's outer solid layer, the lithosphere, is made of rock. In general rocks are of three types, namely, igneous, sedimentary, and metamorphic...
, such as
sand
Sand
Sand is a naturally occurring granular material composed of finely divided rock and mineral particles.The composition of sand is highly variable, depending on the local rock sources and conditions, but the most common constituent of sand in inland continental settings and non-tropical coastal...
,
gravel
Gravel
Gravel is composed of unconsolidated rock fragments that have a general particle size range and include size classes from granule- to boulder-sized fragments. Gravel can be sub-categorized into granule and cobble...
,
shingle
Shingle beach
A shingle beach is a beach which is armoured with pebbles or small- to medium-sized cobbles. Typically, the stone composition may grade from characteristic sizes ranging from two to 200 mm diameter....
,
pebble
Pebble
A pebble is a clast of rock with a particle size of 4 to 64 millimetres based on the Krumbein phi scale of sedimentology. Pebbles are generally considered to be larger than granules and smaller than cobbles . A rock made predominantly of pebbles is termed a conglomerate...
s or
cobblestone
Cobblestone
Cobblestones are stones that were frequently used in the pavement of early streets. "Cobblestone" is derived from the very old English word "cob", which had a wide range of meanings, one of which was "rounded lump" with overtones of large size...
s. The particles comprising the beach are occasionally biological in origin, such as
mollusc shell
Mollusc shell
The mollusc shell is typically a calcareous exoskeleton which encloses, supports and protects the soft parts of an animal in the phylum Mollusca, which includes snails, clams, tusk shells, and several other classes...
s or
coralline algae
Coralline algae
Coralline algae are red algae in the order Corallinales. They are characterized by a thallus that is hard because of calcareous deposits contained within the cell walls...
.
Wild beaches are beaches which do not have lifeguards or trappings of modernity nearby, such as resorts and hotels. They are sometimes called undeclared, undeveloped or undiscovered beaches. Wild beaches can be valued for their untouched beauty and preserved nature. They are most commonly found in less developed areas including, for example, parts of
Puerto Rico
Puerto Rico
Puerto Rico , officially the Commonwealth of Puerto Rico , is an unincorporated territory of the United States, located in the northeastern Caribbean, east of the Dominican Republic and west of both the United States Virgin Islands and the British Virgin Islands.Puerto Rico comprises an...
,
Thailand
Thailand
Thailand , officially the Kingdom of Thailand , formerly known as Siam , is a country located at the centre of the Indochina peninsula and Southeast Asia. It is bordered to the north by Burma and Laos, to the east by Laos and Cambodia, to the south by the Gulf of Thailand and Malaysia, and to the...
, the
Philippines
Philippines
The Philippines , officially known as the Republic of the Philippines , is a country in Southeast Asia in the western Pacific Ocean. To its north across the Luzon Strait lies Taiwan. West across the South China Sea sits Vietnam...
, and
Indonesia
Indonesia
Indonesia , officially the Republic of Indonesia , is a country in Southeast Asia and Oceania. Indonesia is an archipelago comprising approximately 13,000 islands. It has 33 provinces with over 238 million people, and is the world's fourth most populous country. Indonesia is a republic, with an...
.
Beaches typically occur in areas along the coast where wave or
current
Ocean current
An ocean current is a continuous, directed movement of ocean water generated by the forces acting upon this mean flow, such as breaking waves, wind, Coriolis effect, cabbeling, temperature and salinity differences and tides caused by the gravitational pull of the Moon and the Sun...
action
deposits
Deposition (geology)
Deposition is the geological process by which material is added to a landform or land mass. Fluids such as wind and water, as well as sediment flowing via gravity, transport previously eroded sediment, which, at the loss of enough kinetic energy in the fluid, is deposited, building up layers of...
and reworks sediments.
Overview

Although the
seashore
Shore
A shore or shoreline is the fringe of land at the edge of a large body of water, such as an ocean, sea, or lake. In Physical Oceanography a shore is the wider fringe that is geologically modified by the action of the body of water past and present, while the beach is at the edge of the shore,...
is most commonly associated with the word
beach
, beaches are found by lakes and alongside large rivers, as well as by the sea or oceans.
Beach
may refer to:
small systems where rock material moves onshore, offshore, or alongshore by the forces of waves and currents; or
geological units of considerable size.
The former are described in detail below; the larger geological units are discussed elsewhere under
bars
Shoal
Shoal, shoals or shoaling may mean:* Shoal, a sandbank or reef creating shallow water, especially where it forms a hazard to shipping* Shoal draught , of a boat with shallow draught which can pass over some shoals: see Draft...
.
There are several conspicuous parts to a beach which relate to the processes that form and shape it. The part mostly above water (depending upon tide), and more or less actively influenced by the waves at some point in the tide, is termed the beach berm. The berm is the deposit of material comprising the active shoreline. The berm has a
crest
(top) and a
face
— the latter being the slope leading down towards the water from the crest. At the very bottom of the face, there may be a
trough
, and further seaward one or more long shore bars: slightly raised, underwater embankments formed where the waves first start to break.
The sand deposit may extend well inland from the
berm crest
, where there may be evidence of one or more older crests (the
storm beach
) resulting from very large storm waves and beyond the influence of the normal waves. At some point the influence of the waves (even storm waves) on the material comprising the beach stops, and if the particles are small enough (sand size or smaller) , winds shape the feature. Where wind is the force distributing the grains inland, the deposit behind the beach becomes a
dune
Dune
In physical geography, a dune is a hill of sand built by wind. Dunes occur in different forms and sizes, formed by interaction with the wind. Most kinds of dunes are longer on the windward side where the sand is pushed up the dune and have a shorter "slip face" in the lee of the wind...
.
These geomorphic features compose what is called the
beach profile
. The beach profile changes seasonally due to the change in wave energy experienced during summer and winter months. The beach profile is higher during the summer due to the gentle wave action during this season. The lower energy waves deposit sediment on the beach berm and dune, adding to the beach profile. Conversely, the beach profile is lower in the winter due to the increased wave energy associated with storms. Higher energy waves erode sediment from the beach berm and dune, and deposit it off shore, forming longshore bars. The removal of sediment from the beach berm and dune decreases the beach profile.
The line between beach and dune is difficult to define in the field. Over any significant period of time, sand is always being exchanged between them. The
drift line
(the high point of material deposited by waves) is one potential demarcation. This would be the point at which significant wind movement of sand could occur, since the normal waves do not wet the sand beyond this area. However, the drift line is likely to move inland under assault by storm waves.
Beach formation
Beaches are the result of wave action by which
wave
Wave
In physics, a wave is a disturbance that travels through space and time, accompanied by the transfer of energy.Waves travel and the wave motion transfers energy from one point to another, often with no permanent displacement of the particles of the medium—that is, with little or no associated mass...
s or
currents
Ocean current
An ocean current is a continuous, directed movement of ocean water generated by the forces acting upon this mean flow, such as breaking waves, wind, Coriolis effect, cabbeling, temperature and salinity differences and tides caused by the gravitational pull of the Moon and the Sun...
move sand or other loose
sediment
Sediment
Sediment is naturally occurring material that is broken down by processes of weathering and erosion, and is subsequently transported by the action of fluids such as wind, water, or ice, and/or by the force of gravity acting on the particle itself....
s of which the beach is made as these particles are held in
suspension
Suspension (chemistry)
In chemistry, a suspension is a heterogeneous fluid containing solid particles that are sufficiently large for sedimentation. Usually they must be larger than 1 micrometer. The internal phase is dispersed throughout the external phase through mechanical agitation, with the use of certain...
. Alternatively, sand may be moved by
saltation
Saltation (geology)
In geology, saltation is a specific type of particle transport by fluids such as wind or water. It occurs when loose material is removed from a bed and carried by the fluid, before being transported back to the surface...
(a bouncing movement of large particles). Beach materials come from erosion of rocks offshore, as well as from headland
erosion
Erosion
Erosion is when materials are removed from the surface and changed into something else. It only works by hydraulic actions and transport of solids in the natural environment, and leads to the deposition of these materials elsewhere...
and
slumping
Slumping
Slumping is one broad technique of warm glass working, for the forming of glass by applying heat to the point where the glass will soften. The increasing fluidity of the glass with temperature causes the glass to 'slump' into or onto the mold under the force of gravity.- Technique :Glass is most...
producing deposits of
scree
Scree
Scree, also called talus, is a term given to an accumulation of broken rock fragments at the base of crags, mountain cliffs, or valley shoulders. Landforms associated with these materials are sometimes called scree slopes or talus piles...
. Some of the whitest sand in the world, along Florida's
Emerald Coast
Emerald Coast
The Emerald Coast is an area in the US state of Florida on the coast of the Gulf of Mexico which stretches about 100 miles through four counties, Santa Rosa, Okaloosa, Walton, and Bay, from Gulf Breeze on the east side of Pensacola Bay to Panama City on the east side of the St...
, comes from the erosion of quartz in the Appalachian Mountains. A
coral reef
Reef
In nautical terminology, a reef is a rock, sandbar, or other feature lying beneath the surface of the water ....
offshore is a significant source of sand particles.
The shape of a beach depends on whether or not the waves are constructive or destructive, and whether the material is sand or shingle. Constructive waves move material up the beach while destructive waves move the material down the beach. On sandy beaches, the backwash of the waves removes material forming a gently sloping beach. On shingle beaches the swash is dissipated because the large particle size allows percolation, so the backwash is not very powerful, and the beach remains steep.
Cusps
Beach cusps
Beach cusps are shoreline formations made up of various grades of sediment in an arc pattern. The horns are made up of coarser materials and the embayment contains all the finer grain sediment. They can be found all over the world and are most noticeable on shorelines with coarser sediment such as...
and horns form where incoming waves divide, depositing sand as horns and scouring out sand to form cusps. This forms the uneven face on some sand shorelines.
There are several beaches which are claimed to be the "World's longest", including
Cox's Bazar, Bangladesh
Cox's Bazar
Cox's Bazar is a town, a fishing port and district headquarters in Bangladesh. It is known for its wide sandy beach which is the world's longest natural sandy sea beach. It is an unbroken 125 km sandy sea beach with a gentle slope. It is located 150 km south of Chittagong. Cox's Bazar...
(120 km unbroken),
Praia do Cassino
Praia do Cassino
Praia do Cassino is located adjacent to the city of Rio Grande, in the state of Rio Grande do Sul, Brazil. It is commonly known in Brazil as the longest beach in the world , stretching from the Molhes in Cassino beach to nearly Chuí, on...
, Fraser Island beach, 90 Mile Beach in Australia and
90 Mile Beach
Ninety Mile Beach, New Zealand
Ninety Mile Beach is a beach located on the western coast of the far north of the North Island of New Zealand. It stretches from just west of Kaitaia towards Cape Reinga along the Aupouri Peninsula. It begins close to the headland of Reef Point, to the west of Ahipara Bay, sweeping briefly...
in New Zealand (88 km), Troia-Sines Beach (63 km) in Portugal and
Long Beach, Washington
Long Beach, Washington
Long Beach is a city in Pacific County, Washington, United States. The population was 1,283 at the 2000 census and grew to 1,392 at the 2010 census...
(which is about 40 km).
Beaches and recreation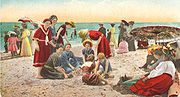 Many beaches are very popular on warm sunny days. In the
Victorian era
Victorian era
The Victorian era of British history was the period of Queen Victoria's reign from 20 June 1837 until her death on 22 January 1901. It was a long period of peace, prosperity, refined sensibilities and national self-confidence...
, many popular beach resorts were equipped with
bathing machine
Bathing machine
The bathing machine was a device, popular in the 18th and 19th centuries, to allow people to change out of their usual clothes, possibly change into swimwear and then wade in the ocean at beaches. Bathing machines were roofed and walled wooden carts rolled into the sea...
s because even the all-covering
beachwear
Swimsuit
A swimsuit, bathing suit, or swimming costume is an item of clothing designed to be worn by men, women or children while they are engaging in a water-based activity or water sports, such as swimming, water polo, diving, surfing, water skiing, or during activities in the sun, such as sun bathing.A...
of the period was considered immodest. This social standard still prevails in many
Muslim
Muslim
A Muslim, also spelled Moslem, is an adherent of Islam, a monotheistic, Abrahamic religion based on the Quran, which Muslims consider the verbatim word of God as revealed to prophet Muhammad. "Muslim" is the Arabic term for "submitter" .Muslims believe that God is one and incomparable...
countries. At the other end of the spectrum are topfree beaches and
nude beach
Nude beach
A nude beach is a beach where users are legally at liberty to be nude. Sometimes the terms clothing-optional beach or free beach are used. Nude bathing is one of the most common forms of nudity in public. As beaches are usually on public lands, any member of the public is entitled to use the...
es where clothing is optional or not allowed. In most countries social norms are significantly different on a beach in hot weather, compared to adjacent areas where similar behaviour might not be tolerated and might even be prosecuted.
Usually beach wear consists of a bikini, short shorts, and beach sandals for women. For men it is usually swim trunks and beach sandals.
In more than thirty countries in Europe,
South Africa
South Africa
The Republic of South Africa is a country in southern Africa. Located at the southern tip of Africa, it is divided into nine provinces, with of coastline on the Atlantic and Indian oceans...
,
New Zealand
New Zealand
New Zealand is an island country in the south-western Pacific Ocean comprising two main landmasses and numerous smaller islands. The country is situated some east of Australia across the Tasman Sea, and roughly south of the Pacific island nations of New Caledonia, Fiji, and Tonga...
,
Canada
Canada
Canada is a North American country consisting of ten provinces and three territories. Located in the northern part of the continent, it extends from the Atlantic Ocean in the east to the Pacific Ocean in the west, and northward into the Arctic Ocean...
,
Costa Rica
Costa Rica
Costa Rica , officially the Republic of Costa Rica is a multilingual, multiethnic and multicultural country in Central America, bordered by Nicaragua to the north, Panama to the southeast, the Pacific Ocean to the west and the Caribbean Sea to the east....
,
South America
South America
South America is a continent situated in the Western Hemisphere, mostly in the Southern Hemisphere, with a relatively small portion in the Northern Hemisphere. The continent is also considered a subcontinent of the Americas. It is bordered on the west by the Pacific Ocean and on the north and east...
and the
Caribbean
Caribbean
The Caribbean is a crescent-shaped group of islands more than 2,000 miles long separating the Gulf of Mexico and the Caribbean Sea, to the west and south, from the Atlantic Ocean, to the east and north...
, the best recreational beaches are awarded
Blue Flag
Blue Flag beach
The Blue Flag is a certification by the Foundation for Environmental Education that a beach or marina meets its stringent standards.The Blue Flag is a trademark owned by FEE which is a not-for-profit, non-governmental organisation consisting of 65 organisations in 60 member countries in Europe,...
status, based on such criteria as water quality and safety provision. Subsequent loss of this status can have a severe effect on tourism revenues.
Due to intense use by the
expanding human population
Overpopulation
Overpopulation is a condition where an organism's numbers exceed the carrying capacity of its habitat. The term often refers to the relationship between the human population and its environment, the Earth...
, beaches are often dumping grounds for
waste
Waste
Waste is unwanted or useless materials. In biology, waste is any of the many unwanted substances or toxins that are expelled from living organisms, metabolic waste; such as urea, sweat or feces. Litter is waste which has been disposed of improperly...
and litter, necessitating the use of
beach cleaner
Beach cleaner
A beach cleaner is a vehicle that drags a raking or sifting device over beach sand to remove rubbish and other foreign matter. Beach cleaners are either manually hand-drawn or pulled by quad-bike or tractor. Seaside cities use beach cleaning machines to combat the problems of litter left by beach...
s and other cleanup projects. More significantly, many beaches are a discharge zone for untreated sewage in most underdeveloped countries; even in developed countries beach closure is an occasional circumstance due to
sanitary sewer overflow
Sanitary sewer overflow
Sanitary sewer overflow is a condition whereby untreated sewage is discharged into the environment prior to reaching treatment facilities thereby escaping wastewater treatment. When caused by rainfall it is also known as wet weather overflow. It is primarily meaningful in developed countries,...
. In these cases of marine discharge, waterborne
disease
Disease
A disease is an abnormal condition affecting the body of an organism. It is often construed to be a medical condition associated with specific symptoms and signs. It may be caused by external factors, such as infectious disease, or it may be caused by internal dysfunctions, such as autoimmune...
from
fecal
Feces
Feces, faeces, or fæces is a waste product from an animal's digestive tract expelled through the anus or cloaca during defecation.-Etymology:...
pathogen
Pathogen
A pathogen gignomai "I give birth to") or infectious agent — colloquially, a germ — is a microbe or microorganism such as a virus, bacterium, prion, or fungus that causes disease in its animal or plant host...
s and contamination of certain marine species is a frequent outcome.
Beach tokens
"Beach tokens", a form of
season pass
Season Pass
Season Pass refers to a ticket attainable at most amusement parks allowing admission to the park multiple times during a certain period of time - usually a year. Season passes also are issued by ski areas....
admission ticket, may be required for
entrance, for people and even pets.
They are made of metal etc. durable material, to enable them to withstand swimming, so
the bearer can just carry them around their neck or on their swimsuit.
Goals may be:
restricting to only community members
user fees for lifeguards, clean up
Artificial beaches
Some beaches are artificial; they are either permanent or temporary (For examples see
Monaco
Monaco
Monaco , officially the Principality of Monaco , is a sovereign city state on the French Riviera. It is bordered on three sides by its neighbour, France, and its centre is about from Italy. Its area is with a population of 35,986 as of 2011 and is the most densely populated country in the...
,
Paris
Paris
Paris is the capital and largest city in France, situated on the river Seine, in northern France, at the heart of the Île-de-France region...
,
Copenhagen
Copenhagen
Copenhagen is the capital and largest city of Denmark, with an urban population of 1,199,224 and a metropolitan population of 1,930,260 . With the completion of the transnational Øresund Bridge in 2000, Copenhagen has become the centre of the increasingly integrating Øresund Region...
,
Rotterdam
Rotterdam
Rotterdam is the second-largest city in the Netherlands and one of the largest ports in the world. Starting as a dam on the Rotte river, Rotterdam has grown into a major international commercial centre...
,
Nottingham
Nottingham
Nottingham is a city and unitary authority in the East Midlands of England. It is located in the ceremonial county of Nottinghamshire and represents one of eight members of the English Core Cities Group...
,
Toronto
Toronto
Toronto is the provincial capital of Ontario and the largest city in Canada. It is located in Southern Ontario on the northwestern shore of Lake Ontario. A relatively modern city, Toronto's history dates back to the late-18th century, when its land was first purchased by the British monarchy from...
,
Hong Kong
Beaches of Hong Kong
Hong Kong has a long coastline that is full of twists and turns with many bays and beaches. Many of them are well sheltered by mountains nearby, as Hong Kong is a mountainous place...
and
Singapore
Beaches of Singapore
This is a list of beaches in Singapore. Although Singapore is a nation composed of islands, the physical state and extent of its beaches today pales in comparison to their proliferation and quality two centuries ago...
, and Tianjin).
The soothing qualities of a beach and the pleasant environment offered to the beachgoer are replicated in artificial beaches, such as "beach style" pools with zero-depth entry and wave pools that recreate the natural waves pounding upon a beach. In a zero-depth entry pool, the bottom surface slopes gradually from above water down to depth. Another approach involves so-called
urban beach
Urban beach
An urban beach, or urbeach,is defined as a space that includes an intellectually, artistically, or culturally sophisticated water feature that is also an aquatic play area, and is located within a culturally or artistically significant area of a city...
es, a form of public
park
Park
A park is a protected area, in its natural or semi-natural state, or planted, and set aside for human recreation and enjoyment, or for the protection of wildlife or natural habitats. It may consist of rocks, soil, water, flora and fauna and grass areas. Many parks are legally protected by...
becoming common in large cities. Urban beaches attempt to mimic natural beaches with fountains that imitate surf and mask city noises, and in some cases can be used as a play park.
Beach nourishment
Beach nourishment
Beach nourishment— also referred to as beach replenishment—describes a process by which sediment lost through longshore drift or erosion is replaced from sources outside of the eroding beach...
involves pumping sand onto beaches to improve their health. Beach nourishment is common for major beach cities around the world; however the beaches that have been nourished can still appear quite natural and often many visitors are unaware of the works undertaken to support the health of the beach. Such beaches are often not recognized (by consumers) as artificial.
A concept of IENCE has been devised to describe investment into the capacity of natural environments. IENCE is Investment to Enhance the Natural Capacity of the Environment and includes things like beach nourishment of natural beaches to enhance recreational enjoyment and snow machines that extend ski seasons for areas with an existing snow economy developed upon a natural snowy mountain. As the name implies IENCE is not quite mainstream natural science as its goal is to artificially invest into an environment's capacity to support anthropogenic economic activity. An
artificial reef
Artificial reef
An artificial reef is a human-made underwater structure, typically built to promote marine life in areas with a generally featureless bottom, control erosion, block ship passage, or improve surfing....
designed to enhance wave quality for surfing is another example of IENCE.
The Surfrider Foundation
The Surfrider Foundation
The Surfrider Foundation USA is a U.S. 501 grassroots non-profit environmental organization that works to protect and preserve the world's oceans, waves, and beaches...
has debated the merits of
artificial reef
Artificial reef
An artificial reef is a human-made underwater structure, typically built to promote marine life in areas with a generally featureless bottom, control erosion, block ship passage, or improve surfing....
s with members torn between their desire to support natural coastal environments and opportunities to enhance the quality of surfing waves. Similar debates surround
Beach nourishment
Beach nourishment
Beach nourishment— also referred to as beach replenishment—describes a process by which sediment lost through longshore drift or erosion is replaced from sources outside of the eroding beach...
and Snow cannon in sensitive environments.
Beaches as habitat
A beach is an unstable environment which exposes plants and animals to changeable and potentially harsh conditions. Some small animals burrow into the sand and feed on material deposited by the waves.
Crab
Crab
True crabs are decapod crustaceans of the infraorder Brachyura, which typically have a very short projecting "tail" , or where the reduced abdomen is entirely hidden under the thorax...
s,
insect
Insect
Insects are a class of living creatures within the arthropods that have a chitinous exoskeleton, a three-part body , three pairs of jointed legs, compound eyes, and two antennae...
s and shorebirds feed on these beach dwellers. The endangered
Piping Plover
Piping Plover
The Piping Plover is a small sand-colored, sparrow-sized shorebird that nests and feeds along coastal sand and gravel beaches in North America. The adult has yellow-orange legs, a black band across the forehead from eye to eye, and a black ring around the neck...
and some
tern
Tern
Terns are seabirds in the family Sternidae, previously considered a subfamily of the gull family Laridae . They form a lineage with the gulls and skimmers which in turn is related to skuas and auks...
species rely on beaches for nesting.
Sea turtle
Sea turtle
Sea turtles are marine reptiles that inhabit all of the world's oceans except the Arctic.-Distribution:...
s also lay their eggs on ocean beaches.
Seagrass
Seagrass
Seagrasses are flowering plants from one of four plant families , all in the order Alismatales , which grow in marine, fully saline environments.-Ecology:...
es and other beach plants grow on undisturbed areas of the beach and dunes.
Ocean beaches are habitats with organisms adapted to salt spray, tidal overwash, and shifting sands. Some of these organisms are found only on beaches. Examples of these beach organisms in the southeast US include plants like
sea oats
Sea oats
Uniola paniculata, or Sea oats, is a species of grass that grows along the East Coast and the Gulf Coast of the United States, Mexico, and on islands in the Caribbean.-Description:...
, sea rocket, beach elder, beach morning glory aka
Ipomoea pes-caprae
Ipomoea pes-caprae
Ipomoea pes-caprae, also known as Beach Morning Glory or Goat's Foot, is a common pantropical creeping vine belonging to the family Convolvulaceae. It grows on the upper parts of beaches and endures salted air. It is one of the most common and most widely distributed salt tolerant plants and...
, and beach peanut, and animals such as mole crabs aka
Hippoidea
Hippoidea
Hippoidea is a superfamily of decapod crustaceans known as sand crabs or mole crabs.-Ecology:Hippoids are adapted to burrowing into sandy beaches, a habit they share with raninid crabs, and the parallel evolution of the two groups is striking...
, coquina clams aka
Donax
Donax
Donax is a genus of small, edible saltwater clams, marine bivalve mollusks. The genus is sometimes known as bean clams; however, Donax species have various common names in different parts of the world....
,
ghost crab
Ghost crab
Ghost crabs, also called sand crabs, are crabs of the genus Ocypode, common shore crabs in many countries. Characteristics of the genus include one claw being larger than the other, but this difference is not as marked as in male fiddler crabs....
s, and white beach tiger beetles.
See also
Further reading
Bascom, W. 1980. Waves and Beaches. Anchor Press/Doubleday, Garden City, New York. 366 p.
External links