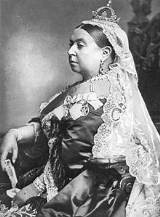 Victorian era
The
Victorian era
of
British history
United Kingdom of Great Britain and Ireland
The United Kingdom of Great Britain and Ireland was the formal name of the United Kingdom during the period when what is now the Republic of Ireland formed a part of it....
was the period of Queen Victoria's reign from 20 June 1837 until her death on 22 January 1901. It was a long period of peace, prosperity, refined sensibilities and national self-confidence. Some scholars date the beginning of the period in terms of sensibilities and political concerns to the passage of the
Reform Act 1832
Reform Act 1832
The Representation of the People Act 1832 was an Act of Parliament that introduced wide-ranging changes to the electoral system of England and Wales...
.
The era was preceded by the
Georgian period
Georgian era
The Georgian era is a period of British history which takes its name from, and is normally defined as spanning the reigns of, the first four Hanoverian kings of Great Britain : George I, George II, George III and George IV...
and succeeded by the Edwardian period.