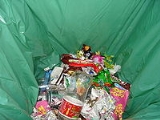 Waste
Waste
is unwanted or useless materials. In biology, waste is any of the many unwanted substances or toxins that are expelled from living organisms,
metabolic waste
Metabolic waste
Metabolic wastes or excretes are substances left over from excretory processes, which cannot be used by the organism , and must therefore be excreted. This includes nitrogen compounds, water, CO2, phosphates, sulfates, insoles, medicals, food additives etc. Animals treat these compounds as excretes...
; such as
urea
Urea
Urea or carbamide is an organic compound with the chemical formula CO2. The molecule has two —NH2 groups joined by a carbonyl functional group....
,
sweat
SWEAT
SWEAT is an OLN/TSN show hosted by Julie Zwillich that aired in 2003-2004.Each of the 13 half-hour episodes of SWEAT features a different outdoor sport: kayaking, mountain biking, ice hockey, beach volleyball, soccer, windsurfing, rowing, Ultimate, triathlon, wakeboarding, snowboarding, telemark...
or
feces
Feces
Feces, faeces, or fæces is a waste product from an animal's digestive tract expelled through the anus or cloaca during defecation.-Etymology:...
.
Litter
Litter
Litter consists of waste products such as containers, papers, wrappers or faeces which have been disposed of without consent. Litter can also be used as a verb...
is waste which has been disposed of improperly. Feces contain large quantities of fresh and soft texturized waste products.
Waste is directly linked to human development, both technologically and socially.
There must be a reason why some people can afford to live well. They must have worked for it. I only feel angry when I see waste. When I see people throwing away things we could use. : Mother Teresa (1910–1997), A Gift for God, 1975

The ocean is tired. It's throwing back at us what we're throwing in there. : Frank Lautenberg, US Senator, on cases of dumped waste washing ashore at beaches, quoted in USA Today, 11 August 1988

Source Reduction is to garbage what preventive medicine is to health.

William Rathje, Atlantic Monthly, December 1989
To waste, to destroy our natural resources, to skin and exhaust the land instead of using it so as to increase its usefulness, will result in undermining in the days of our children the very prosperity which we ought by right to hand down to them amplified and developed.

Theodore Roosevelt, Seventh Annual Message, December 3, 1907