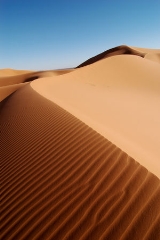 Dune
In
physical geography
Physical geography
Physical geography is one of the two major subfields of geography. Physical geography is that branch of natural science which deals with the study of processes and patterns in the natural environment like the atmosphere, biosphere and geosphere, as opposed to the cultural or built environment, the...
, a
dune
is a
hill
Hill
A hill is a landform that extends above the surrounding terrain. Hills often have a distinct summit, although in areas with scarp/dip topography a hill may refer to a particular section of flat terrain without a massive summit A hill is a landform that extends above the surrounding terrain. Hills...
of
sand
Sand
Sand is a naturally occurring granular material composed of finely divided rock and mineral particles.The composition of sand is highly variable, depending on the local rock sources and conditions, but the most common constituent of sand in inland continental settings and non-tropical coastal...
built by wind. Dunes occur in different forms and sizes, formed by interaction with the wind. Most kinds of dunes are longer on the windward side where the sand is pushed up the dune and have a shorter "slip face" in the lee of the wind. The valley or trough between dunes is called a
slack.
A "dune field" is an area covered by extensive sand dunes. Large dune fields are known as
erg
Erg (landform)
An erg is a broad, flat area of desert covered with wind-swept sand with little or no vegetative cover. The term takes its name from the Arabic word ʿarq , meaning "dune field"...
s.
Some coastal areas have one or more sets of dunes running parallel to the shoreline directly inland from the
beach
Beach
A beach is a geological landform along the shoreline of an ocean, sea, lake or river. It usually consists of loose particles which are often composed of rock, such as sand, gravel, shingle, pebbles or cobblestones...
.
I must not fear. Fear is the mind-killer. Fear is the little-death that brings total obliteration. I will face my fear. I will permit it to pass over me and through me. And when it has gone past I will turn the inner eye to see its path. Where the fear has gone there will be nothing. Only I will remain.

Bene Gesserit Litany Against Fear.
To attempt an understanding of Muad'Dib without understanding his mortal enemies, the House Harkonnen|Harkonnens, is to attempt seeing Truth without knowing Falsehood. It is the attempt to see the Light without knowing Darkness. It cannot be.

from Manual of Muad'Dib by the Princess Irulan
If wishes were fishes, we'd all cast nets.

Gurney Halleck
The mystery of life isn't a problem to solve, but a reality to experience.

Reverend Mother Gaius Helen Mohiam to Paul Atreides. This statement is derived from one attributed to Søren Kierkegaard.
"You've heard of animals chewing off a leg to escape a trap? There's an animal kind of trick. A human would remain in the trap, endure the pain, feigning death that he might kill the trapper and remove a threat to his kind."

Reverend Mother Gaius Helen Mohiam, testing Paul Atreides with the Gom Jabbar.
A process cannot be understood by stopping it. Understanding must move with the flow of the process, must join it and flow with it.

The First Law of Mentat, quoted by Paul Atreides to Reverend Mother Gaius Helen Mohiam
"Yueh! Yueh! Yueh!" goes the refrain. "A million deaths were not enough for Yueh!"

from A Child's History of Muad'Dib by the Princess Irulan
Muad'Dib learned rapidly because his first training was in how to learn. And the first lesson of all was the basic trust that he could learn. It's shocking to find how many people do not believe they can learn, and how many more believe learning to be difficult. Muad'Dib knew that every experience carries its lesson.

from The Humanity of Muad'Dib by the Princess Irulan