 Artificial reef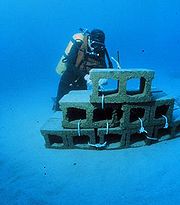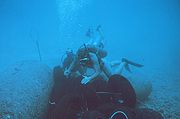 An
artificial reef
is a human-made underwater structure, typically built to promote marine life in areas with a generally featureless bottom, control erosion, block ship passage, or improve surfing.
Many reefs are built using objects that were built for other purposes, for example by sinking oil rigs (through the
Rigs-to-Reefs
Rigs-to-Reefs
Rigs-to-Reefs is a nationwide program developed by the Minerals Management Service of the U.S. Department of the Interior to turn decommissioned offshore oil and petroleum rigs into artificial reefs.-Overview:...
program),
scuttling ships
Sinking ships for wreck diving sites
Sinking ships for wreck diving sites is the practice of scuttling old ships to produce artificial reefs suitable for wreck diving, to benefit from commercial revenues from recreational diving of the shipwreck, or to produce a diver training site....
, or by deploying rubble or construction debris. Other artificial reefs are purpose built (e.g. the
reef balls
The Reef Ball Foundation
The Reef Ball Foundation, Inc. is a 501 publicly supported non-profit organization that functions as an international environmental Non-governmental organization. The foundation uses Reef Ball artificial reef technology, combined with coral propagation, transplant technology, public education and...
) from PVC or concrete. Shipwrecks may become artificial reefs when preserved on the sea floor. Regardless of construction method, artificial reefs generally provide hard surfaces where
algae
Algae
Algae are a large and diverse group of simple, typically autotrophic organisms, ranging from unicellular to multicellular forms, such as the giant kelps that grow to 65 meters in length. They are photosynthetic like plants, and "simple" because their tissues are not organized into the many...
and invertebrates such as
barnacle
Barnacle
A barnacle is a type of arthropod belonging to infraclass Cirripedia in the subphylum Crustacea, and is hence related to crabs and lobsters. Barnacles are exclusively marine, and tend to live in shallow and tidal waters, typically in erosive settings. They are sessile suspension feeders, and have...
s,
coral
Coral
Corals are marine animals in class Anthozoa of phylum Cnidaria typically living in compact colonies of many identical individual "polyps". The group includes the important reef builders that inhabit tropical oceans and secrete calcium carbonate to form a hard skeleton.A coral "head" is a colony of...
s, and
oyster
Oyster
The word oyster is used as a common name for a number of distinct groups of bivalve molluscs which live in marine or brackish habitats. The valves are highly calcified....
s attach; the accumulation of attached marine life in turn provides intricate structure and food for assemblages of fish.
History
The construction of artificial reefs is thousands of years old.
Ancient Persians blocked the mouth of the Tigris River to thwart
India
India
India , officially the Republic of India , is a country in South Asia. It is the seventh-largest country by geographical area, the second-most populous country with over 1.2 billion people, and the most populous democracy in the world...
n pirates by building an artificial reef, and during the
First Punic War
First Punic War
The First Punic War was the first of three wars fought between Ancient Carthage and the Roman Republic. For 23 years, the two powers struggled for supremacy in the western Mediterranean Sea, primarily on the Mediterranean island of Sicily and its surrounding waters but also to a lesser extent in...
the
Romans
Roman Republic
The Roman Republic was the period of the ancient Roman civilization where the government operated as a republic. It began with the overthrow of the Roman monarchy, traditionally dated around 508 BC, and its replacement by a government headed by two consuls, elected annually by the citizens and...
built a reef across the mouth of the Carthaginian harbor in Sicily to trap the enemy ships within and assist in driving the Carthaginians from the island.
Artificial reefs to increase fish yields or for
algaculture
Algaculture
Algaculture is a form of aquaculture involving the farming of species of algae.The majority of algae that are intentionally cultivated fall into the category of microalgae...
have been used at least since 17th century Japan, when rubble and rocks were used to grow
kelp
Kelp
Kelps are large seaweeds belonging to the brown algae in the order Laminariales. There are about 30 different genera....
,
while the earliest recorded construction of artificial reef in the United States is from 1830s when logs from huts were used off the coast of
South Carolina
South Carolina
South Carolina is a state in the Deep South of the United States that borders Georgia to the south, North Carolina to the north, and the Atlantic Ocean to the east. Originally part of the Province of Carolina, the Province of South Carolina was one of the 13 colonies that declared independence...
to improve fishing.
Since at least the 1830s, American fishermen used interlaced logs to build artificial reefs. More recently, castaway junk such as old refrigerators, shopping carts, ditched cars, out-of-service vending machines replaced the logs in ad hoc reefs. Officially sanctioned projects have incorported decommissioned subway cars, vintage battle tanks, armored personnel carriers and oil drilling rigs.
Development
Artificial reefs tend to develop in more or less predictable stages. First, where an ocean current encounters a vertical structure, it can create a
plankton
Plankton
Plankton are any drifting organisms that inhabit the pelagic zone of oceans, seas, or bodies of fresh water. That is, plankton are defined by their ecological niche rather than phylogenetic or taxonomic classification...
-rich upwelling that provides a reliable feeding spot for small fish such as
sardine
Sardine
Sardines, or pilchards, are several types of small, oily fish related to herrings, family Clupeidae. Sardines are named after the Mediterranean island of Sardinia, around which they were once abundant....
s and
minnow
Minnow
Minnow is a general term used to refer to small freshwater and saltwater fish, especially those used as bait fish or for fishing bait. More specifically, it refers to small freshwater fish of the carp family.-True minnows:...
s, which draw in pelagic predators like bluefin tuna and sharks. Next come creatures seeking protection from the ocean's lethal openness—hole and crevice dwellers such as
grouper
Grouper
Groupers are fish of any of a number of genera in the subfamily Epinephelinae of the family Serranidae, in the order Perciformes.Not all serranids are called groupers; the family also includes the sea basses. The common name grouper is usually given to fish in one of two large genera: Epinephelus...
,
snapper
Lutjanidae
Snappers are a family of perciform fish, mainly marine but with some members inhabiting estuaries, feeding in freshwater. Some are important food fish. One of the best known is the red snapper....
, squirrelfish,
eel
Eel
Eels are an order of fish, which consists of four suborders, 20 families, 111 genera and approximately 800 species. Most eels are predators...
s, and
triggerfish
Triggerfish
Triggerfishes are about 40 species of often brightly colored fishes of the family Balistidae. Often marked by lines and spots, they inhabit tropical and subtropical oceans throughout the world, with the greatest species richness in the Indo-Pacific...
. Opportunistic predators such as
jack
Carangidae
Carangidae is a family of fish which includes the jacks, pompanos, jack mackerels, and scads.They are marine fish found in the Atlantic, Indian and Pacific Oceans...
and
barracuda
Barracuda
The barracuda is a ray-finned fish known for its large size and fearsome appearance. Its body is long, fairly compressed, and covered with small, smooth scales. Some species could reach up to 1.8m in length and 30 cm in width...
also appear, waiting for their prey to venture out. Over months and years the reef structure becomes encrusted with
algae
Algae
Algae are a large and diverse group of simple, typically autotrophic organisms, ranging from unicellular to multicellular forms, such as the giant kelps that grow to 65 meters in length. They are photosynthetic like plants, and "simple" because their tissues are not organized into the many...
, tunicates, hard and soft corals, and sponges.
Florida
Florida is the site of many artificial reefs, many created from deliberately sunken ships, including Coast Guard cutters Duane and Bibb and the U.S. Navy landing ship Spiegel Grove.
Osborne Reef
In the early 1970s, more than 2,000,000 used vehicle tires were dumped off the coast of
Fort Lauderdale, Florida
Fort Lauderdale, Florida
Fort Lauderdale is a city in the U.S. state of Florida, on the Atlantic coast. It is the county seat of Broward County. As of the 2010 census, the city had a population of 165,521. It is a principal city of the South Florida metropolitan area, which was home to 5,564,635 people at the 2010...
to form an artificial reef. Catastrophically, the tires were not properly secured to the reef structures. Ocean currents broke them loose, sending them crashing into the developing reef and its natural neighbors. As of 2009, less than 100,000 of the tires had been removed after more than 10 years of efforts.
Neptune Reef
Neptune Reef was originally conceived as an art project that would gradually decay. Burial at sea became a way of financing the project. As of 2011, about 200 "placements" had taken place. Cremated remains are mixed with cement and either encased in columns or molded into sea-star, brain-coral, 15 foot-tall castings of lions or other shapes before entering the water.
USS Oriskany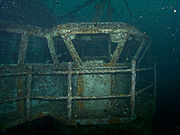 The world's largest artificial reef was created by the purposeful sinking of the aircraft carrier USS
Oriskany
off the coast of
Pensacola
Pensacola
Pensacola is a city in the western part of the U.S. state of Florida.Pensacola may also refer to:* Pensacola people, a group of Native Americans* A number of places in the Florida:** Pensacola Bay** Pensacola Regional Airport...
,
Florida
Florida
Florida is a state in the southeastern United States, located on the nation's Atlantic and Gulf coasts. It is bordered to the west by the Gulf of Mexico, to the north by Alabama and Georgia and to the east by the Atlantic Ocean. With a population of 18,801,310 as measured by the 2010 census, it...
, in 2006.
USNS Hoyt S. Vandenberg
The second-largest artificial reef will be the

USNS Hoyt S. Vandenberg
USS General Harry Taylor (AP-145)
USS General Harry Taylor was a in the United States Navy in World War II named in honor of U.S. Army Chief of Engineers Harry Taylor. She served for a time as army transport USAT General Harry Taylor, and was reacquired by the navy in 1950 as USNS General Harry Taylor .Placed in reserve in 1958,...
, a former
World War II
World War II
World War II, or the Second World War , was a global conflict lasting from 1939 to 1945, involving most of the world's nations—including all of the great powers—eventually forming two opposing military alliances: the Allies and the Axis...
era troop transport that served as a spacecraft tracking ship after the war. The Vandenberg was scuttled seven miles off
Key West
Key West
Key West is an island in the Straits of Florida on the North American continent at the southernmost tip of the Florida Keys. Key West is home to the southernmost point in the Continental United States; the island is about from Cuba....
on May 27, 2009, in 140 feet of clear water. Supporters expect the ship to draw recreational divers away from natural reefs, allowing those reefs to recover from damage from overuse.
Redbird Reef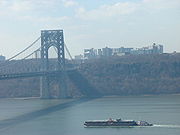 In late 2000, The MTA New York City Transit decided to phase out its outdated fleet of subway cars to make room for the R142 and R142A trains. These subway cars, (
Redbirds
Redbird trains
Redbird is the name given to 1,410 New York City Subway cars of the following types: R26, R28, R29, R33 Main Line , R33 World's Fair , R36 ML, and R36 WF. These cars were painted a deep red to combat graffiti, which had become a major problem In the late 1970s and early 1980s. The deep red color...
), ran on the
IRT
Interborough Rapid Transit Company
The Interborough Rapid Transit Company was the private operator of the original underground New York City Subway line that opened in 1904, as well as earlier elevated railways and additional rapid transit lines in New York City. The IRT was purchased by the City in June 1940...
lines in the
New York City Subway
New York City Subway
The New York City Subway is a rapid transit system owned by the City of New York and leased to the New York City Transit Authority, a subsidiary agency of the Metropolitan Transportation Authority and also known as MTA New York City Transit...
system for 40 years. Each car was sold, stripped, decontaminated, loaded on a barge, and sunk in the Atlantic Ocean. Some had number plates removed because of rust. 1,200 subway cars were sunk.
In September 2007 the MTA approved a contract worth $6 million, to send 1,600 of its retired subway cars to be used as artificial reefs. Most of these trains ran on The BMT/IND lines. The trains include the
R32
R32 (New York City Subway car)
The R32 is a New York City Subway car model built in 1964-65 by the Budd Company in Philadelphia for the IND/BMT B Division. These cars were the first mass-produced stainless steel cars built for the New York City Subway. The two previous Budd orders, the BMT Zephyr and the R11 contract, were...
,
R38
R38 (New York City Subway car)
The R38 is a New York City Subway car class built in 1966–1967 for the New York City Transit Authority to run on routes previously operated by the IND and BMT. A total of 200 R38 cars were ordered.-Description:...
,
R40
R40 (New York City Subway car)
The R40 was a New York City Subway car built between 1967 and 1969 by the St. Louis Car Company in St. Louis, Missouri, serving the B Division.-About:...
and
R42
R42 (New York City Subway car)
The R42 is a New York City Subway car built between 1969 and 1970 by the St. Louis Car Company in St. Louis, Missouri, serving the B Division. This fleet of cars were the first to be fully equipped with air conditioning. The R42 fleet is numbered 4550-4949...
. These models are stainless steel. The MTA will replace them with the R160A and R160B trains. The plastic front ends were removed before sinking. The retired fleet included old work trains and cars damaged beyond repair.
Artificial surfing reefs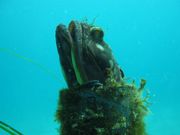 Artificial surfing reefs have been created for surfing, coastal protection, habitat enhancement and coastal research. The world's first attempt was made in
El Segundo
El Segundo, California
El Segundo is a city in Los Angeles County, California, United States. Located on the Santa Monica Bay, it was incorporated on January 18, 1917, and is one of the Beach Cities of Los Angeles County and part of the South Bay Cities Council of Governments...
, near
Los Angeles
Los Ángeles
Los Ángeles is the capital of the province of Biobío, in the commune of the same name, in Region VIII , in the center-south of Chile. It is located between the Laja and Biobío rivers. The population is 123,445 inhabitants...
, in
California
California
California is a state located on the West Coast of the United States. It is by far the most populous U.S. state, and the third-largest by land area...
. The next attempt was at Mosman Beach,
Perth, Western Australia
Perth, Western Australia
Perth is the capital and largest city of the Australian state of Western Australia and the fourth most populous city in Australia. The Perth metropolitan area has an estimated population of almost 1,700,000....
. This reef was constructed of large granite rocks placed in a pyramidal shape to form an appropriate breaking wave form that would suit surfers. An artificial reef constructed of over 400 massive,
geotextile
Geotextile
Geotextiles are permeable fabrics which, when used in association with soil, have the ability to separate, filter, reinforce, protect, or drain...
bags (each one larger than a bus) filled with sand was constructed in 2000 at Narrowneck on the Gold Coast of Queensland, Australia. This artificial reef had two objectives: stabilizing beach nourishment and improving surfing conditions.
In the United States, in particular, demanding coastal permit requirements and environmental opposition present major obstacles to building surfing reefs. As of February 2006, the only reef built in the U.S. for surfing is southern California's "Pratte's Reef", which failed to create waves. Reefs built to enhance marine
habitat
Habitat
* Habitat , a place where a species lives and grows*Human habitat, a place where humans live, work or play** Space habitat, a space station intended as a permanent settlement...
face less environmental opposition, in part because they are in deeper water and further offshore. A number of such man-made reefs exist near Florida and Hawaii.
Artificial surfing reefs typically resemble a "submerged breakwater", and proponents suggest benefits beyond surfing conditions. Many coastlines are subject to powerful waves that crash directly onshore. An artificial reef 150-300 yards offshore might create surfing opportunities and, by dissipating wave energy, make swimming safer and reduce coastal erosion.
The USS
Spiegel Grove
was sunk in 2002 to make an artificial reef.
Europe's first artificial reef was approved in 2008. Construction began August 30, 2008 in
Boscombe
Boscombe
Boscombe is a suburb of Bournemouth. Located to the east of Bournemouth town centre and west of Southbourne, It developed rapidly from a small village as a seaside resort alongside Bournemouth after the first Boscombe pier was built in 1888...
,
Bournemouth
Bournemouth
Bournemouth is a large coastal resort town in the ceremonial county of Dorset, England. According to the 2001 Census the town has a population of 163,444, making it the largest settlement in Dorset. It is also the largest settlement between Southampton and Plymouth...
, UK, and opened in November 2009. The
multi-purpose reef
Multi-purpose reef
A multi-purpose reef, also commonly known as an artificial surfing reef or surf reef, is a structure located offshore designed to induce wave breaking in a manner that creates a wave suitable for surfing or body boarding. Artificial surfing reefs can exist in many different configurations and be...
reef is expected to create waves up to 30% larger and double the number of surfing days annually. Construction on this reef began in June 2008, and was completed in August 2009.
Boscombe Reef
Boscombe Surf Reef
Boscombe Surf Reef is an artificial reef built to enhance surfing conditions in Boscombe, Dorset, UKThe Boscombe Surf Reef is the first surfing reef to be constructed in the Northern Hemisphere. The town of Boscombe opted to build a surfing reef to provide a unique focal point for the town's...
was built from large sand-filled
geotextile
Geotextile
Geotextiles are permeable fabrics which, when used in association with soil, have the ability to separate, filter, reinforce, protect, or drain...
containers, totaling 13,000 cubic meters.
Electro Mineral Accretion (EMA)
Mineral accretion involves applying a low voltage current to a metallic structure to cause
limestone
Limestone
Limestone is a sedimentary rock composed largely of the minerals calcite and aragonite, which are different crystal forms of calcium carbonate . Many limestones are composed from skeletal fragments of marine organisms such as coral or foraminifera....
to crystallize on the surface, to which
coral planulae
Planula
A planula is the free-swimming, flattened, ciliated, bilaterally symmetric larval form of various cnidarian species. The planula forms from the fertilized egg of a medusa, as the case in scyphozoans and some hydrozoans, or from a polyp, as in the case of anthozoans...
can attach and grow. The electric current also speeds post-attachment growth.
EMA works like charging a
battery
Battery (electricity)
An electrical battery is one or more electrochemical cells that convert stored chemical energy into electrical energy. Since the invention of the first battery in 1800 by Alessandro Volta and especially since the technically improved Daniell cell in 1836, batteries have become a common power...
with a positive pole, the
cathode
Cathode
A cathode is an electrode through which electric current flows out of a polarized electrical device. Mnemonic: CCD .Cathode polarity is not always negative...
, and a negative pole, the
anode
Anode
An anode is an electrode through which electric current flows into a polarized electrical device. Mnemonic: ACID ....
. Applying electric current attracts various dissolved minerals to either the cathode or the anode. Chemical reactions take place at both poles. On the anode, bubbles of oxygen and chlorine gas form. These bubbles float to the surface and dissolve into the air. On the cathode, bubbles of hydrogen gas and a limestone precipitate appear.
The voltage is low enough that it can be generated by floating solar panels or from wave motion.
A coalition of scientists named the Global Coral Reef Alliance (GCRA) is developing a technique called the
Biorock
Biorock
Biorock, also known as Seacrete, is a substance formed by electro-accumulation of minerals dissolved in seawater. The building process, popularly called accretion, is not to be confused with Biorock sewage treatment...
Process using mineral accretion for reef restoration,
mariculture
Mariculture
Mariculture is a specialized branch of aquaculture involving the cultivation of marine organisms for food and other products in the open ocean, an enclosed section of the ocean, or in tanks, ponds or raceways which are filled with seawater. An example of the latter is the farming of marine fish,...
, and shoreline protection.
Environmental concerns
According to
The Ocean Conservancy
The Ocean Conservancy
The Ocean Conservancy is a nonprofit advocacy group based in Washington, D.C., United States.-History:...
, a Washington-based environmental group, the Osbourne reef may be an indication that the benefits of artificial reefs need to be re-examined. Jack Sobel, a senior scientist at the group, has said "There's little evidence that artificial reefs have a net benefit", citing concerns such as toxicity, damage to ecosystems and concentrating fish into one place (worsening overfishing).
See also