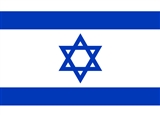 Israel
Topics
Israel
Timeline

Timeline
1903 The Kishinev pogrom in Kishinev (Bessarabia) begins, forcing tens of thousands of Jews to later seek refuge in Israel and the Western world.
1921 Nahalal, the first moshav in Palestine, is settled as part of a Zionist plan to colonize Palestine and creating a Jewish state, later to be Israel.
1948 1948 Arab-Israeli War: the Kfar Etzion massacre is committed by Arab irregulars, the day before the declaration of independence of the state of Israel on May 14.
1948 Israel is declared to be an independent state and a provisional government is established. Immediately after the declaration, Israel is attacked by the neighboring Arab states, triggering the 1948 Arab-Israeli War.
1948 Following token resistance, the city of Nazareth, revered by Christians as the hometown of Jesus, capitulates to Israeli troops during Operation Dekel in the 1948 Arab-Israeli War.
1948 The Lehi (also known as the Stern gang) assassinates Count Folke Bernadotte, who was appointed by the UN to mediate between the Arab nations and Israel.
1949 Cuba recognizes Israel.
1949 The Knesset (Israeli parliament) convenes for the first time.
1949 Israel joins the United Nations.
1949 Israel and Syria sign a truce to end their nineteen-month war.
1949 The Knesset votes to move the capital of Israel to Jerusalem.
1950 The Knesset passes a resolution that states Jerusalem is the capital of Israel.
1950 Zionism: the Knesset passes the Law of Return which grants all Jews the right to immigrate to Israel.
1953 The Soviet Union breaks off diplomatic relations with Israel.
1955 Israel obtains 4 of the 7 Dead Sea scrolls.
1956 Suez Crisis begins: Israeli forces invade the Sinai Peninsula and push Egyptian forces back toward the Suez Canal.
1956 Suez Crisis: The United Nations General Assembly adopts a resolution calling for the United Kingdom, France and Israel to immediately withdraw their troops from Egypt.
1957 Israel withdraws from the Sinai Peninsula.
1957 Israel's prime minister David Ben Gurion and five of his ministers are injured when a hand grenade is tossed into Israel's parliament, the Knesset.
1960 In Buenos Aires, Argentina, four Israeli Mossad agents capture fugitive Nazi Adolf Eichmann who is living under the alias of Ricardo Klement.
1961 The trial of Nazi Adolf Eichmann in Israel ends with verdicts of guilty on 15 criminal charges, including charges of crimes against humanity, crimes against the Jewish people and membership of an outlawed organization.
1962 Adolf Eichmann is hanged in Israel.
1965 West Germany and Israel establish diplomatic relations.
1967 Egypt closes the Straits of Tiran and blockades the port of Eilat at the northern end of the Gulf of Aqaba to Israeli shipping, laying the foundations for the Six Day War.
1967 Egypt imposes a blockade and siege of the Red Sea coast of Israel.
1967 Six-Day War begins: The Israeli air force launches simultaneous pre-emptive attacks on the air forces of Egypt, Jordan, and Syria.
1967 Israeli forces enter Jerusalem during the Six-Day War.
1967 Six-Day War: Israel captures the Golan Heights from Syria
1967 The Six-Day War ends: Israel and Syria agree to a cease-fire.
1967 Israel annexes East Jerusalem.
1967 Israel annexes East Jerusalem.
1967 UN Security Council Resolution 242 is adopted by the UN Security Council, establishing a set of the principles aimed at guiding negotiations for an Arab-Israeli peace settlement.
1968 Israeli-Jordanian border clashes.
1968 The only successful hijacking of an El Al aircraft takes place when a Boeing 707 carrying 10 crew and 38 passengers is taken over by three members of the Popular Front for the Liberation of Palestine. The aircraft was en route from Rome, Italy, to Lod, Israel.
1969 Israeli commando force penetrates deep into Egyptian territory to stage a mortar attack on regional Egyptian Army headquarters in the Nile Valley of Upper Egypt.
1970 The Dawson's Field hijackers release 88 of their hostages. The remaining hostages, mostly Jews and Israeli citizens, are held until September 25.
1972 Munich Massacre: A Palestinian terrorist group called "Black September" attack and take hostage 11 Israel athletes at the Munich Olympic Games. 2 die in the attack and 9 die the following day.
1972 Munich Massacre: 9 Israel athletes taken hostage at the Munich Olympic Games by the Palestinian "Black September" terrorist group died (as did a German policeman) at the hands of the kidnappers during a failed rescue attempt. 2 other Israeli athletes are slain in the initial attack the previous day.
1972 A parcel bomb sent to Israeli Embassy in London kills one diplomat.
1973 Over the Sinai Desert, Israeli fighter aircraft shoot down Libyan Arab Airlines Flight 114 jet killing 108.
1973 In the Lillehammer affair in Norway, Israeli Mossad agents kill a waiter whom they mistakenly thought was involved in 1972's Munich Olympics Massacre.
1973 OPEC starts an oil embargo against a number of western countries, considered to have helped Israel in its war against Syria.
1973 A United Nations sanctioned cease-fire officially ends the Yom Kippur War between Israel and Syria.
1974 A Disengagement of Forces agreement is signed between the Israeli and Egyptian governments, ending conflict on the Egyptian front of the Yom Kippur War.
1974 Yom Kippur War: Israeli forces withdraw from the west bank of the Suez Canal.
1974 Ma'alot massacre: In an Arab terrorist attack and hostage taking at an Israeli school, a total of 31 people are killed, including 22 schoolchildren.
1977 Egyptian President Anwar Sadat becomes the first Arab leader to officially visit Israel, when he meets Israeli prime minister Menachem Begin and speaks before the Knesset in Jerusalem, seeking a permanent peace settlement.
1978 Coastal Road massacre: At least 37 are killed and more than 70 are wounded when Al Fatah hijack an Israeli bus, prompting Israel's Operation Litani.
1978 UN Security Council Resolution 425 is passed, calling upon Israel immediately to cease its military action and withdraw its forces from all Lebanese territory (Operation Litani), and establishing the United Nations Interim Force in Lebanon (UNIFIL).
1978 The Camp David Accords are signed by Israel and Egypt.
1978 Leaders of Israel and Egypt reach a settlement for the Middle East at Camp David.
1979 Another section of the Sinai Peninsula is peacefully returned by Israel to Egypt.
1980 Israel and Egypt establish diplomatic relations.
1980 The United Nations Security Council votes 14-0 that member states should not recognise Jerusalem as the capital of Israel.
1980 Israel's Knesset passes the Jerusalem Law
1981 Arab-Israeli conflict: Israel's Knesset passes ''The Golan Heights Law'', extending Israeli law to the area of the Golan Heights.
1982 Israel completes its withdrawal from the Sinai peninsula per the Camp David Accords.
1982 The Israeli ambassador to the United Kingdom, Shlomo Argov, is shot on a London street. He survives but is permanently paralysed.
1982 1982 Lebanon War begins: Forces under Israeli Defense Minister Ariel Sharon invade southern Lebanon in their "Operation Peace for the Galilee", eventually reaching as far north as the capital Beirut.
1982 The international forces that were guaranteeing the safety of Palestinian refugees following Israel's 1982 Invasion of Lebanon leave Beirut. Five days later, several thousand refugees are massacred in the Sabra and Shatila refugee camps.
1983 Lebanon, Israel, and the United States sign an agreement on Israeli withdrawal from Lebanon.
1983 Lebanon, Israel, and the United States sign an agreement on Israeli withdrawal from Lebanon.
1983 The Israeli cabinet votes to withdraw troops from Beirut but to remain in southern Lebanon.
1983 Israeli premier Menachem Begin resigns.
1985 The Israeli air force bombs PLO Headquarters in Tunis.
1985 United States Navy intelligence analyst Jonathan Pollard is arrested for spying after being caught giving Israel classified information on Arab nations. He is subsequently sentenced to life in prison.
1986 Jonathan Pollard pleads guilty to espionage for selling top secret United States military intelligence to Israel.
1987 The London Agreement is secretly signed between Israeli Foreign Affairs Minister Shimon Peres and King Hussein of Jordan.
1988 In Israel, John Demjanuk is sentenced to death for war crimes committed in World War II.
1988 Yasser Arafat recognizes the right of Israel to exist.
1990 Israeli-Palestinian Conflict: In Jerusalem, Israeli police kill 17 Palestinians and wound over 100 near the Dome of the Rock mosque on the Temple Mount.
1991 Gulf War: Operation Desert Storm begins early in the morning. Iraq fires 8 Scud missiles into Israel in an unsuccessful bid to provoke Israeli retaliation.
1991 Gulf War: SCUD attack from Iraq causes 15 injuries in Israel.
1991 Gulf War: Three SCUDs and one Patriot missile hit Ramat Gan in Israel, injuring 96 people. Three elderly people die of heart attacks.
1991 Israel conducts Operation Solomon, evacuating Ethiopian Jews to Israel.
1993 Israel launches a massive attack against terrorist forces in Lebanon in what the Israelis call Operation Accountability, and the Lebanese call Seven-Day War.
1993 The Palestine Liberation Organization officially recognizes Israel as a legitimate state.
1993 Public unveiling of the Oslo Accords, an Israeli-Palestinian agreement initiated by Norway.
1993 Israel and the Vatican establish diplomatic relations.
1994 Israeli Prime Minister Yitzhak Rabin and PLO leader Yasser Arafat sign a peace accord regarding Palestinian autonomy granting self-rule in the Gaza Strip and Jericho.
1994 Israel and Vatican City establish full diplomatic relations.
1994 Israel's Shimon Peres visits Jordan, the highest ranking Israeli official to do so
1994 Israel and Jordan sign the Washington Declaration, which formally ends the state of war that had existed between the nations since 1948.
1994 Initial accord between Israel and the PLO about partial self-rule of the Palestinians on the West Bank.
1994 Jordan and Israel sign a peace treaty
1995 Israeli prime minister Yitzhak Rabin is assassinated by an extremist Orthodox Israeli.
1995 The city of Bethlehem passes from Israeli to Palestinian control.
1996 Hamas bombmaker Yahya Ayyash is killed by an Israeli-planted booby-trapped cell phone.
1996 Proposed budget cuts by Benjamin Netanyahu spark protests from 250,000 workers who shut down services across Israel.
1997 En route to Lebanon, two Israeli Sikorsky CH-53 troop-transport helicopters collide in mid-air over northern Galilee, Israel killing 73.
1997 En route to Lebanon, two Israeli Sikorsky CH-53 troop-transport helicopters collide in mid-air over northern Galilee, Israel killing 73.
1997 In a Tel Aviv, Israel coffee shop, a suicide bomber kills 3 and injures 49.
1998 Israeli-Palestinian Conflict: Israeli Prime Minister Benjamin Netanyahu and Palestinian Chairman Yasser Arafat reach a "land for peace" agreement.
1999 Israel detains, and later expels, 14 members of Concerned Christians.
2000 Liberation Day of Lebanon. Israel withdraws its army from most of the Lebanese territory after 22 years of its first invasion in 1978.
2000 Israel complies with UN Security Council Resolution 425 after 22 years of it issuance, which calls on Israel to completely withdraw from Lebanon. Israel withdraws from all of Lebanon, except the disputed Sheba Farms.
2002 Passover Massacre: A Palestinian suicide bomber kills 29 people partaking of the Passover meal in Netanya, Israel.
2002 Israeli forces surround the Church of the Nativity in Bethlehem into which armed Palestinians had retreated. A siege ensues.
2003 Maxim restaurant suicide bombing in Haifa, Israel: 21 Israelis, Jews and Arabs, are killed, and 51 others wounded.
2003 Maxim restaurant suicide bombing in Haifa, Israel: 21 Israelis, Jews and Arabs, are killed, and 51 others wounded.
2005 Israel officially hands over Jericho to Palestinian control.
2006 Prime Minister Ariel Sharon of Israel suffers a second, apparently more serious stroke. His authority is transferred to acting Prime Minister Ehud Olmert.
2006 The International Conference to Review the Global Vision of the Holocaust is opened in Tehran, Iran by Mahmoud Ahmadinejad; Nations such as Israel and the United States express concern.
2008 A Palestinian gunman shoots and kills 8 students and critically injures 11 in the library of the Mercaz HaRav yeshiva, in Jerusalem, Israel.
2009 A shooting attack at the Gay and Lesbian Association building in Tel-Aviv, Israel, results in the deaths of two people.