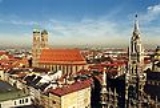 Munich
Munich. He was Chancellor of Germany from 1933 to 1945, and head of state from 1934 to 1945...
and the
National Socialism
Nazism
Nazism, the common short form name of National Socialism was the ideology and practice of the Nazi Party and of Nazi Germany...
rose to prominence.
In 1923 Hitler and his supporters, who were then concentrated in Munich, staged the
Beer Hall Putsch
Beer Hall Putsch
The Beer Hall Putsch was a failed attempt at revolution that occurred between the evening of 8 November and the early afternoon of 9 November 1923, when Nazi Party leader Adolf Hitler, Generalquartiermeister Erich Ludendorff, and other heads of the Kampfbund unsuccessfully tried to seize power...
, an attempt to overthrow the
Weimar Republic
Weimar Republic
The Weimar Republic is the name given by historians to the parliamentary republic established in 1919 in Germany to replace the imperial form of government...
and seize power. The revolt failed, resulting in Hitler's arrest and the temporary crippling of the Nazi Party, which was virtually unknown outside Munich.
The city once again became a Nazi stronghold when the National Socialists took power in Germany in 1933.
1800 War of the Second Coalition: Battle of Hohenlinden, French General Moreau defeats the Austrian Archduke John near Munich decisively, coupled with First Consul Napoleon Bonaparte's victory at Marengo effectively forcing the Austrians to sign an armistice and ending the war.
1810 First Oktoberfest: The Bavarian royalty invites the citizens of Munich to join the celebration of the marriage of Crown Prince Ludwig of Bavaria to Princess Therese von Sachsen-Hildburghausen.
1869 Richard Wagner's opera ''Das Rheingold'' premieres in Munich.
1886 King Ludwig II of Bavaria is found dead in Lake Starnberg south of Munich at 11:30 PM.
1919 Kurt Eisner, German socialist, is assassinated. His death results in the establishment of the Bavarian Soviet Republic and parliament and government fleeing Munich, Germany.
1923 Beer Hall Putsch: In Munich, Adolf Hitler leads the Nazis in an unsuccessful attempt to overthrow the German government.
1937 The Nazi exhibition ''Der ewige Jude'' ("The Eternal Jew") opens in Munich.
1939 In Munich, Adolf Hitler narrowly escapes the assassination attempt of Georg Elser while celebrating the 16th anniversary of the Beer Hall Putsch.
1972 Munich Massacre: 9 Israel athletes taken hostage at the Munich Olympic Games by the Palestinian "Black September" terrorist group died (as did a German policeman) at the hands of the kidnappers during a failed rescue attempt. 2 other Israeli athletes are slain in the initial attack the previous day.
1972 The United States suffers its first loss of an international basketball game in a disputed match against the Soviet Union at Munich, Germany.