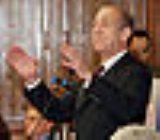 Ehud Olmert
Ehud Olmert
is an
Israel
Israel
The State of Israel is a parliamentary republic located in the Middle East, along the eastern shore of the Mediterranean Sea...
i
politician
Politician
A politician, political leader, or political figure is an individual who is involved in influencing public policy and decision making...
and
lawyer
Lawyer
A lawyer, according to Black's Law Dictionary, is "a person learned in the law; as an attorney, counsel or solicitor; a person who is practicing law." Law is the system of rules of conduct established by the sovereign government of a society to correct wrongs, maintain the stability of political...
. He served as
Prime Minister of Israel
Prime Minister of Israel
The Prime Minister of Israel is the head of the Israeli government and the most powerful political figure in Israel . The prime minister is the country's chief executive. The official residence of the prime minister, Beit Rosh Hamemshala is in Jerusalem...
from 2006 to 2009, as a Cabinet Minister from 1988 to 1992 and from 2003 to 2006, and as Mayor of
Jerusalem
from 1993 to 2003.
In 2003 Olmert was re-elected to the
Knesset
Knesset
The Knesset is the unicameral legislature of Israel, located in Givat Ram, Jerusalem.-Role in Israeli Government :The legislative branch of the Israeli government, the Knesset passes all laws, elects the President and Prime Minister , approves the cabinet, and supervises the work of the government...
(he had earlier served eight terms), and became a Cabinet Minister and Acting Prime Minister in the government of Prime Minister
Ariel Sharon
Ariel Sharon
Ariel Sharon is an Israeli statesman and retired general, who served as Israel's 11th Prime Minister. He has been in a permanent vegetative state since suffering a stroke on 4 January 2006....
.
The day will come when the two-state solution collapses and we face a South African-style struggle for equal voting rights. As soon as that happens, the state of Israel is finished. The Jewish organizations, which were our power base in America, will be the first to come out against us, because they will say they cannot support a state that does not support democracy and equal voting rights for all its residents. – Olmert, Financial Times (30 NOV 2007)