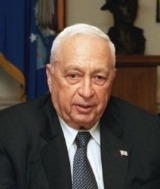 Ariel Sharon
Ariel Sharon is an
Israel
Israel
The State of Israel is a parliamentary republic located in the Middle East, along the eastern shore of the Mediterranean Sea...
i statesman and retired general, who served as Israel's 11th
Prime Minister
Prime Minister of Israel
The Prime Minister of Israel is the head of the Israeli government and the most powerful political figure in Israel . The prime minister is the country's chief executive. The official residence of the prime minister, Beit Rosh Hamemshala is in Jerusalem...
. He has been in a
permanent vegetative state
Persistent vegetative state
A persistent vegetative state is a disorder of consciousness in which patients with severe brain damage are in a state of partial arousal rather than true awareness. It is a diagnosis of some uncertainty in that it deals with a syndrome. After four weeks in a vegetative state , the patient is...
since suffering a stroke on 4 January 2006.
Sharon was a commander in the
Israeli Army
Israel Defense Forces
The Israel Defense Forces , commonly known in Israel by the Hebrew acronym Tzahal , are the military forces of the State of Israel. They consist of the ground forces, air force and navy. It is the sole military wing of the Israeli security forces, and has no civilian jurisdiction within Israel...
since its inception in 1948. As an army officer, he participated in the 1948 War of Independence, the
Qibya massacre
Qibya massacre
The Qibya massacre, also known as the Qibya incident, occurred in October 1953 when Israeli troops under Ariel Sharon attacked the village of Qibya in the West Bank. Sixty-nine Palestinian Arabs, two thirds of them women and children were killed. Forty-five houses, a school, and a mosque were...
of 1953, the 1956 Suez War, the
Six-Day War
Six-Day War
The Six-Day War , also known as the June War, 1967 Arab-Israeli War, or Third Arab-Israeli War, was fought between June 5 and 10, 1967, by Israel and the neighboring states of Egypt , Jordan, and Syria...
of 1967, and the Yom-Kippur War of 1973. After retiring from the army, Sharon joined the right-wing
Likud
Likud
Likud is the major center-right political party in Israel. It was founded in 1973 by Menachem Begin in an alliance with several right-wing and liberal parties. Likud's victory in the 1977 elections was a major turning point in the country's political history, marking the first time the left had...
party, and served in a number of ministerial posts in Likud-led governments in 1977–92 and 1996–99.