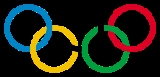 Olympic Games
The
Olympic Games
is a major international event featuring summer and winter sports, in which thousands of athletes participate in a
variety of competitions
Multi-sport event
A multi-sport event is an organized sporting event, often held over multiple days, featuring competition in many different sports between organized teams of athletes from nation-states. The first major, modern, multi-sport event of international significance was the modern Olympic Games.Many...
. The Olympic Games have come to be regarded as the world's foremost sports competition where more than 200 nations participate. The Games are currently held every two years, with
Summer
Summer Olympic Games
The Summer Olympic Games or the Games of the Olympiad are an international multi-sport event, occurring every four years, organized by the International Olympic Committee. Medals are awarded in each event, with gold medals for first place, silver for second and bronze for third, a tradition that...
and
Winter Olympic Games
Winter Olympic Games
The Winter Olympic Games is a sporting event, which occurs every four years. The first celebration of the Winter Olympics was held in Chamonix, France, in 1924. The original sports were alpine and cross-country skiing, figure skating, ice hockey, Nordic combined, ski jumping and speed skating...
alternating, although they occur every four years within their respective seasonal games.