 Water crisis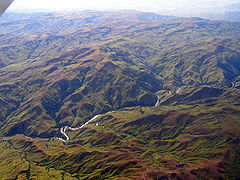 Water crisis
is a general term used to describe a situation where the available
water
Water
Water is a chemical substance with the chemical formula H2O. A water molecule contains one oxygen and two hydrogen atoms connected by covalent bonds. Water is a liquid at ambient conditions, but it often co-exists on Earth with its solid state, ice, and gaseous state . Water also exists in a...
within a region is less than the region's demand. The term has been used to describe the availability of potable water in a variety of regions by the
United Nations
United Nations
The United Nations is an international organization whose stated aims are facilitating cooperation in international law, international security, economic development, social progress, human rights, and achievement of world peace...
and other world organizations. Others, for example the
Food and Agriculture Organization
Food and Agriculture Organization
The Food and Agriculture Organization of the United Nations is a specialised agency of the United Nations that leads international efforts to defeat hunger. Serving both developed and developing countries, FAO acts as a neutral forum where all nations meet as equals to negotiate agreements and...
, said in 2003 that there is no water crisis but steps must be taken to avoid one in the future. The major aspects of the water crisis are allegedly overall scarcity of usable water and
water pollution
Water pollution
Water pollution is the contamination of water bodies . Water pollution occurs when pollutants are discharged directly or indirectly into water bodies without adequate treatment to remove harmful compounds....
.
Research
According to
Nature
Nature (journal)
Nature, first published on 4 November 1869, is ranked the world's most cited interdisciplinary scientific journal by the Science Edition of the 2010 Journal Citation Reports...
(2010), about 80% of the world's population (5.6 billion in 2011) live in areas with threats to water security. The water security is a shared threat to human and nature and it is pandemic. Human water-management strategies can affect detrimentally to wildlife, such as migrating fish. Regions with intensive agriculture and dense population, as the US and Europe, have high threat to water security. The researcher estimate that during 2010-2015, ca US$800 billion will be required to cover the annual global investment in water infrastructure. Good management of water resources can jointly manage biodiversity protection and human water security. Preserving flood plains rather than constructing flood-control reservoirs would provide a cost-effective way to control floods while protecting the biodiversity of wildlife that occupies such areas.
The New York Times article, "Southeast Drought Study Ties Water Shortage to Population, Not
Global Warming
Global warming
Global warming refers to the rising average temperature of Earth's atmosphere and oceans and its projected continuation. In the last 100 years, Earth's average surface temperature increased by about with about two thirds of the increase occurring over just the last three decades...
", summarizes the findings of Columbia University researcher on the subject of the droughts in the southwest between 2005 and 2007. The findings were published in the Journal of Climate. They say the water shortages resulted from population size more than rainfall. Census figures show that Georgia's population rose to 9.54 million from 6.48 million between 1990 and 2007. After studying data from weather instruments, computer models and measurements of tree rings which reflect rainfall, they found that the droughts were not unprecedented and result from normal climate patterns and random weather events. "Similar droughts unfolded over the last thousand years, the researchers wrote. Regardless of
climate change
Climate change
Climate change is a significant and lasting change in the statistical distribution of weather patterns over periods ranging from decades to millions of years. It may be a change in average weather conditions or the distribution of events around that average...
, they added, similar weather patterns can be expected regularly in the future, with similar results." As the temperature increases, rainfall in the Southeast will increase but because of
evaporation
Evaporation
Evaporation is a type of vaporization of a liquid that occurs only on the surface of a liquid. The other type of vaporization is boiling, which, instead, occurs on the entire mass of the liquid....
the area may get even drier. The researchers concluded with a statement saying that any rainfall comes from complicated internal processes in the atmosphere that are very hard to predict because of the large amount of variables.
Lawrence Smith, the president of the population institute, asserts that although an overwhelming majority of the planet is composed of water, 97% of this water is constituted of saltwater; the
fresh water
Fresh Water
Fresh Water is the debut album by Australian rock and blues singer Alison McCallum, released in 1972. Rare for an Australian artist at the time, it came in a gatefold sleeve...
used to sustain humans is only 3% of the total amount of water on Earth (Hoevel). Therefore, Smith believes that the competition for water in an overpopulated world would pose a major threat to human stability (Hoevel); indeed, world wars may be fought over the control of thinning ice sheets and nearly desiccated reservoirs.
2 billion people have gained access to a safe water source since 1990. The proportion of people in developing countries with access to safe water is calculated to have improved from 30 percent in 1970 to 71 percent in 1990, 79 percent in 2000 and 84 percent in 2004, parallel with rising population. This trend is projected to continue.
The
Earth
Earth
Earth is the third planet from the Sun, and the densest and fifth-largest of the eight planets in the Solar System. It is also the largest of the Solar System's four terrestrial planets...
has a limited supply of fresh water, stored in
aquifer
Aquifer
An aquifer is a wet underground layer of water-bearing permeable rock or unconsolidated materials from which groundwater can be usefully extracted using a water well. The study of water flow in aquifers and the characterization of aquifers is called hydrogeology...
s,
surface water
Surface water
Surface water is water collecting on the ground or in a stream, river, lake, wetland, or ocean; it is related to water collecting as groundwater or atmospheric water....
s and the
atmosphere
Atmosphere
An atmosphere is a layer of gases that may surround a material body of sufficient mass, and that is held in place by the gravity of the body. An atmosphere may be retained for a longer duration, if the gravity is high and the atmosphere's temperature is low...
. Sometimes
ocean
Ocean
An ocean is a major body of saline water, and a principal component of the hydrosphere. Approximately 71% of the Earth's surface is covered by ocean, a continuous body of water that is customarily divided into several principal oceans and smaller seas.More than half of this area is over 3,000...
s are mistaken for available water, but the amount of energy needed to convert
saline water
Saline water
Saline water is a general term for water that contains a significant concentration of dissolved salts . The concentration is usually expressed in parts per million of salt....
to potable water is prohibitive today, explaining why only a very small fraction of the world's water supply derives from
desalination
Desalination
Desalination, desalinization, or desalinisation refers to any of several processes that remove some amount of salt and other minerals from saline water...
.
Manifestations
There are several principal manifestations of the water crisis.
Inadequate access to safe drinking water

Drinking water

Drinking water or potable water is water pure enough to be consumed or used with low risk of immediate or long term harm. In most developed countries, the water supplied to households, commerce and industry is all of drinking water standard, even though only a very small proportion is actually...


for about 884 million people
Inadequate access to water for sanitation and waste disposal for 2.5 billion people
Groundwater

Groundwater

Groundwater is water located beneath the ground surface in soil pore spaces and in the fractures of rock formations. A unit of rock or an unconsolidated deposit is called an aquifer when it can yield a usable quantity of water. The depth at which soil pore spaces or fractures and voids in rock...


overdrafting

Overdrafting

Overdrafting is the process of extracting groundwater beyond the safe yield or equilibrium yield of the aquifer.Since every groundwater basin recharges at a different rate depending upon precipitation, vegetative cover and soil conservation practises, the quantity of groundwater that can be safely...


(excessive use) leading to diminished agricultural

Agriculture

Agriculture is the cultivation of animals, plants, fungi and other life forms for food, fiber, and other products used to sustain life. Agriculture was the key implement in the rise of sedentary human civilization, whereby farming of domesticated species created food surpluses that nurtured the...


yields
Overuse and pollution

Pollution

Pollution is the introduction of contaminants into a natural environment that causes instability, disorder, harm or discomfort to the ecosystem i.e. physical systems or living organisms. Pollution can take the form of chemical substances or energy, such as noise, heat or light...


of water resources harming biodiversity

Biodiversity

Biodiversity is the degree of variation of life forms within a given ecosystem, biome, or an entire planet. Biodiversity is a measure of the health of ecosystems. Biodiversity is in part a function of climate. In terrestrial habitats, tropical regions are typically rich whereas polar regions...



Regional conflicts over scarce water resources sometimes resulting in war

War

War is a state of organized, armed, and often prolonged conflict carried on between states, nations, or other parties typified by extreme aggression, social disruption, and usually high mortality. War should be understood as an actual, intentional and widespread armed conflict between political...


fare
Waterborne diseases
Waterborne diseases
Waterborne diseases are caused by pathogenic microorganisms which are directly transmitted when contaminated fresh water is consumed. Contaminated fresh water, used in the preparation of food, can be the source of foodborne disease through consumption of the same microorganisms...
and the absence of sanitary domestic water are one of the leading causes of death worldwide. For children under age five, waterborne diseases are the leading cause of death. At any given time, half of the world's hospital beds are occupied by patients suffering from waterborne diseases. According to the
World Bank
World Bank
The World Bank is an international financial institution that provides loans to developing countries for capital programmes.The World Bank's official goal is the reduction of poverty...
, 88 percent of all waterborne diseases are caused by unsafe drinking water, inadequate sanitation and poor hygiene.
Water
Water
Water is a chemical substance with the chemical formula H2O. A water molecule contains one oxygen and two hydrogen atoms connected by covalent bonds. Water is a liquid at ambient conditions, but it often co-exists on Earth with its solid state, ice, and gaseous state . Water also exists in a...
is the underlying tenuous balance of safe water supply, but controllable factors such as the management and distribution of the water supply itself contribute to further scarcity.
A 2006 United Nations report focuses on issues of governance as the core of the water crisis, saying "There is enough water for everyone" and "Water insufficiency is often due to mismanagement, corruption, lack of appropriate institutions, bureaucratic inertia and a shortage of investment in both human capacity and physical infrastructure". Official data also shows a clear correlation between access to safe water and GDP per capita.
It has also been claimed, primarily by economists, that the water situation has occurred because of a lack of property rights, government regulations and subsidies in the water sector, causing prices to be too low and consumption too high.
Vegetation and wildlife
are fundamentally dependent upon adequate freshwater resources.
Marsh
Marsh
In geography, a marsh, or morass, is a type of wetland that is subject to frequent or continuous flood. Typically the water is shallow and features grasses, rushes, reeds, typhas, sedges, other herbaceous plants, and moss....
es,
bog
Bog
A bog, quagmire or mire is a wetland that accumulates acidic peat, a deposit of dead plant material—often mosses or, in Arctic climates, lichens....
s and
riparian zone
Riparian zone
A riparian zone or riparian area is the interface between land and a river or stream. Riparian is also the proper nomenclature for one of the fifteen terrestrial biomes of the earth. Plant habitats and communities along the river margins and banks are called riparian vegetation, characterized by...
s are more obviously dependent upon sustainable water supply, but forests and other upland ecosystems are equally at risk of significant productivity changes as water availability is diminished. In the case of wetlands, considerable area has been simply taken from wildlife use to feed and house the expanding human population. But other areas have suffered reduced productivity from gradual diminishing of freshwater inflow, as upstream sources are diverted for human use. In seven states of the U.S. over 80 percent of all historic
wetland
Wetland
A wetland is an area of land whose soil is saturated with water either permanently or seasonally. Wetlands are categorised by their characteristic vegetation, which is adapted to these unique soil conditions....
s were filled by the 1980s, when Congress acted to create a "no net loss" of wetlands.
In
Europe
Europe
Europe is, by convention, one of the world's seven continents. Comprising the westernmost peninsula of Eurasia, Europe is generally 'divided' from Asia to its east by the watershed divides of the Ural and Caucasus Mountains, the Ural River, the Caspian and Black Seas, and the waterways connecting...
extensive loss of wetlands has also occurred with resulting loss of biodiversity. For example many bogs in
Scotland
Scotland
Scotland is a country that is part of the United Kingdom. Occupying the northern third of the island of Great Britain, it shares a border with England to the south and is bounded by the North Sea to the east, the Atlantic Ocean to the north and west, and the North Channel and Irish Sea to the...
have been developed or diminished through human population expansion. One example is the
Portlethen Moss
Portlethen Moss
The Portlethen Moss is an acidic bog nature reserve located to the west of the town of Portlethen, Aberdeenshire in Scotland. Like other mosses, this wetland area supports a variety of plant and animal species, even though it has been subject to certain development and agricultural degradation...
in
Aberdeenshire
Aberdeenshire
Aberdeenshire is one of the 32 unitary council areas in Scotland and a lieutenancy area.The present day Aberdeenshire council area does not include the City of Aberdeen, now a separate council area, from which its name derives. Together, the modern council area and the city formed historic...
.
On
Madagascar
Madagascar
The Republic of Madagascar is an island country located in the Indian Ocean off the southeastern coast of Africa...
's highland plateau, a massive transformation occurred that eliminated virtually all the heavily forested vegetation in the period 1970 to 2000. The
slash and burn
Slash and burn
Slash-and-burn is an agricultural technique which involves cutting and burning of forests or woodlands to create fields. It is subsistence agriculture that typically uses little technology or other tools. It is typically part of shifting cultivation agriculture, and of transhumance livestock...
agriculture eliminated about ten percent of the total country's native biomass and converted it to a barren wasteland. These effects were from
overpopulation
Overpopulation
Overpopulation is a condition where an organism's numbers exceed the carrying capacity of its habitat. The term often refers to the relationship between the human population and its environment, the Earth...
and the necessity to feed poor indigenous peoples, but the adverse effects included widespread gully erosion that in turn produced heavily silted rivers that "run red" decades after the
deforestation
Deforestation
Deforestation is the removal of a forest or stand of trees where the land is thereafter converted to a nonforest use. Examples of deforestation include conversion of forestland to farms, ranches, or urban use....
. This eliminated a large amount of usable fresh water and also destroyed much of the riverine ecosystems of several large west-flowing rivers. Several fish species have been driven to the edge of extinction and some, such as, the disturbed Tokios,
coral reef
Coral reef
Coral reefs are underwater structures made from calcium carbonate secreted by corals. Coral reefs are colonies of tiny living animals found in marine waters that contain few nutrients. Most coral reefs are built from stony corals, which in turn consist of polyps that cluster in groups. The polyps...
formations in the
Indian Ocean
Indian Ocean
The Indian Ocean is the third largest of the world's oceanic divisions, covering approximately 20% of the water on the Earth's surface. It is bounded on the north by the Indian Subcontinent and Arabian Peninsula ; on the west by eastern Africa; on the east by Indochina, the Sunda Islands, and...
are effectively lost.
In October 2008, Peter Brabeck-Letmathe, chairman and former chief executive of Nestlé, warned that the production of biofuels will further deplete the world's water supply.
Overview of regions suffering crisis impacts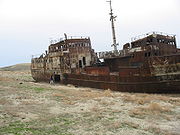 There are many other countries of the world that are severely impacted with regard to
human
Human
Humans are the only living species in the Homo genus...
health
Health
Health is the level of functional or metabolic efficiency of a living being. In humans, it is the general condition of a person's mind, body and spirit, usually meaning to be free from illness, injury or pain...
and inadequate drinking water. The following is a partial list of some of the countries with significant populations (numerical population of affected population listed) whose only consumption is of contaminated water:
Several world maps showing various aspects of the problem can be found in this
graph
article.
According to the
California Department of Water Resources
California Department of Water Resources
The California Department of Water Resources , is a department within the California Natural Resources Agency. The Department of Water Resources is responsible for the State of California's management and regulation of water usage...
, if more supplies aren't found by 2020, the region will face a shortfall nearly as great as the amount consumed today.
Los Angeles
Los Ángeles
Los Ángeles is the capital of the province of Biobío, in the commune of the same name, in Region VIII , in the center-south of Chile. It is located between the Laja and Biobío rivers. The population is 123,445 inhabitants...
is a coastal desert able to support at most 1 million people on its own water; the Los Angeles basin now is the core of a
megacity
Megacity
A megacity is usually defined as a metropolitan area with a total population in excess of 10 million people. Some definitions also set a minimum level for population density . A megacity can be a single metropolitan area or two or more metropolitan areas that converge. The terms conurbation,...
that spans 220 miles (354.1 km) from
Santa Barbara
Santa Barbara, California
Santa Barbara is the county seat of Santa Barbara County, California, United States. Situated on an east-west trending section of coastline, the longest such section on the West Coast of the United States, the city lies between the steeply-rising Santa Ynez Mountains and the Pacific Ocean...
to the Mexican border. The region's population is expected to reach 41 million by 2020, up from 28 million in 2009. The population of California continues to grow by more than two million a year and is expected to reach 75 million in 2030, up from 49 million in 2009. But water shortage is likely to surface well before then.
Water deficits, which are already spurring heavy grain imports in numerous smaller countries, may soon do the same in larger countries, such as
China
China
Chinese civilization may refer to:* China for more general discussion of the country.* Chinese culture* Greater China, the transnational community of ethnic Chinese.* History of China* Sinosphere, the area historically affected by Chinese culture...
and
India
India
India , officially the Republic of India , is a country in South Asia. It is the seventh-largest country by geographical area, the second-most populous country with over 1.2 billion people, and the most populous democracy in the world...
. The water tables are falling in scores of countries (including Northern China, the US, and India) due to widespread overpumping using powerful diesel and electric pumps. Other countries affected include
Pakistan
Pakistan
Pakistan , officially the Islamic Republic of Pakistan is a sovereign state in South Asia. It has a coastline along the Arabian Sea and the Gulf of Oman in the south and is bordered by Afghanistan and Iran in the west, India in the east and China in the far northeast. In the north, Tajikistan...
,
Iran
Iran
Iran , officially the Islamic Republic of Iran , is a country in Southern and Western Asia. The name "Iran" has been in use natively since the Sassanian era and came into use internationally in 1935, before which the country was known to the Western world as Persia...
, and
Mexico
Mexico
The United Mexican States , commonly known as Mexico , is a federal constitutional republic in North America. It is bordered on the north by the United States; on the south and west by the Pacific Ocean; on the southeast by Guatemala, Belize, and the Caribbean Sea; and on the east by the Gulf of...
. This will eventually lead to water scarcity and cutbacks in grain harvest. Even with the overpumping of its aquifers, China is developing a grain deficit. When this happens, it will almost certainly drive grain prices upward. Most of the 3 billion people projected to be added worldwide by mid-century will be born in countries already experiencing water shortages. Unless population growth can be slowed quickly it is feared that there may not be a practical non-violent or humane solution to the emerging world water shortage.
After China and India, there is a second tier of smaller countries with large water deficits —
Algeria
Algeria
Algeria , officially the People's Democratic Republic of Algeria , also formally referred to as the Democratic and Popular Republic of Algeria, is a country in the Maghreb region of Northwest Africa with Algiers as its capital.In terms of land area, it is the largest country in Africa and the Arab...
,
Egypt
Egypt
Egypt , officially the Arab Republic of Egypt, Arabic: , is a country mainly in North Africa, with the Sinai Peninsula forming a land bridge in Southwest Asia. Egypt is thus a transcontinental country, and a major power in Africa, the Mediterranean Basin, the Middle East and the Muslim world...
,
Iran
Iran
Iran , officially the Islamic Republic of Iran , is a country in Southern and Western Asia. The name "Iran" has been in use natively since the Sassanian era and came into use internationally in 1935, before which the country was known to the Western world as Persia...
, Mexico, and Pakistan. Four of these already import a large share of their grain. But with a population expanding by 4 million a year, it will also likely soon turn to the world market for grain.
According to a UN climate report, the
Himalayan
Himalayas
The Himalaya Range or Himalaya Mountains Sanskrit: Devanagari: हिमालय, literally "abode of snow"), usually called the Himalayas or Himalaya for short, is a mountain range in Asia, separating the Indian subcontinent from the Tibetan Plateau...
glaciers that are the sources of
Asia
Asia
Asia is the world's largest and most populous continent, located primarily in the eastern and northern hemispheres. It covers 8.7% of the Earth's total surface area and with approximately 3.879 billion people, it hosts 60% of the world's current human population...
's biggest rivers - Ganges, Indus, Brahmaputra, Yangtze,
Mekong
Mekong
The Mekong is a river that runs through China, Burma, Laos, Thailand, Cambodia and Vietnam. It is the world's 10th-longest river and the 7th-longest in Asia. Its estimated length is , and it drains an area of , discharging of water annually....
, Salween and
Yellow
Yellow
Yellow is the color evoked by light that stimulates both the L and M cone cells of the retina about equally, with no significant stimulation of the S cone cells. Light with a wavelength of 570–590 nm is yellow, as is light with a suitable mixture of red and green...
- could disappear by 2035 as temperatures rise. It was later revealed that the source used by the UN climate report actually stated 2350, not 2035. Approximately 2.4 billion people live in the
drainage basin
Drainage basin
A drainage basin is an extent or an area of land where surface water from rain and melting snow or ice converges to a single point, usually the exit of the basin, where the waters join another waterbody, such as a river, lake, reservoir, estuary, wetland, sea, or ocean...
of the Himalayan rivers. India, China, Pakistan,
Bangladesh
Bangladesh
Bangladesh , officially the People's Republic of Bangladesh is a sovereign state located in South Asia. It is bordered by India on all sides except for a small border with Burma to the far southeast and by the Bay of Bengal to the south...
,
Nepal
Nepal
Nepal , officially the Federal Democratic Republic of Nepal, is a landlocked sovereign state located in South Asia. It is located in the Himalayas and bordered to the north by the People's Republic of China, and to the south, east, and west by the Republic of India...
and
Myanmar
Myanmar
Burma , officially the Republic of the Union of Myanmar , is a country in Southeast Asia. Burma is bordered by China on the northeast, Laos on the east, Thailand on the southeast, Bangladesh on the west, India on the northwest, the Bay of Bengal to the southwest, and the Andaman Sea on the south....
could experience floods followed by droughts in coming decades. In India alone, the Ganges provides water for drinking and farming for more than 500 million people. The west coast of
North America
North America
North America is a continent wholly within the Northern Hemisphere and almost wholly within the Western Hemisphere. It is also considered a northern subcontinent of the Americas...
, which gets much of its water from glaciers in mountain ranges such as the
Rocky Mountains
Rocky Mountains
The Rocky Mountains are a major mountain range in western North America. The Rocky Mountains stretch more than from the northernmost part of British Columbia, in western Canada, to New Mexico, in the southwestern United States...
and Sierra Nevada, also would be affected.
By far the largest part of
Australia
Australia
Australia , officially the Commonwealth of Australia, is a country in the Southern Hemisphere comprising the mainland of the Australian continent, the island of Tasmania, and numerous smaller islands in the Indian and Pacific Oceans. It is the world's sixth-largest country by total area...
is
desert
Deserts of Australia
Deserts cover a large portion of the land in Australia. Most of the deserts lie in the central and north-western part of the country. The largest part of Australia is desert or semi-arid...
or semi-arid lands commonly known as the
outback
Outback
The Outback is the vast, remote, arid area of Australia, term colloquially can refer to any lands outside the main urban areas. The term "the outback" is generally used to refer to locations that are comparatively more remote than those areas named "the bush".-Overview:The outback is home to a...
. In June 2008 it became known that an expert panel had warned of long term, possibly irreversible, severe ecological damage for the whole
Murray-Darling basin
Murray-Darling Basin
The Murray-Darling basin is a large geographical area in the interior of southeastern Australia, whose name is derived from its two major rivers, the Murray River and the Darling River. It drains one-seventh of the Australian land mass, and is currently by far the most significant agricultural...
if it does not receive sufficient water by October.
Water restrictions
Water restrictions in Australia
Water restrictions have been enacted in many cities and regions in Australia, which is the Earth's driest inhabited continent, in response to chronic water shortages resulting from the drought. Depending upon the location, these can include restrictions on watering lawns, using sprinkler systems,...
are currently in place in many regions and cities of Australia in response to chronic shortages resulting from
drought
Drought in Australia
Drought in Australia is defined as rainfall over a three month period being in the lowest decile of what has been recorded for that region in the past. This definition takes into account that drought is a relative term and rainfall deficiencies need to be compared to typical rainfall patterns...
. The
Australian of the year
Australian of the Year
Since 1960 the Australian of the Year Award has been part of the celebrations surrounding Australia Day , during which time the award has grown steadily in significance to become Australia's pre-eminent award. The Australian of the Year announcement has become a very prominent part of the annual...
2007, environmentalist
Tim Flannery
Tim Flannery
Timothy Fridtjof Flannery is an Australian mammalogist, palaeontologist, environmentalist and global warming activist....
, predicted that unless it made drastic changes,
Perth
Perth, Western Australia
Perth is the capital and largest city of the Australian state of Western Australia and the fourth most populous city in Australia. The Perth metropolitan area has an estimated population of almost 1,700,000....
in
Western Australia
Western Australia
Western Australia is a state of Australia, occupying the entire western third of the Australian continent. It is bounded by the Indian Ocean to the north and west, the Great Australian Bight and Indian Ocean to the south, the Northern Territory to the north-east and South Australia to the south-east...
could become the world's first ghost
metropolis
Metropolis
A metropolis is a very large city or urban area which is a significant economic, political and cultural center for a country or region, and an important hub for regional or international connections and communications...
, an abandoned city with no more water to sustain its population. However, Western Australia's dams reached 50% capacity for the first time since 2000 as of September 2009. As a result, heavy rains have brought forth positive results for the region. Nonetheless, the following year, 2010, Perth suffered its second-driest winter on record and the water corporation tightened water restrictions for spring.
Effects on climate
Aquifer drawdown or overdrafting and the pumping of fossil water increases the total amount of water within the hydrosphere subject to transpiration and evaporation processes, thereby causing accretion in water vapour and cloud cover, the primary absorbers of infrared radiation in the earth's atmosphere. Adding water to the system has a forcing effect on the whole earth system, an accurate estimate of which hydrogeological fact is yet to be quantified.
Outlook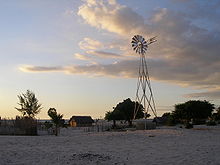 Construction of
wastewater treatment
Wastewater Treatment
Wastewater treatment may refer to:* Sewage treatment* Industrial wastewater treatment...
plants and reduction of groundwater overdrafting appear to be obvious solutions to the worldwide problem; however, a deeper look reveals more fundamental issues in play. Wastewater treatment is highly capital intensive, restricting access to this technology in some regions; furthermore the rapid increase in population of many countries makes this a race that is difficult to win. As if those factors are not daunting enough, one must consider the enormous costs and skill sets involved to maintain wastewater treatment plants even if they are successfully developed.
Reduction in groundwater overdrafting is usually politically very unpopular and has major economic impacts to farmers; moreover, this strategy will necessarily reduce crop output, which is something the world can ill-afford, given the population level at present.
At more realistic levels, developing countries can strive to achieve primary wastewater treatment or secure septic systems, and carefully analyse wastewater outfall design to minimise impacts to drinking water and to ecosystems. Developed countries can not only share technology better, including cost-effective wastewater and water treatment systems but also in
hydrological transport model
Hydrological transport model
An hydrological transport model is a mathematical model used to simulate river or stream flow and calculate water quality parameters. These models generally came into use in the 1960s and 1970s when demand for numerical forecasting of water quality was driven by environmental legislation, and at...
ing. At the individual level, people in developed countries can look inward and reduce overconsumption, which further strains worldwide water consumption. Both developed and developing countries can increase protection of ecosystems, especially wetlands and riparian zones. These measures will not only conserve
biota
Biota (ecology)
Biota are the total collection of organisms of a geographic region or a time period, from local geographic scales and instantaneous temporal scales all the way up to whole-planet and whole-timescale spatiotemporal scales. The biota of the Earth lives in the biosphere.-See...
, but also render more effective the natural
water cycle
Water cycle
The water cycle, also known as the hydrologic cycle or H2O cycle, describes the continuous movement of water on, above and below the surface of the Earth. Water can change states among liquid, vapor, and solid at various places in the water cycle...
flushing and transport that make water systems more healthy for humans.
A range of local, low-tech solutions are being pursued by a number of companies. These efforts center around the use of solar power to distill water at temperatures slightly beneath that at which water boils. By developing the capability to purify any available water source, local business models could be built around the new technologies, accelerating their uptake.
Conventional Fossil or Nuclear Energy Based Desalination
As new technological innovations continue to reduce the capital cost of
desalination
Desalination
Desalination, desalinization, or desalinisation refers to any of several processes that remove some amount of salt and other minerals from saline water...
, more countries are building desalination plants as a small element in addressing their water crises.
Israel

Israel

The State of Israel is a parliamentary republic located in the Middle East, along the eastern shore of the Mediterranean Sea...


desalinizes water for a cost of 53 cents per cubic meter
Singapore

Singapore

Singapore , officially the Republic of Singapore, is a Southeast Asian city-state off the southern tip of the Malay Peninsula, north of the equator. An island country made up of 63 islands, it is separated from Malaysia by the Straits of Johor to its north and from Indonesia's Riau Islands by the...


desalinizes water for 49 cents per cubic meter and also treats sewage with reverse osmosis

Reverse osmosis

Reverse osmosis is a membrane technical filtration method that removes many types of large molecules and ions from solutions by applying pressure to the solution when it is on one side of a selective membrane. The result is that the solute is retained on the pressurized side of the membrane and...


for industrial and potable use (NEWater

NEWater

NEWater is the brand name given to reclaimed water produced by Singapore's Public Utilities Board. More specifically, it is treated wastewater that has been purified using dual-membrane and ultraviolet technologies, in addition to conventional water treatment processes...


).
China and India, the world's two most populous countries, are turning to desalination to provide a small part of their water needs
In 2007 Pakistan announced plans to use desalination
All Australian capital cities (except Darwin, Northern Territory

Darwin, Northern Territory

Darwin is the capital city of the Northern Territory, Australia. Situated on the Timor Sea, Darwin has a population of 127,500, making it by far the largest and most populated city in the sparsely populated Northern Territory, but the least populous of all Australia's capital cities...


and Hobart

Hobart

Hobart is the state capital and most populous city of the Australian island state of Tasmania. Founded in 1804 as a penal colony,Hobart is Australia's second oldest capital city after Sydney. In 2009, the city had a greater area population of approximately 212,019. A resident of Hobart is known as...


) are either in the process of building desalination plants, or are already using them. In late 2011, Melbourne

Melbourne

Melbourne is the capital and most populous city in the state of Victoria, and the second most populous city in Australia. The Melbourne City Centre is the hub of the greater metropolitan area and the Census statistical division—of which "Melbourne" is the common name. As of June 2009, the greater...


will begin using Australia's largest desalination plant, the Wonthaggi desalination plant to raise low reservoir levels.
In 2007 Bermuda

Bermuda

Bermuda is a British overseas territory in the North Atlantic Ocean. Located off the east coast of the United States, its nearest landmass is Cape Hatteras, North Carolina, about to the west-northwest. It is about south of Halifax, Nova Scotia, Canada, and northeast of Miami, Florida...


signed a contract to purchase a desalination plant
The largest desalination plant in the United States

United States

The United States of America is a federal constitutional republic comprising fifty states and a federal district...


is the one at Tampa Bay

Tampa Bay

Tampa Bay is a large natural harbor and estuary along the Gulf of Mexico on the west central coast of Florida, comprising Hillsborough Bay, Old Tampa Bay, Middle Tampa Bay, and Lower Tampa Bay."Tampa Bay" is not the name of any municipality...


, Florida

Florida

Florida is a state in the southeastern United States, located on the nation's Atlantic and Gulf coasts. It is bordered to the west by the Gulf of Mexico, to the north by Alabama and Georgia and to the east by the Atlantic Ocean. With a population of 18,801,310 as measured by the 2010 census, it...


, which began desalinizing 25 million gallons (95000 m³) of water per day in December 2007. In the United States, the cost of desalination is $3.06 for 1,000 gallons, or 81 cents per cubic meter. In the United States, California

California

California is a state located on the West Coast of the United States. It is by far the most populous U.S. state, and the third-largest by land area...


, Arizona

Arizona

Arizona ; is a state located in the southwestern region of the United States. It is also part of the western United States and the mountain west. The capital and largest city is Phoenix...


, Texas

Texas

Texas is the second largest U.S. state by both area and population, and the largest state by area in the contiguous United States.The name, based on the Caddo word "Tejas" meaning "friends" or "allies", was applied by the Spanish to the Caddo themselves and to the region of their settlement in...


, and Florida use desalination for a very small part of their water supply.
After being desalinized at Jubail

Jubail

Jubail , is a city in the Eastern province on the Persian Gulf coast of Saudi Arabia. It consists of the Old Town of Al Jubail, which was originally a small fishing village, up to 1975 and the new industrial area....


, Saudi Arabia

Saudi Arabia

The Kingdom of Saudi Arabia , commonly known in British English as Saudi Arabia and in Arabic as as-Sa'ūdiyyah , is the largest state in Western Asia by land area, constituting the bulk of the Arabian Peninsula, and the second-largest in the Arab World...


, water is pumped 200 miles (321.9 km) inland though a pipeline to the capital city of Riyadh

Riyadh

Riyadh is the capital and largest city of Saudi Arabia. It is also the capital of Riyadh Province, and belongs to the historical regions of Najd and Al-Yamama. It is situated in the center of the Arabian Peninsula on a large plateau, and is home to 5,254,560 people, and the urban center of a...


.
A January 17, 2008, article in the
Wall Street Journal
states, "World-wide, 13,080 desalination plants produce more than 12 billion gallons of water a day, according to the International Desalination Association."
The world's largest desalination plant is the
Jebel Ali
Jebel Ali
Jebel Ali is a port town, located 35 kilometres southwest of the city of Dubai in the United Arab Emirates . The village has a thriving expatriate community with over 300 residents. The area is also home to "5,500 companies from 120 countries"....
Desalination Plant (Phase 2) in the
United Arab Emirates
United Arab Emirates
The United Arab Emirates, abbreviated as the UAE, or shortened to "the Emirates", is a state situated in the southeast of the Arabian Peninsula in Western Asia on the Persian Gulf, bordering Oman, and Saudi Arabia, and sharing sea borders with Iraq, Kuwait, Bahrain, Qatar, and Iran.The UAE is a...
. It is a dual-purpose facility that uses multi-stage flash distillation and is capable of producing 300 million cubic meters of water per year.
A typical
aircraft carrier
Aircraft carrier
An aircraft carrier is a warship designed with a primary mission of deploying and recovering aircraft, acting as a seagoing airbase. Aircraft carriers thus allow a naval force to project air power worldwide without having to depend on local bases for staging aircraft operations...
in the U.S. military uses nuclear power to desalinize 400000 gallons (1,514,164.8 l) of water per day.
While desalinizing 1000 gallons (3,785.4 l) of water can cost as much as $3, the same amount of
bottled water
Bottled water
Bottled water is drinking water packaged in plastic or glass water bottles. Bottled water may be carbonated or not...
costs $7,945.
However, given the energy intensive nature of desalination, with associated economic and environmental costs, desalination is generally considered a last resort after
water conservation
Water conservation
Water conservation refers to reducing the usage of water and recycling of waste water for different purposes such as cleaning, manufacturing, and agricultural irrigation.- Water conservation :Water conservation can be defined as:...
. But this is changing as prices continue to fall.
According to
MSNBC
MSNBC
MSNBC is a cable news channel based in the United States available in the US, Germany , South Africa, the Middle East and Canada...
, a report by Lux Research estimated that the worldwide desalinated water supply will triple between 2008 and 2020.
However, not everyone is convinced that desalination is or will be economically viable or environmentally sustainable for the foreseeable future.
Debbie Cook
Debbie Cook
Deborah "Debbie" Cook is the former mayor of Huntington Beach, California, and was the Democratic candidate for California's 46th congressional district in 2008...
, the former mayor of
Huntington Beach, California
Huntington Beach, California
Huntington Beach is a seaside city in Orange County in Southern California. According to the 2010 census, the city population was 189,992; making it the largest beach city in Orange County in terms of population...
, has been a frequent critic of desalination proposals ever since she was appointed as a member of the California Desalination Task Force. Cook claims that in addition to being energy intensive, desalination schemes are very costly—often much more costly than desalination proponents claim. In her writing on the subject, Cook points to a long list of projects that have stalled or been aborted for financial or other reasons, and suggests that water-stressed regions would do better to focus on conservation or other water supply solutions than to invest in desalination plants.
Solar Energy Based Desalination
A novel approach to desalination is the
Seawater Greenhouse
Seawater Greenhouse
The Seawater Greenhouse is a technology that enables the growth of crops in arid regions, using a greenhouse structure, seawater and solar energy...
which takes seawater and uses solar energy to desalinate it in conjunction with growing food crops in a specially adapted greenhouse.
Global experiences in managing water crisis
It is alleged that the likelihood of conflict rises if the rate of change within the basin exceeds the capacity of institution to absorb that change. Although water crisis is closely related to regional tensions, history showed that acute conflicts over water are far less than the record of cooperation.
The key lies in strong institutions and cooperation. The Indus River Commission and the Indus Water Treaty survived two wars between India and Pakistan despite their hostility, proving to be a successful mechanism in resolving conflicts by providing a framework for consultation inspection and exchange of data. The Mekong Committee has also functioned since 1957 and survived the Vietnam War. In contrast, regional instability results when there is an absence of institutions to co-operate in regional collaboration, like Egypt's plan for a high dam on the Nile. However, there is currently no global institution in place for the management and management of trans-boundary water sources, and international co-operation has happened through ad hoc collaborations between agencies, like the Mekong Committee which was formed due to an alliance between UNICEF and the US Bureau of Reclamation. Formation of strong international institutions seems to be a way forward - they fuel early intervention and management, preventing the costly dispute resolution process.
One common feature of almost all resolved disputes is that the negotiations had a "need-based" instead of a "right–based" paradigm. Irrigable lands, population, technicalities of projects define "needs". The success of a need-based paradigm is reflected in the only water agreement ever negotiated in the Jordan River Basin, which focuses in needs not on rights of riparians. In the Indian subcontinent, irrigation requirements of Bangladesh determine water allocations of The
Ganges River
Ganges River
The Ganges or Ganga, , is a trans-boundary river of India and Bangladesh. The river rises in the western Himalayas in the Indian state of Uttarakhand, and flows south and east through the Gangetic Plain of North India into Bangladesh, where it empties into the Bay of Bengal. By discharge it...
. A need based, regional approach focuses on satisfying individuals with their need of water, ensuring that minimum quantitative needs are being met. It removes the conflict that arises when countries view the treaty from a national interest point of view, move away from the zero-sum approach to a positive sum, integrative approach that equitably allocated the water and its benefits.
See also
1998 Klang Valley water crisis

1998 Klang Valley water crisis

The 1998 Klang Valley water crisis occurred in Malaysia in February 1998 when the three reservoir dams in Klang Valley, Klang Gates Dam, Batu Dam and Semenyih Dam suffered a substantial drop in water level following the El Niño phenomenon...



Arable land

Arable land

In geography and agriculture, arable land is land that can be used for growing crops. It includes all land under temporary crops , temporary meadows for mowing or pasture, land under market and kitchen gardens and land temporarily fallow...



California Water Wars

California Water Wars

The California Water Wars were a series of conflicts between the city of Los Angeles, farmers and ranchers in the Owens Valley of Eastern California, and environmentalists. As Los Angeles grew in the late 1800s, it started to outgrow its water supply. Fred Eaton, mayor of Los Angeles, realized that...



Chinese water crisis
Consumptive water use

Consumptive water use

Consumptive water use is water removed from available supplies without return to a water resources system . Evaporation from the surface of the earth into clouds of water in the air which then falls to the ground as "rain" is excluded from this model...



Deficit irrigation

Deficit irrigation

Deficit irrigation is a watering strategy that can be applied by different types of irrigation application methods. The correct application of DI requires thorough understanding of the yield response to water and of the economic impact of reductions in harvest...



Green Revolution

Green Revolution

Green Revolution refers to a series of research, development, and technology transfer initiatives, occurring between the 1940s and the late 1970s, that increased agriculture production around the world, beginning most markedly in the late 1960s....



Life Saver bottle

Life Saver bottle

The Lifesaver bottle is a portable water purification device. Designed by Michael Pritchard, the bottle filters out objects larger than 15 nanometres. The bottle is used by people hit by disasters to create safe drinking water or while camping...



Living Water International

Living Water International

Living Water International is a faith-based non-profit organization that helps communities in developing countries acquire safe drinking water in response to the global water crisis. It is based in Houston, Texas, United States. It was established in 1990 and currently operates in 26 countries...



Ogallala Aquifer

Ogallala Aquifer

The Ogallala Aquifer, also known as the High Plains Aquifer, is a vast yet shallow underground water table aquifer located beneath the Great Plains in the United States...



Peak water

Peak water

The term Peak Water has been put forward as a concept to help understand growing constraints on the availability, quality, and use of freshwater resources...



Water resource policy

Water resource policy

This article is about water resource policy, its institutions, the policy making processes and major subdivisions rather than implementation or hydrology, irrigation, geography, fisheries management, implementation, the management of specific water projects or the purchase, ownership and conveyance...



Spragg Bag

Spragg Bag

A flexible barge is a fabric barge for the transportation of bulk fresh water or other liquid bulk items .-History:...



Sustainable development in an urban water supply network

Sustainable Development in an Urban Water Supply Network

An urban water supply network concerns all the activities related to provision by third parties of potable water. Sustainable development is a well known resource which involves many issues. Therefore this concept is going to be developed in the water supply in urban areas.- Introduction :Water is...



Seawater Greenhouse

Seawater Greenhouse

The Seawater Greenhouse is a technology that enables the growth of crops in arid regions, using a greenhouse structure, seawater and solar energy...



Water conflict

Water conflict

Water conflict is a term describing a conflict between countries, states, or groups over an access to water resources. The United Nations recognizes that water disputes result from opposing interests of water users, public or private....



Water footprint

Water footprint

The water footprint of an individual, community or business is defined as the total volume of freshwater used to produce the goods and services consumed by the individual or community or produced by the business. Water use is measured in water volume consumed and/or polluted per unit of time. A...



Water resource policy

Water resource policy

This article is about water resource policy, its institutions, the policy making processes and major subdivisions rather than implementation or hydrology, irrigation, geography, fisheries management, implementation, the management of specific water projects or the purchase, ownership and conveyance...



WaterPartners International
Whisson Windmill

Whisson Windmill

The Whisson Windmill is a device that extracts clean drinking water from the atmosphere. It does this by drawing air in past a fan, whose blades are cooled by refrigerant. Because the blades are cooler than the air, water in the air condenses into a liquid, which is collected. It was invented by...



Resources
An International Food Policy Research Institute
book
about the intersection of water policy, globalization and food security: Ringler, C., Biswas, A., and Cline, S., eds. 2010. Global Change: Impacts on Water and Food Security. Heidelberg: Springer.
External links