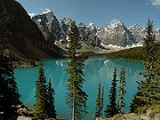 Rocky Mountains
The
Rocky Mountains
(or
the Rockies
) are a major
mountain range
Mountain range
A mountain range is a single, large mass consisting of a succession of mountains or narrowly spaced mountain ridges, with or without peaks, closely related in position, direction, formation, and age; a component part of a mountain system or of a mountain chain...
in western
North America
North America
North America is a continent wholly within the Northern Hemisphere and almost wholly within the Western Hemisphere. It is also considered a northern subcontinent of the Americas...
. The Rocky Mountains stretch more than 3000 mile from the northernmost part of
British Columbia
British Columbia
British Columbia is the westernmost of Canada's provinces and is known for its natural beauty, as reflected in its Latin motto, Splendor sine occasu . Its name was chosen by Queen Victoria in 1858...
, in western
Canada
Canada
Canada is a North American country consisting of ten provinces and three territories. Located in the northern part of the continent, it extends from the Atlantic Ocean in the east to the Pacific Ocean in the west, and northward into the Arctic Ocean...
, to
New Mexico
New Mexico
New Mexico is a state located in the southwest and western regions of the United States. New Mexico is also usually considered one of the Mountain States. With a population density of 16 per square mile, New Mexico is the sixth-most sparsely inhabited U.S...
, in the southwestern
United States
United States
The United States of America is a federal constitutional republic comprising fifty states and a federal district...
. Within the
North American Cordillera
North American Cordillera
The North American Cordillera is the North American portion of the American Cordillera which is a cordillera extending up and down the western side of the Americas. The North American Cordillera covers an extensive area of mountain ranges, intermontane basins, and plateaus in western North...
, the Rockies are somewhat distinct from the
Pacific Coast Ranges
Pacific Coast Ranges
The Pacific Coast Ranges and the Pacific Mountain System are the series of mountain ranges that stretch along the West Coast of North America from Alaska south to Northern and Central Mexico...
and the
Cascade Range
Cascade Range
The Cascade Range is a major mountain range of western North America, extending from southern British Columbia through Washington and Oregon to Northern California. It includes both non-volcanic mountains, such as the North Cascades, and the notable volcanoes known as the High Cascades...
and Sierra Nevada which all lie further to the west.
The Rocky Mountains were formed from 80 million to 55 million years ago by the
Laramide orogeny
Laramide orogeny
The Laramide orogeny was a period of mountain building in western North America, which started in the Late Cretaceous, 70 to 80 million years ago, and ended 35 to 55 million years ago. The exact duration and ages of beginning and end of the orogeny are in dispute, as is the cause. The Laramide...
.